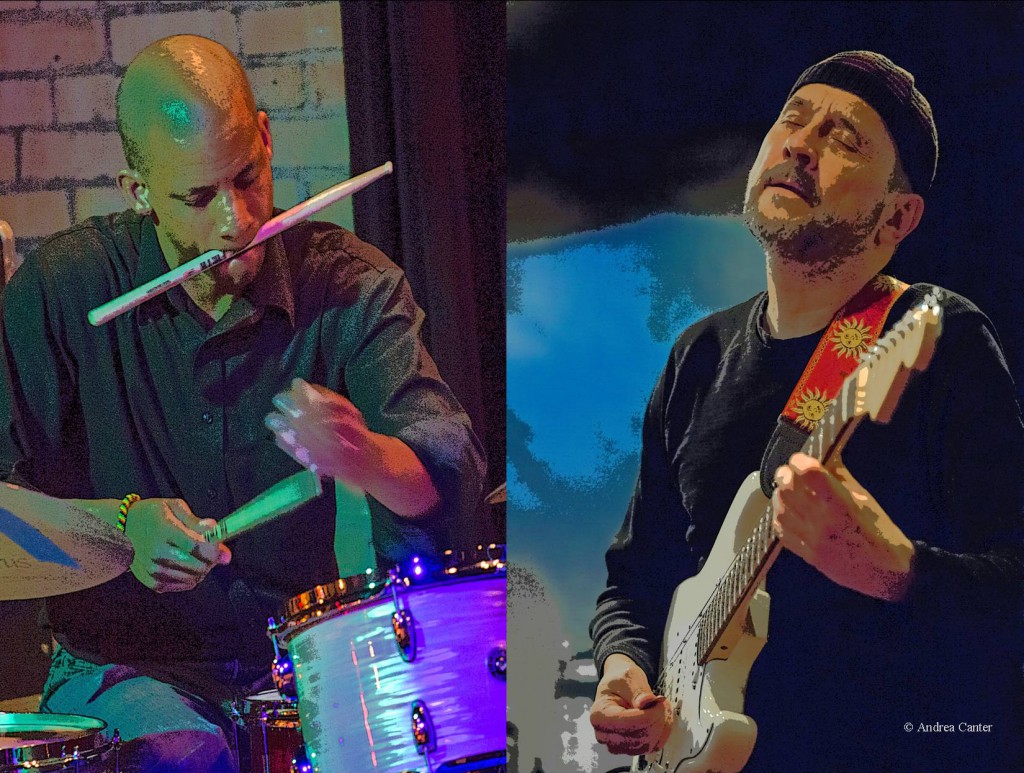 The music of jazz is characterized by its unpredictability–shifts in rhythm, dynamics, time signatures, melodies that give jazz its forward motion and that element of surprise that keeps your ears alert and eager for the next note, next tune. On the Twin Cities jazz scene, however, there are a few sure things — like First Tuesday at the Black Dog. Every month, we know we will have the opportunity to hear at least two of the area's best at producing those elements of surprise, guitarist Dean Magraw and percussionist Davu Seru. Partnering for this First Tuesday gig for several years now, Magraw and Seru add a special guest, guitarist Chris Olson, to the mix for April 5.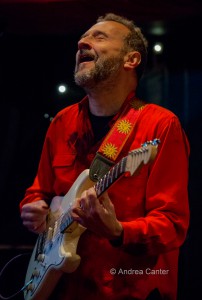 Dean Magraw is one of the Twin Cities' most eclectic musicians, with a career spanning more than three decades and multiple genres and cultures, from blues to classical to folk and jazz, from Japanese and Indian to Celtic and middle American. He has performed with and/or recorded with mandolin virtuoso Peter Ostroushko; vocalists Ruth McKenzie, Claudia Schmidt, Bruce Henry, Lucia Newell, Maud Hixson and Greg Brown; accordionist John Williams; Japanese shamisen prodigy Nitta Masahiro; classical violinist Nigel Kennedy; South Indian vocalist and vina virtuoso, Nirmala Rajasheker; Irish supergroup Altan; Garrison Keillor and Prairie Home Companion; jazz bassist Anthony Cox; and avant garde French saxophonist, Francois Corneloup.  Dean has collaborated with many local artists at the Artists Quarter, Black Dog, Nicollet, Jazz Central, and more, including Brandon Wozniak, Bryan Nichols, Billy Peterson, Steven Hobert, and Kenny Horst.  He's released a series of recordings spanning his musical universe, including a duo with tabla master Marcus Wise, How the Light Gets In. Over the past five years, Dean has co-led a monthly duo with percussionist Davu Seru at the Black Dog Café (first Tuesdays), more recently launched a duo with veteran drummer Eric Kamau Gravatt, leading to their CD release, Fire on the Nile, and in the past year has performed with eclectic pianist Steven Hobert.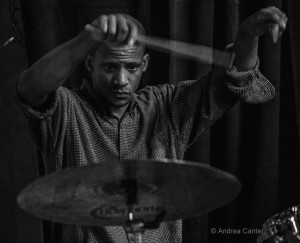 Minneapolis native percussionist Davu Seru has worked with Milo Fine, Andrew Lafkas, Jaron Childs, Charles Gillett, Elliot Fine, Paul Metzger, Anthony Cox, Dean Granros, Dean Magraw, Wendy Ultan, Adam Linz, Evan Parker, George Cartwright, Stefan Kac, James Buckley, Taylor Ho Bynum, David Boykin, and Nicole Mitchell. He currently plays with Merciless Ghost, Body mEmOri  (an ensemble with vocalist/spoken word artist Mankwe Ndosi with Chicago cellist Tomeka Reid and Italian bassist Silvia Bolognesi), trios with Dean Granros and Chris Bates and with Bates and Brandon Wozniak, and in duo and other configurations with Milo Fine; hosts a monthly gig at the Black Dog with Dean Magraw; performs monthly at Ngon Bistro; and curates a monthly show at Khyber Pass Cafe. Recently Davu joined the composer-improviser collective orchestra, Cherry Spoon Collective, and joined J. Otis Powell and Kate Pehrson in a new project, the Nu Skein Ensemble. In addition to his musical pursuits, Davu is a PhD candidate in African American Literature at the University of Minnesota. In 2013 he received an American Composers Forum Minnesota Emerging Composer Award.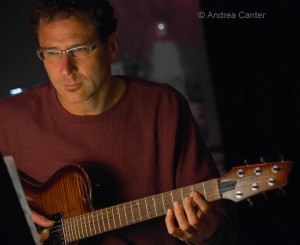 Chris Olson is a dedicated jazz educator as well as performer. Since earning a master's degree in jazz studies/performance from the University of North Texas, he's taught guitar, jazz history and improvisation as well as directing jazz ensembles at UW-Stevens Point, Wausau Conservatory of Music, UW-Marathon County, and Inver Hills Community College. Currently on the guitar faculty at McNally/Smith College in St. Paul, he also teaches guitar lessons and jazz combos at the MacPhail Center for Music and summer programs at the Shell Lake (WI) Arts Center. Chris has performed with Bob Mintzer, Louis Bellson, Terry Gibbs, Ira Sullivan, Bobby Vinton, and the JazzMN Orchestra, and has appeared frequently at the Black Dog where he heads a monthly "Chris Olson Project." He's a founding member of the long-standing trio Framework (with Chris Bates and Jay Epstein).
Get your ears ready for some unpredictable aural twists and turns — the only guarantees are the high level of musicianship and, no doubt, an evening of fun.
The Black Dog is located at 308 Prince Street, at 4th Street East and Broadway in St. Paul's Lowertown Arts District; www.blackdogstpaul.com. Music begins at 7 pm.