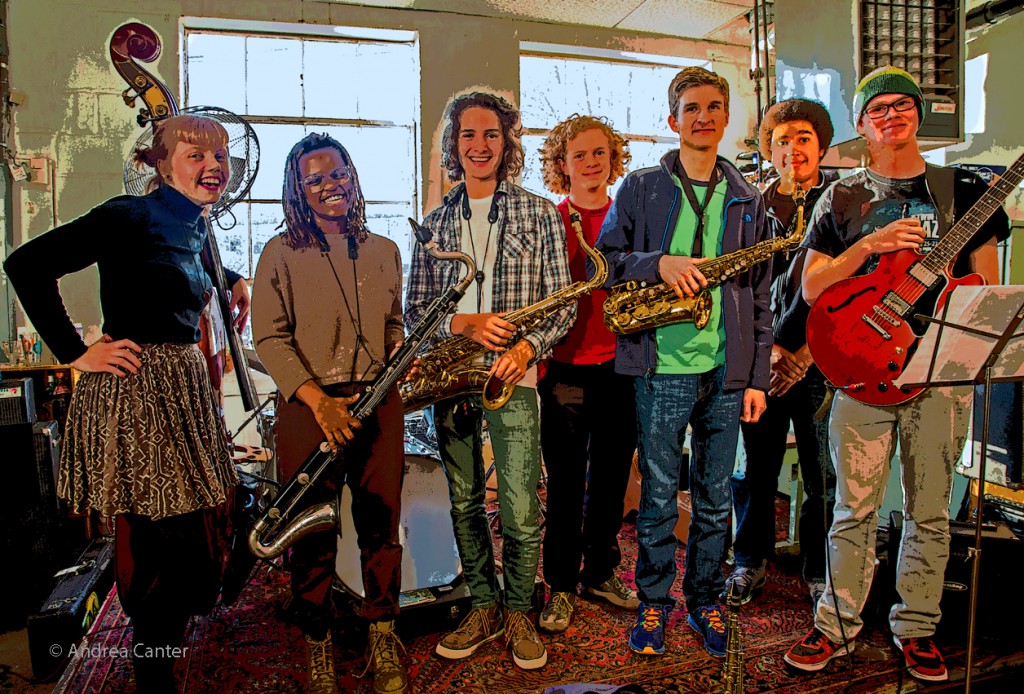 For the past year, trumpeter Steve Kenny has curated a Friday Night jazz series at The Nicollet, now rebranded as Reverie Bar and Cafe. Starting in May, the series becomes Thursday Night Jazz at Reverie. For the month of April, however, the series is "in exile," performing a couple Friday nights on other stages. On April 8, Friday Night Jazz takes over Studio Z in St. Paul's Lowertown, with the monthly JazzINK Youth Showcase kicking off the evening at 7 pm with the high school "all-star" ensemble, the Dakota Combo. At 9 pm, the NuSkein Ensemble presents a multi-media performance of  music, spoken word and visual imagery, featuring artists Katherine Pehrson, Davu Seru and J. Otis Powell‽.
JazzINK Youth Showcase: The Dakota Combo (7 pm)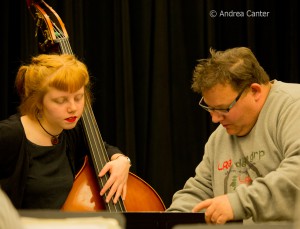 The Dakota Combo is a band of exceptional high school student musicians who rehearse and perform throughout the year under the direction of acclaimed bassist Adam Linz. The Combo is a MacPhail Center of Music ensemble program with funding provided by the Dakota Foundation for Jazz Education. The seven students of the 10th edition of the Combo were selected through open auditions in September, and to date have performed at Barely Brothers Records and at the Twin Cities Winter Jazz Festival. They are also scheduled to perform at spring fundraisers for MacPhail and the DFJE, on a one-day tour of area schools, and at the Twin Cities and Iowa City Jazz Festivals this summer. The band also hopes to make a studio recording this spring.
Members of the Dakota Combo for 2015-2016:
Jordan Anderson, piano (Nova Classical Academy, St Paul, grade 12). Jordan is one of two students returning from last year's Combo. He's studied piano for nine years, and currently plays in MYJB Jazz I (Minnesota Youth Jazz Band) and in several bands outside of school, including in a weekly duo (Sundays) at Five Watt Coffee in south Minneapolis. Jordan just learned he will attend the U of Michigan next fall on full scholarship, studying jazz piano with the great Benny Green.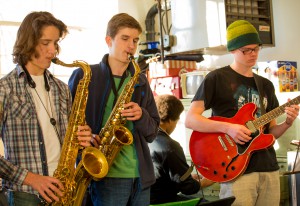 Adam Astrup, guitar (Rocori High School, Cold Spring, MN, grade 11). Also returning from last year's Combo,  Adam has been playing guitar for about 10 years, currently studying with Zacc Harris. He's also played in the Minnesota All-State Jazz Band, led his own quartet for a Jazz Central gig and plays in several area ensembles.  Adam also plays in a rock band called The Graduates and has subbed for Zacc Harris in his trio. Adam teamed up with Minnetonka High School guitarist Will Schmid for a duo at the Twin Cities Winter Jazz Festival, and the duo will return to the summer Twin Cities Jazz Festival.
Alma Engebretson, bass and cello (Washburn High School, grade 12). Alma has played bass for eight years. In addition to the Dakota Combo, she plays in the MYJB I, and plays cello in the Greater Twin Cities Youth Symphony orchestra. This fall she also conducted the pit orchestra for Washburn's school musical, and plays in several other bands with metro-area musicians.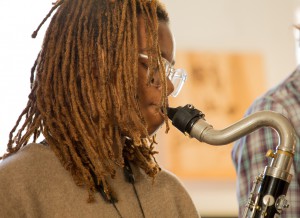 Yonci Jameson, bass clarinet (Southwest High School, grade 12). Yonci has been playing jazz on bass clarinet for about 3 years, but she has played clarinet for about 8 years. She's in a jazz combo at school (Yonci and the Footprints) that performed on the Youth Stage of the 2015 Twin Cities Jazz Festival and earlier this winter on the JazzINK Youth Showcase at The Nicollet. Yonci also plays in the Southwest Wind Ensemble and performs professional  West African drumming as well.
Gerhardt Robinson, saxophones (Southwest High School, grade 12). Gerhardt has been playing saxophone since 4th grade. Currently he plays with the Southwest jazz band and combo, MYJB I, and through Post Secondary Options (PSEO), he also plays with the University of Minnesota Jazz Band I, along with "assorted combos with friends in the area."
Sam Stroup, drums (South High School, grade 12). Sam has played drums for about 5 years. In school, he plays in the South High big band and combo, as well as the Wind Ensemble. With recent South High (and Dakota Combo) graduate Charlie Lincoln, he plays in a group called Yardang! and has played drums and electronics in the Charlie Lincoln Group.  He also plays in ensembles with other area musicians.
Nick Zaczkowski, alto saxophone (Wayzata High School, grade 11). Nick has played sax for 5 years. Currently he participates in the Wayzata Jazz Band, MYJB Jazz I, MMEA All-State Jazz Band, and through PSEO, he plays in Jazz I at the University of Minnesota.
For this performance, Sam Stroup is not available and will be replaced on drums by Ben Beyene, a graduate of the 2012-2013 Dakota Combo. Ben, a graduate of Minneapolis Roosevelt High School, performs with a number of ensembles around the Twin Cities at such venues as Jazz Central and the Black Dog, including the Will Schmid-Jordan Anderson Quartet.
NuSkein Ensemble (9 pm)
NuSkein Ensemble is a new project of music, spoken word, visual images, and song that features multi-media artists and scholars Katherine (Kate) Pehrson, Davu Seru, and J. Otis Powell‽ who "have come together to create work around the transformations and identity shifts that occur throughout life and which help to produce "new skins" and enlightened consciousnesses. Also embedded in their collaboration is a tradition of creating original works of art from influences and cultural DNA that regards spiritual channeling and improvisation as essential to artistic process."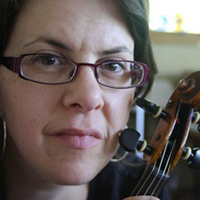 Katherine Pehrson is an instrumentalist, vocalist, writer, student, actor, educator, and critic. Kate's career began at the age of 4 learning violin through the Suzuki method, eventually expanding into the areas of vocal and piano studies as well. Her academic background is in history, theater and education, with a B.A. from St. Olaf College and an M.A.T. from the University of St. Thomas. As an arts educator, Kate spent several years working in visual arts education at metro-area schools and museums, including the Weisman Art Museum and the Minneapolis Institute of Arts. Kate has performed in numerous live theater, choral, orchestral, and spoken word performances, and has served as a film critic for Southern Minnesota Scene. She is a founding member of local band Prairie Dog Fight Club and the Minnesota Poetry Slam (SlamMN!).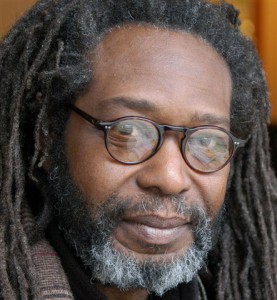 J. Otis Powell ‽ is a writer, spoken word artist, editor (The Minnesota Humanities Center), writer and curator for the Saint Paul Almanac, and a learning facilitator for the Verve Grant and Beyond the Pure programs with Intermedia Arts. His CD BALM! was released in 2012. The Minnesota Spoken Word Association awarded him their Urban Griot Innovator Award and inducted him into their Hall of Fame. J. Otis previously worked in The Loft Literary Center and has received the Loft Creative Nonfiction Award, Jerome Foundation Mid-Career Artists Grants, Jerome Foundation Travel and Study Grant, and Intermedia Arts' Interdisciplinary McKnight Fellowship. He is also a founding curator for Bridges, a performance arts program with Pangea World Theater, and was the first Minnesota mentor in the Givens Writers Retreat.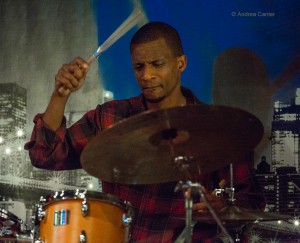 Minneapolis native percussionist Davu Seru has worked with Milo Fine, Andrew Lafkas, Jaron Childs, Charles Gillett, Elliot Fine, Paul Metzger, Anthony Cox, Dean Granros, Dean Magraw, Wendy Ultan, Adam Linz, Evan Parker, George Cartwright, Stefan Kac, James Buckley, Taylor Ho Bynum, David Boykin, and Nicole Mitchell. He currently plays with Merciless Ghost, Body mEmOri (an ensemble with vocalist/spoken word artist Mankwe Ndosi with Chicago cellist Tomeka Reid and Italian bassist Silvia Bolognesi), trios with Dean Granros and Chris Bates and with Bates and Brandon Wozniak, and in duo and other configurations with Milo Fine; hosts a monthly gig at the Black Dog with Dean Magraw; performs monthly at Ngon Bistro; and curates a monthly show at Khyber Pass Cafe. Recently Davu joined the composer-improviser collective orchestra, Cherry Spoon Collective, and joined J. Otis Powell and Kate Pehrson in a new project, the Nu Skein Ensemble. In addition to his musical pursuits, Davu is a PhD candidate in African American Literature at the University of Minnesota. In 2013 he received an American Composers Forum Minnesota Emerging Composer Award.
Studio Z is located at 275 E. 4th Street, on the second level of the Northwestern Building in St. Paul's Lowertown Arts District, one block east of Union Depot. There is no cover charge but donations to support the musicians and the jazz series ($10 suggested) are appreciated. Friday Night Jazz in Exile continues on April 15 at Jazz Central, and returns as Thursday Night Jazz at Reverie on May 5; www.fridaynightjazzatreverie.info