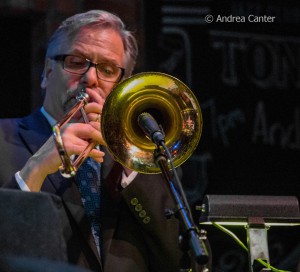 Friday nights at Jazz Central Studios typically focus on a local "master," and few are as masterful as trombonist Dave Graf. Graf brings a star-studded quartet to Jazz Central on April 8 (8 pm), featuring Peter Schimke on piano, Ron Evaniuk on bass and Eric Kamau Gravatt on drums. The late night set typically presents a college ensemble; at 10 pm, Joan Griffith directs the Macalester College "McJazz" Big Band.
Dave Graf is one of the most versatile and talented trombonists in the Twin Cities. He's worked in diverse musical settings, including Dixieland, swing (Twin Cities Seven), modern mainstream jazz (Source Code, X-Tet), salsa (Salsa del Soul) and Brazilian music, big bands (JazzMN Orchestra, Cedar Avenue Big Band), trombone ensembles (Locally Damaging Winds, Valve Meets Slide), pit orchestras and recordings. He has performed with Dizzy Gillespie, Slide Hampton, Jack McDuff, the Toshiko Akiyoshi/Lew Tabackin Big Band, and the Woody Herman Orchestra, and has appeared on Prairie Home Companion and with the St. Paul Ragtime Orchestra, Mandala, and the Steve Wright Big Band. Dave had an eleven-year association with the late trumpeter Red Wolfe in his Port of Dixie Jazz Band and Ellington Echoes. In 2005 he released his debut recording as a leader, Just Like That (Artegra Records). One of his more recent collaborations has been as half of Valve Meets Slide, an ensemble with valve trombonist Brad Bellows. In addition to performing, Dave teaches, writes, arranges, and works as a graphic designer.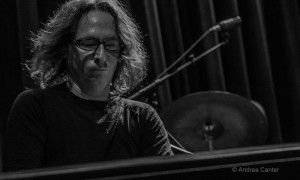 Peter Schimke was already a veteran performer on keyboards and vocals in his teens, appearing with the New Psychenauts and Swingin' Combo on the Twin Cities rock scene. He played his first pro rock gig with the great Charlie Musselwhite, and over his career has performed with the likes of Art Farmer, Fareed Haque, Mark Murphy, Frank Morgan, Charlie Persip Big Band, Rita Coolidge and more. A frequent collaborator with Billy Peterson, Kenny Horst, Dean Magraw, and Estaire Godinez, Peter is a favorite keyboardist of many local and national artists, as well as a leader of his own trio. Peter performs with How Birds Work, the Andres Prado Quartet, What Would Monk Do, and Mississippi, as well as with his own trio; he released a duo album with local legend Irv Williams.
Bassist with the Americana Classic Jazz Orchestra (devoted to the big band music of the 20s and 30s), JazzMN Orchestra,  and leader of his own quartet, Ron Evaniuk recorded with Twin Cities trumpet legend Gene Adams and has played with George Avaloz, in addition to his long-standing work with Eric Gravatt's Source Code.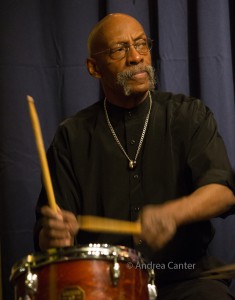 An alum of Weather Report and the bands of McCoy Tyner, Joe Henderson, Freddie Hubbard, Blue Mitchell and others, drummer Eric Kamau Gravatt essentially has had two careers in jazz with a couple decades of separation. Originally a conga player, Gravatt taught percussion and music in Philadelphia and Washington, DC in the 1960s. Miles Davis invited him to join his band, but Gravatt turned down the Prince of Darkness to follow Wayne Shorter into Weather Report, with whom he toured and recorded. He moved on to the fusion band Natural Life (with Bobby Peterson and Bob Rockwell), bringing him to the Twin Cities some 30 years ago. Demands of family and a desire for financial stability took Gravatt out of fulltime music and into fulltime work as a guard at the Minnesota Correctional Facility in Lino Lakes. Only after retiring from Lino Lakes did Gravatt return to his calling, touring again with McCoy Tyner, performing with his band, Source Code, and recently engaging in more experimental improvisations with Adam Linz, Brandon Wozniak, and Dean Magraw, with whom he recently released the duo CD, Fire on the Nile.
Jazz Central Studios is a nonprofit organization presenting local jazz five (sometimes six) nights per week at 407 Central Av SE in Minneapolis. Donations of $10 ($5 students) appreciated to support the musicians and the venue. Full schedule at http://jazzcentralstudios.org