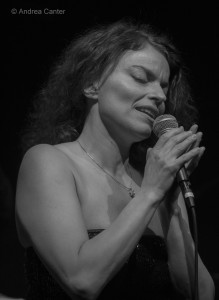 Roberta Gambarini is one of the premier jazz vocalists of our time. She has performed many places world-wide in the last few years and constantly makes her mark with dynamic distinction. For this gig at Catalina's on March 12, she rounded up top flight trio members, all from Los Angeles: Tamir Hendelman (piano), Chuck Berghofer (bass), and Joe LaBarbera (drums).
Outstanding musical credentials for these three: Tamir Hendelman, born in Tel Aviv, Israel, has performed in the U.S.A. many years with the Clayton-Hamilton Jazz Orchestra, Jeff Hamilton Trio and many others.  Chuck Berghofer, longtime bassist, is known for extensive studio work and film industry credits.  He also studied with bassist Ralph Pena and later replaced him in Pete Jolly's Trio after Pena's tragic auto accident. Joe LaBarbera is known for his drumming with famed pianist Bill Evans and earlier with Woody Herman, as well as Chuck Mangione, plus his own excellent quintet.
Gambarini began the evening singing a cappella for the lovely "Where Is Love?" Her tone, timbre of voice, perfect!  Next, she kicked in with the trio on the enchanting "That Old Black Magic" – an up-tempo rendition that included her hitting extremely high notes. She reminded me of late/great Eydie Gormé who could also hit such high notes–both excellent!
I was disappointed that Gambarini's L.A. trio did not perform any instrumental-only numbers in this long one-set show. Chuck Berghofer informed me that Roberta Gambarini wrote all the arrangements and charts for this three-day performance at Catalina Jazz Club.
During this show Gambarini sang some wonderful selections, including Dave Brubeck's "In Your Own Sweet Way" with some light scatting and also great and impressive chord changes.  The L.A. trio backed her remarkably. She sang a medley of Antonio Carlos Jobim songs and, while singing, also danced to the music as well.  She sings in several languages.  In the classic number "Estate," she gave the audience a surprise and made an immaculate imitation of a trumpet with her voice!  She performed a chorus or two of this lovely song and it did sound like a trumpet!  The audience was ecstatic and amazed, giving a huge round of applause. Closing numbers were "From This Moment On," done very up-tempo with La Barbera giving a long drum solo, and their theme song, "Oop-Pop-A-Da," which finished this dynamic show. The entire audience gave Gambarini, Hendelman, Berghofer and LaBarbera a very well deserved standing ovation.
For more about Roberta Gambarini, see the 2009 video on her webpage.
Reposted with permission from L.A. Jazz Scene, April 2016 issue