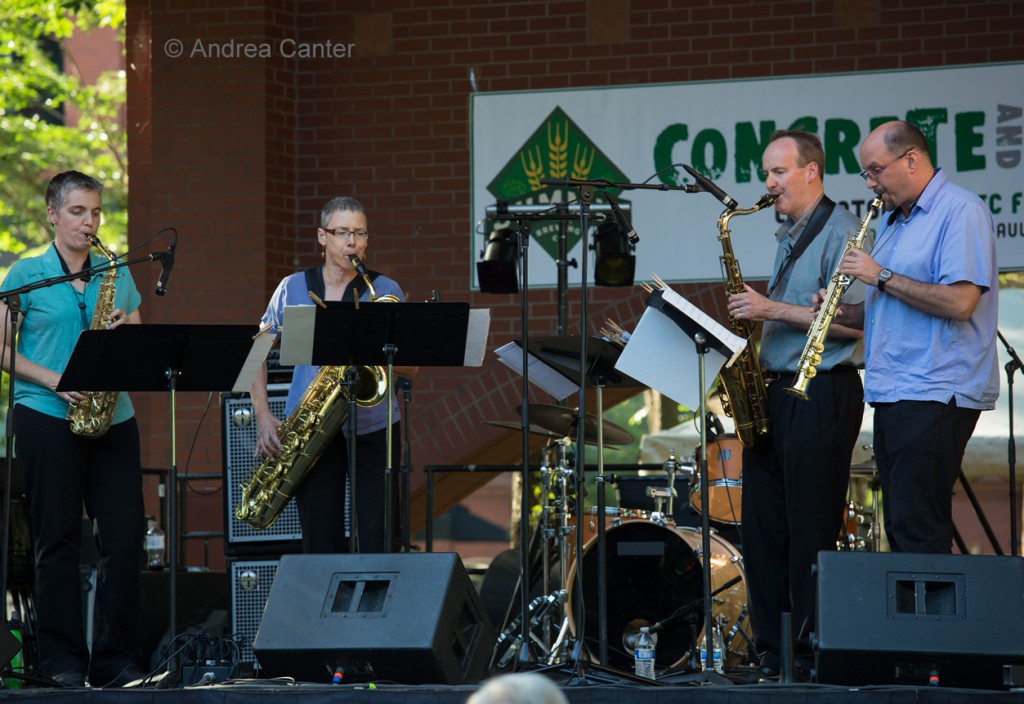 Friday Night Jazz, aka at The Nicollet, aka at Reverie, soon to be Thursday Night Jazz at Reverie…. it's been a bit confusing over the past year but there has been one consistency in the series curated by Steve Kenny: the quality and energy of the music. Currently "in exile" until the series resumes on Thursdays in May, Friday Night Jazz lands at Jazz Central on April 15 with a special double-header event, leading off with the Ancia Saxophone Quartet (7:30 pm), followed by Rare Medium. Although the two ensembles are significantly different in configuration and repertoire, they do have a common denominator– saxophonist Joan Hutton.
Ancia Quartet (7:30 pm)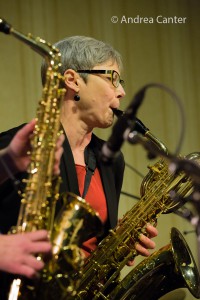 Founded in 1990, the Ancia Saxophone Quartet is dedicated to the creation and performance of new works for saxophone quartet as well as the performance of traditional saxophone quartet repertoire.  Based in the Twin Cities, the quartet has performed concerts and presented educational workshops throughout the United States, Canada, Korea, and Europe, and has appeared frequently on Minnesota and Wisconsin Public Radio, as well as on National Public Radio through Performance Today. The Quartet has premiered many compositions written expressly for the group, including commissions underwritten by the American Composers Forum/Jerome Foundation and THE Commission Project. An advocate for contemporary music performance, the quartet has played on the Society of Composers Inc. conferences, the Sonict New Music Series, Music from Almost Yesterday (Milwaukee, WI), and the YoungNam Composers Association (Daegu, Korea). The group's first recording, Variations, includes selections by Gershwin, Bach, and Duke Ellington along with music composed especially for the quartet. A second CD, Short Stories, was released internationally on Naxos featuring American composers Higdon, Ives, Torke, Sturm, Macy, Bixler, and "Jelly Roll" Morton. The quartet includes Angela Wyatt on bari, David Milne on tenor, Joan Hutton on alto, and Matthew Sintchak on soprano saxophones.
Angela Wyatt (bari) received a graduate degree in saxophone performance from Northwestern University. Angie teaches instrumental music in District 196 (Rosemount-Apple Valley) and saxophone at Augsburg College and the University of Minnesota.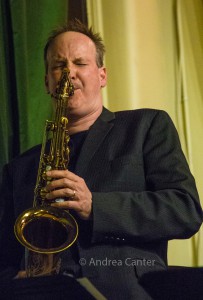 David Milne (tenor) is Professor and former Chair of the Music Department at the University of Wisconsin-River Falls where he teaches applied saxophone, jazz improvisation, saxophone ensemble, jazz ensemble, and directs the RADD Jazz Series. A native of Rochester, NY, he holds BA and MM degrees in music from Indiana University and a DMA from the Eastman School of Music. In the Twin Cities, Dave is an active jazz and classical saxophonist, guest artist/clinician, and composer/arranger who has appeared with the JazzMN Orchestra, Minnesota Orchestra, Saint Paul Chamber Orchestra, Pete Whitman X-Tet, and Dean Sorenson Sextet, as well as with Phil Woods, Doc Severinsen, Ray Charles, Jack McDuff, Smokey Robinson, and the Nelson Riddle Orchestra.
Joan Hutton (alto) received her masters degree in saxophone performance from the Eastman School of Music and her bachelors degree in music education and performance from Ithaca College. She has been teaching since 1994, and in addition to Augsburg has taught at Winona State University, Century College, and Concordia University. She also maintains a large private studio of saxophone and clarinet students in the Twin Cities area. An active performer in both classical and jazz idioms, she plays also plays alto and tenor in Rare Medium.
Matthew Sintchak (soprano) is saxophone professor at the University of Wisconsin-Whitewater. He holds a Doctorate (DMA with a Performer's Certificate Award), Master of Music degrees in saxophone performance from the Eastman School of Music, and undergraduate degree from the New England Conservatory of Music.
Rare Medium (8:30 pm, approx.)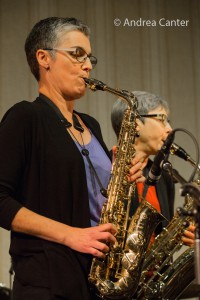 Rare Medium is an eclectic jazz fusion ensemble that has performed in the Twin Cities over the past decade. Their album Reconditioned provides a good introduction to the band– all original compositions that define the terms "funk jazz" and "groove music," syncopated back beats, electric fusion instrumentation, and global influences from Africa, the Caribbean, Europe and beyond. Members of the band include Joan Hutton (sax), Aaron McCabe (trumpet), Jaime Zuber (guitar), Jesse Mueller (keys), Joshua Stallings (bass) and Ryan Johnson (drums).
Aaron McCabe (trumpet) attended MIT and has played trumpet with Rare Medium for many years, as well as performing with the J.Tyler O'Neill Trio. There are rumors that he also plays the didgeridoo.
Joan Hutton (saxophones) is a founding member of the Ancia Saxophone Quartet (see above).
Jaim Zuber (guitar) is a long-time member of Rare Medium. He's also played guitar for Ryan Paul and the Ardent.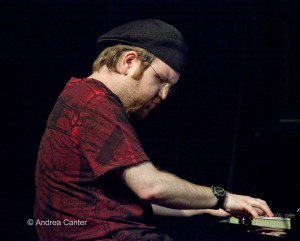 Jesse Mueller is on of the most versatile keyboard players in the Twin Cities, handling anything from jazz, fusion, Latin and funk, to country, gospel, blues, R&B, rock and hip hop. He was a Wednesday night fixture at the Artists Quarter, playing for several years with Steve Kenny and the Bastids.
Newest member of Rare Medium, bassist Joshua Stallings earned his degrees in Technical Theater and Jazz Studies. He also sings and plays banjo, and works as an electrician and sound engineer at the Minnesota History Theater.
Drummer Ryan Johnson has also been a long-time member of Rare Medium and has performed with the J. Tyler O'Neill Trio.
Got your taxes done? Now it's time to relax with a wide world of music at Jazz Central, brought to you by Friday Night Jazz in Exile on April 15!
Jazz Central is a nonprofit music venue located at 407 Central Av SE in Minneapolis — only a few blocks north of the Minneapolis downtown post office if you need to drop off a tax return enroute! Music at 7:30 pm, $10 donation covers both shows. Thursday Night Jazz at Reverie begins May 5 with the Golden Circle Trio; www.fridaynightjazzatreverie.info