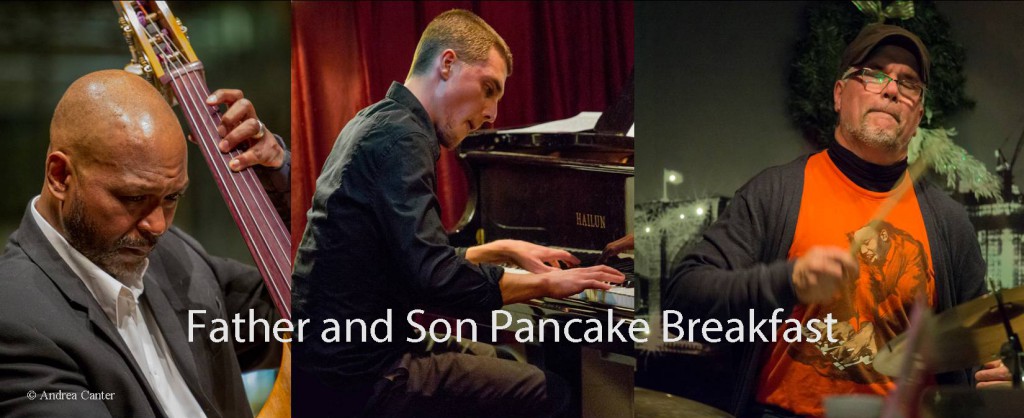 Friday nights at Jazz Central have had several different "series" over the past few years, but regardless of the theme, the music has typically come from local jazz masters, sometimes in new configurations such as "Father and Son Pancake Breakfast" on April 22. The trio does include a father-son pair– Mac and Javi Santiago on drums and piano, along with one of the "fathers" of local modern jazz, bassist Anthony Cox. And this is not really a breakfast gig, starting at 8 pm; there won't likely be pancakes, but treats from Vanessa Lopez are always on the Friday night menu. No doubt, these musicians will have had their Wheaties!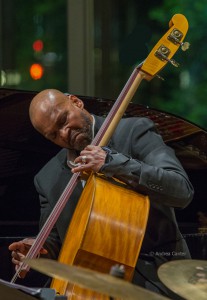 Twin Cities native Anthony Cox studied bass at the University of Wisconsin Eau Claire, then headed to New York, building a reputation that took him on tour with Stan Getz.  In the early 90s, he returned to the Twin Cities but his career has hardly been limited by his residence. Over the years, Cox has worked and/or recorded with Joe Lovano, Sam Rivers, Dewey Redman, Geri Allen, Arthur Blythe, and Uri Caine, playing upright acoustic, electric and Spanish acoustic bass, as well as cello. With Bill Carrothers and Jay Epstein, he has performed and recorded as Easy Company, and recently has appeared at the Icehouse, Dakota, Black Dog and Jazz Central. He leads several ensembles including DD7 and the Regional Jazz Trio, and is a member of the Atrium Jazz Ensemble, with whom he recently debuted "The Rage of Achilles" at Orchestra Hall, co-written with Jeremy Walker.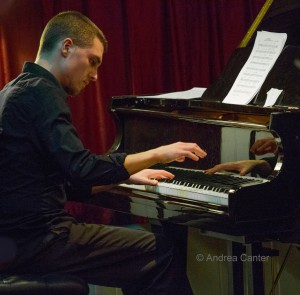 Pianist Javi Santiago comes by his musical bent honestly, the son of drummer Mac and vocalist Laurie Santiago, and grandson of Latin percussion master, the late Luis Santiago. Javi began studying piano at age 7, turning to jazz piano and trumpet at age 10. In his teens, Javi played with several youth ensembles including the Dakota Combo, and was selected for the Brubeck Institute Fellows program. He completed college studies at the New School for Jazz and Contemporary Music in New York, where he worked his way through the Big Apple jazz scene. Back in the Twin Cities for the past year, Javi been busy as a leader and sideman with such like-minded rising stars as Jake Baldwin, Miguel Hurtado, and Ted Olsen. He'll lead a trio with Hurtado and Dan Carpel at the Black Dog on Saturday, April 23, and again for Jazz Central's fund-raising festival on April 30.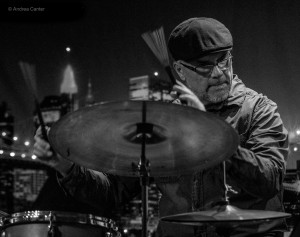 Drummer Mac Santiago is a familiar figure to Twin Cities jazz audiences as well as musicians. A native of California and son of the late percussionist Luis Santiago, he has been playing music professionally since age 16. After attending Sonoma State University for three years, he graduated from Idaho State University in 1980 with a Bachelor of Music. He toured for a few years before moving to the Twin Cities in 1983. Over his career, Mac has played in just about every possible configuration and genre, from touring with British rock band Badfinger to playing with area jazz, salsa, country and R&B bands; he's performed in pit orchestras of the Guthrie and Minnesota Opera, with blues legend Mojo Buford, Grover Washington, Jr., Doc Severinsen, Dallas Brass, Savion Glover, Jack McDuff, Paul Bollenback, Dick Oatts and more. Mac has backed a long list of area vocalists and instrumentalists in the Twin Cities, and has directed community youth jazz groups. With pianist Tanner Taylor, Mac established Jazz Central Studios in Minneapolis, a nonprofit setting for teaching, recording, and performing. He's often on the bandstand backing veterans and newcomers alike, and co-leads the Twin Cities Latin Jazz Orchestra. Mac is author of Beyond the Metronome, a text for both student and experienced musicians.
Jazz Central Studios is located at 407 Central SE in Minneapolis. Donations of $10 ($5 students) appreciated to support this nonprofit venue and musicians. Full schedule (Monday-Friday+) at http://jazzcentralstudios.org