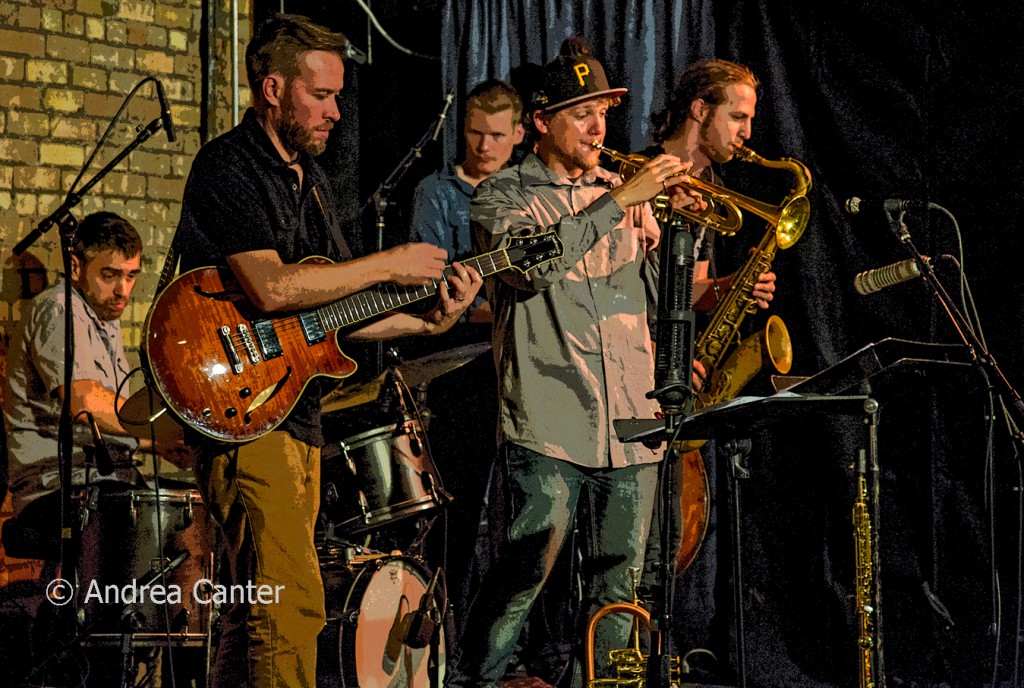 Back in August 2015, over three nights stretching from St Paul to Minneapolis across three different venues, the Adam Meckler Quintet treated audiences to live recording sessions. Culling the best from their gigs on three series curated by Steve Kenny at Studio Z ("All Originals"), The Nicollet ("Friday Night Jazz at the Nicollet", now Reverie), and Black Dog ("Saturday Night Jazz at the Black Dog"), Adam and his cohorts will celebrate the release of Wander this Saturday night at Vieux Carré. They follow an opening set from the Iowa City-based trio, Jack Lion at 9 pm.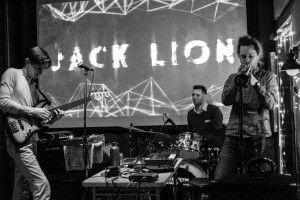 Jack Lion, 9 pm
Reports Adam Meckler, "Jack Lion is an awesome band from Iowa that plays electronic modern jazz. The band is full of old friends who I respect greatly and it's totally in your best interest to get to the show early and check them out! Seriously, seriously cool dudes and music makers." Two of the Jack Lion musicians — Brian Lewis Smith (trumpet, keys and electronics) and Drew Morten (bass, vocals and electronics) have appeared in the Twin Cities with the quartet Koplant No, led by former St Paul resident Joel Vanderheyden. Add in drummer Justin LeDuc and you have Jack Lion. Drawing on their formal jazz training and years of experience in the Iowa City music scene, the band is crafting a sound that is primarily ambient/electronic but influenced by improvised music. "I like to sample things onstage, and the band often improvises around the samples to create new sections of the song on the fly," explains Smith. "This gives the audience something unique every night and creates an interesting challenge for us."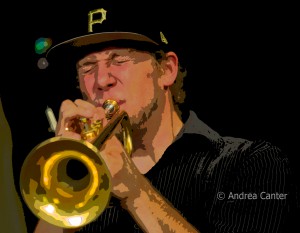 Adam Meckler Quintet (approx. 10:30 pm)
A performer, composer and educator, Adam Meckler received his undergraduate degree in trumpet performance with a jazz studies emphasis in 2007 from Lawrence University in Appleton, WI. A member of LU's Downbeat award-winning Jazz Ensemble, he studied with the late acclaimed composer and educator Fred Sturm and received the school's prestigious Jazz Composition Award and the Phi Mu Alpha Sinfonia's Leadership in Music Award. Based now in the Twin Cities, Adam has performed with The Artie Shaw Orchestra, the Stan Bann Big Band, Nova Jazz Orchestra, Evan Montgomery Quintet, Todd Clouser's Love Electric, Pete Whitman X-Tet, and the Brass Barn Polka Band. These days he regularly performs with wife/vocalist Jana Nyberg's ensemble (Jana Nyberg Group), Jack Brass Band, the JazzMN Orchestra, Pete Whitman X-Tet, the Graydon Peterson Quartet, The Good, the Bad and the Funky, and leads his Adam Meckler Quintet, Lulu's Playground, and  his Adam Meckler Orchestra. He toured Europe with Youngblood Brass and co-leads another brass-heavy band, Nooky Jones.
Meckler's debut recording, For Dad, includes all original compositions and features four of the area's most sought-after musicians—Brandon Wozniak on tenor sax, Zacc Harris on guitar, Adam Linz on bass and Greg Schutte on drums—in a  tribute to his father (Rick Meckler), who passed away in 2009. His AMO released one of the most highly rated recordings of 2014, When the Clouds Look Like This. In addition to performing and composing, Adam is a dedicated educator, leading jazz ensembles for the MacPhail Center for Music's program in Chanhassen and recently joining the faculty of the McNally Smith College of Music.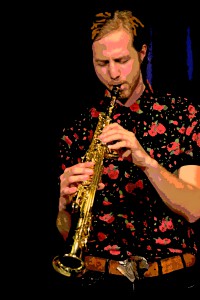 Nelson Devereaux is a 2011 graduate of the University of Minnesota's School of Music with a double major in Saxophone Performance and Music Education, with a focus on jazz and improvisation. He has studied with Dave Milne, Aaron Gardner, Mike Lewis, David Bixler, Clay Jenkins, Doug Stone and Berkeley Fudge, as well as with renowned classical saxophonist Eugene Rousseau. Devereaux plays saxophones, clarinet, bass clarinet, flute, piano and percussion. He leads his own trio, plays with the Jazz Wonderband, New Sound Underground, Jake Baldwin Quintet, Courageous Endeavors, the Adam Meckler Orchestra, Nooky Jones and more, and is composing music for his debut jazz album.
Saxophonist Joe Mayo has performed all over the world for Carnival Cruise Lines and on tour with the hot British indie rock group, Friendly Fires. He can evoke the pure understated sound of Paul Desmond in one song — and then be channeling Junior Walker or Clarence Clemmons in the next tune! Locally he leads his own quartet, co-leads President Flow, and performs with the Twin Cities Latin Jazz Orchestra, the new Midwest Saxophone Quartet, and jazz/R&B band Wild Honey. A native of Connecticut, Joe earned degrees at the University of Massachusetts and SUNY Purchase, and studied with saxophonists Adam Kolker, Ralph Lalama, Eric Alexander and Seamus Blake, and with trumpeter Scott Wendholt. Joe has appeared as the Featured Artist at Jazz Central Studios.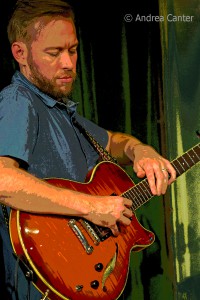 A California native, guitarist Zacc Harris came to Minneapolis about nine years ago from Illinois, where he graduated from Southern Illinois University. Here he formed the Luminessence Trio (now Zacc Harris Trio), continuing weekly gigs at the Riverview Wine Bar. Zaac also leads his Quartet, Atlantis Quartet, American Reverie trio, Vital Organ, the Zacc Harris Group, Counterclockwise, and Monk in Motian; performs with Dean Granros' Tall Tales and the Babatunde Lea Quartet; is frequently on stage with Brandon Wozniak, Chris Bates and Adam Meckler; and teaches jazz combo at Hamline University as well as private guitar lessons. He's also curated the Jazz at Studio Z series for four seasons and is co-founder of Shifting Paradigm Records.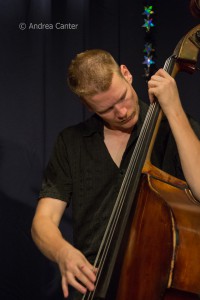 Graydon Peterson played electric bass in his high school pep band and dabbled in rock music before finding his way into jazz. At the University of Wisconsin-Eau Claire, he was a member of UWEC's Downbeat Award-winning Jazz Ensemble I and performed with such guest jazz artists as Lewis Nash, Ingrid Jensen, Jason Marsalis, Chris Botti, and Christian McBride.  In Minneapolis, Peterson is a first-call bassist who often works with top area vocalists, including  Debbie Duncan and Connie Evingson. He performs regularly with the trio Firebell with Park Evans and Jay Epstein, the three-bass trio Mountain King, the Adam Meckler Quintet and Orchestra, and a long list of instrumentalists. Peterson launched his own quartet in fall 2011 as a means of focusing on his own compositions, and released the quartet's first recording in 2013. He followed in 2015 with Duets, featuring each member of his quartet in duets with each other.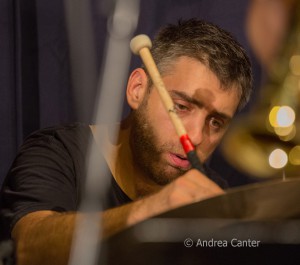 Greg Schutte is a drummer, producer, and sound designer who has as performed nationally and internationally with a wide variety of artists/groups, including: The Mickey Hart Band, Chastity Brown Band, Todd Clouser's A Love Electric, The Hornheads, Jelloslave, Lori Line, Anthony Cox, Adam Meckler, and many more. In 2010 Greg toured Iraq and Kuwait, performing for the US/Coalition Forces with singer/songwriter Keri Noble. From 2009-2013, Greg was commissioned to compose original music for Ananya Dance Theater, with premiers in Trinidad, Zimbabwe and Minneapolis. He owns the Bathtub Shrine Studio in Northeast Minneapolis.
Wander (Shifting Paradigm Records, 2016)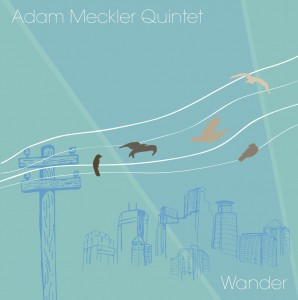 Wander is technically the second quintet recording from Adam Meckler, following his debut effort, For Dad, released in 2009. It's a partially new configuration, however, with Meckler, Zacc Harris (guitar) and Greg Schutte (drums) now joined by saxophonist Nelson Devereaux (and Joe Mayo on one track) replacing Brandon Wozniak, and bassist Graydon Peterson in place of Adam Linz. Neither of these changes should be considered a downturn or an upgrade on a talent scale, just different –and equally compelling– voices. Both Devereaux and Peterson have been consistently involved in Meckler's large ensemble, the Adam Meckler Orchestra.
What distinguishes Adam Meckler from many performer/composers of his generation is the diverse and engaging nature of his compositions, whether writing for the quintet or the AMO (with which he released the highly regarded When Clouds Look Like This in 2014). Be it five or eighteen voices, these works feature elegant close horn harmonies, soaring solos, often-thrashing (but never overblown) percussion, and above all, memorable melodies, a character often missing or subservient in modern jazz writing. One result is the sound of a larger band from the quintet, the sound of chamber music from the orchestra. Wish offers tunes that could easily find their way into orchestral arrangements without diluting thematic or harmonic focus, and yet these could have started out as big band charts that, when stripped down to five parts, still retain the clarity and integrity of multiple voices.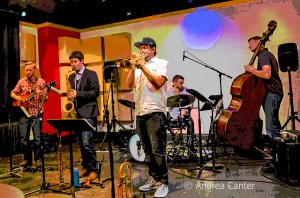 The title Wander references a favorite quote from J.R.R Tolkien, "Not all who wander are lost." Notes Meckler, "I've spent a lot of time on the road over the last decade. That means leaving family [including new son Augie] and friends at home. While this can be difficult, travel often leads to discovery, and discovery is the catalyst for new art." And planfully, Meckler and quintet "wandered" over three nights to three venues, from St Paul to Minneapolis and back, for this live recording, where local fans of modern jazz had the opportunity to participate in what Adam described as an "organic, human listening experience." Each venue, each audience, each performance had its own personality. As do each of the nine tracks, inspired by such diverse events as the death of Adam's father ("The Call"), the in-utero activity of his son ("Little Wild Child"), the challenges of the Black Lives Matter movement ("Let's Live"), the natural beauty of Door County, WI ("One Creaking Birch Tree"), the Atomium in Brussels ("Atomium Jules"), and even a friend's impressive beard ("Drew's Beard"). There are impressive solos throughout (listen to bassist Graydon Peterson's long intro and ongoing storyline on "The Sun Sets Slowly").
The release show at Vieux Carré launches a tour that takes the band from St. Paul to Milwaukee, Chicago, Pittsburgh, Cambridge and ending at the Shapeshifter Lab in Brooklyn, NY.
Vieux Carré is located at 408 St. Peter Street in the lower level of the Hamm Building, entry of W. 7th Place; http://vieux-carre.com. Tickets $10 (cash only at the door). Copies of Wander available at the show and from Shifting Paradigm records. More about Adam Meckler at www.adammeckler.com; more about Jack Lion at www.jacklionsound.com