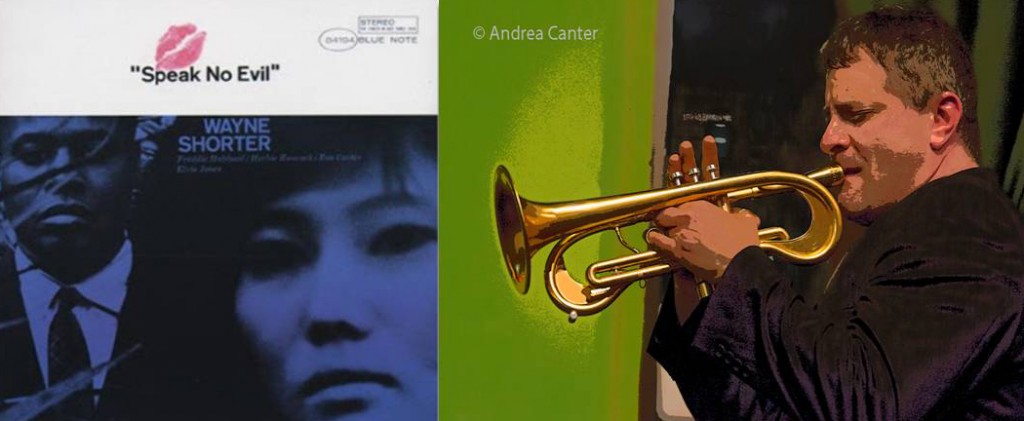 "Wayne is truly a masterful genius." — Chris Bates
A few months ago at the Icehouse, an ensemble of local jazzsters brought Wayne Shorter's Speak No Evil album to life in its entirety, playing under the appropriate name Witch Hunt. Now the "hunt" continues, with an all-star quintet reprising the effort as part of the Saturday Night Jazz at the Black Dog series, this weekend, May 7 at 8:39 pm. Witch Hunt features Joe Mayo on saxes, Steve Kenny on FLUMPET, Ted Godbout on piano, Ted Olsen on bass, and Adam Nussbaum on drums. And there's a "B Side" for this evening– an opening set (7 pm) presenting the Black Dog debut of the Plus One Trio (really a quartet) from River Falls.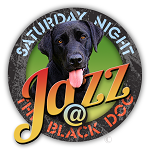 Plus One Trio
The Plus One Trio includes Nate Bauermeister on saxophones, Benjamin Allen on Trombone, Jason McLean on bass and Anthony Bloch on drums. Former students at the University of Wisconsin River Falls, the band has been playing around the River Falls area at such venues as Earth Angels and the Brickyard Pub and Eatery.
Witch Hunt
Witch Hunt in its Black Dog iteration offers a feisty collaboration among some of the most in-demand young artists along with veteran and Saturday night jazz curator Steve Kenny.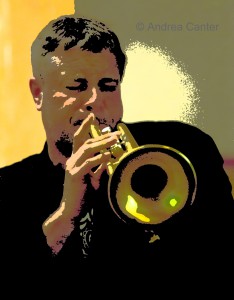 Steve Kenny, FLUMPET™, co-founded the popular Illicit Sextet after graduating from UW-River Falls. Among other projects, he led The Bastids and then Group 47 weekly at the Artists Quarter, and more recently at Jazz Central, the Icehouse, the Black Dog and more. Group 47 recorded an LP, Straight to Vinyl, released in summer 2014. Steve also performs in a number of area bands and leads several editions of the Steve Kenny Quartet. With a Metropolitan Regional Arts Council grant, he produced a 10-week series of jazz at Studio Z in summer 2014, renewed in 2015, and returning in 2016, featuring "All Originals" from local ensembles. In fall 2014, Steve launched the Saturday Night Jazz at the Black Dog series, and with Illicit Productions, assembled and released the first volume of the Twin Cities Jazz Sampler, a collection of tracks from 13 area jazz ensembles. In spring 2015, he inaugurated another weekly series, Friday Night Jazz at The Nicollet (now Thursday Night Jazz at Reverie) in Minneapolis.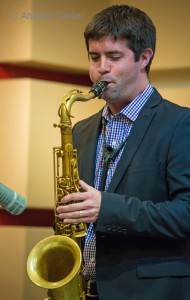 Saxophonist Joe Mayo has performed all over the world for Carnival Cruise Lines and on tour with the hot British indie rock group, Friendly Fires. He can evoke the pure understated sound of Paul Desmond in one song — and then be channeling Junior Walker or Clarence Clemmons in the next tune! Locally he leads his own quartet and performs with the Twin Cities Latin Jazz Orchestra, Adam Meckler Quintet, the new Midwest Saxophone Quartet, and jazz/R&B band Wild Honey. A native of Connecticut, Joe earned degrees at the University of Massachusetts and SUNY Purchase, and studied with saxophonists Adam Kolker, Ralph Lalama, Eric Alexander and Seamus Blake, and with trumpeter Scott Wendholt. Joe has appeared as the Featured Artist at Jazz Central Studios.
Ted Godbout is a pianist, composer, and educator who frequently performs as a jazz pianist and classical accompanist, as well in funk, R&B, and rock bands. He has performed with such notable artists and groups as Ron Miles, Mark Colby, and the Harry James Orchestra. Ted earned his undergraduate degree at St. John]s and Master's Degree at the University of Oregon. Ted is currently on faculty at Chaska Music Studios and Augsburg, and leads his own trio.  He frequently backs local musicians at Jazz Central Studios and appears regularly with PaviElle, Katia Cardenas, BDP, and the Bill Simenson Orchestra. Ted also serves as Director of Music at Shepherd of the Hill Presbyterian Church in Chaska, MN.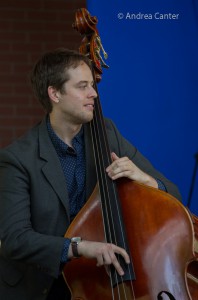 Ted Olsen studied bass with Travis Schilling and Adam Linz. He graduated from St. Paul's Como Park High School in 2010 and went on to study composition at Luther College in Decorah, IA, finishing college studies at the University of Northern Colorado in spring 2015. In the Twin Cities, Ted has taught at the Twin Cities Jazz Workshop and has performed as leader and sideman at various venues including the Artists Quarter, Jazz Central, Black Dog and more. His quartet performed on the Mears Park Stage at the 2015 Twin Cities Jazz Festival, and he is frequently on the bandstand with Javi Santiago, Miguel Hurtado, Jake Baldwin, and Joe Strachan.
Not to be confused with the well-known New York drummer of the same name, Adam Nussbaum has played the drums for 20 years. He plays jazz, funk, R&B, rock, and gospel in several groups in the Chippewa Valley, including Dames, the Shillelagh Lads, the Nick Foytik Band, and the Michael Rambo Project. He has also been a featured marimba soloist with the South Bend Symphony Orchestra and a member of the Elkhart County Symphony Orchestra. Adam earned his Bachelor's Degree from Indiana University in English and a Master's Degree in Theology from Anabaptist Mennonite Biblical Seminary. Adam is currently on the faculty of the Eau Claire Music School, teaching percussion.
Wayne Shorter's Speak No Evil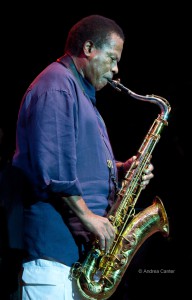 Speak No Evil was recorded on Christmas Eve, 1964 and released in 1966, produced by Blue Note co-founder Alfred Lion and recorded by acclaimed engineer Rudy Van Gelder. His third album for Blue Note within a year following Night Dreamer and Juju, and his sixth recording overall, Wayne Shorter changed up the band, perhaps to counter critics who regarded him as "just another Coltrane" follower. Only drummer Elvin Jones carried over to the new cast, which otherwise included Herbie Hancock and Ron Carter from Miles Davis's Second Quintet, along with Freddie Hubbard;  other than Jones (replaced by Tony Williams), this would be the line-up for Shorter's VSOP.
Six new compositions from Shorter fill the album, inspired, he said, by thoughts of "misty landscapes with wild flowers and strange, dimly-seen shapes — the kind of place where folklore and legends are born. And then I was thinking of things like witch burnings, too." Fairy tales were another source of inspiration, as the title of the bluesy "Fee-Fi-Fo-Fum" comes straight from the giant in Jack and the Beanstalk.
Overall the album brings together 50s hardbop and the modal trends of 60s avant garde in a cloak of the dark and mysterious. Hancock's soloing distinguishes the title track, and in addition to the unorthodox harmonies of  "Fee-Fi-Fo-Fum," the tracks include "Infant Eyes" (a hymn to his infant daughter), "Dance Cadaverous" (a waltz with hints of Sibelius that Shorter notes was inspired a photo of a med student with a cadaver), "Witch Hunt" (with an opening horn fanfare and melody of mostly perfect fourths), and "Wild Flower" (soon to become a standard jazz "waltz" in 6/4); the reissue includes an alternate take of "Dance Cadaverous."
The original album cover features Shorter's first wife Teruka (Irene) Nakagami. Generally critics have listed Speak No Evil as one of Shorter's best, if not the best of his albums. The Penguin Guide to Jazz selected this album as part of its suggested "Core Collection" calling it "by far Shorter's most satisfying record". Allmusic gave the album five stars.  Yet Downbeat did not list the album among the highlights of Shorter's career, and critic David Wilson described the album as "more or less standard bebop" and pale in comparison to Maiden Voyage and Out to Lunch.
Whatever the reception in 1966, in 2016 you can be assured that the musicians performing Speak No Evil on the Black Dog stage will add their own twists and turns.
Saturday Night Jazz at the Black Dog takes place at 308 Prince Street, at E. 4th Street and Broadway, in St. Paul's Lowertown Arts District; series schedule at www.saturdaynightjazzattheblackdog.info. No cover but donations ($10 suggested) appreciated to support the musicians and the jazz series.