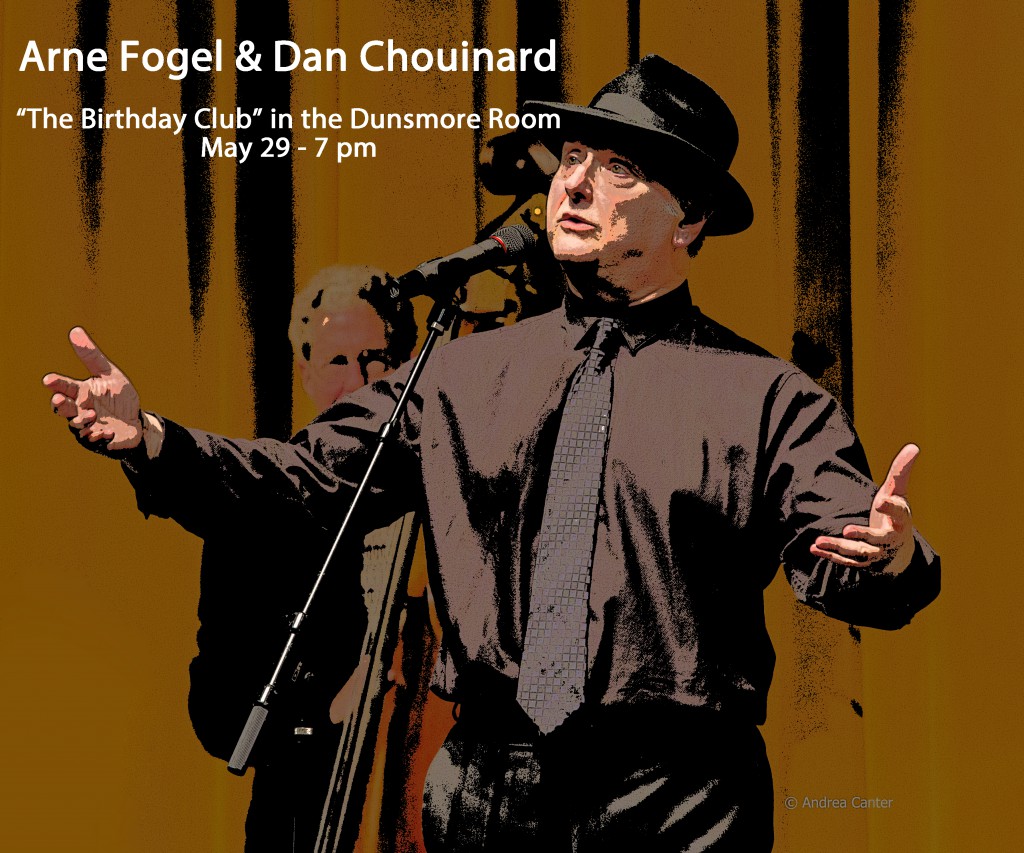 Since the Dunsmore Room at Crooners Lounge opened in December, pianist/host Dan Chouinard has presided over the Birthday Club two-three Sundays each month. The "club" celebrates the music of singers, songwriters and others with birthdays during the month, featuring a guest vocalist who joins Chouinard in song and commentary. Although he has frequently appeared in the lounge, usually fronting the Acme Jazz Company big band, Arne Fogel will make his first appearance in the Dunsmore Room on Sunday, May 29, 7 pm, helping Dan celebrate May birthdays.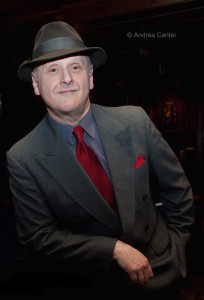 Bob Protzman (St Paul Pioneer Press) called Arne Fogel "…one of the Twin Cities' most interesting people — a singer, musician, actor, composer, writer, producer, music-film-comedy and entertainment historian, collector and oral encyclopedia."  A native of Des Monies, IA, Arne has sung on over 1500 jingles as well as composing and producing his own music for jingles and industrial presentations. An on-air personality on MPR, KLBB, and KBEM radio, he is also frequently seen on TV commercials, lends his voice to radio and TV spots, and has experience in local theater. Arne has channeled Sinatra and Crosby throughout clubs in the Twin Cities, was a regular at the Times and now at Hell's Kitchen and Parma 8200 (usually with the Wolverines), performs monthly with the Acme Jazz Company at Crooners Lounge, and has released two solo recordings —You Call It Madness on vinyl in 1989 and the acclaimed Wrap Your Troubles in Dreams in 2001. His long-running duo with vocalist Maud Hixson led to their acclaimed Let's Not Be Sensible (2005).
Arne's exploits include the title role in Bing and the Andrews Sisters at the Bloomington Center for the Arts (2008); producing and hosting "The Bing Shift" on KBEM radio; producing/co-starring in a series of musical revues saluting Frank Sinatra, Hollywood, Bing Crosby and Rosemary Clooney, and the music of the 30s, 40s, and 50s at the Bloomington Center for the Arts; producing Minnesota Voices: Certain Standards for KBEM radio; co-producing and co-writing (3 songs) for singer Nancy Harms second recording (in New York), Dreams in Apartments; co-producing Nancy's new 2016 release, Ellington at Night, and writing, co-producing, and hosting 12 new episodes of the series Bing's Basement in Hollywood for Sirius XM Radio Network.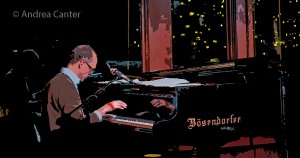 Pianist, accordionist and storyteller Dan Chouinard plays, tours, and records with an ever-expanding roster of musicians and writers. He regularly creates special programs which blend storytelling, interview and music, many for Minnesota Public Radio and the Minnesota Historical Society. His shows Civil War Homecoming (2015), Cafe Europa (2014, 2008, 2005), and Mambo Italiano (2006) have been aired on Twin Cities public television and broadcast statewide on MPR, as have his frequent radio collaborations with Ann Reed, Peter Ostroushko, and Patricia Hampl. Dan also works occasionally on A Prairie Home Companion with Garrison Keillor. Dan is probably best known around the Metro for his acclaimed radio series, The Singers Voice, which broadcast live from the Dakota Jazz Club (at its original St Paul location); each show featured a different vocalist each week, totaling 200 over the show's six-year run (1994-2000). The Birthday Club has a similar format.
The Dunsmore Room at Crooners Lounge is located at 6161 NE Highway 65 in Fridley, just north of I-694 and about 20 minutes northeast of downtown Minneapolis; www.croonersloungemn.com for reservations and full schedule. Tickets $10/$35 for three-course dinner option.