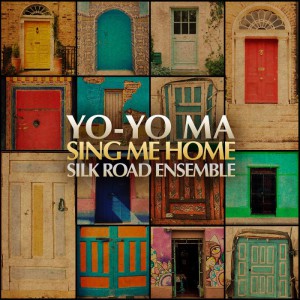 Whether as a means to showcase his diversity, or perhaps a distraction from the occasionally stoic nature of the concert hall, cellist Yo Yo Ma founded "The Silk Road Ensemble" years ago and it's been a virtual goodwill mission for players and fans worldwide ever since.  As the group name suggests, their mission is to forge a trail for musical journeys of all types.
Every so often, a non-jazz recording makes its way across my desk. Not as frequently, I am tempted to feature nearly all the works, regardless of format. Such a recording is Sing Me Home. As it happens, there are several tracks that more than fit the jazz niche.
"St. James Infirmary (Blues)" features the soulful vocals of Rhiannon Giddens, who had liberty to take the song into delightful tangents. This is a privilege afforded to all guests and members of the ensemble, at the insistence of its founder.
There is also a great duet between Lisa Fischer and Gregory Porter on "Heart and Soul." With his own recording just released, and countless appearances over the past months, Porter is becoming something of a go-to singer, but is far from over-exposed.
This is also a group that is tailor made for the likes of guitarist Bill Frisell. His offering "If You Shall Return" is a stand-out in a recording full of delightful mood swings.