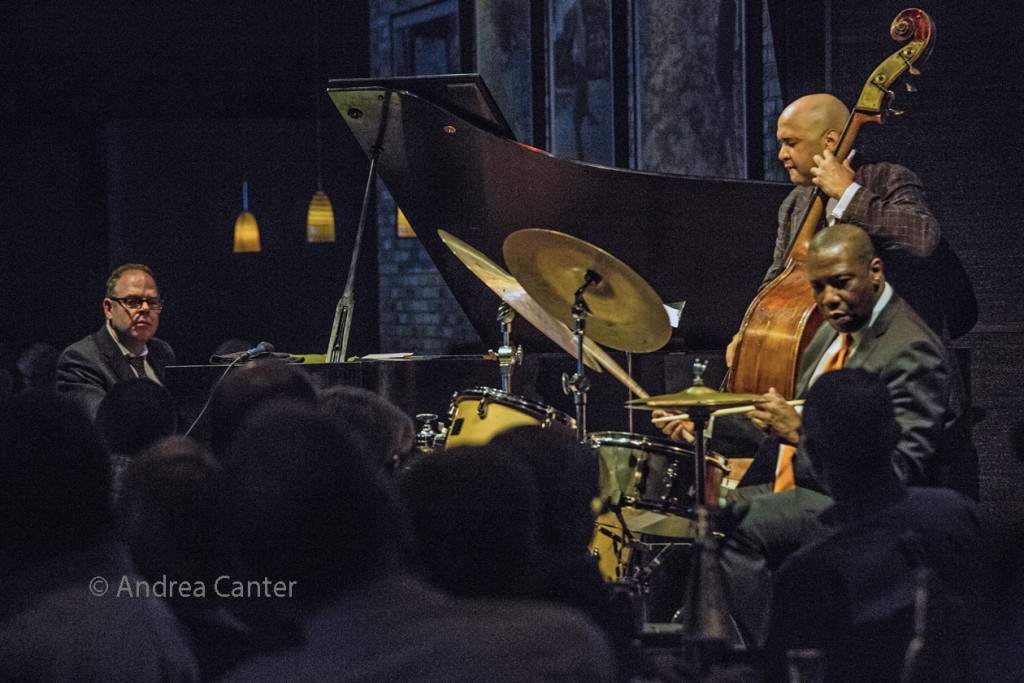 Radiant and amazing pianist Bill Charlap has been playing and producing the very best trio jazz music for many years.  His trio with bassist Peter Washington and drummer Kenny Washington (no relation) has been together for nineteen years and counting.  They all reside in the New York/New Jersey region and all three have many impressive musical credits, as educators as well as performers. Their run at Catalina's covered three days, May 6-8.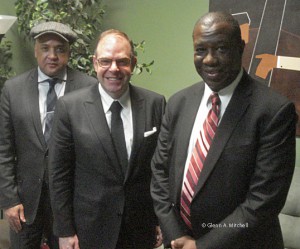 Bill Charlap comes from a New York musical family.  Some earlier greats he worked with were Gerry Mulligan, Phil Woods, Benny Carter, Tony Bennett and Scott Hamilton.  His wife, Renee Rosnes, is also major talent as a  jazz pianist.  Ther have released an excellent duo album, Double Portrait (2010).  Charlap has won two Grammy Awards, including the 2016 release with Tony Bennett, The Silver Lining: The Songs of Jerome Kern, winner of Best Traditional Pop Vocal Album.
Peter Washington, born in Los Angeles, studied classical bass, but later began his interest in jazz at Cal State Berkeley and later in New York where he worked with the Jazz Messengers, Dizzy Gillespie, Kenny Burrell, Cedar Walton, and the Tommy Flanagan Trio for ten years until Flanagan's passing.
Kenny Washington, born also in New York and a first-call drummer, has worked with many greats, including Lee Konitz, Betty Carter, Johnny Griffin, Clark Terry, George Cables, Sonny Stitt, Lionel Hampton and Ahmad Jamal, to name a few.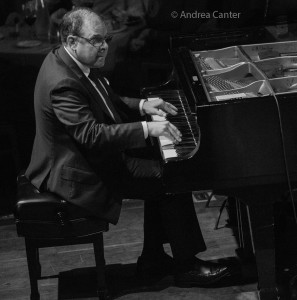 We attended the trio's opening night with a packed crowd of enthusiastic jazz fans.  They received a round of applause with their introduction to the Catalina stage.  Charlap thanked the many patrons for coming this night and stated that, since it was already May now, hey would play "I Remember April."  It was a rousing arrangement.  The trio was tight and performed well together.  I noticed immediately that Charlap is a very confident and assertive performer.  His arrangements for his trio are distinctive and very much his own.  His rhythm section stays right with him through all the twists and turns.  They did a beautiful and very smooth version of the ballad "I Didn't Know What Time It Was," with some soloing from both bass and drums that fit nicely, following with an uptempo of Cole Porter's "All Through the Night."  The lovely "It's Only A Paper Moon" from Harold Arlen, shined brilliantly.  Charlap's time with Gerry Mulligan was well-noted with an impressive performance of Mulligan's uptempo "Rocker."  Duke Ellington's eloquent composition, "Sophisticated Lady," was a highlight musically for both the trio and the audience.  Charlap plays this and many tunes with lots of meaningful accentuations.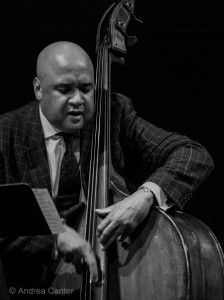 Dizzy Gillespie's "Wouldn't You" was stellar and gave room for a fantastic drum solo from Kenny Washington.  This piece was also an exceptional number of the evening.  The pretty ballad "Too Late Now" gave Peter Washington time for a wonderful solo, taking his bass through all the changes of this tune.
Bill Charlap announced some great musicians in the house–vocal jazz icon Ernie Andrews and super drummer Roy McCurdy.  They have both worked with Charlap in other musical settings.
Closing the evening was jazz standard "Groovin' High" by late/great Dizzy Gillespie.  The audience gave a remarkable standing ovation for this amazing trio.  Hopefully they will be back in the not-too-distant-future. See Bill Charlap's website:  http://www.billcharlap.com .
Reprinted with edits from  L.A. Jazz Scene, June 2016 issue