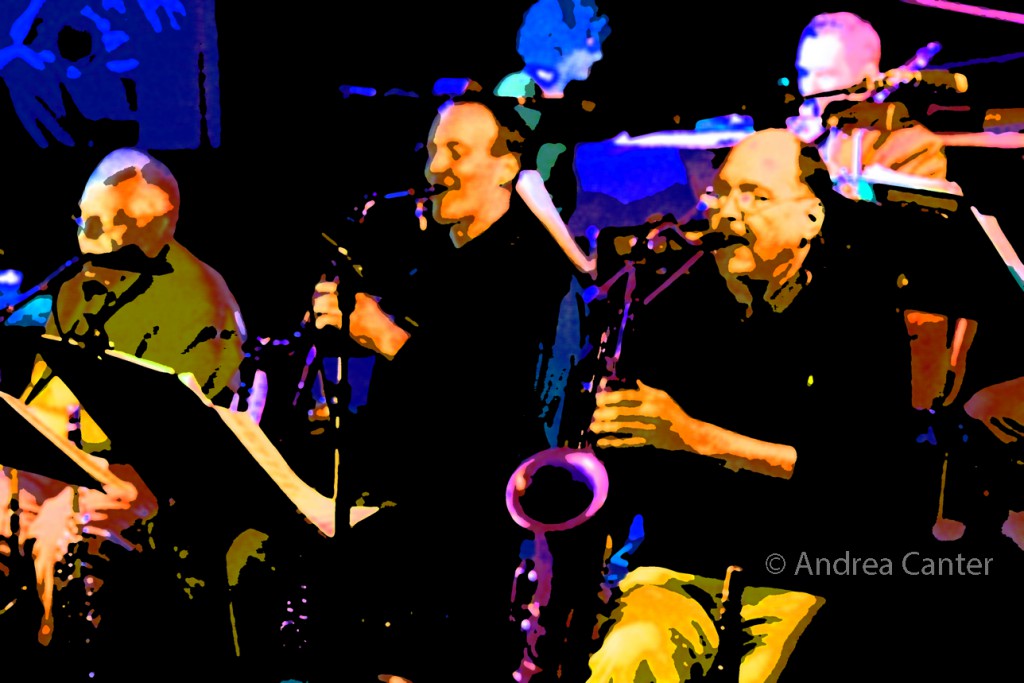 A long-time monthly fixture at the Artists Quarter, the Pete Whitman X-Tet kept a lower profile after the AQ closed at the end of 2013. In 2016, however, fans of this savvy little big band (as well as newbies) have again enjoyed the unique harmonies and original music of the X-Tet at such venues as the Hopkins Center for the Arts, Crooners Lounge and Jazz Central. The band lands at the Dakota on Monday, June 13.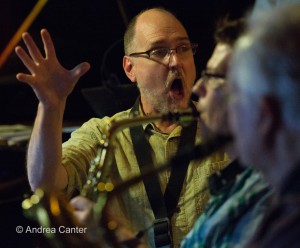 The X-Tet evolved from a group of musicians writing new works, the Jazz Composers Art Ensemble, which included Pete Whitman, Laura Caviani, and Joe Cosgrove. Cosgrove applied for a grant and assembled the 10-piece band to record the tune "Epicycle." When Will Sampson of Artegra Records heard the track, he set up another recording session, intended as a one-off, yielding  the 2002 album, Where's When. Named one of the top 20 locally-produced recordings of the year by the Minneapolis Star Tribune, Where's When also received a four-star rating from Down Beat. Wrote reviewer Bret Rudolph (Music Tap), "The music is something of a puzzle that waits for the listener to put the pieces together…The chords are well defined and exceptionally detailed allowing the listener to not only experience the excitement but hear the synergy between the different instruments and musicians alike. This experience combined with an exceptional creativity of musical works makes even the casual listener want to tap their hands and feet to the upbeat and light-hearted music."
With Pete and Laura leading the way, the one-off soon became a regular feature at the Artists Quarter. Notes Pete, "Kenny Horst provided the venue for us to play. It was not the most lucrative gig,  but everyone kept coming back, and gig lasted for 12 years," until the Artists Quarter closed. Over the past two years, the X-Tet has played occasionally at Jazz Central Studios. The current X-Tet is a virtual Who's Who in local jazz. In addition to Whitman and Caviani, the X-tet includes saxophonists Dave Karr and David Milne, trumpeters Adam Rossmiller and Adam Meckler, trombonist Jeff Rinear, vibraphonist Dave Hagedorn, bassist Chris Bates, and drummer Phil Hey.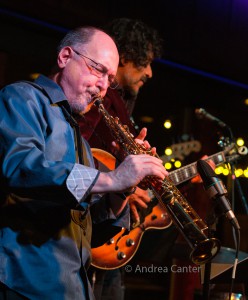 After launching his career in Kansas City, Pete Whitman moved on to jazz studies at North Texas State University. He toured internationally with the Glenn Miller Orchestra before moving to the Twin Cities in 1988. Pete's credits on tenor, alto, soprano and flute include performing with Randy Brecker, Jack McDuff, the Woody Herman Orchestra,, Michael Feinstein, Debbie Boone, Rosemary Clooney, Barbara Dennerlein, Lavay Smith & Her Red Hot Skillet Lickers, Dave Stryker, Curtis Fuller and Andres Prado. In addition to leading his X-Tet and smaller ensembles in the Twin Cities, Pete works regularly with the Jazz MN Orchestra, Laura Caviani Quartet, and Mississippi. A few years ago, Pete was commissioned to score the film, Been Rich All My Life, about a quartet of octogenarians reprising their dancing days in vaudeville. A dedicated educator, Whitman heads the Woodwind and Brass Department at St. Paul's McNally Smith College of Music, teaching saxophone, improvisation, and arranging, and leading the McNally Smith X-Tet.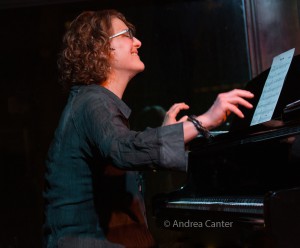 Raised in the Midwest where she studied trumpet as well as piano through high school, Laura Caviani received a Bachelor's of Music in Composition from Lawrence University in Appleton, WI, and a Masters of Music in Improvisation from the University of Michigan at Ann Arbor. With a grant from the Atlantic Center for the Arts in 1997, she studied with piano virtuoso JoAnne Brackeen, and the following year was one of four American musicians selected to study in Japan at the Akiyoshidai International Art Village.  Over her career, Laura has performed with Toots Thielemans, Bob Mintzer, and Dave Liebman, and has toured and recorded with star vocalist Karrin Allyson. As a leader she now has five acclaimed recordings to her credit and a long list of supporting roles with local musicians. Recent projects have included a cross-genre Alec Wilder project and "From Bach to Bop" – jazz arrangements of favorite classical works with her quartet and in duo with saxophonist David Milne. As a composer, Laura has created numerous works for jazz ensembles and orchestral works for the Central Wisconsin Symphony Orchestra and the Kansas City Symphony Orchestra. Currently she is on the music faculties of Carleton College (directing the big band) in Northfield, the MacPhail Center for Music, and McNally Smith College of Music, and is a frequent instructor at the Shell Lake Arts Center.
Recent X-Tet repertoire has included some new compositions from band members and works drawn from Laura's recent project, "From Bach to Bop," rearrangements of classical works for jazz ensemble by Laura and David Milne. The X-Tet will perform at the 2016 Twin Cities Jazz Festival with vocalist Lucia Newell.
The Pete Whitman X-Tet performs at the Dakota Jazz Club, 1010 Nicollet Mall, downtown Minneapolis. Cover $7. Reservations in the club at 612-332-1010; www.dakotacooks.com