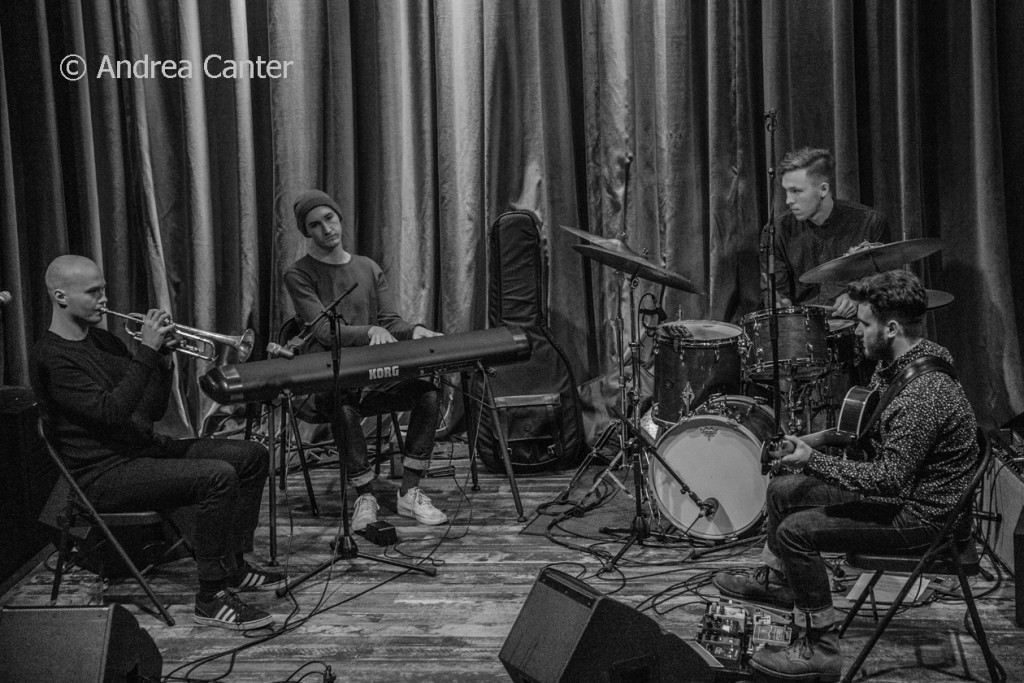 Alums of Minneapolis South High, Joe Suihkonen and Emerson Hunton continued their jazz adventures at the Oberlin Conservatory, where they met Noah Gershwin and Eric Krouse. Four years later, their quartet Junior Ranger will launch a summer tour at the Icehouse in south Minneapolis on Monday, June 27 at 9:30 pm, part of the weekly Jazz Implosion series curated by JT Bates. The band sticks around town to perform on the Saturday Night Jazz at the Black Dog series on July 2, adding locally-based colleagues, Nathan Hanson and Ted Olsen, following an opening set from the young guns of Dark Blue.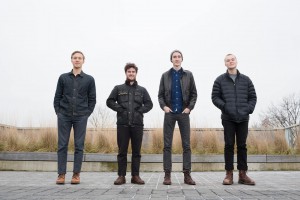 Junior Ranger at the Icehouse (June 27, 9:30 pm)
Trumpeter Joe Suihkonen and drummer Emerson Hunton met as students at Minneapolis South High School. In addition to South High jazz bands, the two young artists were also members of the metro-wide Dakota Combo, although not at the same time. Following graduation, both headed to the Oberlin Conservatory of Music, where they both graduated in spring 2016. In addition to their individual exploits at Oberlin, Joe and Emerson have often performed together, including the collaborative quartet, Junior Ranger with fellow Oberlin students (and spring graduates) Noah Gershwin (guitar) and Eric Krouse (piano). Junior Ranger explores non-traditional orchestration, firm compositional structures, and free improvisation. In 2014 the band was awarded Oberlin's Conservatory Initiative Grant Supporting Imagination and Excellence to study Dutch improvisation and develop new material, which led to their January of 2015 residency in Amsterdam, rehearsing and performing new music. This resulting music was recorded in May 2015, released as their debut album, Monster Masks.
The June 27th show at the Icehouse is the kickoff for the band's summer tour, stretching from Minneapolis to the East Coast, ending with an artists' residency at the Avaloch Farm Music Institute in New Hampshire. The band wil perform music from Monster Masks as well as new material for a second recording planned for the end of the tour.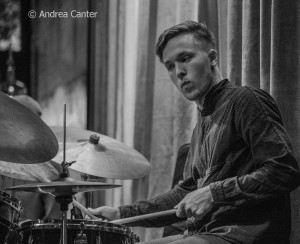 Emerson Hunton started playing drums at 10, and studied with Andy Thompson and Phil Hey. His student music experiences included MITY Jazz I and Combo I, MacPhail jazz and rock camps, Twin Cities Youth Jazz Band, the Viva City concert band (on euphonium), South High jazz ensembles, as a junior and participated with the Combo in the 2011 Charles Mingus Festival and Competition in New York City. At Oberlin, Emerson studied percussion and performed in a number of jazz ensembles, including the Noah Gershwin Trio. Since high school, he has performed locally with the Ted Olsen Quartet and with an ensemble at the Black Dog during the 2014 Twin Cities Jazz Festival.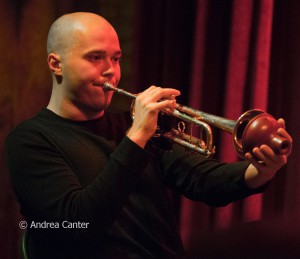 Joe Suihkonen grew up surrounded by music, as his dad played guitar in the local band, Out All Night. After starting guitar at age four, he moved on to drums and trumpet at 9. He studied classical trumpet at school, jazz trumpet with Dave Jensen, and more recently studied with renowned trumpeter Sean Jones at Oberlin. In addition to bands and combos at South, Joe played with the Dakota Combo during his senior year, with local rock band Joe & Kyle, and free jazz group Bad Acid. He played in a number of ensembles at Oberlin.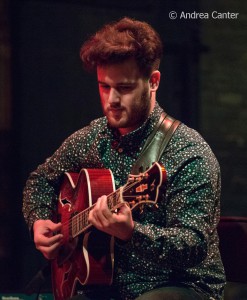 Noah Gershwin is a guitarist, composer, arranger, and teacher. He has studied with Philadelphia legend Steve Giordano, Lucas Brown, Bobby Ferrazza, Peter Bernstein, Pat Martino, John Swana and others. He has played with musicians such as Gary Bartz, Billy Hart, and Justin Faulkner, and has performed at venues and festivals such as the Kimmel Center for the Performing Arts, The African American Museum in Philadelphia, Chris' Jazz Cafe', Ortlieb's Jazzhaus, and many more. In addition to jazz, Noah studies and performs classical guitar. Noah is a spring 2016 graduate of the Oberlin Conservatory of Music.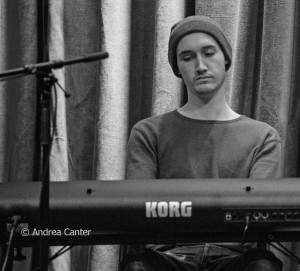 Eric Krouse, of Summerville, PA majored in Jazz Studies at Oberlin, performing both jazz and classical piano. While at Oberlin Conservatory, he won the Dean's Talent Award, the 2012 Jack Rowley Music Scholarship, and the 2012 Blackwoods Theater Organ Society Music Scholarship. In 2013,  Eric won first place in the College Jazz division of the West Virginia University's Keyboard Festival. He performed with a number of ensembles at Oberlin, including the Joseph Suihkonen Ensemble and Junior Ranger.
Junior Ranger + 2 at the Black Dog (July 2, 9 pm)
Making their debut on the Saturday Night Jazz at the Black Dog series, the Junior Ranger quartet expands with saxophonist Nathan Hanson and bassist Ted Olsen.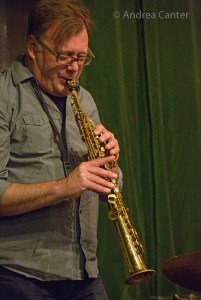 Composer/performer Nathan Hanson has been described as "unexpectedly tasteful and dignified" by ImproJazz-France. Over his career, he has performed with such legends as Dizzy Gillespie, Cecil Taylor, Mark Dresser, Carei Thomas and Douglas Ewart, as well as with current stars Chris Potter, Tony Malaby, Liberty Ellman, Elliot Humberto Kavee and Federico Ughi.  A graduate of Newberry College and the University of South Carolina, Hanson worked on the East Coast for many years before returning to his hometown of Minneapolis. A member of the Fantastic Merlins, Nathan has maintained a longstanding duo with bassist Doan Brian Roessler and has collaborated with local luminaries George Cartwright, Viv Corringham,  and Pat Moriarty.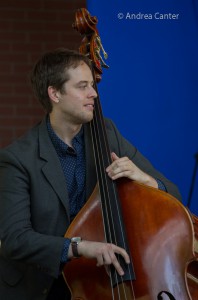 Ted Olsen studied bass with Travis Schilling and Adam Linz. He graduated from St. Paul's Como Park High School in 2010 and went on to study composition at Luther College in Decorah, IA, finishing college studies at the University of Northern Colorado in spring 2015. In the Twin Cities, Ted has taught at the Twin Cities Jazz Workshop and has performed as leader and sideman at various venues including the Artists Quarter, Jazz Central, Black Dog, Twin Cities Jazz Festival, and more.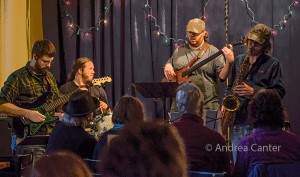 Dark Blue Quartet at the Black Dog (July 2, 7 pm)
Starting out the evening at tje Black will be Dark Blue, featuring a cast with ties to the University of Wisconsin-River Falls — Thomas Strommen on tenor sax, Dylan Nelson on guitar, Jason McLean on bass, and Alex Burgess on drums. The band has played at Jazz Central Studios, the Black Dog, Red Sea, Driftwood and more over the past few years. Strommen and Burgess have also appeared across the metro with Steve Kenny's Group 47 as well as the Alex Burgess Quartet.
The Icehouse is located at 2528 Nicollet Ave South in Minneapolis; www.icehousempls.com. Jazz Impolsion is curated by JT Bates, every Monday night. Cover for Junior Ranger $8. The Black Dog is located at 308 Prince Street (corner of E. 4th Street and Broadway); no cover but tips ($10 suggested) appreciated to support the musicians and the series. Full Saturday Night Jazz schedule at http://www.saturdaynightattheblackdog.info