Too bad Crooners Lounge is not a B&B — there would be good reason to book a room for the week given the talented vocalist who will be on the stage of the Dunsmore Room! Your singers' holiday (all shows 7 pm) includes:
Sunday, 7/10. Dan Chouinard's Birthday Club With Ann Reed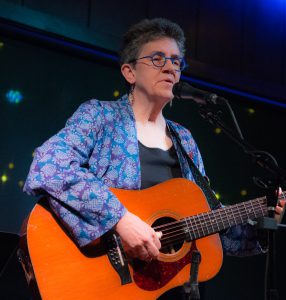 Usually three Sundays per month, pianist/vocalist Dan Chouinard brings in a stellar guest singer to toast the music birthdays and anniversaries of the month. It's always a fun and eclectic selection of songs, some familiar, some obscure. Guest on July 10th is also fun and eclectic–vocalist Ann Reed. A Minnesota native, Ann began teaching herself how to play the guitar at age 12, influenced by the Kingston Trio, early Joni Mitchell, Vanilla Fudge, Cream, Buffalo Springfield, Beach Boys, Beatles, and Pete Seeger, as well as the great songwriters and singers her parents' era: Cole Porter, George and Ira Gershwin, Ella Fitzgerald, Rosemary Clooney. A touring musician for more than 30 years, Ann has toured North America coast to coast, doing concerts, clubs, and festivals including Bumbershoot, Winnipeg, Black Mountain, and the National Women's Music Festival. She has appeared on Garrison Keillor's A Prairie Home Companion, ABC's Good Morning America, and NPR's Morning Edition, as well as countless radio stations across the U.S. She wrote and performed Heroes, a theatrical presentation produced by Minnesota Public Radio. And in a departure from her usual repertoire, has developed (with Denise Tabet) Nothing But Class: The Songs of Dorothy Fields, honoring the first woman to be inducted into the Songwriters' Hall of Fame.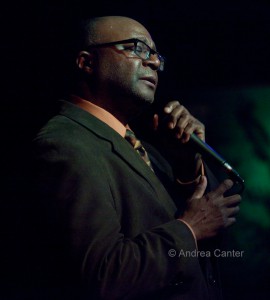 Monday, 7/11. Bruce Henry
At one time the most easily identified male voice in Twin Cities jazz, Bruce Henry relocated to his adopted home town of Chicago in 2008. Fortunately he left behind ongoing projects and gig dates that bring him back frequently, and now he makes his debut in the Dunsmore Room. Born in Mississippi and raised in Chicago, Bruce sang in church and studied classical music at the Chicago Conservatory of Music. But his love of improvisation led Henry to the music of Nina Simone, Al Jarreau, and John Coltrane.  A Minneapolis resident for over 30 years, Bruce maintained a nonstop schedule of performing, recording, and teaching before his move back to Chicago. In addition to private lessons, his educational efforts include workshops on creativity, vocal performance and Afro-American musicology, including the inspirational workshop, "Evolution of African American Music." He served on the faculty of McNally Smith College in St. Paul and as the Music Director for the Hands On Child Care Center for children age 5-16. Bruce has appeared frequently at local music venues, concert halls, and the Freedom Jazz Festival. He was the guest vocalist with the Ramsey Lewis band at Orchestra Hall and toured with Joe Vass's The Soul of Gershwin project in 2009. In 2012, he performed a tribute to Marvin Gaye at the Hopkins Center for the Arts, and has appeared as guest artist for Jazz @St. Barneys in Plymouth.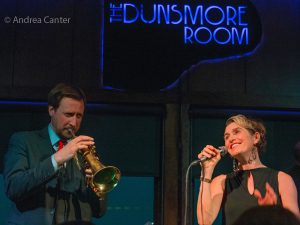 Tuesday, 7/12. Vanessa Trouble and Charlie Carinicas
 A native of Winona, MN, vocalist Vanessa (Gernes) Trouble has been drawing acclaim from New York to LA and beyond for the past decade. Currently the lead vocalist for the Manhattan swing band, Red Hot Swing, Vanessa has performed with The Flying Neutrinos, Ron Sunshine and Full Swing, Julian Fleisher's Monday Nights at the Starlight Bar & Lounge, and has toured with The Central Park Stompers. In Manhattan her resume includes regularl performances at Swing 46, Opia Lounge, The Grand Havana Room and The Bubble Lounge, and Pierre's in Bridgehampton. She's also fronted various jazz ensembles in New York, Los Angeles, Minneapolis, Atlanta, New Orleans, London, Paris, Ireland, Norway and Asia.  Among her frequent cohorts is Minnesota native trumpeter Charlie Caranicas, with whom she performed at her Dakota debut in 2009. Charlie studied music at the University of Minnesota. and was part of that City's music scene before moving to New York City in the early 1990s. Currently Charlie fronts her New York City-based "modern retro" swing band, The Red Hot Swing; co-led the house band at the Blue Note Jazz Club in New York City; and was the trumpet soloist with the renowned Rainbow Room Orchestra.  He has performed with such diverse bands as Vince Giordano and the Nighthawks, the Independence Hall Jazz Band, the Onyx Club Sextet, the Karrin Allyson Group, the Kelly Friesen Quintet, the Chico O'Farrill Afro Cuban Jazz Orchestra, the Vanguard Orchestra, and the Flying Neutrinos, as well as in the pit orchestras for Broadway shows. Charlie has also received a grant from the National Endowment for the Arts. Expect to hear traditional jazz standards reminiscent of the classic Verve recordings of the Ella Fitzgerald-Louie Armstrong pairings from the 1950s, as well as songs from Vanessa's two CDs, 1999's The Summer Sessions and 2004's Too Darn Hot.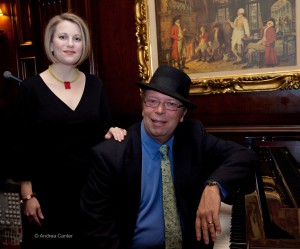 Wednesday, 7/13. Maud Hixson and Rick Carlson, CD Release
A tale of two Mauds: Growing up in Mankato at the turn of the 20th century, Maud Hart Lovelace gathered childhood memories to create the Betsy-Tacy stories that became favorites of generations of readers from the 1940s on. Growing up in suburban Minneapolis decades later, Maud Hixson was an avid reader of the Betsy-Tacy stories, and became a popular singer of songs from the first half of the 20th century. Now Maud and pianist husband Rick Carlson hold the Twin Cities CD release for Listening for Your Song, a collection of 20 songs (among many) cited in the Betsy-Tacy stories, performed with authentic arrangements from original scores. Supported by the Betsy-Tacy Society in Mankato, the first release was held a few weeks ago in nearby Kasota, and will now be celebrated in the Dunsmore Room. (Read more!)
Coming Soon to Crooners Lounge and the Dunsmore Room
July 16, Judi Vinar (Crooners Lounge)
July 17, Dan Chouinard's Birthday Club With Patty and Linda Peterson (Dunsmore Room)
July 18, Steve Clarke and the Working Stiffs (Crooners Lounges)
July 19-20, Connie Evingson and Jon Weber (Dunsmore Room)
July 22, Sophia Shorai (Crooners Lounge)
July 25, Erin Schwab and Jay Fuchs (Dunsmore room)
July 26-27, Dave King Trio (Dunsmore Room)
July 30, Patty Peterson (Crooners Lounge)
The Dunsmore Room at Crooners Lounge is located at 6161 NE Highway 65 in Fridley, just north of I-694 and about 20 minutes northeast of downtown Minneapolis; reservations and information at www.croonersloungemn.com