"A gem, Clouser spices the All American vibe of Bill Frisell with some Jimi Hendrix fire." — Philadelphia Inquirer
Three divergent forces in improvised music come together at the Icehouse on Monday, July 18 as internationally acclaimed keyboardist John Medeski, Twin Cities native/Mexico City transplant guitarist/vocalist Todd Clouser, and curator and drummer JT Bates gather for this week's installment of Jazz Implosion, at 9:30 pm.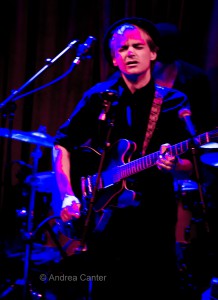 From the Twin Cities to Baja to Mexico City, Todd Clouser has been building a career as a guitarist, producer, composer, educator and now vocalist, accumulating accolades and performance credits along the way. A graduate of the Berklee College of Music, Clouser has studied with Marc Ribot, Jonathan Kreisberg, David Fiuczynski, Medeski, Martin and Wood, David Tronzo, Peter Sprague, and Berklee professors Jim Kelly and Mike Ihde. He has performed with Keb Mo, members of the Billy Joel Band, trumpeter Ingrid Jensen and guitarist Jack Sonni (Dire Straits), and has collaborated frequently with Grammy nominee, slide trumpeter Steven Bernstein. Clouser started his career in the Twin Cities but has spent much of the past decade in Mexico, where he performed regularly at top venues in Los Cabos and taught privately and through local schools. He recently relocated to Mexico City.
After two well-received collections (Baja in 2006 and Beatnik Highway in 2008), Clouser brought his many influences together in the first A Love Electric recording (2010, Out of Tuba Music), followed by tours throughout the Midwest and gigs at the Dakota, Artists Quarter and more. Three years and several more A Love Electric recordings and tours later, Clouser expanded his repertoire by adding vocals. "For years," he explained, "I've been playing instrumental music exclusively – but, at the same time, writing a lot of songs… It took some time for me to get comfortable with using my voice expressively. I had to overcome nerves, self-doubt…for me, it felt like a brave decision." Clouser's first album reflecting his new direction, Man With No Country (Amulet Records, 2013) was "a program of scorched-earth ballads and searing rock songs."
Todd not only performs and writes music, he brings music into communities through his Music Mission, which he founded about a year ago. While in Los Cabos, Todd founded Arts Day Out, an annual free event to celebrate and inspire the youth of Los Cabos through the arts, without money or fundraising. Music Mission extends this effort by providing direct music instruction to over 400 students in 4 states of Mexico, finding opportunities for young underserved artists to perform in professional venues, and funding books and educational materials to needy schools. Other activities have brought musical instruments to students, workshop to schools and communities, recording opportunities and more.
Keyboard giant John Medeski was born in Louisville KY and grew up in Florida. After studying piano from age 5, he performed in his teens with the likes of Mark Murphy and Jaco Pastorius. Influenced by Oscar Peterson, He studed piano at th eNew ENgland Conservatory in Boston, working as sideman for Dewey Redman, Billy Higgins, Bob Mintzer and Mr JellyBelly.  Over his career, Medeski has performed in diverse contexts, from groove-based funk and jazz to experimental music (particularly with John Zorn), but is best known as one-third of Medeski, Martin and Wood which has been active since 1991. In the late 90s he performed on recordings with the Dirty Dozen Brass Band and Morphine. He joined the gospel-style project The Word in 2000, which has enjoyed several revivals. He has also occasionally performed with Phil Lesh and Friends and was featured on Will Bernard's Blue Plate Special (2008). Medeski recently formed supergroup Saudade.
J.T. Bates is one of the busiest drummers in the Twin Cities, on and off the bandstand. He was a member of Motion Poets and has worked with a variety of Latin, electronic, and experimental ensembles, including Bryan Nichols' Quintet and Trio, Chris Bates' Red Five, Fat Kid Wednesdays, the Zacc Harris Group, and The Pines. In addition to curating his Jazz Implosion series (for 17 years, now at the Icehouse on Monday nights), JT often appears on the Icehouse stage with such musicians as brother Chris, Dave King, Brandon Wozniak and more. He's recently toured with Alpha Consumer as a part of choreographer Chris Schlicting's Stripe Tease, as well as with Craig Taborn's Trio and Phil Cook's Guitarheels. He was recently named City Pages Jazz Artist of the Year.
Medeski and Clouser first collaborated as a duo at a Mexico City jazz festival in 2015, performing some new material written by Clouser to honor the mysterious disappearance and presumed murder of 43 students in the Mexican state of Guerrero in September 2014. The 2015 festival gig went well, and Medeski suggested a recording session, yielding Clouser's new Boy 44, digitally released on July 14. The magic of this song suite will be unleashed on the Icehouse stage on July 18.
The Icehouse is located at 2528 Nicollet Ave South in Minneapolis; www.icehousempls.com. Jazz Implosion every Monday night, usually 9:30 pm. For Clouser et al, tickets are $15 at the door or in advance at http://www.brownpapertickets.com/event/2558251