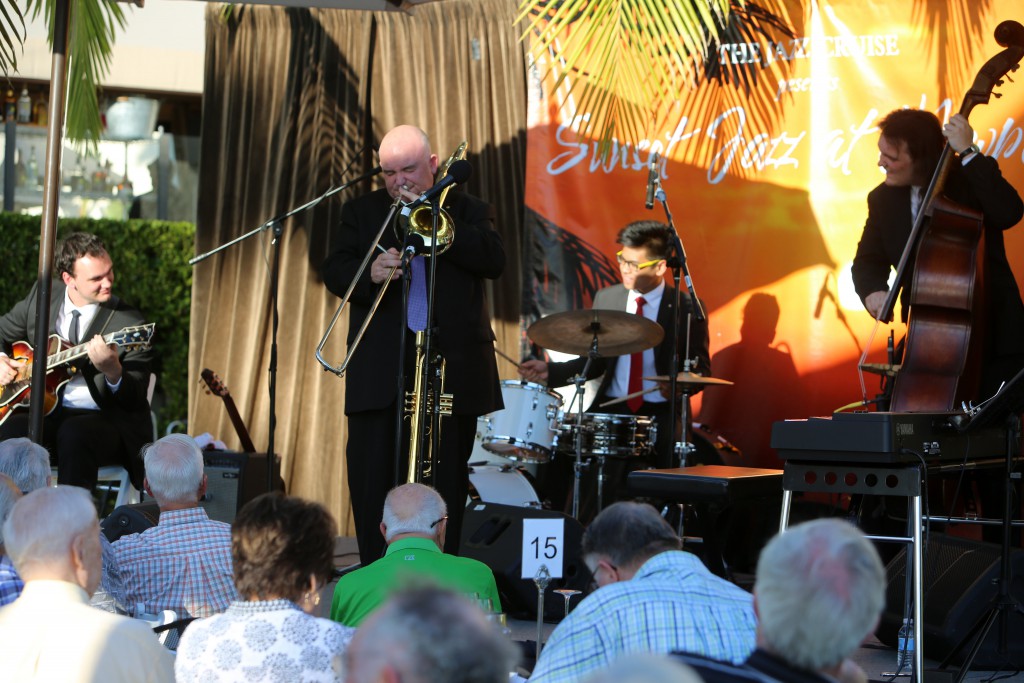 James Morrison is a multi-faceted career musician who plays a number of instruments including trumpet, trombone, euphonium, flugelhorn, tuba, saxophone, double bass and piano.  He hails from Australia and his group is touring a large part of the world these days.  He has been involved with music almost all of his life, being born into a musical family. Finishing a tour in Prague, Czech, he stopped over at Sunset Jazz at Newport on July 20th  before returning home to Sydney, Australia.  His quartet includes his two sons, guitarist William Morrison and bassist Harry Morrison, and young drummer protégé and family friend, Patrick Danao.
The Sunset Jazz Concerts at Newport is in its seventh year under the effective leadership of hosts Joe Rothman and John McClure.  Morrison has been a well-received guest at Sunset Jazz and always makes his show a huge success.  These summer concerts are held outside with beautiful weather in Marriott's Rose Gardens.  Host Rothman makes lively announcements of upcoming concerts and introduces the band, always with a good dose of humor.
Morrison began the set with superb number, "On the Trail," from Ferde Grofé's classic Grand Canyon Suite.  What a gorgeous number!  This quartet plays very powerfully.  The audience loved this opener.  Morrison played trumpet and was backed excellently by his trio.  He gave us an interesting bit of information regarding the similarity (of changes) to the great standard, "Autumn Leaves," and parallels to Bach fugues.  He demonstrated the number playing piano along with the trio.  His sons William and Harry both made strong solos.  Danao's drumming solo work was added in as well.
Morrison talked about one of his favorite pianists, Errol Garner, and gave a thorough talk about the style and voicings that Garner came up with in his career; he performed Garner's great standard, "Misty" on his soprano saxophone. They continued with "Have You Met Miss Jones."  This time Morrison led the quartet while playing trombone. His son Harry provided a very good bass introduction and concluded with a dynamic bass solo.   The audience gave the quartet a lot of applause.
In set two we studied more of Errol Garner via Morrison.  The band made a perfect pick, "The Way You Look Tonight" (Jerome Kern) done as a "strut."  Lots of show for son William's impressive guitar performing.   A big standout and highlight of the evening was Benny Moten's "Moten  Swing."  Morrison gave us more terrific trombone playing along with a high-energy drumming start from Danao followed by splendid solos (guitar) from William and more great bass work from Harry.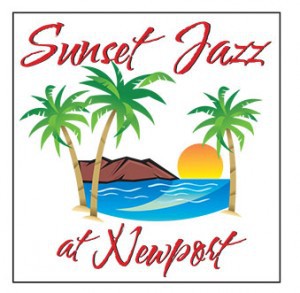 Closing out the evening was a huge blues number with all of Morrison band members switching instruments during choruses of this gem.  James Morrison made a plea to the audience to see if they thought he would be able to hit an extremely high note on his trumpet at the piece's end.  At the end (replayed), he came through with holding a very high note that many of us have never heard.  The Morrison Band received a long standing ovation.
Please visit the Morrison website: www.jamesmorrison.com.au. Also check Sunset Jazz at Newport website: http://sunsetjazzatnewport.com. There are several more amazing concerts up coming through Wednesday, September 14, 2016.
Reposted with permission from L.A. Jazz Scene, August 2016