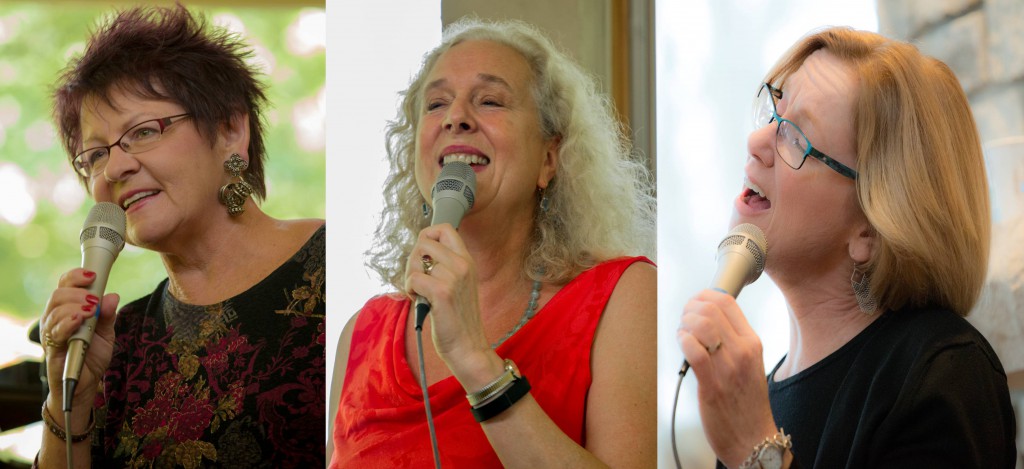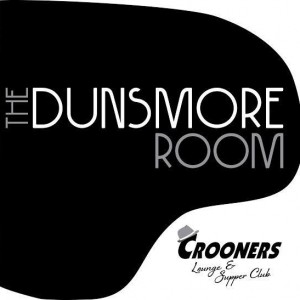 The Dunsmore Room at Crooners Lounge in Fridley has proven to be much more than an intimate listening space. The environment of respect for artists has also provided opportunities for local musicians to try out new projects and configuration that might push them beyond their comfort zones. Three of the region's pre-eminent vocalists–Vicky Mountain, Lucia Newell and Judi Vinar–also happen to be strong composers, and they come together to share both talents on Wednesday, August 10 (7 pm) in the Dunsmore Room, supported by pianist Phil Aaron and bassist Graydon Peterson. It will be an evening of original songs as well as the stories of their careers as jazz singer-songwriters.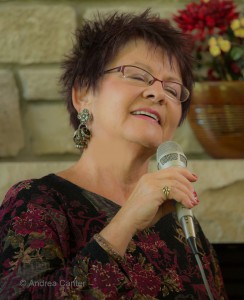 Vicky Mountain has had a wide-ranging career as a performer and educator. Raised in the Red River Valley of North Dakota among a family devoted to music, Vicky remembers hearing her mother singing around the house—she "would make up her own melodies – even sing the grocery list." And among her ten siblings, all five sisters are singers. Vicky's early music influences were quite diverse, from Gregorian Chants to the pop hits of the day—the Beatles, Led Zeppelin, the Rolling Stones, Joni Mitchell and Janis Joplin–to such soul stars as the Temptations and Smokey Robinson. But then she discovered jazz when she moved to the Twin Cities in the early 70s—Duke Ellington, Fats Waller, Parker, Davis, Coltrane, and most importantly, Ella Fitzgerald, Sarah Vaughan, Rosemary Clooney, Betty Carter, and other top vocalists.
Although Vicky came to the Twin Cities to act in the Minneapolis Ensemble Theater, she soon formed bands and worked with experimental jazz projects. In 1987 she won the West Bank School of Music Jazz Composers Series award, and as her reputation grew, so did her repertoire. In 1990 she toured South American with the Lakewood Jazz Ensemble and appears on two of the group's recordings. Over the 20 years, Vicky has worked not only as a performer but as a lyricist and educator. "I'm always thrilled when the composer likes my lyrics. The melodies that capture and inspire me create the pictures that become my words," she says. Vicky initially taught at the West Bank School of Music and has been on the faculty of the McPhail Center for the Arts since 1986, specializing in jazz improvisation technique, vocal performance, theory, and private voice instruction. She has released three recordings, most recently Sincerely Yours.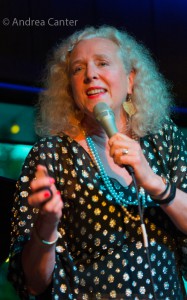 Described by Minnesota Monthly as "one of the most powerful vocalists on the Twin Cities scene," Lucia Newell has spun Brazilian samba, French ballads and bop melodies, and rendered lyrics in three languages. The Minneapolis native spent her early career performing and studying in Los Angeles, Brazil (singing for two years at Clube 21 in Rio), and Mexico (six months at El Señorial in Mexico City), returning to the Twin Cities as a studio backup vocalist for Jimmy Jam Harris, Terry Lewis and Monte Moir of Flyte Time.  Over the past two decades, Lucia has sung backup vocals for  Windham Hill, CBS, Warner Bros., MCA, GIA, Atlantic, A&M and Virgin Records music. She has sung or recorded with the great Billy Eckstein, the Rio Jazz Orchestra, Osmar Milito, Nilson Matta, Luiz Eça, Celia Vaz, Oscar Castro Neves, Paula Abdul, Patty Austin and Ben Sidran; she also recorded local and national TV and radio jingles, and her voice appears on a variety of children's and teaching recordings. A linguist as well as vocalist, Lucia writes lyrics in English, Spanish and Portuguese, and has translated many of her favorite Brazilian songs. Around the Twin Cities, Lucia performed often with Soul Café, a jazz trio (Laura Caviani, Steve Blons, and Brad Holden) combining poetry and music, and appearing on their 2006 release (Jazz and Poetry) reading the poems of Pablo Neruda and singing the songs of Rodgers and Hart.
In recent years, Lucia has paid tribute to singers she describes as her "music mentors," the late Betty Carter and Anita O'Day. She was featured on Laura Caviani's jazzy Christmas CD, Angels We Haven't Heard. Her own first recording, Enter You, Enter Love, with guitarist Joan Griffith, was hailed as a "wonderfully surprising collection of love songs…that brings to mind steamy, moonlit tropical nights" (Sun Current). Lucia's work with Pete Whitman and Departure Point, along with her love of Billy Strayhorn, led to her 2005 release, Steeped in Strayhorn, described by Alan Bargebuhr in Cadence as "alive with authentic jazz affirmation." Collaborating again with Joan Griffith, Lucia appeared as guest vocalist on Sambanova (2008) and as part of Alma Brasiliera's Circle of the Dance (2010), with Griffith and Clea Galhano on recorder. Lucia has also performed with JazzMN Orchestra and, at the 2016 Twin Cities Jazz Festival, with Pete Whitman's X-Tet. Lucia made her Dunsmore Room debut earlier this spring with frequent collaborator, pianist Phil Aaron.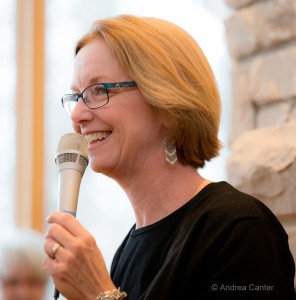 Judi Vinar first sang folksongs and played guitar at age 12, ultimately covering everything from Julie Andrews to Blood, Sweat and Tears. During her college days at the University of Nebraska, she performed in music theater and opera. Hearing the Wolverines Big Band with Shirley Witherspoon in the early 1990s inspired her to turn to jazz.  Over her career, Judi has worked in opera, musical theater, jazz, folk, country, gospel, pop, and R&B. Her recent resume includes Bobby McFerrin's Voicestra, Urbanstride, The Girls, the Wolverine's Classic Jazz Orchestra, Wolverines Trio, JazzMN Big Band, St. Croix Jazz Orchestra, and the quartet, "Judi, Cliff 'n' Daves."  Judi has also worked with Yo Yo Ma, Carole King, Janis Siegel, Rhiannon, Garrison Keillor, Marilyn McCoo, the Plymouth Ensemble, Metro Jam, Northrop Opera, Mixed Blood Theater, Cricket Theater, and Moore by Four; she received a JAZZIZ Magazine award as singer/songwriter; and has experience as an on-air talent and jingle singer/writer/producer.
Judi has given vocal master classes and clinics with Bobby McFerrin, and has sung on more than 30 CDs to date, including her own Sink or Swing, Ballads and Bossas, and most recent Swing On! with the Wolverines.  After sixteen years leading the Voice Department at McNally Smith College in St. Paul, Judi moved into the role of Assistant to the Dean of Academic Affairs, charged with developing new projects for the program. Now a freelance vocal clinician, Judi gives Master Classes and clinics on Vocal Improvisation, Efficient Vocal Techniques, Understanding Your Audience, and Ensemble Performance Strategies.  She is a faculty member for "Circlesongs,"  a 7-day workshop on improvisation with Bobby McFerrin at the Omega Institute in Rhinebeck, NY. Judi also serves as the Associate Music/Choir Director for Unity Christ Church in Golden Valley.
Three terrific vocalists, three accomplished songwriters– all the makings of a uniquely perfect night of music in the Dunsmore Room.
The Dunsmore Room in Crooners Lounge is located at 6161 Highway 65 NE (Central Av) in Fridley, about 15 minutes north of downtown Minneapolis and just north of I-694. Tickets $12 ($40 for dinner + show), reservations strongly recommended via link to Brown Paper Tickets on the Crooners' website at www.croonersloungemn.com