The 2016 Montreal Jazz Festival, officially the Festival International de Jazz de Montréal, took place from June 29 to July 9. It had a fantastic line-up of established artists along with talented unknowns and up-and-coming musicians. Each hour was so packed with choices, it was a challenge deciding which shows to see. Sometimes, an opening act was an astonishing revelation. With so much music on the schedule, much of it free, the International de Jazz de Montréal is one of Canada's greatest gifts to the world!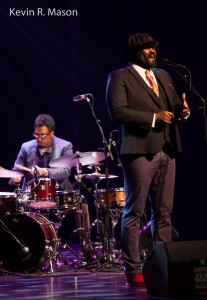 Gregory Porter (Opening Act: Jaime Woods)
Gregory Porter's opening act, vocalist Jaime Woods, charmed the audience with a greeting in French, and asked if the crowd was down with singing along at times. She got a big laugh when she said, "Not now, but I'll let you know when!" Performing songs from her CD, Troy, Jaime was a superb opener for Gregory Porter. Some singers just seem born to it, and Jaime Woods is one of them.
At the beginning of Gregory Porter's set, André Ménard, Festival Vice-President & Co-Founder, presented Porter with the 2016 Ella Fitzgerald Award, which "celebrates the range, versatility and improvisational originality as well as the repertoire of a jazz singer recognized on the international scene." Gregory Porter certainly lives up to those standards, and he thanked Ménard, adding, "This really belongs to my band, but I'll take it and keep it at my home!" The talented band in question, saxophonist Tivon Pennicott, pianist Chip Crawford, drummer Emanuel Harrold, and bassist Jahmal Nichols, amply demonstrated the reason for Gregory's high praise in a fabulous concert that included "We Are Like Children," "Musical Genocide," "Take Me to the Alley," "Hey Laura," and a fiery "Papa Was a Rolling Stone." The music continued with "Wolfcry" (featuring Chip Crawford), and "1960 What?," which elicited a long standing ovation. As encores, Porter performed "Liquid Spirit" and "Wade in the Water." This concert, on the Festival's first day, was a magnificent combination of outstanding vocals and musicianship.
Hiromi (Opening Act: Edmar Castaneda)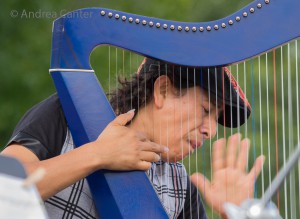 Colombian harpist Edmar Castaneda's solo set electrified the crowd. He was so impressive that he received a standing ovation after the first song! Castaneda wished blessings for the audience, their families, and the whole world. He continued in a spiritual vein on "Jesus de Nazareth," dedicated to the one who gave him the talent to play the harp. In the hands of Edmar Castaneda, the harp became an amazing chameleon, sounding like a piano, a guitar, and a bass, sometimes all at once! Edmar covered several musical genres, keeping the audience enraptured throughout.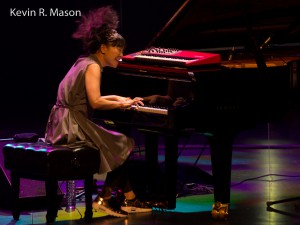 Not every performer could follow a set as exceptional as Castaneda's, but luckily, Hiromi was up to the task. She told the audience that she was so happy to be back in Montréal, and thanked everyone for coming. With her incendiary piano playing and joyful energy, Hiromi and her cohorts, guitarist Anthony Jackson and drummer Simon Phillips, commanded the stage with "Take Me Away," "Wake Up and Dream," and "Dilemma." In counterpoint to her fiery side, Hiromi also performed some gentle, sensitive, and touching music. Like Castaneda, Hiromi received several standing ovations, and she earned every one of them!
Joey Alexander Trio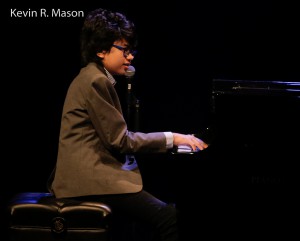 Young pianist Joey Alexander's meteoric rise is no surprise to anyone who's heard him play. Last year in Montréal, Joey opened for Wayne Shorter; this year he headed his own show at Salle Ludger-Duvernay Monument-National. With expert backing from bassist Dan Chmielinski and drummer Kyle Poole, Joey performed with remarkable composure and expertise. This gifted wunderkind plays like an old soul, and he has already recorded two CDs, his Grammy-nominated debut, My Favorite Things, and Countdown (due out in September). During his concert, Joey showed so much emotion and intensity that, at one point, he stood up, playing his heart out on everything from hard-driving songs to introspective minor-key numbers and tender, romantic ballads. The outstanding set included "Summertime," "Ma Blues," and "Giant Steps." After well-deserved and prolonged applause, the trio returned to play a gorgeous version of "It Might As Well Be Spring."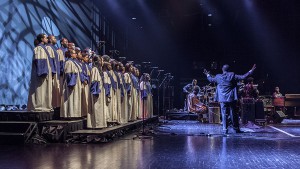 Montréal Jubilation Choir: I'll Take You There
Sometimes, people wonder why a gospel choir is at a jazz festival, but Montréal is known for presenting genres that have influenced jazz. At the Festival wrap-up, André Ménard addressed the issue, citing the Newport and Monterey Festivals as role models that "pushed the boundaries."  Ménard doesn't want a line-up of the same kind of thing every year, adding, "Jazz has many friends." Before the Montréal Jubilation Choir marched in, singing "Highway to Heaven" and "Ezekiel Saw the Wheel," the show started with a beautiful solo saxophone rendition of "Amazing Grace," followed by a jazzy "I'll Take You There." The choir's repertoire included Ray Charles tunes and big-band numbers, and their rousing "How I Got Over" had everyone clapping and swaying. The multi-ethnic audience likely included several religious affiliations, but gospel's universal power transcended any differences. The show ended with a moving "Let My People Go."
BBC Introducing and PRS for Music Foundation Present Remi Harris, Dakhla, and Mirror Signal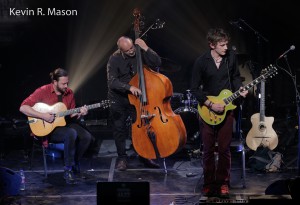 British jazz singer/songwriter/pianist Jamie Cullum supports new artists on his radio show in England. For the second year at the Festival, Cullum hosted this showcase of emerging musicians. Jamie discussed under-the-radar acts and praised the Festival for giving them an incredible opportunity to expand their fan bases. Jamie started the festivities by performing "I've Got You Under My Skin" and "I Think I Love."
Then, Jamie introduced Remi Harris, a guitarist with incredible technique, whose musical heroes were Jimi Hendrix and Peter Green. He played everything from gypsy jazz to blues to flamenco, including songs from his CD, Ninick.
The next set starred Dakhla, with drummer Matt Brown, baritone saxophonist Charlotte Ostafew, alto saxophonist Sophie Stockham, trombonist Liam Treasure, and trumpeter Ben Ransom. Jamie Cullum calls Dakhla "a brass band with a difference." The group was tight on songs like "The Big Red," "Spread Eagle Hill," and "Gorilla Gorilla Gorilla."
The final set starred talented singer/guitarist Mirror Signal (aka Steven Barker), whose band included multi-instrumentalist Jack Lonergan (who played some lovely impromptu music in the press room the next day). With a sound combining old-school soul and jazz, resulting in a distinctly modern sound, it's an easy guess that Mirror Signal and the other showcased artists won't remain under the radar for long.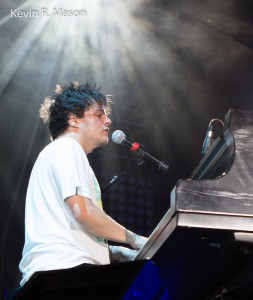 Jamie Cullum
Jamie Cullum was busy in Montréal! One evening after hosting the BBC showcase, Cullum gave the most attended outdoor show of the Festival. With a great band of Montréal musicians, Jamie thrilled the crowd with a swinging, "Just One of Those Things." Cullum said whenever he comes to Montréal, he feels good about his show, due to the excellent Canadian musicians available, and he applauded Canada for setting a good example for tolerance. He also joked that he never gets enough sleep in Montréal because he has so much fun. Cullum paid tribute to Ray Charles and did mash-ups of other artists, including Michael Jackson. He went into the front of the audience on "Love for Sale," which no doubt concerned security, but excited the fans. Jamie described "These Are the Days," composed by his brother Ben, as encapsulating his feelings about Montréal. The show continued with the beautiful "All at Sea" and the playful "When I Get Famous." The cheering and applause were deafening, which moved Cullum to say, "This is the best gig of my life!" Jamie's talent, energy, and humor made for an electrifying performance.
Oliver Jones–Farewell Concert With L'Orchestre National de Jazz de Montréal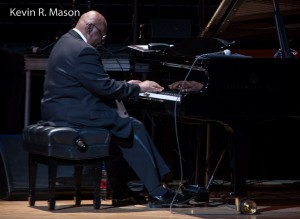 Prior to pianist Oliver Jones' farewell concert, he gave a press conference where he discussed Oscar Peterson, Hank Jones, Ella Fitzgerald, Tony Bennett, and Dave Brubeck as artists he admired, and recounted the era of Charlie Biddle's famous jazz club. Oliver reminisced about Oscar Peterson and his siblings, Daisy and Chuck, mentoring him, and in turn, he's mentoring young pianist Daniel Clarke Bouchard. Jones had just finished nine concerts in 15 days, and said, "I'm no longer at an age to be traveling like that." Although he won't tour anymore, he'll still play at charity events, since he feels that music philanthropy is essential.
At his concert, Oliver was glowingly introduced by André Ménard, who said the Festival's door will always be open. Oliver said the experience was a real pleasure, if somewhat bittersweet, and the Montréal native expressed gratitude for receiving so much support in Quebec. He said, "I can't say that anything has moved me more than playing at home." Looking debonair in a tuxedo, Oliver was joined by drummer Jim Doxas and bassist Eric Lagacé on "Georgia" (with a cheeky call-and-response), and "Stan Pat," dedicated to pianist Stan Patrick. There was good-natured teasing, especially after a particularly energetic drum solo. Jones joked that because they were playing several ballads, Doxas wanted to make sure no one fell asleep! The program continued with "When I Fall in Love," "Smile," "What a Wonderful World," "Honeysuckle Rose," and a George Gershwin medley – "Rhapsody in Blue," "Porgy and Bess," and "It Ain't Necessarily So." Oscar Peterson's "Hymn to Freedom" got such a response from the audience, that Oliver was visibly touched. Jones said, "No one has ever been able to replace Oscar Peterson."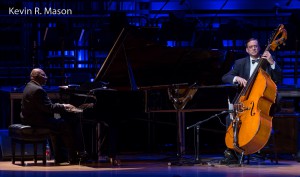 After an intermission, Jones returned with Orchestre National de Jazz de Montréal, conducted by saxophonist Christine Jensen. They performed a swinging version of "The Way You Look Tonight" and a romantic "The Very Thought of You." It was impossible not to smile during the light-hearted "Swinging on a Star." After a lovely "My Funny Valentine," Oliver praised the orchestra, saying, "This is the kind of talent we have here in this city. Just tremendous!" Following a lengthy ovation, the evening ended with "Our Love is Here to Stay." The concert was filled with great music, fond memories, tributes, and love for this multi-award-winning piano icon, Oliver Theophilus Jones.
Preservation Hall Jazz Band (Opening Act: Jazz Street Boyz)
Jazz Street Boyz brought fine musicianship and stellar vocals, opening for the Preservation Hall Jazz Band. Their set included "Please Don't Talk About Me When I'm Gone" and "Sweet Sue."
Preservation Hall Jazz Band's bass/tuba player Benjamin Jaffe really got the crowd going when he said in French, "The music of New Orleans is for dancing!" Jaffe was joined by drummer Walter Harris, Jr., trombonist Ronell Johnson, trumpeter Stephen Lands, pianist Rickie Monie, saxophonist Clinton Maedgen, and clarinetist Charlie Gabriel, who turned 84 the previous night, and the whole audience sang "Happy Birthday."  These seasoned performers came to party, and they really rocked the joint! The band also took a serious moment to follow the New Orleans tradition of honoring the deceased through music, paying tribute to artists who were lost this past year, including Prince, David Bowie, and Allen Toussaint, with "Just a Closer Walk With Thee."
Short Takes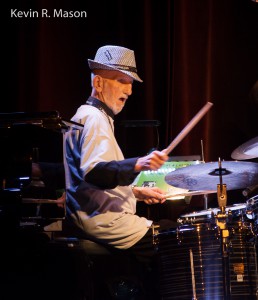 Guy Nadon–Farewell Concert. Lovingly known as 'Roi du Drum" (King of the Drum), Guy Nadon is retiring at 82 after 70 years of performing. A Festival legend, he's appeared 33 times! The show was a delightful display of Guy's joie de vivre, humor, and whimsy, on "Killer Joe" and "Sweet Georgia Brown." After "Take Five," the audience chanted "Guy" over and over! The beloved drummer is leaving the stage, but not the hearts and memories of his loving fans.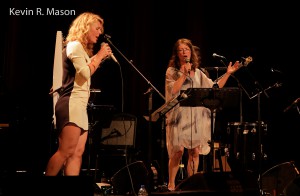 Karen Young and Coral Egan. This dynamic mother-and-daughter duo abundantly demonstrate hereditary talent, and Karen's voice blends beautifully with daughter Coral's. In their first Festival gig together, they sang a charming children's song with the cutest patty-cake routine, and a beautiful version of Joni Mitchell's "River." Karen Young was given the Oscar Peterson Award, as a Canadian artist who's made significant contributions to jazz. Coral looked so proud of her mother for receiving this well-earned accolade.
Tord Gustavsen with Simin Tander and Jarle Vespestad. Norway-born pianist Tord Gustavsen's concert, with German-Afghan singer Simin Tander and drummer Jarle Vespestad, featured songs from his project, Hymns and Visions, which reinterprets ancient Norwegian hymns, along with Sufi poetry. It was a wonderfully deep exploration of esoteric themes, otherworldly and surreal, but never dull.
Francesco Yates. Ontario sensation Francesco Yates wowed the crowd at Scène TD with his energy and falsetto, channeling Pharrell Williams, Michael Jackson, and Prince. This young dynamo kept people dancing in the outdoor arena until midnight!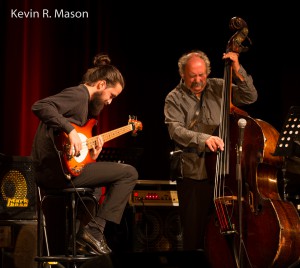 Michel Donato and His Duos. Respected double-bassist Michel Donato's unique show had several instrumentalists join him one-by-one for a series of duets, starting with saxophonist Patrice Luno for the first song, then guitarist Felix Tellier on "My Romance." Donato performed with drummer Vincent Ravari, trumpeter Adam Hébert, bassist Jonathan Arseneau, trombonist Michael Marcotte, and percussionist Pierre Tanguay, who also played an antique teapot like a drum, adding a nice, imaginative touch.
The Campbell Brothers. The show started soulfully with "Wade in the Water," and continued with the Campbells' "Sacred Steel" music style on "Hell No! Heaven Yes!" and Sam Cooke's "A Change Is Gonna Come." Spirituality and social awareness infused the entire concert, including a tribute to the 50th anniversary of John Coltrane's masterwork, "A Love Supreme."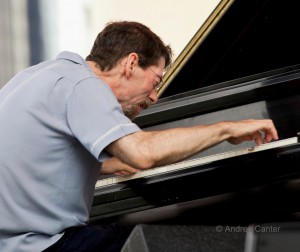 Fred Hersch Solo. Pianist Fred Hersch joked that it was past his bedtime at his 10:30 pm concert, and dedicated the set "to all you late-night hipsters." There were several tributes: "West Virginia Rose" for his mother, "Down Home" for friend Bill Frisell, and the evocative "Whirl" for ballerina Suzanne Farrell. Hersch called Joni Mitchell a musical hero, and played a couple of her songs, as well as "Sarabande" in memory of Charlie Haden. Hersch's show, a winning blend of  prodigious talent and charmingly dry humor, concluded with "After You've Gone" and "The Song Is You."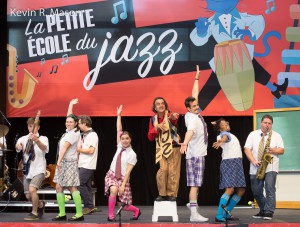 La Petite École du Jazz. Blue Festival Mascot Ste-Cat, vocal quintet Les Zélèves, and the James Gelfand Quartet daily welcomed students for a fun, interactive, bilingual jazz lesson. The show included "Take Five," a jazzy "Jingle Bells," "Twist and Shout," "Georgia," "Cheek to Cheek," and a vocalese version of "Frere Jacques." The children received French/English diplomas with Ste-Cat's paw print. It was one of the Festival's most popular family activities.
Vijay Iyer and Wadada Leo Smith. The concert by these two acclaimed musicians, virtuoso pianist Vijay Iyer and legendary trumpeter Wadada Leo Smith, featured songs from their CD, a cosmic rhythm with each stroke. The ethereal atmosphere they created was beautifully mysterious. They weren't afraid of spaces and silence between notes, making the music very reflective. The unusual concert had almost no separation between songs, allowing the audience to let the music just wash over them and feel the emotional power.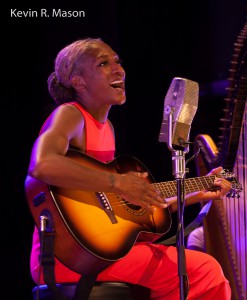 Ala.ni. The 2015 Festival appearance of London chanteuse Ala.ni was so well-received that she got a record deal with a Montréal label, and was invited back this year. At her press conference, she sang "Old-Fashioned Kiss" and "Suddenly." Although her singing invites comparisons to other singers, she has her own unmistakable voice that's both delicate and powerful. Ala.ni discussed several subjects, including inspiration from controversial British cabaret star Leslie Hutchinson. Her concert at Club Soda, where she beguilingly performing a set that included "Cherry Blossom," was one of the sparkling little gems of the Festival.
Arianna Neikrug. Winner of the 2015 Sarah Vaughan International Jazz Vocal Competition, Arianna Neikrug performed a captivating concert at the outdoor venue, Le Club Jazz Casino de Montréal. Arianna's ease with lyrics, vocal quality, and natural stage presence made many passersby stop to listen, and the venue was soon jam-packed. Arianna enchanted the audience on "Devil May Care," "How Insensitive," "Mean to Me," "Never Let Me Go," "You've Changed," and Neikrug's original, "Something." Arianna's elegant mother aptly described her talented daughter's style as "Bette Midler meets Jazz," due to Arianna's down-to-earth rapport with the crowd.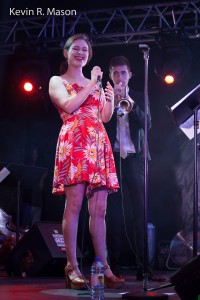 Casino de Montréal. The Casino de Montréal, a fantastic late-night place to visit after the Festival, is the sponsor of the new outdoor Festival venue, Le Club Jazz Casino de Montréal. Outside Le Club, there was free taxi service to the Casino, located about 20 minutes from Downtown Montréal. In addition to plentiful gambling, especially at the exciting, interactive "Zone," the Casino offers great music, restaurants, and special events, all surrounded by gorgeous architecture and stunning artwork. "Le Jardin" bar and terrace offers spectacular, panoramic views of the city, and is now open to the public every weekend.
Guy Bélanger–Acoustic. Award-winning harmonica player Guy Bélanger had two shows, one acoustic, the other electric. At the acoustic show, Bélanger, wearing a tool belt with harmonicas of every kind, played "Death Don't Have No Mercy" and "Dance with Me" in a set with slow blues numbers and blistering jams. Bélanger was aided by a fine band that included guitarist Michael Browne and guitarist/vocalist Adam Karch.
Aaron Parks Trio. Pianist Aaron Parks got right to the point when he told the crowd, "Thank you for being here. It's good to be out of the U.S. right now." He discussed gun violence, and said that it's nice to be someplace that feels saner. Joined by bassist Ben Street and drummer Billy Hart, the trio did a gorgeous rendition of "Here's That Rainy Day" and a tribute to Alice Coltrane, "For Alice," along with "Adrift" and "Find the Way."
Festival Awards
In addition to the aforementioned awards to Gregory Porter and Karen Young, multi-instrumentalist Taj Mahal received the B.B. King Award for distinguished achievements in the blues genre; singer/dancer Lila Downs was given the Antônio Carlos Jobim Award for accomplishments in world music; and pianist Kenny Barron was honored with the Miles Davis Award for an internationally renowned jazz musician. Founder of the Justin Time label, Jim West, was the recipient of the Bruce Lundvall Award for a non-musician who's had significant involvement in the development of jazz, and iconic singer/songwriter Brian Wilson was the winner of the Spirit Award for extraordinary contributions to the music world. The TD Grand Jazz Award for promising groups was given to the Brad Cheeseman Group, and the Stingray Rising Star Award went to Tara Kannangara for her composition, "The House Where I Live."
A Feast for the Senses
There was so much great music in Montréal! Walking between venues, you could find yourself spellbound by an outdoor act. There were parading bands, mesmerizing street performers, family activities, wonderful food, themed tours, jazz cruises, and late-night jam sessions. Most Festival events were in Downtown Montréal, making the city itself part of the charm. The huge pictures of legendary performers projected nightly on the Maison du Festival were thrilling and historically significant. The 2016 Festival International de Jazz de Montréal certainly lived up to the word "festival." It was a feast for all the senses!
Next year's Festival will take place from June 29 to July 8, 2017. In the meantime, the "TD Jazz All-Year Round" series continues, with new concerts being added periodically. For more information, go to: http://www.montrealjazzfest.com/.