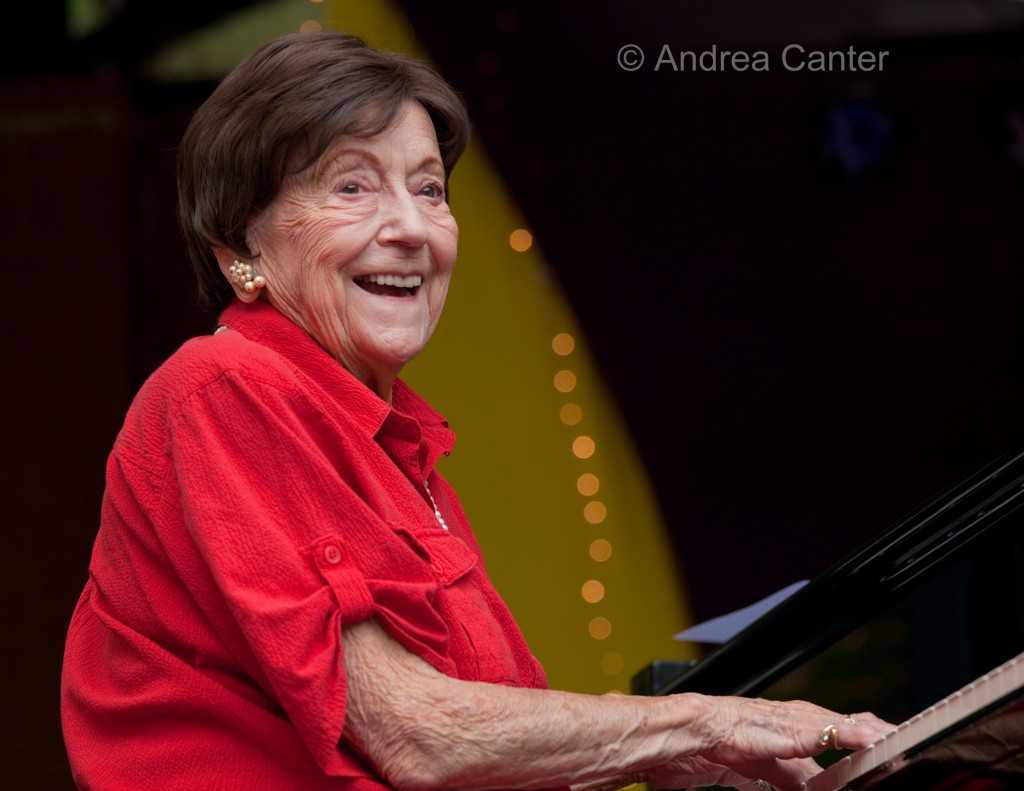 Head of Minnesota's "First Family of Music," indefatigable performer and source of inspiration to generations of musicians, Jeanne Arland Peterson passed away on June 23, 2013. In addition to establishing the Jeanne Arland Peterson Scholarship in Jazz Studies at the U of M, her talented offspring have held several tributes to their mother's music over the past three years. Now, in recognition of what would have been Jeannne's 95th birthday, the family presents "Songs Our Mother Loved" in the Dunsmore Room of Crooners Lounge, an evening of some of Jeanne's favorites, and certainly, the songs her family most associates with her talent as pianist, singer and composer. On stage will be Linda, Patty and Billy Peterson, and Jason Peterson DeLaire.
About Jeanne Arland Peterson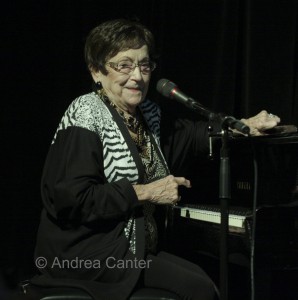 Although she began playing the piano at age three, Jeanne Arland Peterson did not take a formal lesson until she was 15—shortly before she had her first paying gig.  From then on, her career as a pianist/vocalist was on star trajectory, her approach heavily influenced by legends Art Tatum and Oscar Peterson. She spent 22 years performing on WCCO radio as well as around town on club stages and in recording studios, releasing five solo recordings over her career.  She also appeared on Marian McPartland's acclaimed NPR broadcast, Piano Jazz. Jeanne was the organist for the Minnesota Twins from 1969-71, taking over when husband Willie passed away from cancer. Her lengthy resume included work with Perry Como, Bob Hope, Dianne Carroll, Sonny Stitt, Roy Eldridge, Bud Shank, and George Benson. Along with Judy Garland, Jeanne is one of only two women in the Minnesota Music Hall of Fame, and two Minnesota governors—Rudy Perpich and Arne Carlson–declared days in her honor. Additionally, Jeanne was the first woman to receive the prestigious Arts Midwest Jazz Masters Award for excellence in jazz musicianship (1977) and in 2005 was named a Minnesota Jazz Legend at the KBEM Winter Jazz Festival. In 2009, Jeanne was inducted into the Mid-American Music Hall of Fame and honored with a tribute at the Capri Theater. Also in 2009, in honor of her then-88 years, Jeanne released 88 Grand, a two-volume retrospective covering her recordings from the 1940s and 50s through the present.
Twin Cities' audiences enjoyed celebrating her birthdays, often with cake and gigs at either or both the Dakota Jazz Club and Artists Quarter; hearing Jeanne lead her family in holiday shows at clubs and concert venues; and enjoying her music and antics with family members at the Twin Cities Jazz Festival. And even in the last weeks of her life, nothing gave Jeanne more pleasure than sitting at the piano, accompanying daughters/vocalists Patty and Linda. Her memorial service was yet another inspiring event, attended by hundreds of musicians, fans and family – including many "adoptees," members of that jazz community who were honored to call her "mom."
In the Dunsmore Room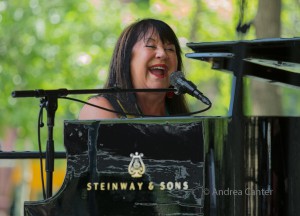 Oldest daughter Linda Peterson began singing on radio, television and on commercials at the tender age of two. For more than two decades, she has toured internationally as a pianist and vocalist, recording two CDs in Copenhagen and another in the U.S. She might be best known for her original composition, "Too Late to Leave Early." A performance at the famed Jazz Bakery in Los Angeles garnered raves in the LA Times; critic Don Heckman noted that "Her voice has an appealingly burry, late-night edge, and her phrasing is rich with blues-tinged melodic alterations. Equally important, she sings with great respect for both music and lyrics." Based in Los Angeles for many years, Linda has performed at jazz festivals, concerts and in clubs throughout the U.S. and abroad, including appearances at the Twin Cities Jazz Festival and with the Peterson Family for holiday and other special concerts at the Dakota and area theaters. After relocating (part time) to the Twin Cities, Linda has been heard at Parma 8200, Crooners' Lounge, School II Bistro and other venues. Her just-released fourth recording, You Gotta Be Somewhere, is a compilation of her original tunes, encompassing recordings from Copenhagen to Buenos Aires.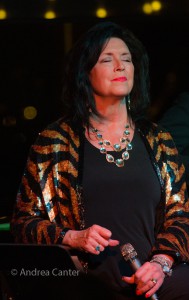 Jeanne's daughter Patty Peterson has received the Minnesota Music Award 7 times for Best Female Vocalist and Best Group, and for "Best Jazz Recording" for her debut CD, The More I See You. In addition to her singing career and three solo recordings, she has worked as an actress, print ad model, and national anthem singer, and, for seven straight years, was the number one female radio personality on WCCO radio. Patty currently hosts The Playroom on KBEM radio, airing every Sunday afternoon. Said Jon Bream (Minneapolis Star Tribune), "She can cover anything from Chaka Kahn to Cole Porter with equal authority, exhibiting star quality and drive!" In 2012, Patty released The Very Thought of You, with celebrations at the Dakota and Artists Quarter. She continues to lead Patty Peterson and Friends, gigging throughout the Twin Cities and beyond, with recent appearances in the LA area, including her debut at Catalina's.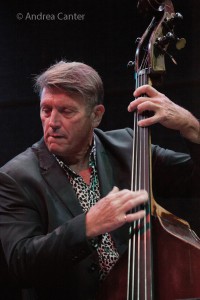 Bassist Billy Peterson sang in commercials with sister Linda at age 9 and played bass and drums in his father's ensembles while in junior high. He played in a variety of combos and big bands throughout his high school years, including a summer tour with the Righteous Brothers and a stint with the Lawrence Welk All-Stars. After graduation, Billy played three years with Billy Wallace (Clifford Brown's pianist) and co-founded the band Natural Life with saxman Bob Rockwell. He has recorded with Leo Kottke and performed or recorded with BB King, Johnny Smith, Lenny Breau, and the late Les Paul. Due to tour commitments, he passed on an invitation to join the Bill Evans Trio (Marc Johnson's good fortune!). In 1975, he appeared on Bob Dylan's acclaimed Blood on the Tracks, and a few years later began a long-standing collaboration with Ben Sidran, which led to his 20+ year association with the Steve Miller Band. Billy continues to tour with Bob Rockwell in Europe and internationally with the Dave King Trio, and in the Twin Cities appears with The Peterson Family, How Birds Work, and other ensembles.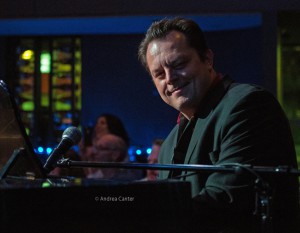 Jeanne's grandson, Linda's son Jason Peterson De Laire is making is mark on keyboards, saxophone and vocals, as well as through producing and songwriting. He has toured nationally and internationally with renowned artists such as Oleta Adams, Prince, Alexander O'Neal, Richard Marx and Donny Osmond, and most recently with Michael Bolton. He has released a solo CD, In My Life. A graduate of the Berklee College of Music in Boston, where he studied film scoring and musical harmony, Jason has also extended his artistry as an actor.
"Songs Our Mother Loved"
Among tributes to Jeanne Arland Peterson, "Songs Our Mother Loved" is unique as Linda, Patty, Billy and Jason have chosen songs that were specific favorites of Jeanne's. Notes Patty, "We would often times perform with her, and there were favorites she had that became favorites we had that she would do, songs we loved having her do. The biggest treat was watching the audience watch her, and drink in the way she delivered both her piano style and her vocals."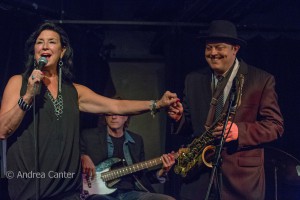 Linda recalls when her mother was first learning the tune, "Lazy Afternoon" (popularized by Barbra Streisand).  "I was not even singing jazz yet myself," she recalls. "I remember that moment was when I looked and thought, my mother was a true artist…Blossom Dearie was a favorite of Mother's, so I'm doing "I Like You, You're Nice."
"I'm doing songs I don't normally do when I'm performing," says Patty, who will sing a song written by her father Willie Peterson, "Minnesota My Home." Recalls Patty, "They were looking for a theme song for Minneapolis and Dad misunderstood and wrote it for Minnesota. And Dave Karr wrote the most gorgeous string and orchestra arrangements. So I'll be singing it for the very first time, written by Willie Peterson, performed by Jeanne Arland Peterson, now performed by her kids."
"Songs Our Mother Loved" — now songs we'll all love, in the Dunsmore Room on Sunday, August 28 at 7 pm.
The Dunsmore Room at Crooners Lounge is located at 6161 NE Highway 65 (Central Av), just north of I-694 in Fridley. Limited tickets remain– reserve at www.croonersloungemn.com