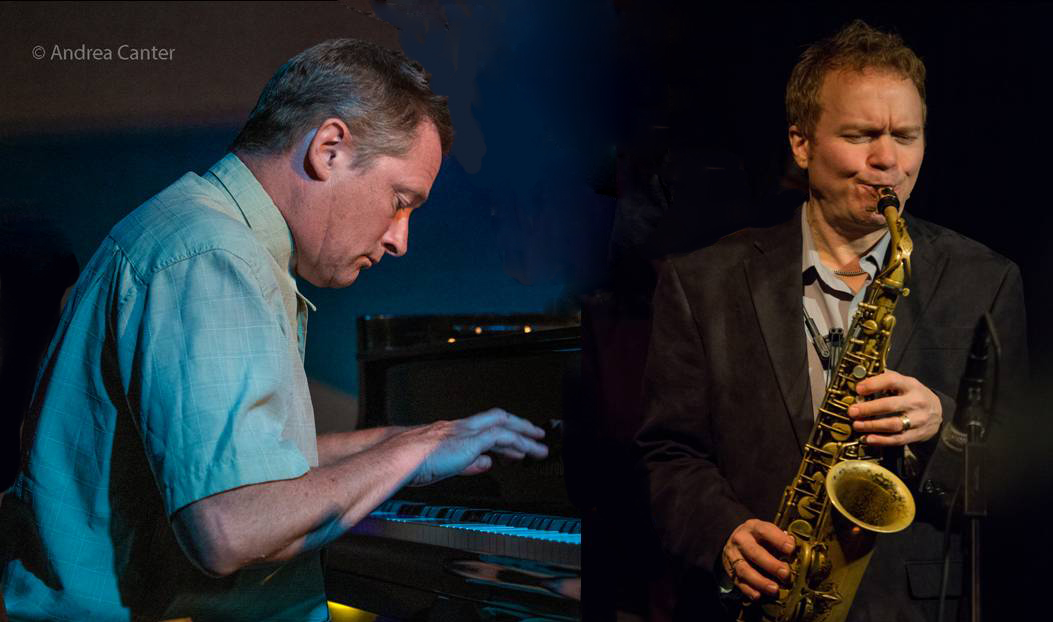 Two of the Twin Cities favorite jazz sons, saxophonist Pat Mallinger and pianist Bill Carrothers, have appeared often in the Twin Cities since making their respective moves to Chicago and Michigan's Upper Peninsula and building international reputations. Mallinger has led a long-standing quartet with Carrothers on the piano bench, a frequent act at Chicago's Green Mill, and they reunited for Mallinger's quartet album, Home on Richmond (2011). Both musicians were at least annual headliners at the Artists Quarter until the club closed nearly three years ago, most recently heard together here as a quartet with Billy Peterson and Kenny Horst in late November 2013. Yet, despite their friendship dating back to high school, Pat and Bill have never performed together anywhere as a duo. That will be rectified on August 30 (7 pm) when the Dunsmore Room at Crooners Lounge in suburban Minneapolis welcomes the Pat Mallinger-Bill Carrothers Duo.
Pat Mallinger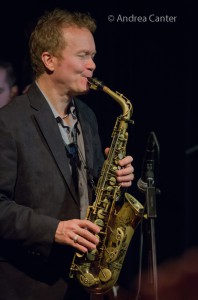 As a youngster in St. Paul, Pat Mallinger was inspired by the Grass Junior High Jazz Band and recordings of Paul Desmond, and decided jazz rather than dentistry was his destiny. He played in the Sibley High School band, studied with his uncle Tommy Bauer and Brian Grivna, and often heard the great Eddie Berger perform around town.  In addition to Desmond, Pat cites such early jazz influences as Charlie Parker, Sonny Rollins, John Coltrane, Dexter Gordon, and Miles Davis. After high school, Mallinger earned a degree in jazz studies from North Texas State and, in 1986, moved to Boston where he played with the Artie Shaw Orchestra. Relocating to his current home in Chicago in 1990, Mallinger has played with Joe Williams, Nancy Wilson, Stevie Wonder, Herbie Hancock, Harry Connick, and the Chicago Symphony Orchestra; he's toured with Charles Earland, Woody Herman, and Cab Calloway, and appears in concerts and festivals around the world. In Chicago, he regularly performs with the Chicago Jazz Ensemble, Kurt Elling, Howard Levy, and the 911 Mambo Orchestra; he leads his quartet (Bill Carrothers, Dennis Carroll, George Fludes), plays in a sax/piano duo with Dan Trudell, and he co-leads the ensemble Sabertooth, which performs weekly at the Green Mill. Pat is also a committed jazz educator whose efforts include inspiring inner city students to pursue jazz as a member of the Ravinia Jazz Mentors and the Chicago Public Schools' Louis Armstrong Legacy Project.
Pat's latest quartet release is Elevate (PJM Jazz, 2014), which was praised by Downbeat as "organically flowing, passionately played, highly recommended." His last visit to the Twin Cities was last December, when he performed with a quartet at Vieux Carré,
Bill Carrothers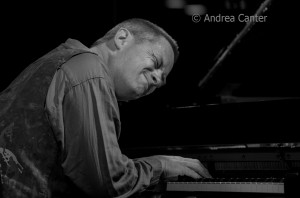 Widely acclaimed throughout Europe where he spends most of his touring time, Bill Carrothers has hardly followed the typical path of a musical prodigy. Growing up on the edge of the Twin Cities metro area, he heard lots of jazz at home, from his father's recordings of Dixieland and Gerry Mulligan to his mother's singing and piano playing. Reluctantly starting on piano at age 5, eventually Carrothers was turned on to jazz by his piano teacher, the late Bobby Peterson, who introduced young Bill to Bill Evans, Herbie Hancock, and most importantly, Miles Davis. After playing in his high school jazz bands, Carrothers moved on to the jazz program at North Texas State, gaining experience playing with visiting artists like James Moody and Billy Higgins, and recorded a well-received CD (A Band in All Hope) in 1986. By 1988, he'd had enough of college studies and headed to New York, where he recorded with Gary Peacock and Bill Stewart. Recognizing he preferred a quieter, more rural life than the frenetic pace of most jazz musicians, Bill returned to the Midwest, and now makes his home in Michigan's Upper Peninsula.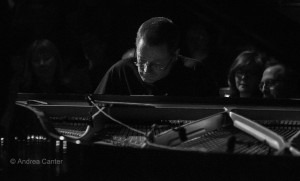 Although avoiding the limelight as much as possible, Carrothers has established a strong following, touring throughout the U.S. as well as European venues. As a sideman he has appeared with Joe Beck, Scott Colley, Buddy DeFranco, Dave Douglas, Curtis Fuller, Billy Higgins, Lee Konitz, James Moody, Dewey Redman, Charlie Rouse, and Toots Thielemans, among others; as a leader he has released a long list of acclaimed recordings and received a number of international honors. His Birdology recording, 2000's Duets With Bill (Stewart), was awarded the German Schallplatten Preis; Armistice 1918 was nominated for the 2005 French "Grammy" equivalent, Les Victoires du Jazz. Bill's more recent recordings include a 2010 trio tribute to Clifford Brown (Joy Spring), the solo spontaneous improvisation set, Excelsior (2011), and the 2-volume A Night at the Village Vanguard (2011), his first live recording with his European trio. Of the latter, All About Jazz's Dan McClenaghan dubbed it "a complex, enchanting and strikingly lovely success." Carrothers appeared with Billy Peterson on Dave King's trio debut, I've Been Ringing You (2012, Sunnyside), and also in 2012 released another solo set reflecting his life in Minnesota, Family Life, a "blatantly intimate" disc displaying a "tender, evocative soulfulness" (Britt Robson, Jazz Times). Bill has appeared in the Twin Cities several times over the past year, including in the Dunsmore Room solo and with the Dave King Trio.
Pat Mallinger and Bill Carrothers were cohorts as teens (meeting in the McDonald's All Star High School Jazz Ensemble),  and now long-time quartet collaborators. Add dynamic duo partners to their resumés.
The Dunsmore Room at Crooners Lounge is located in Fridley at 6161 NE Highway 65 (Central Av) just north of I-694. Reservation strongly recommended at www.croonersloungemn.com. Hear Bill Carrothers the previous evening in the Dunsmore Room with Icelandic vocalist Anna Mjöll.