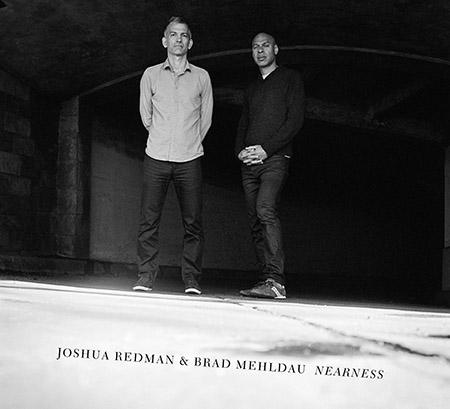 More than twenty years ago, Duke DuBois, the legendary promotional lion for Verve and GRP records, would service gleeful public radio programmers like myself with scads of beautifully packaged reissues from the aforementioned labels. He would also send along delicacies from the vaults of Decca, EMarcy, Norgran and Veejay records. Unabashed salivation ensued. Free music of this caliber was already becoming obsolete in the music business. If it landed him in hot water with his bosses who felt he should be focusing on new artists, he had the noblest of rationales: "If you haven't heard it, it's new to you." Though I'm certain he didn't give birth to the line, it had a pure resonance for us radio geeks and our audiences.
It rings especially true with the "new" recording that joins two titans of jazz. Saxophonist Joshua Redman and pianist Brad Mehldau have teamed up for Nonesuch records, one of the few remaining major labels in jazz, to release Nearness.
Having recorded all of the material at various live dates in 2011 throughout Europe, it's unlikely to have been heard by anyone except those in the audience or perhaps the production crew. So we'll call it new. There's no rhythm section, just the two fellow travelers. Mehldau is an improviser with more melodic and pensive leanings. Redman can fit into those styles but also has considerably more flexibility and aggression when it's called for.  They each represent the plateau of their generation of instrumentalists, so there is simply no wrong turn to be made.
Parker, Monk and Hoagy Carmichael are portrayed with new vigor. But the big attraction would have to be the musings from each of them. Redman offers "Melancholy Mode," and "Old West" and "Always August" by Mehldau get a fresh workout.
The format of just the duet lends itself to plenty of elasticity and these two are among the best purveyors.
Redman and Mehldau will tour this fall with their duo project, including stops at the Dakota in Minneapolis (September 25-26) and at Jazz at Lincoln Center's Rose Theater  in Manhattan (September 30).