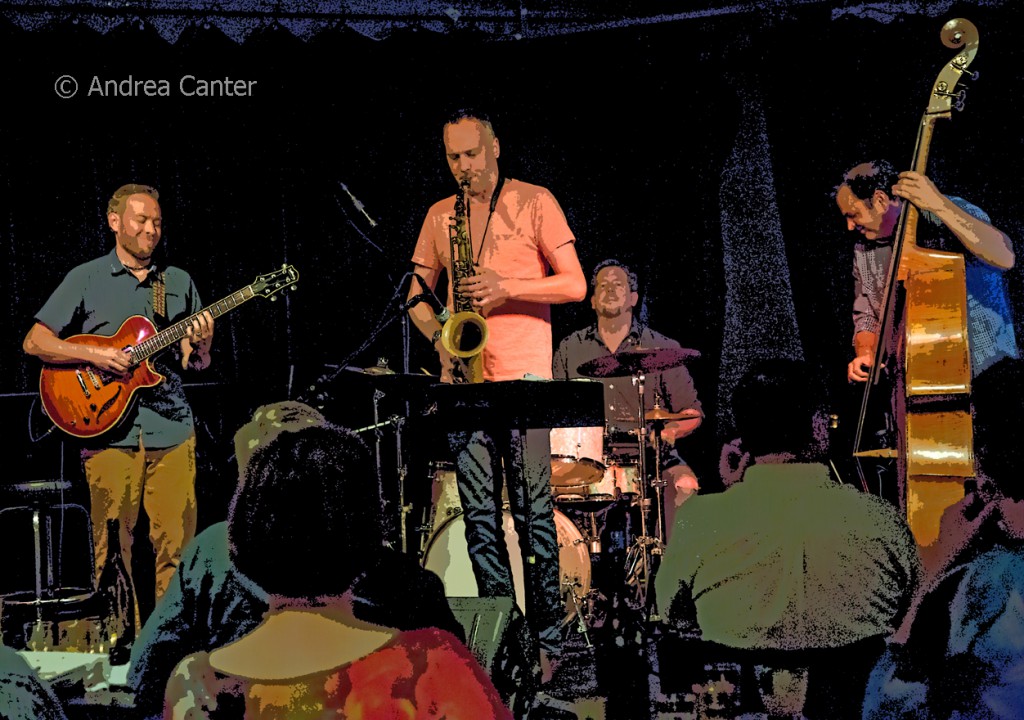 Few jazz bands can claim ten years of nonstop collaboration, but then the Atlantis Quartet is no ordinary jazz band. Together since 2006 with only one (early) personnel change, Atlantis has moved from its humble beginnings as a quartet of unknowns through four recordings, a McKnight Fellowship, and a decade of accolades from local media and such national outlets as Jazz Times. Such a track record calls for celebration, and the quartet will commemorate its anniversary with two nights at Vieux Carré in downtown St. Paul September 15-16, and the release of a digital anthology (Atlantis Quartet: X) containing the four albums in full along with unreleased bonus tracks, a book of compositions, and special edition liner notes. Members of the Atlantis Quartet include guitarist Zacc Harris, saxophonist Brandon Wozniak, bassist Chris Bates, and drummer Pete Hennig.
The Atlantis Quartet, 2006-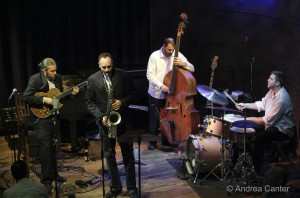 In the fall of 2006, four young jazz musicians in Minneapolis came together as the Atlantis Quartet, a project with a goal to allow the musicians to explore new concepts in modern jazz through composition and collaboration. Saxophonist Brandon Wozniak, guitarist Zacc Harris, drummer Pete Hennig and bassist Travis Schilling met for weekly sessions to work on these original compositions, released their first album, Again, Too Soon, in 2007. Thus a group of relatively unknown players put themselves on the Twin Cities jazz map. Chris Bates soon replaced Schilling, and the quartet next released Animal Progress in 2009, prompting Jazz Times critic Bill Milkowski to call the music "startling original" with material that "ranges from grungy and audacious to lyrical and evocative, free-boppish, meditative and swinging."  In 2011, the quartet released Lines In the Sand, recorded live at the Artists' Quarter in St. Paul following an East Coast tour and being named "Jazz Artist of the Year" by City Pages. The group received a similar honor in 2012 from the Star Tribune, which dubbed the Atlantis Quartet "Best Jazz Act For People Bored With Jazz."  Lines In the Sand went on to make the City Pages "Top 14 Minnesota-Made Albums of 2011," the only jazz record to make the list.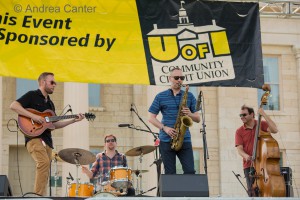 Atlantis Quartet returned to the studio for 2013's Expansion, penning nine new originals and prompting critic Tom Surowicz of the Star Tribune to write, "Atlantis Quartet is one of the Twin Cities' most potent groups, jazz or otherwise…Expansion is full of arresting originals…rocked-up, serene, hard-swinging and avant-leaning, by turns, with lots to savor and no missteps." After making their debut at Chicago's famed Jazz Showcase in 2014,the group received the McKnight Fellowship for Performing Musicians in 2015; that year the band also headlined opening night at the Twin Cities Jazz Festival and performed on the main stage at the Iowa City Jazz Festival, joining Dave Douglas, Julian Lage and Charles Lloyd, and launching the Minnesota-Iowa Jazz Fest Exchange.
When asked how the band has been able to stay together and continue to grow, saxophonist Wozniak says, "All of us are willing to keep coming together on a consistent basis to rehearse, write, and record, because we are committed to – and most importantly – we believe in the concept of the band." Pete Hennig adds, "The collective process gives a higher level of quality control, more filters to go through before a decision is made about the compositions." And Wozniak continues, "All four players have different strengths and unique approaches to the music. This forces us to listen, learn from each other and create the best environment to be our most creative selves. We are constantly striving for the goal to have the whole be greater than the sum of its parts."
The whole is indeed greater than the parts, evident every time the band takes the stage or goes into the studio. And perhaps the trajectory of the Atlantis Quartet mirrors the evolution of the local jazz scene more generally. Notes Chris Bates, "There has been an uptick here in regards to the level of talent and number of players who are striving to make a creative mark in music. That has in turn helped raise the collective bar higher for performance and composition in the improvising community, which has made the audience larger." Harris adds, "The Artists' Quarter was our home, but in the wake of its closing [at the end of 2013], a number of other venues have popped up, including Vieux Carré, in the same space of course. We thought it would be appropriate to celebrate this benchmark by playing the room we've played the most over the years."
The Band Today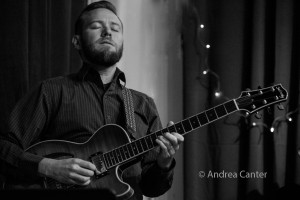 Guitarist Zacc Harris is a California native who came to Minneapolis about nine years ago from Illinois, where he graduated from Southern Illinois University. Here he formed the Luminessence Trio (now Zacc Harris Trio), continuing weekly gigs at the Riverview Wine Bar. In addition to Atlantis, Zaac also leads his Quartet, Vital Organ, the Zacc Harris Group, and American Reverie trio; performs with Dean Granros' Tall Tales, the Adam Meckler Quintet and Babatunde Lea Quartet; is a founding producer at Shifting Paradigms Records; and teaches at Hamline Uniersity and in his private guitar studio. He's also curated the Jazz at Studio Z series for four seasons. This winter, Zacc performed in the U.K., including a gig at the famed Ronnie Scott's in London.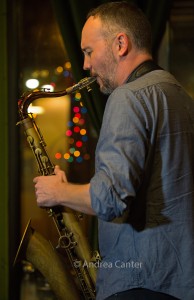 Saxman Brandon Wozniak previously lived and worked in New York City, toured with the Tommy Dorsey Orchestra, and earned his BA from Indiana University under the tutelage of the late David Baker. Since arriving in the Twin Cities in 2006, he has performed with local bands including Red Five, Dave King Trucking Company, the Bryan Nichols Quintet, Zacc Harris Quartet, and Vector Families; and in varying combinations with Adam Linz, Billy Peterson, Dean Magraw, Kenny Horst, Zacc Harris, Steve Kenny and more. Over its first two seasons, Brandon has performed on the Jazz in the Target Atrium Series at Orchestra Hall as part of the Atrium Jazz Ensemble, led by Jeremy Walker.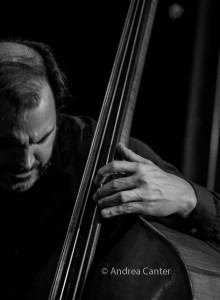 Bassist Chris Bates is one of the busiest musicians in the metro, performing with with Red Planet, Framework, How Birds Work, Tall Tales, Bill Simenson Orchestra, Adam Meckler Orchestra, and many other cutting edge ensembles in addition to Atlantis. In the past few years he has stepped out front as leader of the Good Vibes Trio and his quintet, Red Five, both of which released debut albums in the past two years. He recently revived another vibes trio, Low Blows, launched a trio with Joe Strachan and Ted Olsen, and curates a monthly improvisation series at Jazz Central, one Wednesday night per month. Chris studied at the University of Wisconsin–Eau Claire and later with Anthony Cox, was an original member of the Motion Poets, and a 1999 McKnight Composer Fellow. He was one of four jazz artists to be awarded a composition commission from Zeitgeist, which was premiered at the 2014 Twin Cities Jazz Festival.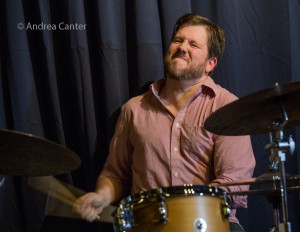 Drummer Pete Hennig came to the Twin Cities to study at McNally Smith. After graduating he spent an additional three years studying with Dave King (Bad Plus, Happy Apple). His performance credits include Zacc Harris, Debbie Duncan, Katie Gearty, Sam Kuusisto, Tickle Fight, Patrick Harrison, Johnny Clueless, Park Evans, Monk in Motian, and the Fantastic Merlins, and he leads his own bluegrass band (Bluegrass Bandits).
Atlantis Quartet: X  and Beyond
The new digital collection makes the Atlantis Quartet's collective ethic abundantly clear. Harris notes that "We wanted to acknowledge this moment somehow. It's not everyday that a band of any sort, much less a jazz group, stays together – and plays and records as much as we do – for a decade! This digital collection will give our fans an opportunity to hear the complete sound of the band, how we've changed and grown, especially since the first album is out of print, and we're including some cool extras, tracks and sheet music of our compositions."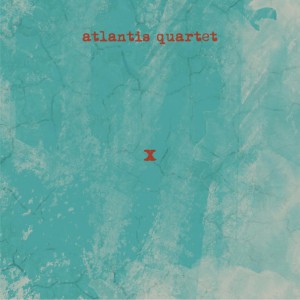 Atlantis Quartet: X will be available through www.shiftingparadigmrecords.com and also as limited edition 5"x5" download prints at the Vieux Carré shows. The band decided to sell the anthology for the low price of $20. "We are hoping that this will be a good way for people who might have one of our albums already to complete their collection, and get some extras, or for someone who doesn't have any of our music to be able to jump in head first, but we want it to be affordable."
Following the release of Atlantis Quartet: X, the band will head into the studio to record its fifth album, set for release with a US and European tour in 2017. Harris notes, "This anthology is a celebration of the decade we've been together, but also our way of closing a chapter and doing what we've always done, move forward."
The Atlantis Quartet performs at Vieux Carré Thursday and Friday, September 15-16 at 9 pm; Vieux Carré is located at 408 St. Peter Street in the lower level of the Hamm Building in downtown St. Paul; see full calendar at http://vieux-carre.com. Cover $10. More about the Atlantis Quartet at www.atlantisquartet.com