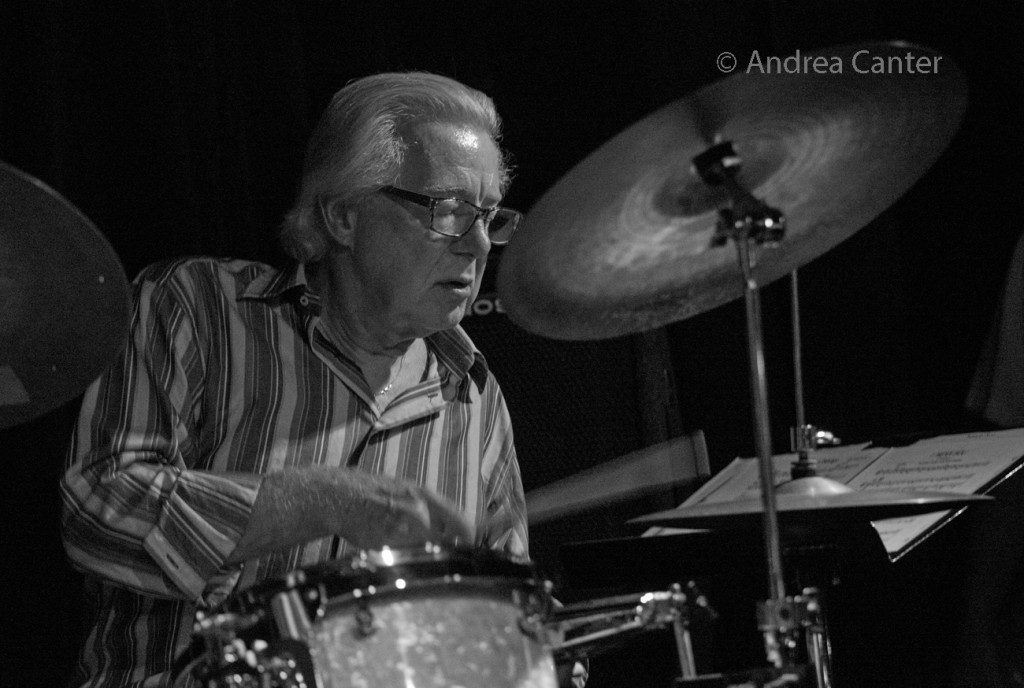 Kenny Horst may have retired from club ownership when he closed down the Artists Quarter at the end of 2013, but he has not retired from what he loves most–playing drums and collaborating with other musicians. Two musicians in particular, guitarist Dean Magraw and bassist Billy Peterson, are long-time favorites. On Thursday Night Jazz at Reverie on September 22, the trio recreates the magic of gigs at the AQ.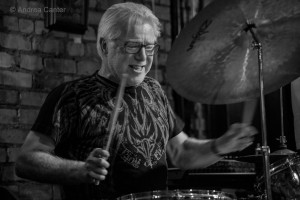 In addition to his ownership and management of the Artists Quarter for 18 years, Kenny Horst is one of the most popular drummers in the area. He worked with Bobby Lyle for three years at the Blue Note in New York, toured with Jimmy McGriff, briefly with Al Hirt, and locally has played with many of the national and local artists booked at the AQ, including Eric Alexander, Lew Tabackin, Jim Rotondi and Diane Witherspoon. For about 15 years he manned the  trapset for the Tuesday Night Band (B-3 orgn trio), and has also played regularly with How Birds Work, the Dave Karr Quartet, Chris Lomheim Trio and vocalist Carole Martin. For last year or so at the AQ, Kenny also anchored an ongoing series of "Friends" gigs, often with Billy Peterson on bass and a revolving cast of pianists, guitarists and  horn players such as Peter Schimke, Dean Magraw, Zacc Harris, Brandon Wozniak, Pete Whitman and more.  Since his "retirement" from club ownership, Kenny has been heard with What Would Monk Do, How Birds Work, and his own trios and quartets at such venues as the Icehouse, Black Dog, Nicollet (now Reverie) and Jazz Central.  Said Don Berryman (Jazz Police), "Great hard-bop, soul jazz, and fusion chops and the sweetest guy you could meet." Still true.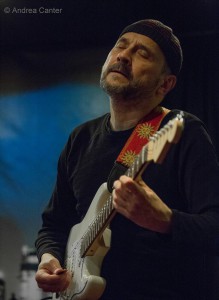 Dean Magraw is one of the Twin Cities' most eclectic musicians, with a career spanning more than three decades and multiple genres and cultures, from blues to classical to folk and jazz, from Japanese and Indian to Celtic and middle American. He has performed with and/or recorded with mandolin virtuoso Peter Ostroushko; vocalists Ruth McKenzie, Claudia Schmidt, Bruce Henry, Lucia Newell, Maud Hixson and Greg Brown; accordionist John Williams; Japanese shamisen prodigy Nitta Masahiro; classical violinist Nigel Kennedy; South Indian vocalist and vina virtuoso, Nirmala Rajasheker; Irish supergroup Altan; Garrison Keillor and Prairie Home Companion; jazz bassist Anthony Cox; and avant garde French saxophonist, Francois Corneloup.  Dean has collaborated with many local artists at the Artists Quarter, Black Dog, Nicollet, Jazz Central, and more, including Brandon Wozniak, Bryan Nichols, Billy Peterson, Steven Hobert, and Kenny Horst.  He's released a series of recordings spanning his musical universe, including a duo with tabla master Marcus Wise, How the Light Gets In. Over the past five years, Dean has co-led a monthly duo with percussionist Davu Seru at the Black Dog Café (first Tuesdays), more recently launched a duo with veteran drummer Eric Kamau Gravatt, leading to their CD release, Fire on the Nile, and another with eclectic pianist Steven Hobert.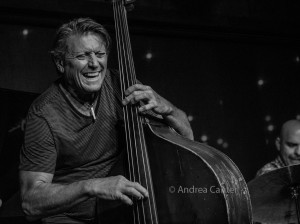 From Minnesota's "First Family of Music," bassist Billy Peterson sang in commercials with sister Linda at age 9 and played bass and drums in his father's ensembles while in junior high. He played in a variety of combos and big bands throughout his high school years, including a summer tour with the Righteous Brothers and a stint with the Lawrence Welk All-Stars. After graduation, Billy played three years with Billy Wallace (Clifford Brown's pianist) and co-founded the ean Maband Natural Life with saxman Bob Rockwell. He has recorded with Leo Kottke and performed or recorded with BB King, Johnny Smith, Lenny Breau, and the late Les Paul. Due to tour commitments, he passed on an invitation to join the Bill Evans Trio (Marc Johnson's good fortune!). In 1975, he appeared on Bob Dylan's acclaimed Blood on the Tracks, and a few years later began a long-standing collaboration with Ben Sidran, which led to his 20+ year association with the Steve Miller Band. Billy continues to tour with Bob Rockwell in Europe, with the Dave King Trio (with Bill Carrothers), and appears in the Twin Cities with The Peterson Family, How Birds Work, and other ensembles.
Thursday Night Jazz at Reverie is curated by Steve Kenny and takes place at 1931 Nicollet Av South (at Franklin) in Minneapolis. No cover but tips ($10 suggested) are appreciated to support the musicians and the series. Full series schedule at www.thursdaynightjazzatreverie.info