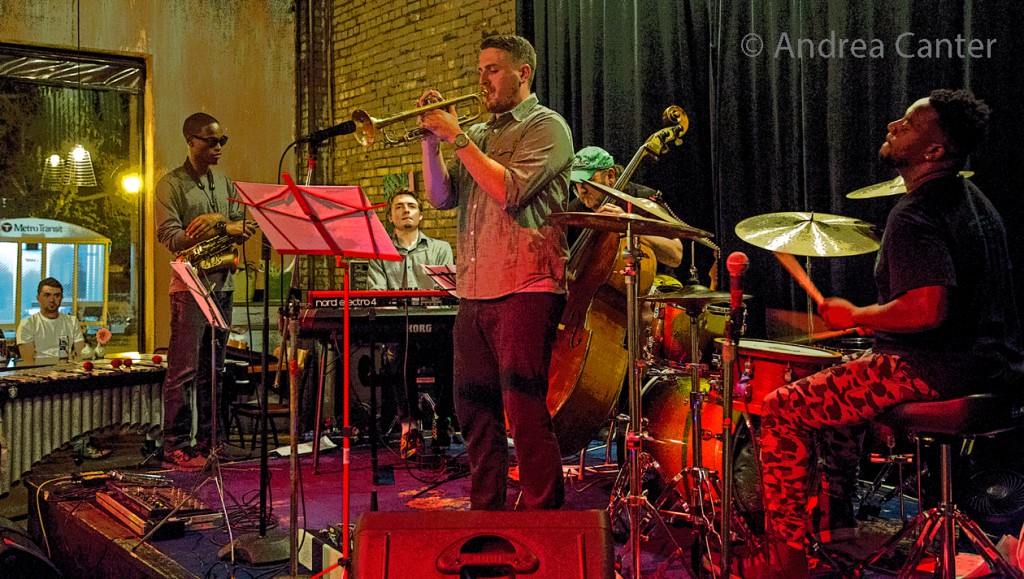 "I am the music. I am my first instrument and the music is in me" –Rodney Ruckus
Drummer Rodney Ruckus has been one of the busiest performers around the Twin Cities over the past few months. After burning up the main stage at the Twin Cities Jazz Festival in late June, Ruckus has headlined at Jazz Central, Reverie, Black Dog and on the All Originals series at Studio Z. This week, Rodney and his "Fotet" (Abebi Stafford on piano, Ron Evaniuk on bass) welcome special guest, Berklee alum and saxophonist Lito Hernandez, as they perform on the Thursday Night Jazz at Reverie and Saturday Night Jazz at the Black Dog series. The Julian Manzara Quartet will open the evening at the Black Dog.
Rodney Ruckus Fotet (Reverie, 9 pm, September 28; Black Dog, 8:30 pm, October 1)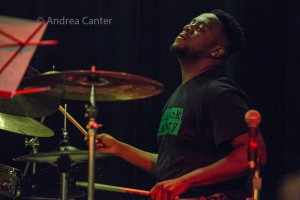 A Florida native, Rodney Ruckus started playing drums at the age of two in church, and also picked up piano and bass. "As a child, I had no video games," says Rodney. "Instead, I had musical instruments. I was willingly brought up to be engaged into music twenty-four/seven." Rodney was introduced to jazz at age 14 in his middle school music program after moving from Miami to Sarasota, FL. With some friends, he started playing for tips outside neighborhood markets. Later, his band The Jazz Juvenocracy raised money to travel, playing at the Montreux Jazz Festival, Jazz a Vienne and at La Barington Jazz Club in France, and at the Umbria Festival in Italy.
Rodney attended the Berklee College of Music on a full scholarship, and was selected as drummer for The Grammys in the Schools Foundation. After completing studies at Berklee, he received an Art Blakey Jazz Messengers Presidential Scholarship to the McNally Smith College of Music. He's been on stage with such jazz luminaries as Tia Fuller, Ralph Peterson, Herbie Hancock, Billy Childs, John Patitucci, Joe Lovano, Roy Hargrove, Wynton Marsalis, and Charles Lloyd. Locally, Rodney has performed with the Solomon Parham-Steve Kenny Quintet at the 2016 Winter Jazz Festival, with the Steve Kenny Quartet on Saturday Night Jazz at the Black Dog, with Anthony Cox's Free Range Quartet at the Black Dog, and heading is own ensembles at Jazz Central Studios, Reverie, the Black Dog and more. He's also appeared with Solomon Parham at The Bedlam.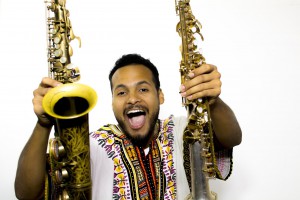 Award winning, multi-instrumentalist, bandleader, composer, and educator Lito Hernandez received the Berklee College of Music's most prestigious scholarship–the Presidential Scholarship– in 2009. After completing his undergraduate studies, Lito served as Adjunct faculty at Santa Barbara (CA) City College, as well as teaching lessons for the woodwind ensemble with the El Sistema inspired program, iCAN (Incredible Children's Art Network) in 2014. Most recently he received a scholarship to Berklee College of Music, Valencia, Spain,where he earned his Masters Degree in Contemporary Performance with a Production Concentration. Over his career thus far, Lito has shared the stage with such stars as Clark Terry, Ralph Peterson, Kenny Loggins, Red Holloway, Peter Erskine and more.
Young pianist Abebi Stafford is a native Minnesotan who earned a degree in Chemical Engineering at Rice University in Houston. He picked up the piano at age 9, studying classical music until his teens when he started to focus on jazz under the influence of the music of Wynton Kelly and Keith Jarrett. After college, he moved to Atlanta where he continues to enjoy the "freedom of improvisation."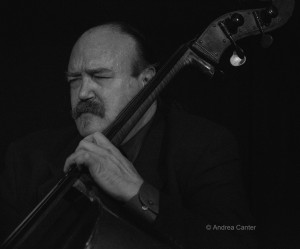 Bassist with the Americana Classic Jazz Orchestra (devoted to the big band music of the 20s and 30s), JazzMN Orchestra, and leader of his own quartet, Ron Evaniuk recorded with Twin Cities trumpet legend Gene Adams and has played with George Avaloz, in addition to his long-standing work with Eric Gravatt's Source Code.
Julian Manzara Quartet (Black Dog, 7 pm, October 1)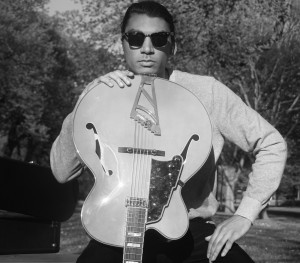 Julian Manzara and his quartet (with Levi Schwartzberg, Drew Stinson and Dan May) will present an opening set of original compositions, featuring improvisation in fusion, swing, Brazilian, and blues styles.
Guitarist, composer, and bandleader Julian Manzara formed his quartet in January  2016, seeking a band that was able to realize his original compositions in a wide variety of styles, yet able to play traditional jazz as well,  A recent graduate of the guitar performance program at McNally Smith College of Music,  Julian left college studies at the Berklee College of  Music to tour with rock band The Lone Crows. Julian later returned to studying music and graduated from McNally Smith College of Music with a B.M. in Guitar Performance. He is currently writing new music and developing a home recording studio.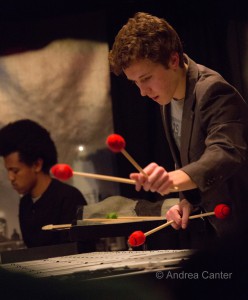 Levi Schwartzberg, another Minneapolis native, is in his third year at the University of Minnesota, where he is majoring in physics and performing with the U of M jazz ensembles. Fluent on keyboards and vibraphone, he plays in a wide variety of local groups, including Sound Skirmish, Adam Linz's Le Percheron, and Davu Seru's No Territory Band, along with his own bands.
Drew Stinson is a modern bass player studying at McNally Smith College of Music. His versatility and extensive understanding of his instrument allows him to work well in a creative setting but also as a sideman in any rhythm section. In addition to playing bass for the Julian Manzara Quartet, Drew is a founding member of Sound Skirmish, a quartet with Patrick Adkins, Levi Schwartzberg and Ben Ehrlich.
Dan May is a drummer and educator based in the Twin Cities. A Chicago native, May came to the Twin Cities to attend McNally Smith College of Music, where he studied with Gordy Knudston and JT Bates. Dan teaches drumset and percussion in his St. Paul studio.
Upcoming Shows
At Reverie:
October 6, Brian Courage Quartet
October 13, Adam Booker Hip-Gnosis
October 20, American Reverie
October 27, Bottomless Pit
At the Black Dog:
October 8, Park Evans Quartet (opening: Steve Kimmel/Greg Byers)
October 15, Babatunde Lea Group (opening: Jazz Bridge Project)
October 22, Douglas Ewart Ensemble (opening: John Devine, Bill Lang and Company)
October 29, Pat Moriarty/Ellen Lease Quartet (opening: Roseville Area High School Jazz Combo)
Thursday Night Jazz at Reverie (formerly The Nicollet) and Saturday Night Jazz at the Black Dog are curated by Steve Kenny. Reverie is located at 1931 Nicollet Avenue South in Minneapolis (on the corner of Franklin Av); the Black Dog is located in St Paul's Lowertown at 308 Prince Street, in the Northern Warehouse. No cover but tips ($10 suggested) are appreciated to support the musicians and the series. Full schedule at www.thursdaynightjazzatreverie.info and www.saturdaynightjazzattheblackdog.info