Grammy award-winning jazz trumpeter Terence Blanchard will open the 2016-17 JazzMN Orchestra concert season on October 1 at 7:00 p.m. in the Ordway Concert Hall in downtown St Paul. Local favorite Connie Evingson will be the featured vocalist. A new venue for JazzMN, the Ordway Concert Hall provides an intimate setting where audiences can experience the live acoustic experience and the full range of power and beauty of the JazzMN Orchestra. "JazzMN begins a new era as we open our 2016-17 concert series at the Ordway Concert Hall," said Artistic Director Doug Snapp. "We continue to strive to present concerts that feature world-class guest artists with top-notch Twin Cities jazz musicians, and perform a broad range of jazz genres that appeal to audiences of all ages." The remaining concerts of this season will be presented in JazzMN's usual venue, the Hopkins High School Auditorium.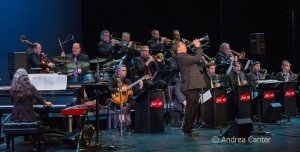 The October 1 program will begin by visiting the worlds of Count Basie and Gil Evans, through a Wynton Marsalis arrangement of John Coltrane's A Love Supreme, and up to a recently released work by LA composer Chris Walden. Along the way, the beautiful voice of Connie Evingson will pay tribute to Toots Thielemans and Shirley Horn. Terence Blanchard will then take over with his introspective works for film, mixed with the fire and soul that make him one of today's top jazz trumpeters.
About Terence Blanchard
Born in New Orleans 54 years ago, Terence Blanchard began playing piano at age 5, adding trumpet a few years later after hearing a band visiting his elementary school. His father, a part-time opera singer, encouraged his son "to practice the piano every day, right next to the window, while the other kids were outside playing ball," he called in an interview for the New York Times. In high school at the New Orleans Center of Creative Arts, Terence studied with Ellis Marsalis and Roger Dickerson, and was a classmate of saxophonist Donald Harrison. After graduation, he enrolled at Rutgers University on a music scholarship, and soon was booked on a tour with Lionel Hampton. His big break came in 1983 when Wynton Marsalis recommended him as his replacement in Art Blakey's Jazz Messengers. Known for his mentoring and shaping of young talents, Blakey not only gave Blanchard his big start as a performer but served as a role model as bandleader and mentor, roles that Blanchard champions today.
After two years with Blakey, Blanchard and former classmate/fellow Messenger Donald Harrison moved on to form their own quintet, earning the prestigious French Grand Prix du Disque for their 1984 Concord recording, New York Second Line. They released four more more (Discemment  and Nascence in 1986, Crystal Stair in 1987, and Black Pearl in 1988, the latter three for Columba). Going solo, Blanchard released his self-title disc in 1991, followed by Simply Stated (1992), the Malcom X Jazz Suite (1993), In My Solitude (1994), Romantic Defiance (1995), and The Heart Speaks (1996, Latin Grammy nominee), all on Columbia. Jazz in Film (1999), Wandering Moon (2000) and Let's Get Lost (2001) were released on Sony Classical.  Moving to Blue Note in 2003, Terence received a Grammy nomination for Flow (2005) and Grammy Awards for Tale of God's Will (2007) and Live at the Monterey Jazz Festival (2008). His appearance on Jeff Tain Watt's 2009 release, Watts (Dark Key Music), also received the Grammy for Best Jazz Solo on "Dancin' 4 Chicken."
After recording the acclaimed Choices for Concord, Blanchard returned to Blue Note, receiving a 2013 Grammy nomination for jazz solo ("Don't Run") on Magnetic. On his latest Blue Note album, Breathless (2015), Blanchard moved in yet another direction with his fusiony, bluesy quintet, The E-Collective. "Breathless is the album I've been wanting to do for quite awhile," he says. "Growing up I was listening to the Head Hunters and Weather Report, which had a strong effect on me. I always listened to groove-based music—Jimi Hendrix, Parliament Funkadelic, and then later listening to Prince and D'Angelo, and later what [jazz trumpeter] Russell Gunn was doing. But up to this point, I had never explored it."
Blanchard has enjoyed a long collaboration with film director Spike Lee. The 1990 Grammy-nominated film Mo' Better Blues starred Denzel Washington as a trumpeter, with Blanchard playing the trumpet parts as well as scoring the theme. "Terence has been doing my scores ever since," said Lee. In the late 90s, Blanchard's recording career mushroomed as composer of film and television soundtracks (including the Grammy-nominated Wan­dering Moon and "Lost in a Fog" from Let's Get Lost, and a Golden Globe Award for scoring Spike Lee's The 25th Hour). His work with Lee included scores for Jungle Fever, Malcolm X, Clockers, Summer of Sam, and Bamboozled, as well as the Academy Award-nominated 1997 documentary, Four Little Girls, and the documentary, Jim Brown: All American. He also earned an Emmy in 1995 for his original television documentary score for The Promised Land. Most recently, Blanchard scored George Lucas's film Red Tails (2012), about the famed Tuskegee Airmen. Blanchard's work with film naturally led to scores for Broadway productions, including The Motherf**ker With a Hat (2011),  which garnered six Tony Award nominations.
Opera recently presented a new direction for Terence Blanchard. With a commission from Opera St. Louis, Blanchard scored and premiered Champion in 2013. At first there was talk about doing something related to Hurricane Katrina, but Blanchard says "that's one of those stories that will need to be revisited 10 to 20 years from now." Instead, Blanchard, a big boxing fan, decided to focus on the story of former welterweight and middleweight champion Emile Griffith. Champion opened to sold-out audiences; the Denver Post called the opera "a new American masterpiece."
Performing and composing are not the only passions that Terence Blanchard brings to music. A devoted educator, he served more than ten years as Artistic Director of the Thelonious Monk Institute of Jazz, now affiliated with Loyola University in Blanchard's New Orleans. Further, his affinity for gathering and nurturing the hottest young talents harkens back to his residency with Art Blakey, although some cite the "Miles Davis School" as a more apt analogy. In recent years, Blanchard has served both the Monterey and Detroit Jazz Festivals as Artist in Residence, and currently serves as the Jazz Chair for the Detroit Symphony Orchestra's jazz concert series.
About Connie Evingson
A native of Hibbing in northern Minnesota's Iron Range, Connie Evingson grew up listening to her father's records of Duke Ellington, Count Basie, Ella Fitzgerald, Sarah Vaughan, Joe Williams, Tony Bennett, Lambert, Hendricks and Ross, and later Peggy Lee and Shirley Horn. Influenced by these early muses as well as the musical icons of her generation (the Beatles, Joni Mitchell, Bob Dylan, Sting, Bonnie Raitt), Connie's eclectic tastes were soon evident, from her first club gig at the old Night Train in St. Paul to a brief stint with the Minnesota Vocal Jazz Ensemble before she joined Moore By Four in 1986. With Moore by Four, Connie performed and toured the world throughout the late 80s and 90s, often opening for the biggest stars in music. In the past decade, her career as a soloist has included nine CDs for Minnehaha Music, most releases charting on Jazzweek's Top 50 for extended periods. Long regarded as among the top echelon of jazz artists in the Midwest, recipient of two McKnight Artist Fellowships, and nominated as Jazz Week's Vocalist of the Year in 2005, Connie's back-to-back recordings of hot club swing (Gypsy in My Soul, Stockholm Sweetnin') brought renewed attention to the genre and led to performances at Jazz Alley in Seattle, Blues Alley in Washington, DC and appearances in Europe. Connie went on to record an album of Dave Frishberg tunes (Little Did I Dream) and an album of songs highlighting the music of Norman Gimbel (Sweet Happy Life).
In addition to curating Jazz at the Jungle productions over the past five years (many featuring pianist Jon Weber) and heading a monthly Jazz in the Lounge gig at the Minneapolis Woman's Club, Connie appears regularly at the Dakota, Vieux Carré, and Crooners Lounge, and, in June 2013, made her Jazz at Lincoln Center debut in Michael Feinstein's "Swinging With the Big Bands," featuring Wynton Marsalis. Connie's recent projects include a return to hot club repertoire with All The Cats Join In,  recorded with the John Jorgenson Quartet and released at the Dakota in 2014. Connie received an Artist Initiative Grant for 2015 from the Minnesota State Arts Board, which supported concerts at the American Swedish Institute.
JazzMN Orchestra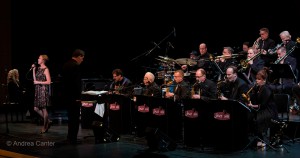 One of the top big bands in the Midwest, the nonprofit JazzMN Orchestra was formed in 1999 to "promote, preserve and perpetuate jazz, America's indigenous art music, through performance, historical preservation, and education." The band is directed by founder Doug Snapp and features some of the best musicians in the Twin Cities: Saxophones – Brian Grivna, Pete Whitman, Dave Karr, Dale Mendenhall and Kathy Jensen; Trombones – Michael B. Nelson, Dave Graf, Ethan Freier and Wade Clark; Trumpets – Bob Hallgrimson, Jeff Gottwig, Adam Rossmiller and Dave Jensen; Piano – Mary Louise Knutson; Guitar – Dave Singley; Bass – Terry Burns; and Drums- Joe Pulice.
Remaining concerts on the current season include:
November 19, New Orleans Night
March 5, Next Gen Jazz (Minnesota Youth Jazz Band, Dakota Combo, LA Urban Renewal Project)
April 8, Maria Schneider, Guest Conductor
Ordway Theater is located in downtown St Paul at 345 Washington Street at Rice Park. Single tickets range from $42 to $52 and are available at www.ordway.org  or by calling the 651-224-4222. Season tickets, which include the Blanchard concert, are also available at http://jazzmn.org/tickets  or by calling 800-595-4849.