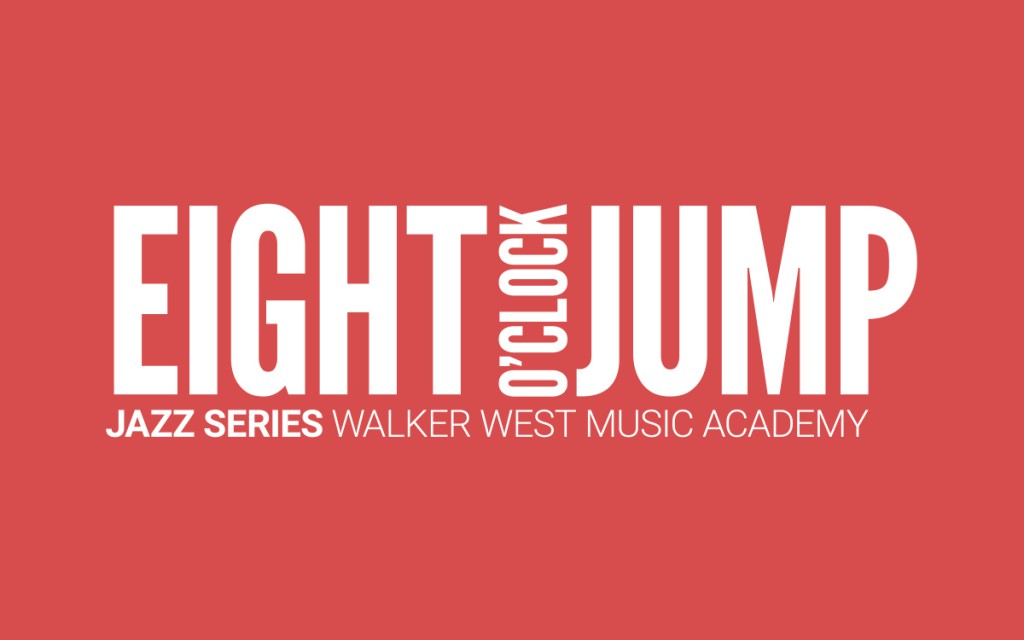 Walker West Music Academy has announced its second  8 O'Clock Jump season, with tickets for the first show on sale October 1, with the remainder of the season on sale October 4. The season opens October 21 with Davu Seru's New Territory Band, and ends in May with one of the hottest young stars in modern jazz, trumpeter Ambrose Akinmisure and his quintet. In between, local talents PaviElle French, Stokely Williams, Cory Healey, Donald and Kevin Washington, and Desdamona join nationally acclaimed artists Anthony Walker and Marcus Gilmore.  Walker West director Peter Leggett noted the success of last year's series and a desire to expand the audience for 2016-17, adding several shows that lean more toward R&B and soul, while maintaining a general focus on the broad spectrum of jazz. "We're particularly excited to bring in young star drummer Marcus Gilmore (February 24) and the brilliant trumpeter Ambrose Akinmisure (May 19)."
Series Schedule (all concerts at 8 pm)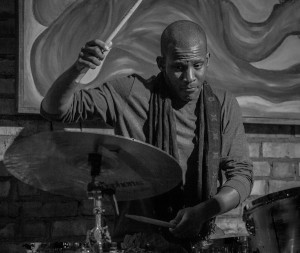 October 21, Davu Seru's No Territory Band. Respected internationally as a free jazz drummer as well as his performances in  jazz, rock and avant-garde improvised music, Davu Seru is known for his "big ears." His percussion style is notable for its attention to sound, silence and melodic line as much as rhythmic pattern. The Minneapolis native has worked in recent years with Milo Fine, Andrew Lafkas, Jaron Childs, Charles Gillett, Elliot Fine, Anthony Cox, Dean Granros, Douglas R. Ewart, Dean Magraw, Stefan Kac, James Buckley, Nicole Mitchell, and the band Take Acre. Among his many projects, No Territory Band is relatively new and involves a "book and its rotating band of interpreters." For this concert, Davu is joined by guitarist Dean Granros, trombonist Dave Graf, trumpeter Noah-Ophoven Baldwin, and saxophonist Tyler Cessor.
November 18, PaviElle French.  Innovative and dynamic neo-soul singer PaviElle is a native of St Paul's Rondo neighborhood, growing up in a family steeped in music– her uncle, George Young, played saxophone for Purple Haze, her mother played saxophone as well, and her actor/playwright brother Ahanti Young is an accomplished percussionist. An accomplished vocalist, singer/songwriter and spoken word artist, she has worked with Khalil Queen, Everyday People, and was an early member of EduPoetic Enterbrainment, a group integrating  spoken word, R&B, jazz, reggae and hip-hop. Recently she has joined forces with bassist Casey O'Brien on the autobiographical production, Fear Not.
December 16, Lawrence Waddell and Stokely Williams. Grammy nominated drummer/vocalist and lead singer Stokely Williams and keyboardist Larry Waddell form one-third of the revered R&B band, Mint Condition, launched in the 80s by friends at St Paul Central High School. Williams was a popular performer on the first Eight O'Clock Jump season.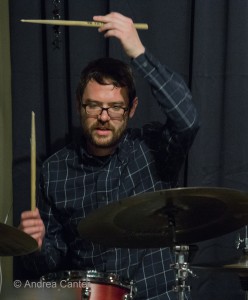 January 27, Cory Healey's Beautiful Sunshine Band. Iowa native, drummer Cory Healey moved to the Twin Cities about 3 years ago after stints in Chicago and New York. His unique and versatile style of drumming led to performance opportunities in a wide range of genres and touring extensively in North America and Europe. Here in Minnesota, Cory has formed several bands and performs in many others, including Adam Linz's Le Percheron, The Bryan Nichols Quartet and more. His Beautiful Sunshine Band recently released its first recording, and includes local standouts Brandon Wozniak on sax, Jake Baldwin on trumpet, Zacc Harris on guitar, and Erik Fratzke on electric bass.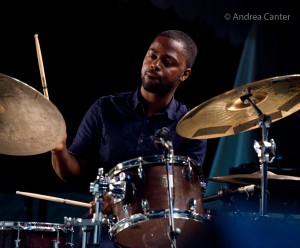 February 24, Marcus Gilmore Quartet. By the time he was in his mid-20s, drummer Marcus Gilmore had been named top Rising Star Drummer by Downbeat and was the drummer for acclaimed pianist Vijay Iyer's Trio; he had graduated from LaGuardia High School (New York City's arts magnet), The Juilliard School's Music Advancement Program, and The Manhattan School of Music, and had performed with such stars as Cassandra Wilson, Nicholas Payton, Kenny Garrett and Chick Corea. Grandson of drum legend Roy Haynes, Marcus has quickly emerged from his grandfather's shadow to be one of the most highly regarded drummers of his generation.
March 24, Donald Washington and Kevin Washington. One of the most formidable father-son teams in jazz today, saxophonist Donald and drummer Kevin are natives of Detroit, where Donald was an early mentor to the great James Carter. Arriving in the Twin Cities while Kevin was in his teens, the Washingtons (along with mom, Faye) have become area favorites, appearing usually in separate configurations — Donald often on the band stand with other improvisers at the Black Dog, Kevin often leading his quartet, holding down the drumset for Pete Whitman's Mississippi, or backing the likes of Nachito Herrera.
April 21, Desdamona. Considered the best spoken-word and hip-hop artist in the Midwest, Twin Cities-based Desdamona has won five Minnesota Music Awards. Desdamona co-founded a female-based music festival, B-Girl Be, which incorporates all the aspects of hip-hop and spoken word, emceeing, break dance, D.J.-ing and graffiti. She also works with schools, teaching students, as well as in the Stillwater Prison program, In the Belly. In 2010, Desdamona was invited by Ursus Minor to collaborate on their third album, I will not take but for an answer, and has toured with them since the album release.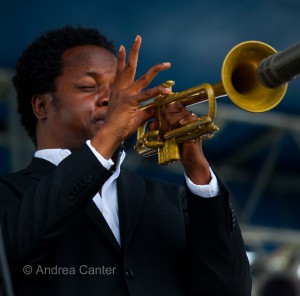 May 19, Ambrose Akinmisure Quintet. Trumpeter Ambrose Akinmisure has been raising critics' eyebrows for the past decade, since winning the Thelonious Monk International Trumpet Competition and the Carmine Caruso International Trumpet Solo Competition, both in 2007. An alum of the Manhattan School of Music and Thelonious Monk Institute of Jazz, he toured with Steve Coleman's Five Elements at age 19. Soon he was also performing with Vijay Iyer, Aaron Parks, Esperanza Spalding and Jason Moran, and signed a contract with Blue Note Records, releasing his first album on that label in 2011. Ambrose's long-standing quintet includes Walter Smith III on saxophones, Sam Harris on piano, Harish Raghavan on bass, and Justin Brown on drums; often guitarist Charles Altura has stretched the band into a sextet. He was recently named recipient of a prestigious Doris Duke Impact Award. Akinmisure will appear with rapper Kool Aid on the SPCO Liquid Music Series earlier in 2017.
June 16, Anthony Walker. Also returning from last season, Anthony Walker brings his smooth jazz piano to the stage to soothe and refresh the soul, integrating Rhythm and Blues, gospel and classical with tight grooves. Since learning to play piano in St Paul, Anthony has performed on five continents and shared the stage with such artists as Stevie Wonder, Patti Austin, the Yellowjackets and Take Six.
Tickets are now on sale for Davu Seru; the remainder of the season goes on sale October 4 at www.walkerwest.org. Walker West is located at 760 Selby Ave in St. Paul. Founded in 1988, Walker West Music Academy provides music instruction and enrichment for adults and children of all ages and backgrounds. Drawn from the African American musical tradition, the Academy offers out-of-school time instrumental and vocal instruction,  For more information, visit www.WalkerWest.org.