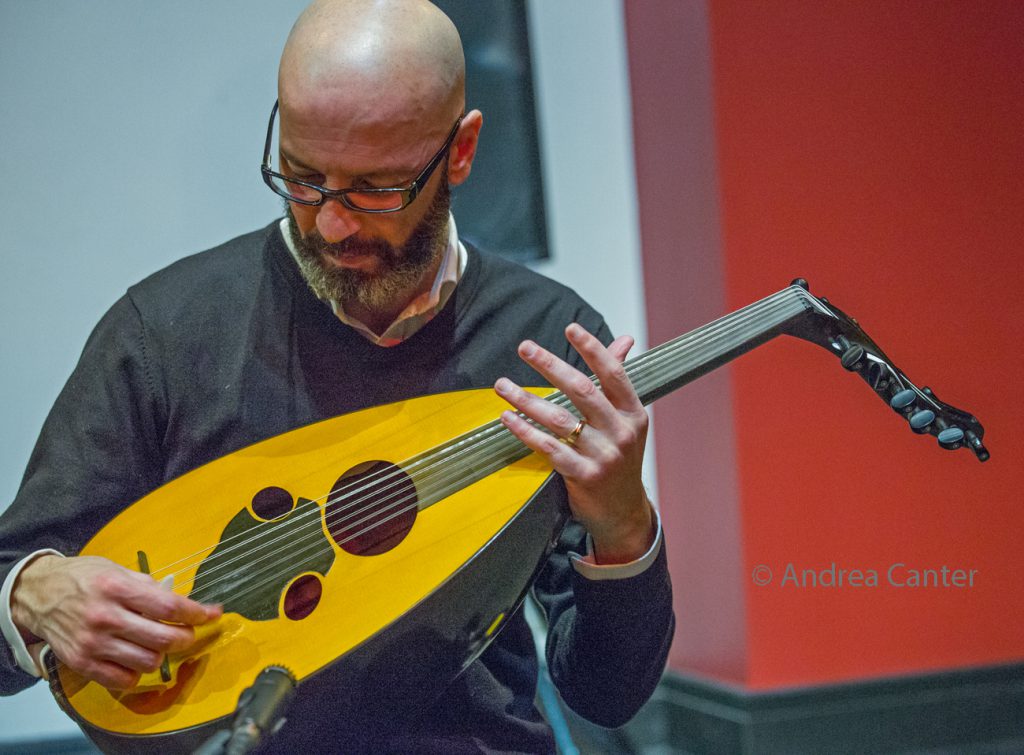 Tucked into a small storefront on Grand Avenue across from the Macalester campus in St Paul is a popular Afghani bistro, Khyber Pass Cafe. Not the most likely contender for avant garde music venue of the year, but thanks to the musical leanings of owner Emel Sherzad, Khyber Pass offers weekly gigs featuring some of the most exciting improvisers in the metro. This Thursday is no exception, as oud master Issam Rafea and guitar wizard Chris Cunningham offer solo sets before coming together for a duo finale. Music begins at 9 pm.
Oud virtuoso, improviser, and composer Issam Rafea was born in Kuwait and studied in both Kuwait and Syria. Now based in the U.S., Rafea was Chair of the Arabic Music Department at the High Institute of Music in Damascus and the principal conductor of the Syrian National Orchestra for Arabic Music. Rafea studied under Fayez Zahr El-Din, Aref Abdallah, and Askar Ali-Akbar, receiving a B.A. in both Oud and Double Bass performance, as well as Oriental Conducting, from the High Institute of Music in Damascus. He also served on the faculty at the institute teaching Oud. In Syria, Rafea was an active composer and arranger for television and theater since the 1990s, winning the 2010 "Best Composer Award" at the Dubai International Film Festival (Muhr Arab) for "September Rain" in the film, Matar Ayloul.
Rafea has performed internationally in France, Spain, Germany, Holland, Italy, Morocco, Iraq, Lebanon, Egypt, Turkey, Kuwait, and United States, and in festivals such as the Mediterranean Festival in Algeria, the World Universal Expo in Seville, Spain, Spiritual Music Festival Marseille, France, The Arabic Music Conferences in Cairo, and Babel Festival in Iraq. He's also collaborated with British rock band Gorillaz. In March 2013, Rafea was invited to the United States to direct the Middle Eastern Music Ensemble and give a series of presentations and performances at Northern Illinois University School of Music. While in Illinois, Rafea performed with guitar virtuoso Fareed Haque in multiple cross-cultural collaborations. In Minnesota, Rafea has frequently collaborated with pianist Steven Hobert.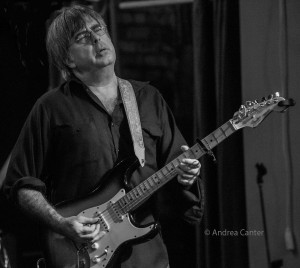 Leader of Mississippi Peace and the Fall of the House of Usher, Chris Cunningham is a veteran guitarist, producer, composer, remixer, and songwriter. His collaborations have included many international and local artists, such as Marrianne Faithful, Joan Osborne, John Lurie's Lounge Lizards, Gavin Friday, Boukman Eksperyans, Coloring Time, Kill the Vultures, Omar Farouk Tekbilek, Katell Keineg, The Contortions, The Golden Paliminos, Marshall Crenshaw, Richie Havens, John Zorn, and The Saqqara Dogs. Chris is also active as a composer and sound designer for cinema specializing in surround-sound horror soundtracks. Currently Chris is a lead professor in Sound Arts at Minneapolis Community and Technical College, and also teaches digital arts at the SLAM Academy. Previously he was Department Head of Songwriting and Composition at McNally Smith College of Music, and headed the Entertainment Business Department at IPR.
Improvised music is presented every Thursday night at Khyber Pass, with Adam Linz, Paul Metzger, Davu Seru and Kevin Cosgrove serving as curators. Cover $5 and small plates from the Khyber Pass kitchen available.
Khyber Pass Cafe is located at 1571 Grand Ave in St Paul; http://khyberpasscafe.com