What began as a impromptu gig in the "jazz basement" — Jazz Central Studios–turned into a staple trio  now known as The Basement Society, featuring Javi Santiago, Dan Carpel and Pete James Johnson. All Minnesota natives, each of these musicians has recently returned to the Twin Cities following stints in New York, Los Angeles, and Boston. After performing around town at Jazz Central and other venues, the trio now makes its debut in the Dunsmore Room at Crooners Lounge on Tuesday, October 18.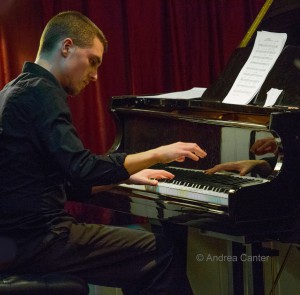 Minneapolis native Javi Santiago comes by his musical bent honestly, the son of drummer Mac and vocalist Laurie Santiago, and grandson of Latin percussion master, the late Luis Santiago. A former student of pianist Tanner Taylor, Javi was selected as a Fellow of the Brubeck Institute at the University of the Pacific after completing high school, where he attended for the maximum two years. From Brubeck Javi moved on to complete his college studies at the New School for Jazz and Contemporary Music in New York, graduating in 2011. Since returning to the Twin Cities, Javi has become a significant voice on the local jazz scene, performing at the Artists Quarter, Jazz Central, The Nicollet (now Reverie), Black Dog, Icehouse, Crooners, and other venues as well as at the Twin Cities Jazz Festival. In 2015, Javi released an EP, Year of the Horse, with original compositions.
Dan Carpel (bass) attended the Berklee College of Music in Boston where he was a member of the Berklee Monterey Quartet and a regular performer at Wally's Cafe before relocating to the Twin Cities. Here he has performed with Jake Baldwin, Javi Santiago, Pete James Johnson, and others. Dan played with the Javi Santiago Trio at the Jazz Day Jazz Festival at Jazz Central last spring.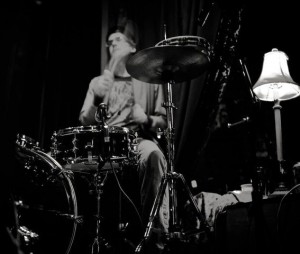 Drummer Pete James Johnson is a Central Minnesota native and graduate of Minnesota State University at Moorhead who recently returned home after spending time working and studying for his Master's Degree in Los Angeles. His credits include working with the Bob Mintzer Big Band, Russell Ferrante, Alan Pasqua, and Ambrose Akinmisure. In the Twin Cities he has led a number of ensembles including his trio, quartet, and the Basement Society, and has performed with Andrew Walesch, Adam Meckler, Nelson Devereaux, the Nexus Ensemble, Debbie Duncan, Pippi Ardennia, and more.
Now up from the basement, the Basement Society brings their youthful energy and creative music-making to the Dunsmore Room, featuring original compositions and their favorite arrangements.
The Dunsmore Room of Crooners Lounge is located at 6161 NE Highway 65 (Central Av) in Fridley, just north of I-694 and about 15 minutes north of downtown Minneapolis; reservations at www.croonersloungemn.com.