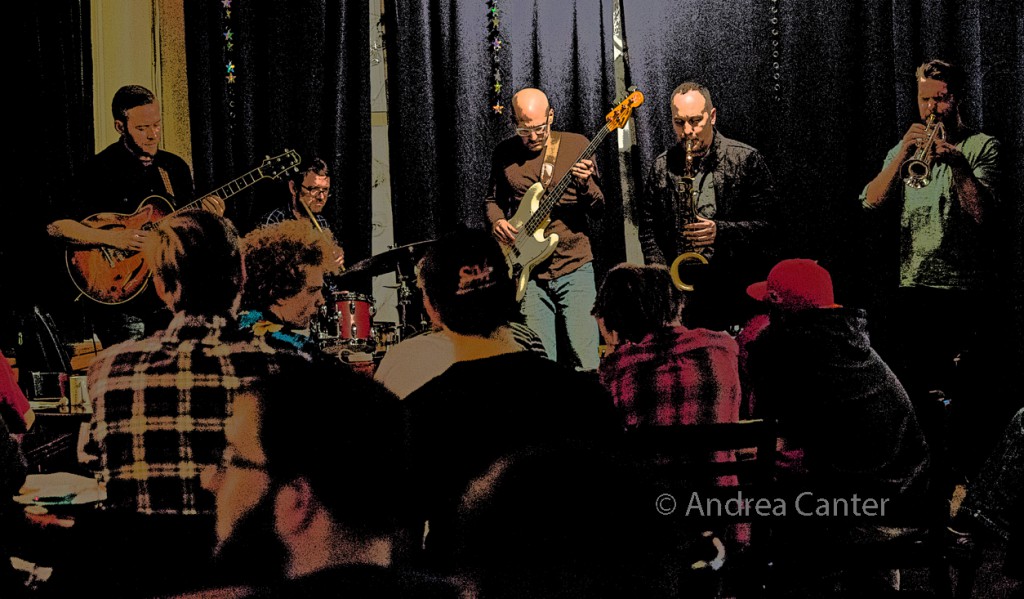 When Cory Healey moved to the Twin Cities a few years ago, the Metro not only added a versatile drummer to the scene, but also a talented composer and bandleader. Healey launched his 4-Tet, soon expanding to a quintet dubbed the Beautiful Sunshine Band, conceived during a cold spring period when some musically "beautiful sunshine" brightened spirits and ears at Studio Z in St. Paul. The original ensemble with Brandon Wozniak, Jake Baldwin, Zacc Harris and Erik Fratzke released its first recording (Beautiful Sunshine) this past spring on the Shifting Paradigms label. Now the band brightens the night November 3rd on the Thursday Night Jazz at Reverie series as a two-trumpet ensemble, with Noah Ophoven-Baldwin filling in for saxophonist Wozniak. Music begins at 9 pm at Reverie Bar and Cafe in south Minneapolis.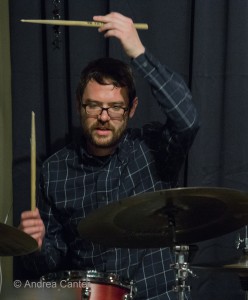 Iowa native Cory "The Healer" Healey moved to the Twin Cities about 3 years ago after stints in Chicago and New York. His unique and versatile style of drumming led to performance opportunities in a wide range of genres and touring extensively in North America and Europe. While in Chicago, Cory performed regularly with Windy City ensembles, including Fareed Haque's Flat Earth Ensemble, neopsychodelic-post rock jazz group Algernon, and W.W. Lowman. Healey also has performed with a number of leading international artists, including Kenny Wheeler, Dr. Lonnie Smith, John Abercrombie, and David Berkman. In addition to fronting his own bands, Cory has appeared locally with the Bryan Nichols Quartet, Adam Linz's Le Percheron, Chris Bates Trio, the Jon Pemberton Trio, and more.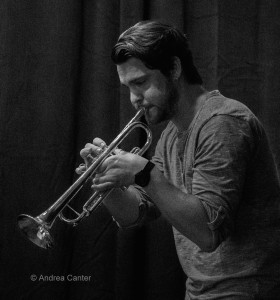 A graduate of Minnetonka High School and alum of the second and third editions of the Dakota Combo, Jake Baldwin studied with Jerry Bergonzi, Bob Moses, John McNeil, Joe Morris and Fred Hersch at the New England Conservatory, and was one of three finalists in the 2011 International Trumpet Guild Solo Competition; a year later he was runner-up in the jazz division of the National Trumpet Competition. After graduating from NEC in 2013, Jake moved back to the Twin Cities, leading his own bands at such venues as the Dakota, Artists Quarter, and Jazz Central, and performing with the Twin Cities Latin Jazz Orchestra, Chomsky, Thomas Nordlund Group, Endeavors, Ramtrack, McNasty Brass Band, Hustle Rose, Sister Species, and Cory Healey's ensembles. Jake, whom Healey describes as a "fire-breathing dragon of a trumpet player," released his first album as leader of the band Ra Ra Ru in 2014, dubbed Metallic Ink Co.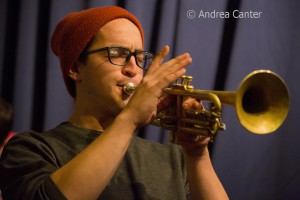 Seems not that long ago that Noah Ophoven-Baldwin was one of Pat Moriarty's star pupils at Roseville Area High School, and indeed he has shared the bandstand a few times at Studio Z with his former teacher. Moriarty notes that "he's an excellent player but his creativity, imagination, and thorough knowledge of the entire history of jazz trumpet set him apart from other young guns." More recently, Noah was on the front line of the U of M Jazz Ensemble I, and since graduation a few years ago, has also appeared regularly in the trumpet section of the Adam Meckler Orchestra; he's also played with Adam Linz, Jake Baldwin, Nelson Devereaux, the Brass Barn Polka Band, Davu Seru, and with Pat Moriarty and Ellen Lease in Resurrection. Noah is a co-founder of the Minneapolis-based musicians' collective, Six Families.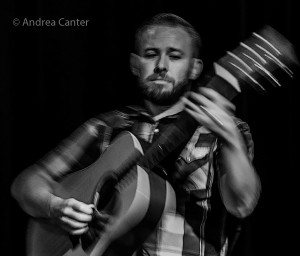 Zacc Harris came to Minneapolis about a decade ago from Illinois, where he graduated from Southern Illinois University. Here he formed the Luminessence Trio (now Zacc Harris Trio), continuing its long run of weekly gigs at the Riverview Wine Bar. Zacc leads his Quartet, Atlantis Quartet, Vital Organ, the Zacc Harris Group, Counterclockwise, and American Reverie; performs in Dean Granros' Tall Tales quartet and frequently with Brandon Wozniak, Adam Meckler and Babatunde Lea; and teaches at Hamline University as well as private guitar lessons. He's also curated the Jazz at Studio Z series for five seasons.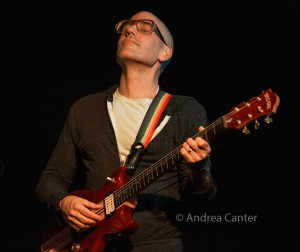 Multi-instrumentalist/composer Erik Fratzke lends his bass to Happy Apple and his guitar to other projects, including the Dave King Trucking Company, Gang Font and Zebulon Pike. Over the years, the three-time Minnesota Music Awards winner as "Bassist of the Year" has played with Reid Anderson and Bill Carrothers in addition to Mike Lewis, Dave King, and Adam Linz, among others.
The band's debut recording, Beautiful Sunshine (Shifting Paradigm Records, 2016), was recorded in the Twin Cities by Brett Bullion and mastered by Huntley Miller. Beautiful Sunshine covers eleven tracks, nine originals from Cory Healey along with a cover of Anne Clark (St. Vincent)'s "Cheerleader" and Bob Dylan's iconic "With God on Our Side." And throughout, the music is usually in a (pleasing) state of unrest, where calm beginnings often give way to varying degrees of agitation or where moods shift back and forth.  It's serious, fun, and intriguing music. Beautiful acoustic sunshine for an early November –or any– evening.
Thursday Night Jazz at Reverie is curated by Steve Kenny and takes place at 1931 Nicollet Avenue (at Franklin), south of downtown Minneapolis. No cover but donations ($10 suggested) are appreciated to support the musicians and the series. Jazz Police review of Beautiful Sunshine here.