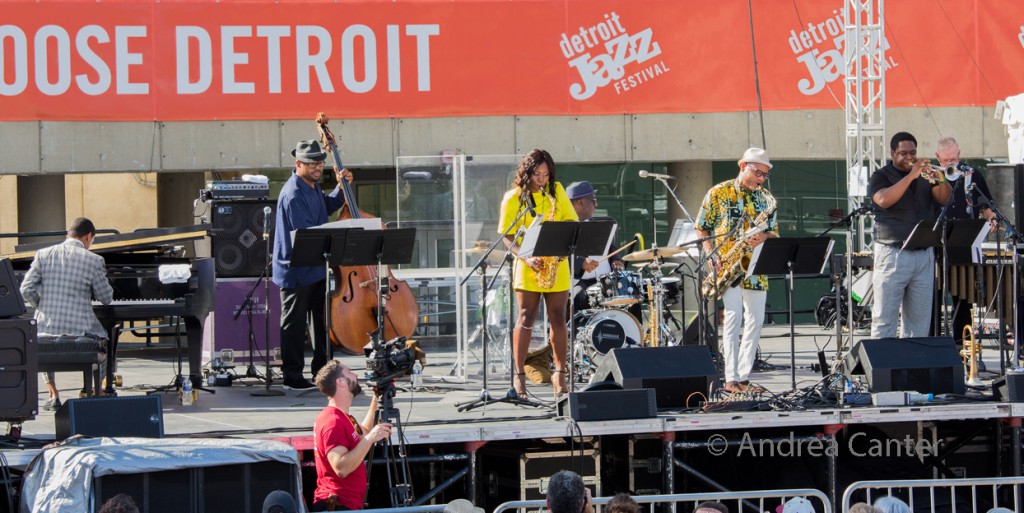 Like a jazz supernova bursting across the winter sky, the star-studded Mack Avenue Superband arrives for one night at the Dakota Jazz Club in downtown Minneapolis on Thursday, February 11. Celebrating their fourth annual live recording from the Detroit Jazz Festival, the band is currently led by bassist and Mack Avenue recording artist Christian McBride, along with his label mates (on this tour) — Gary Burton, Tia Fuller, Sean Jones, Christian Sands and Carl Allen.
Mack Avenue Superband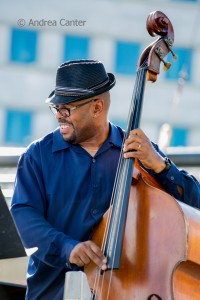 The Detroit-based record label, Mack Avenue, is a strong presence and major sponsor of the annual Detroit Jazz Festival, where the SuperBand was born in 2012. Now, every Labor Day weekend, Motor City welcomes the current edition of the ensemble comprised of Mack Avenue stable artists, who record live on the Carhartt Amphitheater stage during the festival. In 2015, Grammy-winning bassist Christian McBride took over as the band's music director.  "I've been a Mack Avenue artist for quite some time now," said McBride, who made his label debut in 2009. "My catalogue with Mack Avenue is bigger than it has been for any other label I've been affiliated with, so I feel like an important member of the Mack Avenue family. It would have been good just to be on the gig, period, but when they asked me to be the musical director. it seemed like a simple call to make."
At the 2015 festival and on the new recording, McBride was joined by newcomers, pianist Christian Sands (part of McBride's trio) and trumpeter Freddie Hendrix, along with Mack Avenue veterans Tia Fuller and Kirk Whalum on saxophones, Gary Burton on vibes, and founding member Carl Allen on drums.  "This is definitely not my normal zone," said Burton of the straight-ahead repertoire, "but this is the music I grew up playing. I was a bebop guy in my teens and twenties – that was the standard jazz of the day. Playing straight-ahead is something I hadn't done much for a while, so I was looking forward to a relaxing, fun, jam session kind of setting where I didn't have to read a million notes and play a lot of complex music. In spite of that, some of the music ended up being fairly complicated and challenging."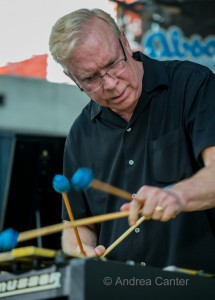 As for Mack Avenue's approach to jazz, McBride notes that "it seems to be one of the few – dare I say only – jazz labels that really has an eye on straight-ahead jazz. They're certainly not opposed to breaking tradition – and breaking tradition is actually part of the jazz tradition – but at the same time they don't shun musicians who like to play swing rhythms." Adds Burton, "These days, everybody seems to be off doing their own thing. This really is like something from a past era, and I was a little surprised and pleased that the label decided to put it on tour. But there is something special about the Detroit Jazz Festival for the people on the label..Come Labor Day weekend, we're going to be in Detroit and a bunch of us from the label will get together and play." And Mack Avenue and the Detroit Jazz Festival are inextricably connected– the label's founder Gretchen Valade contributed the endowment that ensures ongoing support of the festival.
Released in January 2016, the Mack Avenue Superband's Live at the Detroit Jazz Festival 2015 features compositions from six of the band members as well as a piece from Burton's long-time collaborator, Makato Ozone. It's "straight-ahead" jazz for the 21st century, proudly waving its roots in blues, gospel, swing and bebop while keeping ears open to modern influences. And given the members of the band, there's no chance of complacency with this music.
The SuperBand Artists
The SuperBand's 2016 tour brings back trumpeter Sean Jones in place of Hendrix, with Whalum appearing only on some of the West Coast performances. At the Dakota, we'll hear the sextet edition of the band: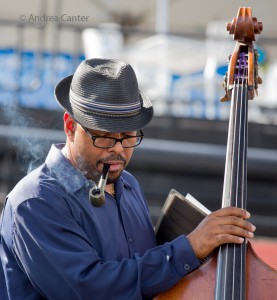 Current leader of the Mack Avenue Superband, four-time Grammy winning bassist Christian McBride studied both classical and jazz bass, graduating from Philadelphia's High School for Creative and Performing Arts and earning a scholarship to Juilliard. His college career was pre-empted when he joined Bobby Watson's Horizon, went on tour with Roy Hargrove, and then served a three-year stint with Freddie Hubbard. In 1991, McBride joined Ray Brown's Super Bass Trio with John Clayton, moved on to Pat Metheny's Special Quartet, and later played a bass player in Robert Altman's Kansas City. Other collaborators during his career have included Kenny Barron, Chick Corea, Joe Henderson, Betty Carter, Milt Jackson, Joshua Redman, Diana Krall, McCoy Tyner, Sting, George Duke and Kathleen Battle; he's toured in the past decade with Chick Corea's Five Peace Band and Freedom Band, as well as his own Big Band, Inside Straight quintet, trio with Christian Sands and Ulysses Owens, and a duo with Edgar Meyer. He's served as Artistic Director of the Jazz Aspen Snowmass Summer Sessions (2000), co-director of the National Jazz Museum in Harlem (2005), and the Second Creative Chair for Jazz of the Los Angeles Philharmonic Association (2005). He currently he hosts and produces The Lowdown: Conversations With Christian on SiriusXM satellite radio and National Public Radio's Jazz Night in America, a weekly radio show and multimedia collaboration between WBGO, NPR and Jazz at Lincoln Center.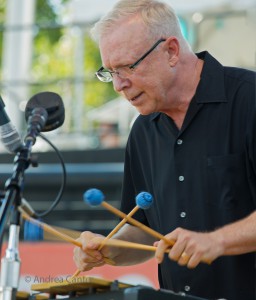 Vibes master Gary Burton's five-decade career has been nothing short of brilliant. The winner of seven Grammy Awards grew up in small-town Indiana, where he started piano, vibraphone and marimba lessons at age 6,  winning the National Marimba Competition two years later. He made his recording debut at only 17 with Hank Garland and Chet Atkins in Nashville, enrolled at the Berklee College of Music but left after a year to tour with George Shearing and then Stan Getz. Drawing audiences from jazz and rock, Burton was named Downbeat Jazz Artist of the Year for 1968. Over the next four decades, Burton worked in solo, duo and quartet formats, leading bands with Pat Metheney, Steve Swallow, Larry Coryell and Roy Hayne; he toured and recorded in a famed duo with Chick Corea, a partnership that led to two more Grammy awards. Always experimenting with new ideas, Burton also explored tango and jazz interpretations of classical composers through collaboration with pianist Makoto Ozone, with whom he released the Grammy-nominated duet, Virtuosi.  Over the past few years, he has toured with several iterations of his quartet, reunited for tours with Chick Corea and Pat Metheny, and continues a long-term dedication to jazz education.  First teaching percussion and improvisation classes at the Berklee College of Music in the early 70s, he was named Executive Vice President in 1996, the position he held until his "retirement" in 2004. He continues to present clinics and master classes world-wide.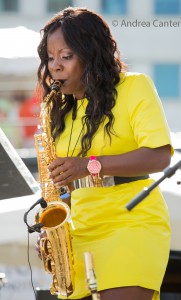 Saxophonist/flautist Tia Fuller grew up in a family of musicians near Denver, CO. Influenced by many strong female instrumentalist role models (including sister, pianist Shamie Royston), Tia studied music at Spelman College, returning to Colorado for graduate studies at the University of Colorado before moving to New York. Her big break in music, though not the path she expected, came when she landed in the touring band for Beyoncé in 2006, staying for five years. The opportunity with the Beyoncé Experience World Tour brought Tia to audiences in Europe, Africa, Asia and Australia as well as throughout the U.S. She was a featured soloist on the Beyoncé Experience DVD (Me, Myself and I) and appeared on The Oprah Winfrey Show, Today Show, Good Morning America, BET Awards, American Music Awards and Total Request Live. She also managed to hone her jazz chops, performing with the Ralph Peterson Septet, the T.S. Monk Septet, the Jon Faddis Jazz Orchestra, the Rufus Reid Septet, the Sean Jones Quintet, Gerald Wilson Orchestra and the Nancy Wilson Jazz Orchestra.  Now fully ensconced in jazz, Tia has released four outstanding recordings as leader, including her most recent on Mack Avenue, Angelic Warrior; she's also served as Assistant Musical Director for Esperanza Spalding's Radio Music Society touring band, and is on the faculty of the Berklee College of Music.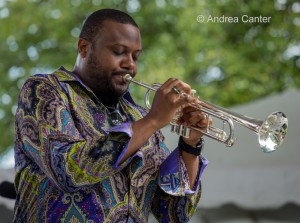 Ohio native Sean Jones was raised on gospel music and was attracted to the trumpet as a fifth grader when he encountered the music of Miles Davis; he was further inspired as a student at Youngstown University by John Coltrane's A Love Supreme. As a student he won two awards from DownBeat as well as a scholarship for graduate study at Rutgers University. Jones went on to hold the lead trumpet chair for the Lincoln Center Jazz Orchestra for five years. His performance credits also include Illinois Jacquet, Jimmy Heath, Frank Foster, Nancy Wilson, Dianne Reeves, Gerald Wilson and Marcus Miller. The relationship with Miller led to Jones touring with Herbie Hancock, and Wayne Shorter in Tribute to Miles in 2011. Jones currently has released seven albums for Mack Avenue Records and tours with his long-standing quartet with pianist Orrin Evans, bassist Luques Curtis and drummer Obed Calvaire. He also serves as Chair of the Brass Department at the Berklee College of Music and previously taught at Duquesne University and the Oberlin Conservatory. Artistic Director of the Pittsburgh and Cleveland Jazz Orchestra, Sean is also a member of the SFJAZZ Collective.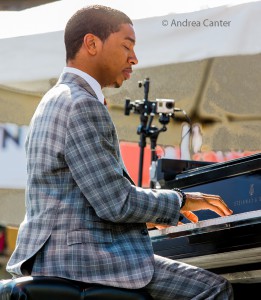 Pianist Christian Sands enrolled in music classes at age 4 and wrote his first composition at age 5.  A protegé of Dr. Billyl Taylor, he went on to study at the Manhattan School of Music where he received both undergraduate and Master's degrees.  In addition to receiving three GRAMMY nominations, Christian performed at the 2006 and 2007 award ceremonies, including a duet with piano legend Oscar Peterson. Among many collaborations, Sands has performed with Wynton Marsalis, Stefan Harris, Terri Lyne Carrington, Jason Moran, Geri Allen, Ben Williams, Esperanza Spalding, Lou Donaldson, Russell Malone, Terrance Blanchard, Patti Austin, and Wycliffe Gordon, he is a member of the Christian McBride Trio and Ben Williams & Sound Effects. To date he has released four recordings as leader, including his most recent, 2015's Take One on Storyville Records.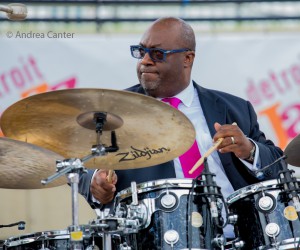 Milwaukee native drummer Carl Allen grew up on gospel, R&B, and funk, but later turned to jazz after hearing the music of legendary saxophonist Benny Carter. He studied at The University of Wisconsin at Green Bay before transferring to William Patterson College in New Jersey, where he graduated with a degree in Jazz Studies and Performance. Even before graduation, Allen had joined Freddie Hubbard and served as his Musical Director for eight years.  Other credits include Michael Brecker, Randy Brecker, Benny Golson, J.J. Johnson, Rickie Lee Jones, Sammy Davis Jr., Branford Marsalis, Kenny Garrett, Lena Horne, Wayne Shorter, Herbie Hancock, Bobby Hutcherson, Mike Stern, Terence Blanchard, Phil Woods, Benny Green, Cyrus Chestnut, Joe Henderson, and many others.  A prolific producer, Allen co-founded Big Apple Productions with Vincent Herring, and has nearly 70 credits as a producer for artists such as Roy Hargrove, Nicholas Payton, Dewey Redman, Pharoah Sanders, Kris Bowers and more. In addition to performing with Christian McBride and Benny Golson, Allen leads his own ensembles, the Carl Allen Quartet and The Art of Elvin, and tours and records with bassist Rodney Whitaker.
The Mack Avenue SuperBand will perform two sets at the Dakota on February 11, at 7 and 9 pm, The new recording will be available at the show. (See review on Jazz Police!)
The Dakota is located at 1010 Nicollet Mall in downtown Minneapolis; www.dakotacooks.com; reservations highly recommended at 612-332-5299 or online.