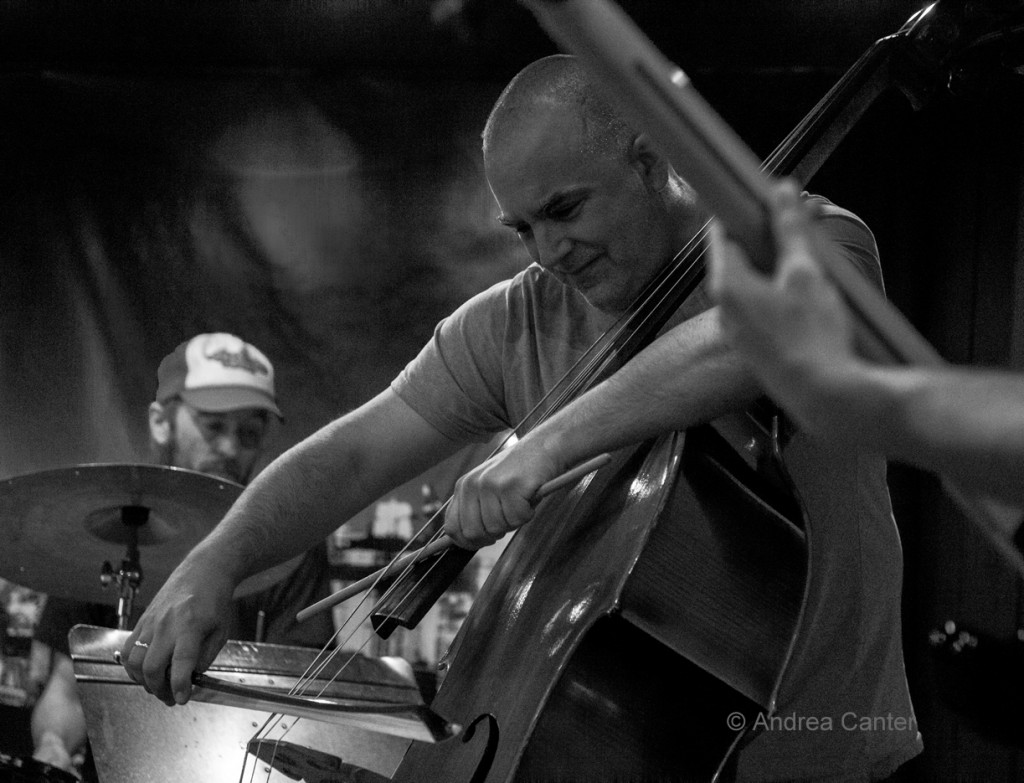 Founded and directed by Twin Cities bassist Doan Roessler, the Twin Cities Bass Camp is holding a Winter Weekend Workshop January 6-8. Three faculty concerts will be held each evening at Walker West Music Academy, featuring Roessler with Nathan Hanson and Etienne Lafrance (Friday, 7 pm), Maggie Hasspacher and Sandor Ostlund (Saturday, 7 pm), and the Anthony Cox Trio (Sunday, 3:30 pm). All have been faculty of the Twin Cities Bass Camp.
Friday, January 6 (7 pm)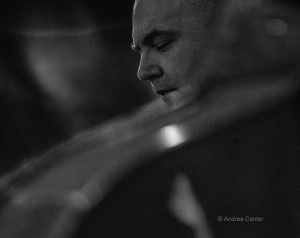 Doan Roessler and Nathan Hanson. The first concert starts with Doan Roessler performing his compositions and improvisations in solo and in duo with saxophonist Nathan Hanson. Doan Roessler is a zen priest, bassist and bass teacher. He began practicing and studying Zen Buddhism in 1994 at Minnesota Zen Meditation Center, was ordained in 2013, and currently practices at Clouds in Water Zen Center where he helps lead the High School program, organizes regular days of zazen practice, and serves as an associate member of the Teacher Ryo. A longtime student of acclaimed bassist François Rabbath, Doan holds both the teaching and performance diplomas from the International Rabbath Institute. He has performed throughout the U.S. and France at festivals, bars, theaters, coffee shops, and churches. Doan is the founder of the Twin Cities Bass Camp, and has served on faculty of the Kansas City Bass Workshop, the Austin Bass Workshop, the Albuquerque Bass Workshop, Minnesota State University (Moorhead and St. Cloud), and St. Joseph's School of Music. He maintains a private teaching studio in St Paul.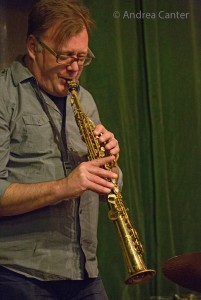 Composer and saxophonist Nathan Hanson has performed in venues from concert halls to prisons, churches to train stations, debutante balls to Soviet fallout shelters throughout the U.S. and Europe.  A graduate of Newberry College and the University of South Carolina, he has been described as an "extraordinary performer with a beautiful tone and concept" (Cadence Magazine). Nathan moved to the Twin Cities from New York about ten years ago, and has worked significantly with the Fantastic Merlins and in do with Doan Roessler, as well as with George Cartwright, Viv Corringham, Pablo Cueco, Mark Dresser, Harris Eisenstadt, Liberty Ellman, Douglas Ewart, Dizzy Gillespie, Tony Hymas, Darius Jones, Elliot Humberto Kavee, Daniel Levin, Tony Malaby, Didier Petit, Mirtha Pozzi, Reuben Radding, Cecil Taylor, Claude Tchamitchian, Jacques Thollot, Matt Turner, Federico Ughi, and Michael Zerang. He's received grants and commissions from New Music USA, The American Composers Forum, Meet the Composer, City of St. Paul Cultural STAR, The Cedar Cultural Center, Minnesota State Arts Board, The Jerome Foundation, The Southern Theater, and the National Performing Arts Convention.
Etienne Lafrance. The evening's second performance features bassist Etienne Lafrance playing a wide-ranging set featuring his own compositions and pieces by Ravel, Fauré, Telemann and Rabbath, accompanied by Craig Randal Johnson on piano. Performing and teaching in classical, jazz and improvised music, Etienne LaFrance grew up in Quebec where he studied bass at the Quebec Conservatory of Music. He interned at the International François Rabbath Institute of Paris where he received the Soloist and Teacher diplomas. Carrying on Rabbath's legacy, Etienne teaches each summer at the Music Academy of the Domaine Forget, and presents master classes in the U.S. and Australia. Co-Principal bassist with the Orchestre Symphonique de Québec, he also presents solo concerts of original works and is a member of TRIFOLIA along with pianist Marianne Trudel and percussionist Patrick Graham. The trio won the Opus Prize for the best jazz album of the year and was nominated for a Juno Award for their CD Le Refuge.
Saturday, January 7 (7 pm)
Maggie Hasspacher. The first set features bassist Maggie Hasspacher, accompanied by pianist Craig Randal Johnson, in a program of old (J.S. Bach and Adolf Misek) and new (Rebecca Saunders and a piece of her own). Maggie Hasspacher is a bassist/vocalist in the Detroit area, currently pursuing a DMA at the University of Michigan. She performs frequently as a member of Wild Up, a new music group she helped found in Los Angeles, and with AMMA Duo, a classical/jazz/Americana-inspired group which she co-founded with Amy K. Bormet, a composer/jazz pianist/vocalist. AMMA Duo performs frequently across the country (Washington DC, Los Angeles, and Detroit), and was featured in Washington's Women in Jazz Festival Summer Concert Series. Recently she premiered Anatomy Theater, a new opera by David Lang, with Wild Up at REDCAT in the Walt Disney Concert Hall. Maggie won awards to study classical bass in Vienna in 2012-13 and recently recorded and released her first solo singer/songwriter album, We Shall Overcome.
Sandor Ostlund. The second set features "a secret set of music" from Sandor Ostlund. Ostlund is Associate Professor of Double Bass at Baylor University with an eclectic musical background that includes solo, chamber, orchestral, early music, studio, jazz, and new music performances. He has appeared in featured performances at International Society of Bassists conventions, as concert soloist with orchestras, in live radio broadcasts, and has premiered many works for solo double bass. He has recently released a solo CD of music written for him, Leap of Faith. Currently he is Principal Double Bassist with the Waco (TX) Symphony Orchestra and the River Oaks Chamber Orchestra. Dr. Ostlund received his Bachelor's degree at the University of Wisconsin-Madison, studying with bass legend Richard Davis. He received his Master's degree and his Doctorate of Musical Arts from Rice University, and also studied in Paris with renowned virtuoso François Rabbath, where he earned both the performing and teaching diplomas from International François Rabbath Institute.
Sunday, January 8 (3:30 pm)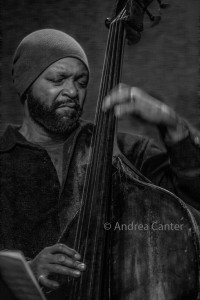 Anthony Cox Trio. The final faculty performance features internationally renowned jazz bassist Anthony Cox in a trio with Twin Cities' veterans, Brandon Wozniak (saxophone) and Dave King (drums). Twin Cities native Anthony Cox studied bass at the University of Wisconsin Eau Claire, then headed to New York, building a reputation that took him on tour with Stan Getz.  In the early 90s, he returned to the Twin Cities but his career has hardly been limited by his residence. Over the years, Cox has worked and/or recorded with Joe Lovano, Sam Rivers, Dewey Redman, Geri Allen, Arthur Blythe, and Uri Caine, playing upright acoustic, electric and Spanish acoustic bass, as well as cello. With Bill Carrothers and Jay Epstein, he has performed and recorded as Easy Company, and recently has appeared at the Icehouse, Dakota, Black Dog and Jazz Central. He leads several ensembles including DD7 and the Regional Jazz Trio, and is a member of the Atrium Jazz Ensemble, with whom he recently debuted "The Rage of Achilles" at Orchestra Hall, co-written with Jeremy Walker.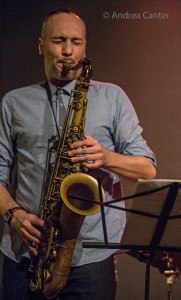 Brandon Wozniak previously lived and worked in New York City, toured with the Tommy Dorsey Orchestra, and earned his BA from Indiana University under the tutelage of the late David Baker. Since arriving in the Twin Cities in 2006, he has performed with local bands including the Atlantis Quartet, Red Five, Dave King Trucking Company, the Bryan Nichols Quintet, Zacc Harris Quartet, and Vector Families; and in varying combinations with Adam Linz, Billy Peterson, Dean Magraw, Kenny Horst, Zacc Harris, Steve Kenny and more. Over its first two seasons, Brandon performed on the Jazz in the Target Atrium Series at Orchestra Hall as part of the Atrium Jazz Ensemble, led by Jeremy Walker.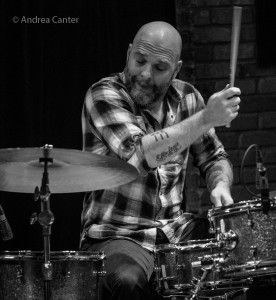 Although Dave King might be best known for his long-standing work with The Bad Plus and Happy Apple, his affiliations hardly end there. In fact, at any given moment, King is likely involved in at least ten projects ranging from the jazz-oriented Dave King Trio, Dave King Trucking Company, Bad Plus, Happy Apple and his duo with JT Bates, Raging Bulls, to rock bands like Halloween Alaska and impossible-to-define electronic outfits like Gang Font. King grew up in the Twin Cities, starting off on piano at age four before switching to drums in fifth grade. As a teen he forged his early music connections with fellow Golden Valley residents Reid Anderson and Craig Taborn, whose paths would intersect again and again. At 19, King headed west, working as a session musician in LA in the early 90s before returning to the Twin Cities to find his own voice. In 2010, he released a solo album combining his skills as drummer, pianist and composer (Indelicate). Dave was featured at the Walker Art Center in 2010 with "Dave King for Two Days," a two-night showcase featuring The Bad Plus, Happy Apple, The Bad Apple (combining the Bad Plus and Happy Apple), Buffalo Collision, Golden Valley Is Now and the inaugural performance of the Dave King Trucking Company. With Bill Carrothers and Billy Peterson, his Dave King Trio released its debut album in 2012 (I've Been Ringing You) and continues to perform internationally.
Walker West Music Academy is located at 760 Selby Av in St. Paul; www.walkerwest.org. Suggested donation $15 per concert. More about the Twin Cities Bass Camp at http://tcbasscamp.com/