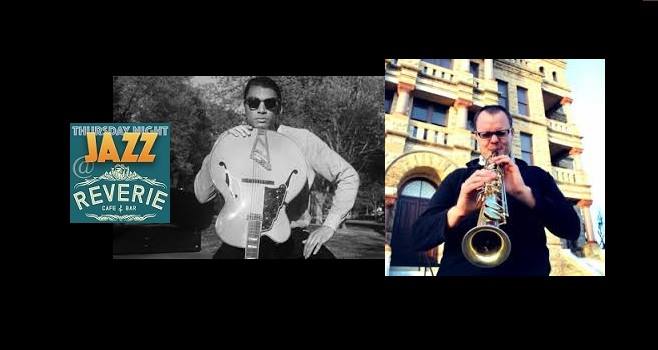 The usual format for the Thursday Night Jazz at Reverie series has been pretty simple — one band at 9 pm. Curator Steve Kenny expands that format this week, presenting two bands back to back: The Julian Manzara Quartet at 9 pm, followed by the Aaron Hedenstrom Trio at approximately 10:30 pm.
Julian Manzara Quartet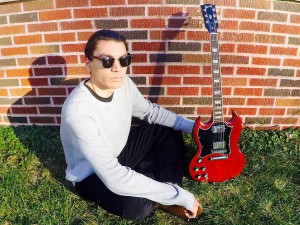 Guitarist and composer Julian Manzara leads a quartet of Young Lions–Levi Schwartzberg on keys, Drew Stinson on bass and Geo Randall on drums. He formed the quartet as an outlet for his original, wide-ranging compositions about one year ago, and has brought the ensemble to Jazz Central, Black Dog and Reverie. A Minneapolis native, Julian studied at the Berklee College of Music before heading out on tour with the rock band The Lone Crows. He returned to the Twin Cities to finish his degree (in Guitar Performance) at McNally Smith College of Music, and currently performs, composes and is developing a home recording studio.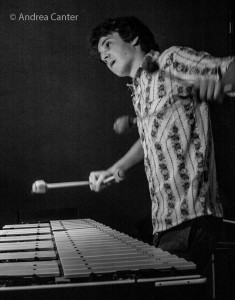 Levi Schwartzberg, another Minneapolis native, is in his third year at the University of Minnesota where he is majoring in physics and playing keyboards and vibraphone in U of M jazz ensembles. In addition to his college bands, Levi plays in a wide variety of local groups, including Sound Skirmish, Adam Linz's Le Percheron, Central Standard Time, and Davu Seru's No Territory Band, along with his own ensembles.
Drew Stinson studies bass McNally Smith College of Music. In addition to playing bass for the Julian Manzara Quartet, Drew is a founding member of Sound Skirmish, a quartet with Patrick Adkins, Levi Schwartzberg and Ben Ehrlich recently heard on the Jazz Central stage.
Geo (Geoffrey) Randall is a young and upcoming drummer living in St. Paul, MN who received his degree in Percussion Performance from McNally Smith College of Music in 2014. Geo has performed in New York City, Denver, Green Bay, Nashville, and beyond. Locally, he performs in multiple groups, and recently played drums in a production of The Buddy Holly Story.
Aaron Hedenstrom Trio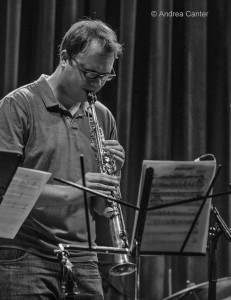 Born in Lesotho (Africa) and raised in the Twin Cities, saxophonist Aaron Hedenstrom performs with his trio featuring bassist Kameron Markworth and drummer Lars-Erik Larson. A graduate of the Minnesota Institute for Talented Youth and Minnesota Youth Jazz Band, Aaron attended the jazz program at the University of Wisconsin-Eau Claire, performing in the pop/rock band Underdub and with the John Raymond Project.  After graduation, Aaron moved on to the master's degree and then the doctoral programs at the University of North Texas, serving as a Teaching Fellow, performing in the famed One O'Clock Lab Band, and accumulating a long list of Downbeat Student Awards.  He also performed as a freelancer in the Dallas/Fort Worth Metro area before returning to the Twin Cities in 2015.
Aaron has released two recordings to date: A Symphonic Jazz Hip Hop Experience was the tantalizing title of his debut recording with his Aaron Hedenstrom Orchestra, released in 2010, bringing together a long list of young area musicians. Supported through a successful Kickstarter campaign, he released A Moment of Clarity on Shifting Paradigm Records in 2014. He has performed at top-tier music venues and festivals nationwide including the Dakota Jazz Club, Snug Harbor, Scat Jazz Lounge, Next Generation Jazz Festival, and the Eau Claire Jazz Festivals.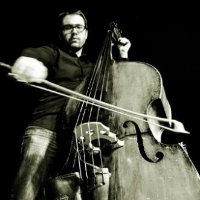 Bassist, composer, and teaching artist Kameron L. Markworth is a graduate of Indiana University, Augsburg College, and McNally Smith College of Music, currently teaching Jazz History at Augsburg. He previously served as an Associate Instructor at Indiana University in the Jazz Studies department under the direction of the late Dr. David N. Baker. As a performer, Kameron has supported artists in diverse genres across North America and has appeared on stage alongside John Swana, Jamey Aebersold, Steve Houghton, Corey Christiansen, Pat Harbison, Mike Hackett, and Luke Gillespie. He's appeared at the Black Dog with Paul Harper's Bardo Quartet and Steve Kenny's Central Standard Time, and at Reverie with the Lars-Erik Larson Trio.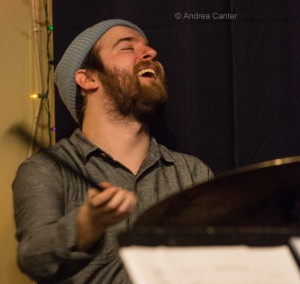 Lars-Erik Larson is a drummer and composer based in St. Paul. Larson earned his Master's Degree in Jazz Studies from the University of Illinois (Champaign-Urbana), where he studied with renowned drummer Dana Hall. After completing his degree in 2012, he moved to the Twin Cities where he has played with many local bands, including the No Coast Quintet, Zacc Harris Trio, the Thomas Nordlund Group, Bryan Nichols Trio and more. About two years ago, he opened an evening at the Black Dog with the debut of Ramtrack, a trio with guitarist Nordlund and trumpeter Jake Baldwin. Lars maybe best known as the leader of  Mancrush, with Bryan Nichols, Brandon Wozniak, and Zacc Harris. Mancrush released its first album this spring, Authentic Midwestern, boasting Larson's penchant for melding the influences of folk music and modern minimalism with 21st century jazz improvisation.
Reverie Bar and Cafe is located at 1931 Nicollet, at the corner of Nicollet and Franklin on the near southside of Minneapolis. No cover but tips appreciated ($10 suggested) to support the musicians and the weekly series. Full jazz schedule at www.thursdaynightjazzatreverie.info