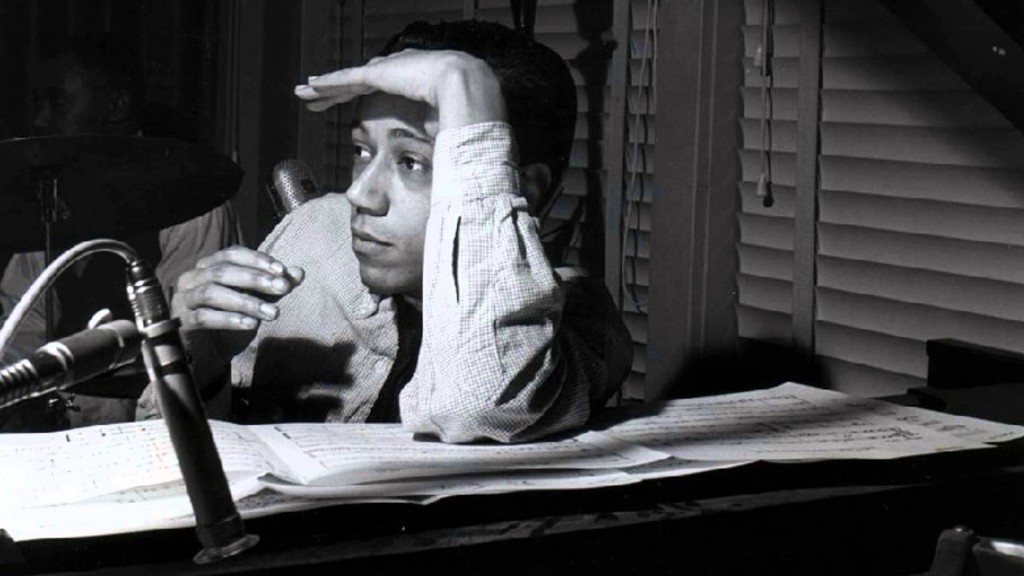 Have no fear of Friday the 13th — at least not at Jazz Central Studios. Led by Doug Haining, the Jazz Central All Stars salute the great pianist and composer, Horace Silver. Joining saxophonist Haining will be Steve Kenny on trumpet, Ted Godbout on piano, Chris Bates on bass and Jazz Central director Mac Santiago on drums. Showtime 8-10 pm.
Horace Silver (1928-2014)
Considered the founder of "hard bop" –melding jazz, R&B and gospel, Horace Silver started out on tenor saxophone, playing in clubs in his native Connecticut. "Discovered" by Stan Getz, Silver moved to New York in the 1950s where he switched his focus to piano. Soon he was playing at the Blue Note, and became a long-time recording artist for Blue Note Records, performing and recording with Getz, Lester Young, Miles Davis and Art Blakey. On All Things Considered (NPR),
Walter Ray Watson said, "As a bandleader, Horace Silver mentored some of the hottest musicians of his era. As a composer, he devised numerous jazz standards still played today."
Bassist Christian McBride regarded Silver as favorite, telling NPR that "Horace Silver's music has always represented what jazz musicians preach but don't necessarily practice, and that's simplicity. It sticks to the memory; it's very singable. It gets in your blood easily; you can comprehend it easily. It's very rooted, very soulful." Twin Cities pianist/educator Laura Caviani also regards Silver as a favorite. "Horace Silver's melodies are often fun and singable," she told Jazz Police. "I often teach his compositions to my piano students who may not be familiar with jazz yet, as they lay really well on the piano, and have strong blues and gospel roots."
Jazz Central All Stars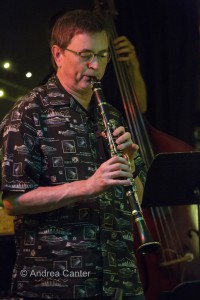 Saxophonist/clarinetist Doug Haining is well known throughout the metro area for his swinging contributions to a long list of ensembles, as well as leading the Explosion Big Band with Scott Agster (performing monthly at Jazz Central), and leader of his popular smaller band, the Twin Cities Seven. A graduate of the music program at St. Olaf College, where he studied classical clarinet, Haining has performed professionally for nearly 40 years. His resume includes performing with Steve Allen, Don Rickles, Bob Hope and more, and with the orchestras for such touring shows as West Side Story, Cats, and A Chorus Line. In addition to his long tenure with the Wolverines Classic Jazz Orchestra, he has played short stints with Red Wolfe's Ellington Echoes and the Hall Brothers. More recently Doug has been a member of the BellaGala Big Band and the ensembles Three Flights Up and Corner Jazz; he is often heard in local pit orchestras and performed in the recent production of The Soul of Gershwin at Park Square Theater.  Doug  founded the Twin Cities Seven in 1999, for which he writes compositions and arrangements. The Doug Haining Quintet released Last Man Swinging in 2011, and in April 2012 performed a tribute to Cannonball Adderley at the Artists Quarter as part of the Twin Cities Jazz Society's Jazz From J to Z series.  He founded the Explosion Big Band with Scott Agster in 2012.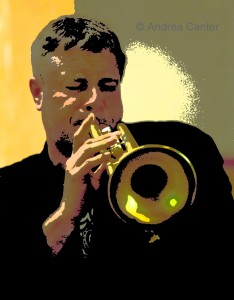 Steve Kenny studied at the University of Wisconsin-River Falls. Among many projects, he has performed with What Would Monk Do, the Cedar Avenue Big Band, and Larry McDonough's quintet (tribute to Chet Baker) as well as leading several editions of his own quartet. He's also known as co-founder of the Illicit Sextet, an ensemble popular in the 1990s before taking a long hiatus, and back in action for the past six years. Steve has received a Minnesota Music Award, West Bank School of Music Jazz Composer award, and multiple honors as Best Jazz Trumpet at the Eau Claire Jazz Festival. With support from a state arts board grant, he curated the ten-week "All Originals" jazz series at Studio Z for two summer seasons, continuing with a shortened schedule in summer 2016. In fall 2014 he launched the weekly Saturday Night Jazz at the Black Dog series, and in spring 2015, brought a similar series (Friday Night Jazz) to The Nicollet, recently rebranded and rescheduled as Thursday Night Jazz at Reverie. And that instrument he plays? It's a FLUMPET™– a hybrid trumpet/flugelhorn.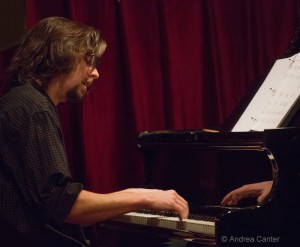 Pianist Ted Godbout has been building a reputation as a sympathetic accompanist for area vocalists as well as a creative composer and bandleader. He holds a B.A. in Music – Piano Performance from St. John's University and an M.M. in Jazz Studies from the University of Oregon. A versatile and active musician, Ted performs frequently as a jazz pianist and classical accompanist, as well as in funk, R&B, and rock bands. He has performed with such notable artists and groups as Ron Miles, Mark Colby, and the Harry James Orchestra. Currently on faculty at Chaska Music Studios and Augsburg College, Ted leads his own trio and appears regularly with PaviElle, Katia Cardenas, BDP, Nick Syman, and the Bill Simenson Orchestra. Ted also serves as Director of Music at Shepherd of the Hill Presbyterian Church in Chaska, MN.
Bassist Chris Bates is one of the area's busiest artists, performing with the Atlantis Quartet, Red Planet, Framework, Leisure Valley, How Birds Work, Tall Tales, Bill Simenson Orchestra, Adam Meckler Orchestra, and many other cutting edge ensembles in addition to his own Good Vibes Trio and Red 5. He recently revived another vibes trio, Low Blows, launched a trio with Joe Strachan and Matt Buckner (now with Miguel Hurtado), and curates a monthly improvisation series at Jazz Central, one Wednesday night per month. Chris studied at the University of Wisconsin–Eau Claire and later with Anthony Cox, was an original member of the Motion Poets, and a 1999 McKnight Composer Fellow. He was one of four jazz artists to be awarded a composition commission from Zeitgeist, which was premiered at the 2014 Twin Cities Jazz Festival, and with Atlantis Quartet, shares a recent McKnight grant.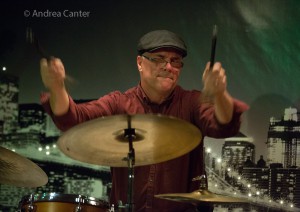 Drummer Mac Santiago is a familiar figure to Twin Cities jazz audiences as well as musicians. A native of California and son of the late percussionist Luis Santiago, he has been playing music professionally since age 16. After graduating from Idaho State University in 1980 with a Bachelor of Music, he toured for a few years before moving to the Twin Cities in 1983. Over his career, Mac has played in just about every possible configuration and genre, from touring with British rock band Badfinger to playing with area jazz, salsa, country and R&B bands; he's performed in pit orchestras of the Guthrie and Minnesota Opera, with blues legend Mojo Buford, Grover Washington, Jr., Doc Severinsen, Dallas Brass, Savion Glover, Jack McDuff, Paul Bollenback, Dick Oatts and more. With pianist Tanner Taylor, Mac established Jazz Central Studios in Minneapolis in 2010, a nonprofit setting for teaching, recording, and performing. He's often on the bandstand backing veterans and newcomers alike, and co-leads the Twin Cities Latin Jazz Orchestra. Mac is author of Beyond the Metronome, a text for both student and experienced musicians.
Jazz Central Studios is a nonprofit music and education space located at 407 Central SE in Minneapolis. Donation of $10 requested to support the venue and musicians. Full schedule at http://jazzcentralstudios.org