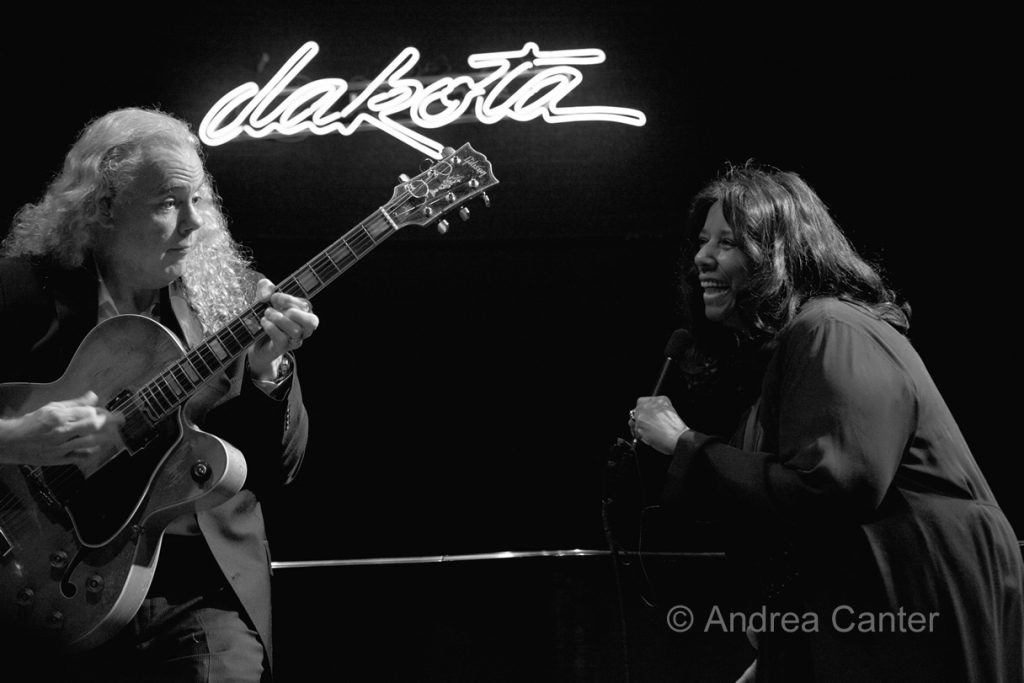 © Andrea Canter
Together performing (as well as life partners) for nearly four decades, the vocal/guitar jazz duo Tuck (Andress) and Patti (Cathcart) met at an audition in Las Vegas, began performing as a duo in California in 1981, and now have sixteen albums and a world of fans to their credit. With Tuck on guitar and Patti as vocalist/composer/arranger, the pair have forged a partnership unequaled in modern music, applying a simple formula: Says Tuck, "Patti writes and arranges; I am just the orchestra." And that's more than a loose analogy. At their past live shows, it was obvious that Tuck indeed was the orchestra with merely two hands, ten fingers, and six strings, his multi-part harmonies, wide arsenal of attack strategies, and elastic dexterity often conjuring a trio or quartet accompaniment for Patti's equally agile, elegantly down-home vocals. We can expect more of this charming musical collaboration when Tuck and Patti return to the Dakota for one night, two shows, on Sunday, January 29 (6 and 8 pm).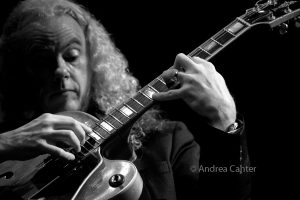 Both Tuck and Patti were born into music. For Tuck Andress, inspiration was right at home in Tulsa, OK, his father the leader of a jazz band in college, and his older sister a student of classical piano as well as a fan of pop music. "Little did I know that I was getting tremendous ear training that would serve me for a lifetime," says Tuck, who also took piano lessons. He would spend days in his room, listening to the Beatles and Rolling Stones, and teaching himself "ruthlessly and systematically" to play guitar, working his way through all the orchestral and jazz chords in the appendix of the Mel Bay chord book. Although he studied briefly with the Atkins-inspired guitarist Tommy Crook, most of his learning was on his own, playing with garage rock bands and school big bands, and studying songs from records of Wes Montgomery, George Benson, John Coltrane, Art Tatum, Red Garland, Thelonius Monk "and a host of piano players," as well guitarists B. B. King, Amos Garrett, Cornell Dupree, Eric Gale and Odell Stokes. "From an early point, the guitar and I were inseparable. I would conduct my life with a guitar strapped on and my fingers active."
Tuck relocated to the West Coast, enrolling as a music major at Stanford University in 1970 and checking out the LA studio scene during school breaks. He went on to earn his "graduate degree in soul music," spending four years with the GAP Band while continuing his own study of guitar, developing a style the suggested multiple instruments simultaneously. "I learned how to vary the volume and tone of each part independently of the others," Tuck explains, "not knowing that this would become an essential ingredient of the fingerstyle guitar I would take up when Patti and I got together."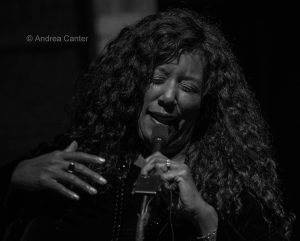 Bay Area native Patti Cathcart was born to sing. "As a little girl," she recalls, "instead of talking, I'd sing a running, stream-of-consciousness commentary on life. Many people in my family sang; I started singing in church, was leading youth choirs at age 10, and directing the adult choirs before I was 16." She became part of the San Francisco music scene of the 60s, as a performer and also as on observer of many of the rock, blues, gospel and jazz greats of the era. "That was one of the wonderful things about growing up in the Bay Area," she recalls. "I not only listened to and learned from, but got to see live a veritable who's who of every style of music: Tennessee Ernie Ford. Leonard Bernstein. Josephine Baker. The Beatles. Leontyne Price. Howling Wolf. Ella Fitzgerald. Sun Ra. Aretha Franklin jamming with Ray Charles and Billy Preston. Roland Kirk. The list goes on and on. It was an unbelievable education… I jammed with hundreds of musicians!"
Although both played for years in the Bay Area, Tuck and Patti didn't meet until 1978 when Tuck and Patti found each other at an audition. "Within a few seconds of hearing her sing," recalls Tuck, "I knew I had found my lifetime musical partner." "It was that immediate for me too," says Patti. "I immediately knew that the band 'wasn't happening,' but that I was going to steal the guy playing guitar in the corner!" Over the course of a few months playing with the band together, Tuck and Patti became best friends, forming a duo as guitar and vocalist. "We had never had so much fun, nor been so challenged," says Tuck. "We went to play at a venue and forgot to take breaks."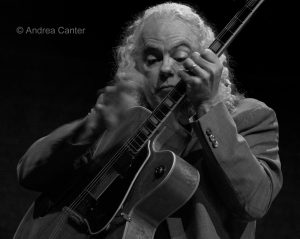 Tuck and Patti married in 1981, and by 1988 had launched their recording career on Windham Hill Jazz, releasing Tears of Joy.  Today, 16 recordings later, Tuck and Patti have their own recording studio, as well as their own record label, T&P Records. Touring over the past two decades has taken them all over Europe and Asia, finding time to teach on the road as well as when they are home in the Bay Area.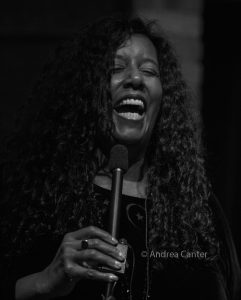 If their performance this Sunday night at the Dakota is on par with their previous performances here, it will be a magical evening. Tuck Andress is indeed a one-man orchestra, and his ability to choose just the right "instruments" is as remarkable as his ability to create the illusion that he is playing more than guitar. With narrow hands, long fingers, and possibly more joints than normally allocated to humans, he pulls sound as often from his left as his right; at least ten distinct notes, as well as all points one can slide around in-between, are possible at any moment, giving him the power of unlimited expression. While using a considerable amount of percussive power in his right hand, Tuck's movements are never less than graceful, as if ten tiny ballerinas dance on each fingertip.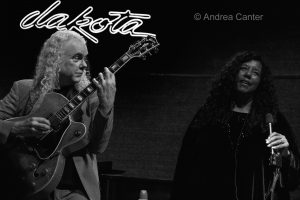 An equal partner in all respects, Patti Cathcart may lack the velvety pipes of Sarah Vaughn but she nevertheless exudes the best of jazz singing, even when the material originates in more pop, blues or folk genres. Sometimes her voice becomes a horn or even a chordal instrument as if a second guitar, her repetitions of phrases, single words, even vocalese suggesting bebop improvisers, while her frequent scatted segments transition seamlessly to straight lyric and back, as effective on a ballad as a bluesy tale. Patti's rhythmic drive and tonal control are further hallmarks of her talent, not easy tasks when your partner never really plays the melody—essentially she sings a cappella over Tuck's improvisation, and ultimately we hear two improvisers who can sense each other's next move as if sharing one heart. And it works. Their collaboration yields the sound of two guitars, two horns, one of each, mirror images, always on the same emotional plane, be it superbly upbeat on a tune like "Learning How to Fly" or delicately sweet on ballads like "Takes My Breath Away."
They will leave you breathless.
Tuck and Patti perform two shows Sunday, January 29, at 6 and 8 pm. Reservations recommended at 612-332-5299 or www.dakotacooks.com. The Dakota is located at 1010 Nicollet Mall in downtown Minneapolis.