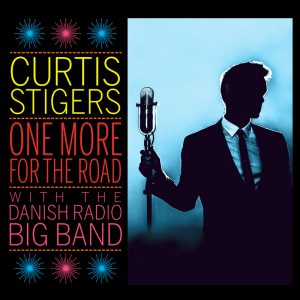 © Kevin O'Connor
"What the world needs now is another folk singer, like I need a hole in my head. What the world needs now is another Frank Sinatra, so I can get you in bed."
Boise, Idaho's own Curtis Stigers seems to have taken his cue from that line by David Lowrey and his proto-punk band, Cracker, who sang the lament in 1992's Teen Angst.  That sentiment, while cheeky at the time, should probably be reversed in today's post- ironic climate.
Stigers is hardly alone. Throw a rock, as another axiom goes, and you'll hit a Sinatra tribute artist. Throw it hard, as the Coen brothers quipped.  Seth McFarlane, Michael Feinstein, Michle Buble, Harry Connick Jr. have more than worn those inroads to their dusty essence. Sorry if that's harsh. I'll concede that One More for the Road, Stiger's latest offering for Concord Records, is laudable for a couple of reasons:
The Danish Radio Big Band is backing him in their home court of Copenhagen.
It's entertaining and fun, as I'm sure the show was. And Curtis doesn't sing bad notes.
If you don't know and love Curtis, as I do, he is a consummate purveyor of tasty songwriting:  Others and his own.  This is why the unbelievably hackneyed choice of material ("Come Fly With Me," Summer Wind," and "The Lady is a Tramp") left me scratching my head.  No "New York, New York?" Discretion prevails.
This one has a whiff of contractual obligation. Though I'm sure it will play well, especially with his ever-growing fan base in Europe.