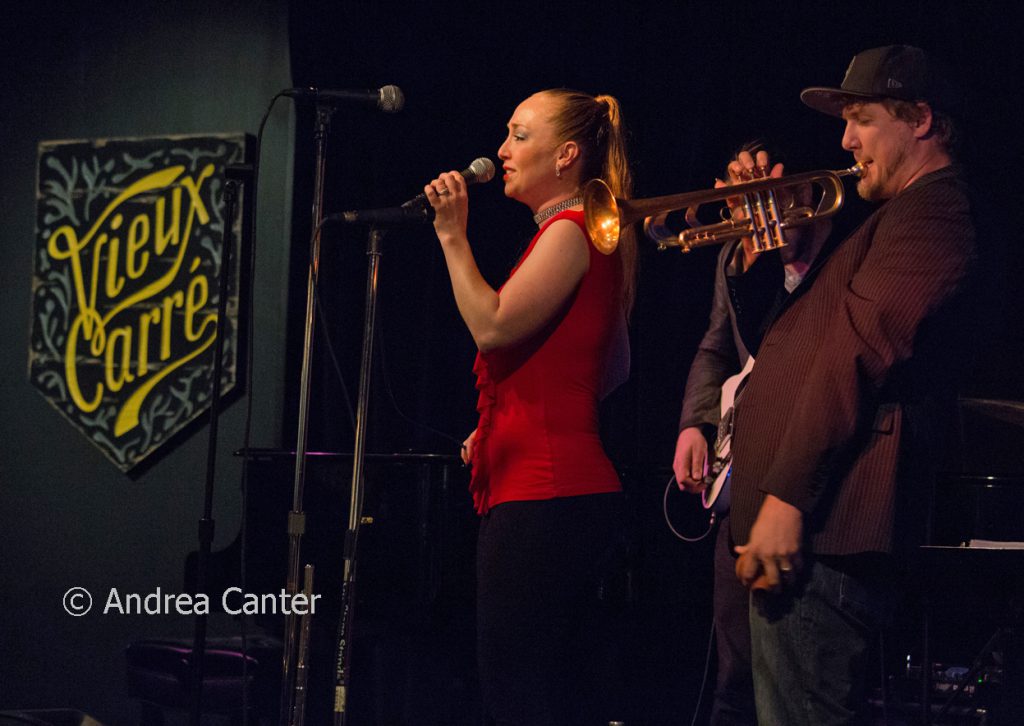 © Andrea Canter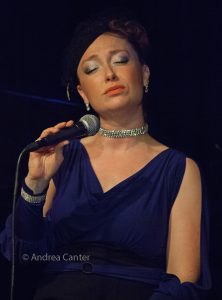 A frequent performer throughout the Twin Cities on such stages as the Dakota, Vieux Carré, Crooners and Jazz Central, vocalist/songwriter/flautist Jana Nyberg recently brought her quintet to Wild Sound Studio for an LP recording session.  On Friday, February 3, the Jana Nyberg 5 will return to Vieux Carré with, in part, a preview of the upcoming release. Along with husband Adam Meckler on trumpet, the band includes Sean Turner on piano, Graydon Peterson on bass, and Rodney Ruckus on drums.
Twin Citian Jana Nyberg is an active music educator as well as jazz/pop/blues singer, songwriter, and flautist. In addition to leading the Jana Nyberg Group and Jana Nyberg 5, she has performed with the Adam Meckler Quintet and Orchestra and has been a guest artist at the UW Eau Claire Jazz Festival with the UW-Green Bay Jazz Singers and with the Bethel University Jazz Orchestra.  A credentialed music teacher, Jana taught at the St Paul Conservatory for Performing Artists and currently teaches middle school in Shakopee. Her students encouraged her to audition for American Idol in 2010, starting her down a path that landed her in Hollywood, where she participated in the first round of the national Idol "finals. "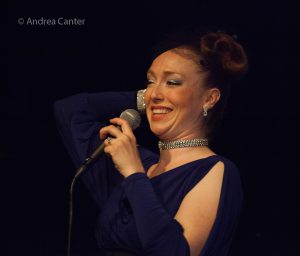 Jana and her ensembles have performed at the Dakota, Artists Quarter, Hell's Kitchen, Red Stag, Honey, Vieux Carré, Jazz Central, Crooners Lounge and in venues throughout Door County, WI.  In April 2013, Jana and Adam joined forces with another husband/wife, trumpet/voice team,  Ashley Gonzales-Daneman and Benje Daneman, for a Two Voice, Two Trumpet program at Jazz Central. They've also performed on stages at the Twin Cities Jazz Festival; in 2016 Jana joined a group of area vocalists for the festival's first "Scat Off."
Jana released her self-titled debut CD in 2008 and, in 2011, she released the much-praised Fever with the Jana Nyberg Group,  crossing boundaries among jazz, blues, soul, country and pop. The recording included four of her original songs. In late 2013, the Jana Nyberg Group released Winter Song, filled with clever arrangements of favorites and original songs written by Jana and Adam. Jana also provided vocals on the 2014 Adam Meckler Orchestra release, When Clouds Look Like This. With her Jana Nyberg 5, she looks forward to releasing a new LP later this year.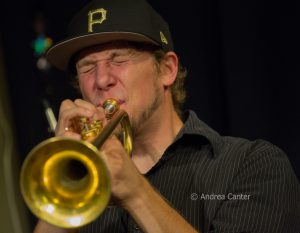 A performer, composer and educator, Adam Meckler received his undergraduate degree in trumpet performance with a jazz studies emphasis from Lawrence University in Appleton, WI and his Master's Degree at the University of Minnesota. He tours and records with Youngblood Brass Band and Nooky Jones, and plays regularly with a host of bands around the Twin Cities including The Jana Nyberg Group, Jack Brass Band, The Graydon Peterson Quartet, and The Pete Whitman X-Tet. He also leads his Adam Meckler Quintet, Lulu's Playground, and Adam Meckler Orchestra. Adam released his debut recording, For Dad, in 2010; in 2014 the AMO released When Clouds Look Like This; in 2016, he released Wander (Shifting Paradigms Records), recorded with his quintet live at three different area venues. Adam further keeps himself busy as a jazz educator, coordinating jazz for the MacPhail Center for Music's Chanhassan campus and also serving on the trumpet faculty at McNally Smith College of Music. He's an official Edwards Performing Artist.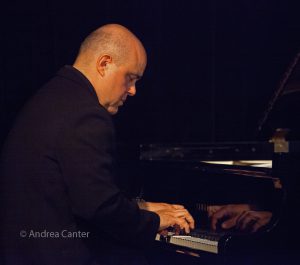 Pianist Sean Turner is also a composer, vocalist, and educator.  His compositions and orchestrations have been utilized by Sony, Oprah, E! Entertainment, MTV, Lifetime Network, Discovery Channel, The CW Network, Target, and Success Magazine, among many others. He has also written and produced three recordings, one of which earned a Parents' Choice Award for children's music, and has authored two instructional text. Sean heads the Keyboard Department at McNally Smith College of Music and serves as Coordinator of Contemporary Worship and Music at Incarnation Lutheran Church. On the local jazz scene, Sean has performed with his trio at the Dunsmore Room in Crooners Lounge and has worked with vocalists Bruce Henry and Ginger Commodore, in addition to Jana Nyberg.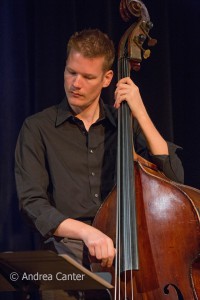 Graydon Peterson played electric bass in his high school pep band and dabbled in rock music before finding his way into jazz. At the University of Wisconsin-Eau Claire, he was a member of UWEC's Downbeat Award-winning Jazz Ensemble I and performed with such guest jazz artists as Lewis Nash, Ingrid Jensen, Jason Marsalis, Chris Botti, and Christian McBride.  In Minneapolis, Peterson is a first-call bassist who often works with top area vocalists, including  Debbie Duncan and Connie Evingson. He performs regularly with the trio Firebell with Park Evans and Jay Epstein, the Adam Meckler Quintet and Orchestra, Doug Little's Charanga Tropical, and a long list of instrumentalists. Peterson launched his own quartet in fall 2011 as a means of focusing on his own compositions, and released the quartet's first recording in 2013. He followed in 2015 with Duets, featuring each member of his quartet in duets with each other.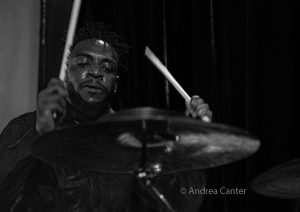 A Florida native, Rodney Ruckus started playing drums at the age of two in church, and also picked up piano and bass. After getting into jazz in middle school, he started playing for tips outside neighborhood markets. Later, his band The Jazz Juvenocracy raised money to travel, playing at the Montreux Jazz Festival, Jazz a Vienne and at La Barington Jazz Club in France, and at the Umbria Festival in Italy. Rodney went on to attend the Berklee College of Music and now studies at McNally Smith College of Music in St. Paul. He's been on stage with such jazz luminaries as Tia Fuller, Ralph Peterson, Herbie Hancock, Billy Childs, John Patitucci, Joe Lovano, Roy Hargrove, Wynton Marsalis, and Charles Lloyd. Locally, Rodney performed with the Solomon Parham-Steve Kenny Quintet at the 2016 Winter Jazz Festival and has appeared with the Steve Kenny Quartet, Anthony Cox's Free Range Quartet, and the Jana Nyberg 5, and heads his own ensembles (The Ruckus). With his trio (Greg Byers and Javi Santiago), Rodney recently toured venues in the Midwest and West Coast, and released an EP last week.
The Jana Nyberg 5 performs at 9 pm at Vieux Carré, cover $10 (cash only). Come early (6 pm) for the dinner hour sets with pianist Jeremy Walker (no cover).
Vieux Carré is located at 408 St Peter Street (entry off 7th Place) in the lower level of the Hamm Building in downtown St. Paul. See full calendar at http://vieux-carre.com; more about Jana Nyberg at www.janajazz.com