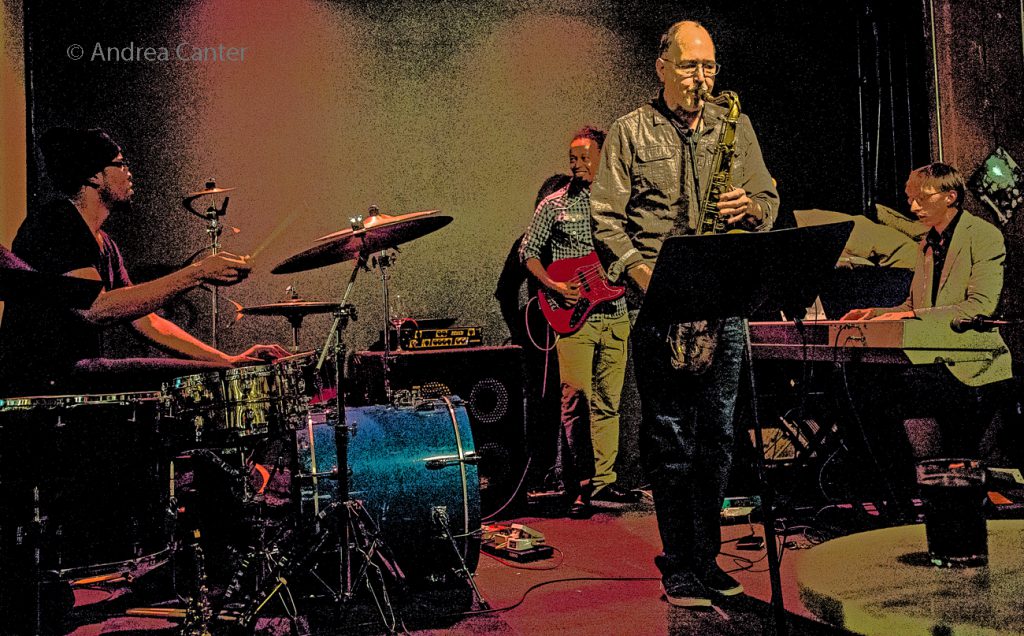 © Andrea Canter
Five nights per week (Tuesday-Saturday), you can hear not just one great band, but two at Vieux Carre in downtown St. Paul. The opening set is usually a solo or duo showcase, and often the spotlight is on one of the veteran artists of the Twin Cities jazz scene. This no-cover set or two is generally followed by a larger ensemble drawing from the eclectic Twin Cities music community, often jazz or blues. This Thursday, February 9, Vieux Carre' hosts star guitarist Joel Shapira at 6 pm, followed by the crackling inventions of the Steven Hobert 4 at 8 pm. Hoberts' quartet features a cross-generation line-up of the metro's best jazzers–Hobert on piano, Pete Whitman on saxophones, Yohannes Tona on bass, and Arthur "LA" Buckner on drums.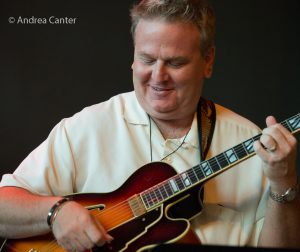 Joel Shapira (6 pm, no cover)
Guitarist Joel Shapira studied at the Berklee College of Music in Boston and at the Mannes School of  Music in New York City, as well as with Tal Farlow, Joe Pass, Sharon Isbin, and Anthony Cox. Active in the Twin Cities for many years, he has led or co-led his own small jazz groups (including Triplicate, Pooch's Playhouse, the Joel Shapira Quartet and Bottomless Pit) as well as playing classical duets with saxophonist/flutist Paul Harper and providing the instrumental half of Charmin & Shapira (and the expanded Charmin and Shapira and Friends).  He has frequently appeared with John Devine, Doug Little, Vic Volare, Larry McDonough, and Lee Engele, among others. His business Joel Shapira Productions provides music for weddings and private events. In addition to releasing two recordings as Charmin & Shapira (Pure Imagination and Dawning and Daylight), Joel released his debut quartet album, Open Lines, in 2012, his duo with Jack DeSalvo (Inherence) in 2014, and most recently, his duo with Dean Granros (Jazz Duets: Live at the 2014 Twin Cities Jazz Festival).
Steven Hobert 4 (8 pm, $7 cash cover)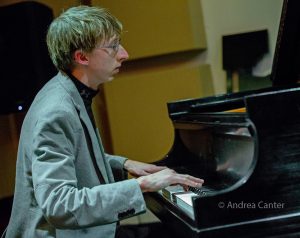 Originally from Hartland, Wisconsin, Steven Hobert recalls that he "would noodle around on the piano and just make things up, maybe even as young as middle school." The music of Keith Jarrett, particularly his solo improvisation concerts, influenced Steven's decision to pursue piano improvisation at the University of Wisconsin Eau Claire, as it allowed him to express himself through uninhibited creativity. After graduation, Hobert performed with symphony orchestras from Calgary to Buffalo, played on cruise ships, and spent a year touring Japan, Canada and the U.S. with the Glenn Miller Orchestra. He also served as music director for vocal ensemble Five By Design. Currently Steven leads FireFly Forest, the Steven Hobert 4, plays accordion in Lulu's Playground and piano with the Adam Meckler Orchestra, works in duo with saxophonist/flautist James Kellerman, guitarist Dean Magraw, and oud player Issam Rafea (as "Oudyano"), and generally works as a freelance musician and teacher of piano, accordion and woodwinds.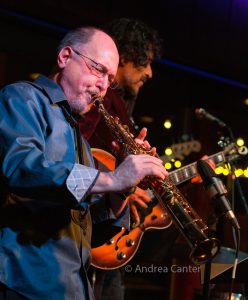 The renowed Pete Whitman X-Tet is one of several projects led by veteran sax/flute performer, composer, and arranger Pete Whitman. After launching his career in Kansas City, Pete moved on to jazz jazz studies at North Texas State University. He toured internationally with the Glenn Miller Orchestra before moving to the Twin Cities in 1988. Pete's credits on tenor, alto, soprano and flute include performing with Randy Brecker, Jack McDuff, the Woody Herman Orchestra,, Michael Feinstein, Debbie Boone, Rosemary Clooney, Barbara Dennerlein, Lavay Smith & Her Red Hot Skillet Lickers, Dave Stryker, Curtis Fuller and Andres Prado. In addition to leading his X-Tet and smaller ensembles in the Twin Cities, Pete works regularly with the Jazz MN Orchestra, Bottomless Pit, Peter Kogan's Monsterful Wonderband, and the quartet Mississippi. A few years ago, Pete was commissioned to score the film, Been Rich All My Life, about a quartet of octogenarians reprising their dancing days in vaudeville. A dedicated educator, Whitman heads the Woodwind and Brass Department at St. Paul's McNally Smith College of Music, teaching saxophone, improvisation, and arranging, and leading the McNally Smith X-Tet.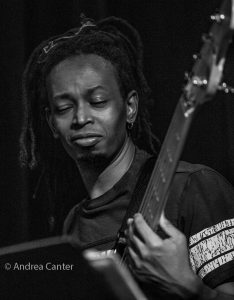 Bassist Yohannes Tona grew up in Awassa in southern Ethiopia, the son of a church organist (father) and vocalist (mother). Studying guitar and then bass in his homeland, he attended Yared, Ethiopia's lone music school, at sixteen. Yohannes emigrated to the U.S. in the late 1990s to  study at the Berklee College of Music. A few yeas later he was recruited to serve as music director for the Ethiopian Church in Minneapolis. Here he has played with the Grammy-nominated Excelsior Choir , Dr. Mambo's Combo, Darnell Davis and the Remnant, Nachito Herrera, Kevin Washington, Doug Little, #Mpls, and Foreign Motion. He's also performed with top area vocalists including T. Mychal Rambo, Bruce Henry, Debbie Duncan, and Sounds of Blackness, leads the Yohannes Tona Band and Made in Abyssinia, and works as a producer for a variety of projects.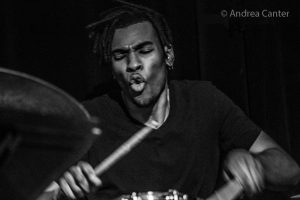 Currently a Masters degree student at McNally Smith College of Music, drummer Arthur "LA" Buckner works with national gospel recording artist Jovnota Patton & Deliverance for Youth, Shiloh Temple International Ministries, the Ethan Yeshaya Trio, Cameron Wright Band, Paris Bennett, and the award-winning McNally Smith X-Tet. Born and raised in Minneapolis, LA was influenced by his father's jazz collection, his mother's Quincy Jones and Erykah Badu albums, and his involvement in the music of his family church. His father, baritone singer Art G. Buckner, bought LA his first drum kit after observing his son's fascination with the drums he heard during church services. LA is known for his ability to incorporate Latin, Blues, Pop, Hip-Hop and R&B into whatever style of music he's playing.
The Steven Hobert 4 will perform music featuring original compositions as well as those by the likes of Duke Ellington, Stevie Wonder, Nina Simone and Estrella Morente.  This  performance will be "dedicated to refugees and people searching for a place to be."
Vieux Carre' is located in the lower level of the Hamm Building at 408 St. Peter Street in downtown St. Paul. Reserve your table (or barstool) at 651-291-2715. Schedule and information at http://vieux-carre.com