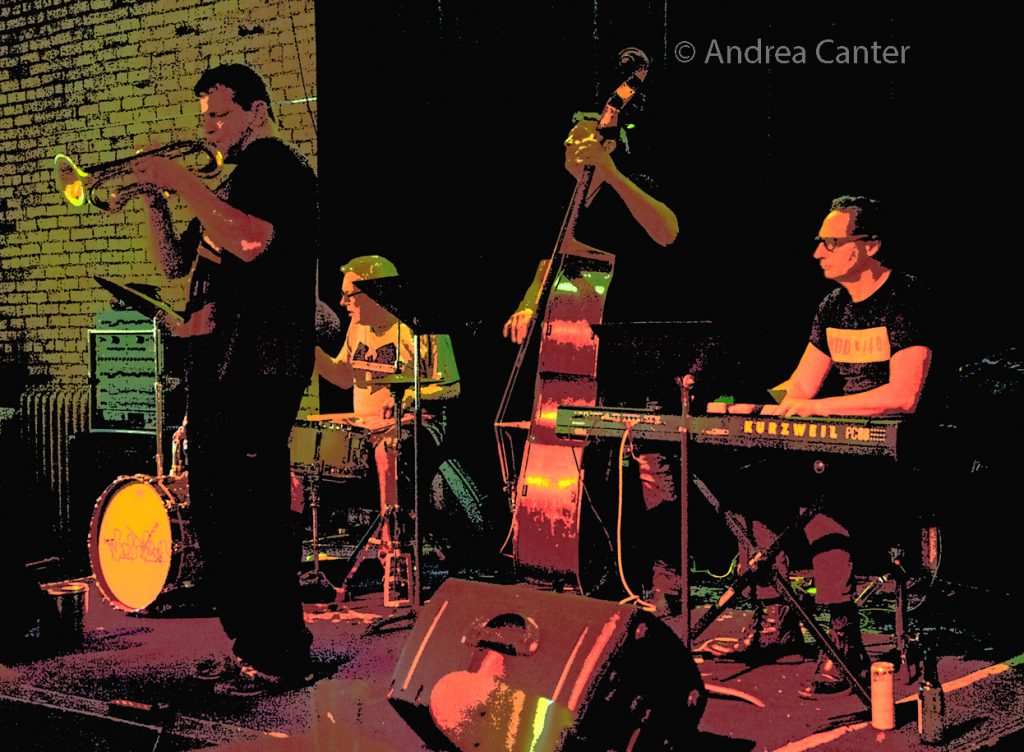 © Andrea Canter
What would have happened if eccentric genius Thelonious Monk had encountered the best of Twin Cities jazzmen? Trumpeter Steve Kenny, pianist Peter Schimke, bassist Billy Peterson, and drummer Kenny Horst first asked that question in 2010 at the Artists Quarter, and the quartet has gathered together seeking more answers over the past seven years. With Ted Olsen on bass and adding special guest JC Sanford on trombone, WWMD reunites on Saturday Night Jazz at the Black Dog on February 18, with an opening set from Ahmed and the Creators.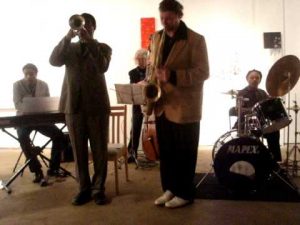 Ahmed and the Creators (7 pm)
This ensemble of straight-ahead jazzers is led by master trumpeter Ahmed AbdulKarim, and has performed across the metro from the Dakota in Minneapolis to Public Kitchen in St Paul. Ahmed will be joined by a crew of veterans– James "Jimmeapolis" Wallace on tenor saxophone, Ron Evaniuk on bass, and Batume on drums.
What Would Monk Do? (8:30 pm)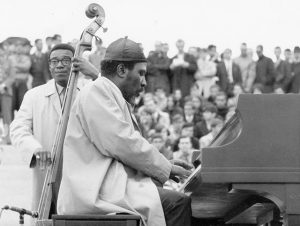 Monk's quirky behavior (many assumed he was truly crazy), individual style, and unique compositions were far ahead of the bop and post bop inventions that followed many years later. For a long time, only the most sophisticated jazz musicians, including Coleman Hawkins and John Coltrane, appreciated his genius. Yet today, variations of Monk's compositions are part of the standard repertoire of jazz, from straight-ahead to avant garde. In fact, Monk's compositions have long provided a fertile playground for agile and creative musicians, and Steve Kenny, Peter Schimke, Ted Olsen, Kenny Horst and JC Sanford fit that description to a tee. WWMD tackles assorted Monk material including more obscure tunes that are seldom played. This group also mixes in some original Monk-Inspired compositions by Kenny Horst and Steve Kenny.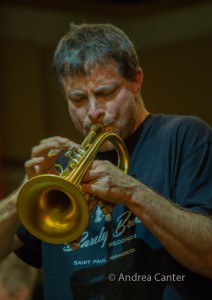 Steve Kenny (FLUMPET™) co-founded the popular 90s ensemble, Illicit Sextet, after graduating from UW-River Falls, and has led the "second coming" of the band over the past seven years. And for about five years, Kenny appeared weekly at the Artists Quarter (Steve Kenny and the Bastids, the Steve Kenny's Group 47) to warm up Wednesday nights. Since the AQ closed, Group 47 has continued to perform around the Twin Cities and released its debut Straight to Vinyl in 2014. For the past two summers, Kenny has curated a ten-week series of gigs at Studio Z featuring "All Original" music, and will head a scaled back third season this summer. In the past few years he has led several editions of the Steve Kenny Quartet, produced the Twin Cities Jazz Sampler  (volumes one and two), curates the weekly Saturday Night Jazz series at the Black Dog, another weekly (now Thursday night) series in Minneapolis at Reverie (originally, The Nicollet), and a summer All Originals series at Studio Z. Kenny was one of four recipients of commissions from Zeitgeist to compose new works that debuted at the 2014 Twin Cities Jazz Festival. In his spare time, Kenny serves as administrator for the Jazz Police website.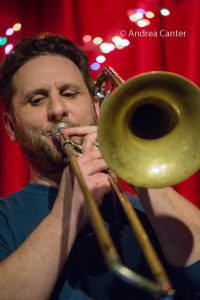 A protégé of legendary composer Bob Brookmeyer, Minnesota native trombonist JC Sanford studied at the University of Northern Iowa and completed doctoral studies at the New England Conservatory. Moving to New York in 2000, he became involved with the BMI Jazz Composers Workshop under the direction of Manny Albam and Jim McNeely and remained trombonist/contractor of the BMI/New York Jazz Orchestra until  returning to Minnesota in summer 2016. He has also appeared as a trombonist on recordings with such diverse bands as Andrew Green's Narrow Margin, the Andrew Rathbun Large Ensemble, Nathan Parker Smith's jazz/prog rock big band, and Joseph C. Phillips, Jr.'s new music/jazz hybrid orchestra, Numinous. JC's compositions have been performed by leading artists such as John Abercrombie and Dave Liebman and he has built a reputation as conductor of large ensembles, including the John Hollenbeck Large Ensemble, Alan Ferber Nonet, Alice Coltrane Orchestra and his own JC Sanford Orchestra. JC wasted no time jumping into the local jazz scene, adding his trombone to Chris Bates' Red 5 at their most recent gig at the Black Dog and bringing his quartet to the Icehouse a few days later.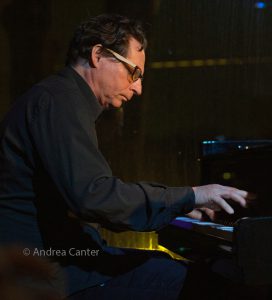 Peter Schimke is one of the busiest keyboard virtuosos in the Twin Cities today. Peter started out in rock, and studied jazz piano with Manfredo Fest, Jim McNeely and Harold Mabern. A favorite keyboardist of many local and national artists, as well as a leader of his own trio, Schimke displays his skills as composer and sometimes vocalist with How Birds Work,has recorded and performed in a duo with saxophone master Irv Williams, and handles the keys for Mississippi. Peter has a long-standing association with percussionist Estaire Godinez, recorded live at the Dakota (in St. Paul) with vocal legend Mark Murphy, and recorded a live concert with Jerry Bergonzi.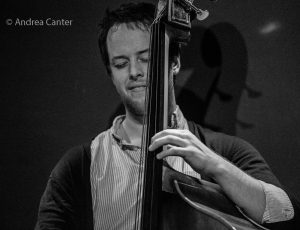 Ted Olsen studied bass with Travis Schilling and Adam Linz. He graduated from St. Paul's Como Park High School in 2010 and went on to study composition at Luther College in Decorah, IA, finishing college studies at the University of Northern Colorado in spring 2015. In the Twin Cities, Ted has taught at the Twin Cities Jazz Workshop and has performed as leader and sideman at various venues including the Artists Quarter, Jazz Central, Black Dog, Twin Cities Jazz Festival, and more, often in the company of Javi Santiago and Miguel Hurtado. Adding Aaron Hedenstrom on sax, the Ted Olsen Quartet performed at the recent 2017 Twin Cities Winter Jazz Festival.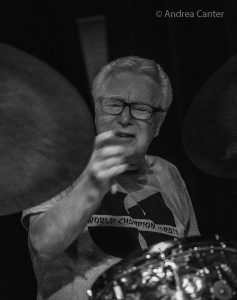 When Kenny Horst wasn't busy running the Artists' Quarter, he tended the drum kit with many of the AQ's visiting and local artists, and anchored the long-running Tuesday Night Band. He also performed regularly with How Birds Work, the Dean Granros Trio, and The Five. Says Don Berryman (Jazz Police), "Great hard-bop, soul jazz, and fusion chops and the sweetest guy you could meet." With the closing of the AQ in 2013, we've seen more of Kenny behind the trapset at such venues as Jazz Central Studios, The Nicollet, Icehouse and the Black Dog.
Any tribute to Thelonious Monk is bound to be part inspiration and part entertainment, and there will be no shortage of either at the Black Dog this Saturday night.
The Black Dog is located at 308 Prince Street on the main level of the Northern Warehouse in Lowertown St. Paul. No cover for Saturday Night Jazz but donations ($10 suggested) appreciated to support the musicians and the series. Saturday Night Jazz schedule and reservations at www.saturdaynightjazzattheblackdog.info; Black Dog full music schedule and information at www.blackdogstpaul.com