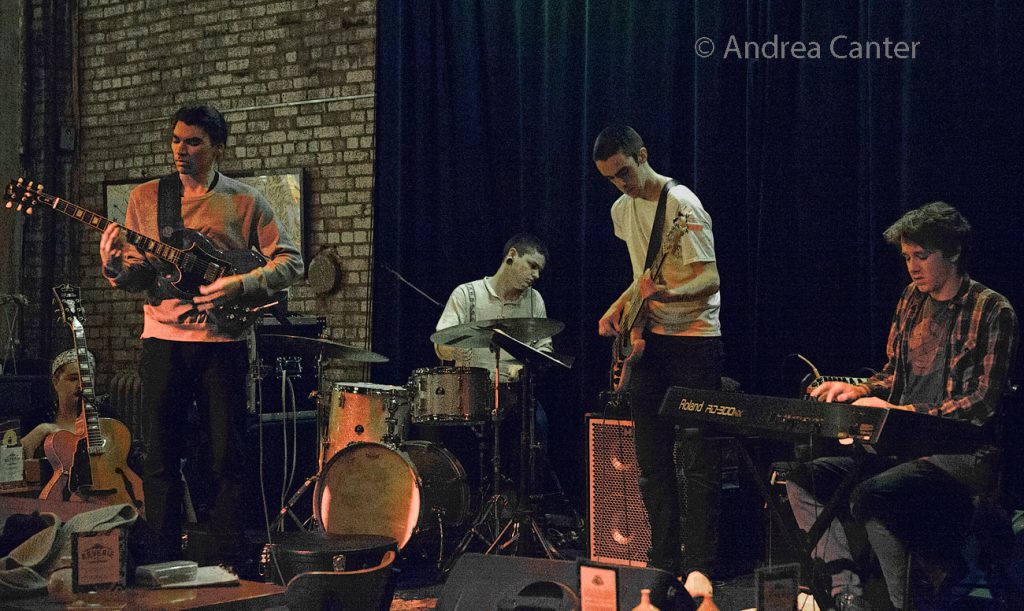 © Andrea Canter
Two outstanding bands of largely young "veterans" converge at the Black Dog on Saturday, February 25, on the Saturday Night Jazz at the Black Dog series, curated by Steve Kenny. The Julian Manzara Quartet opens at 7 pm, followed by the Minnesota Hard Bop Collective at 8:30.
Julian Manzara Quartet (7 pm)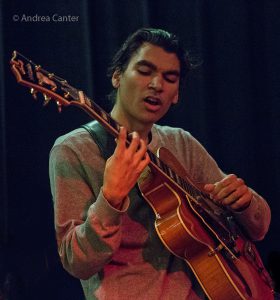 Guitarist and composer Julian Manzara leads a quartet of Young Lions–Levi Schwartzberg on keys, Drew Stinson on bass and Geo Randall on drums. He formed the quartet as an outlet for his original, wide-ranging compositions about one year ago, and has brought the ensemble to Jazz Central, Black Dog and Reverie. A Minneapolis native, Julian studied at the Berklee College of Music before heading out on tour with the rock band The Lone Crows. He returned to the Twin Cities to finish his degree (in Guitar Performance) at McNally Smith College of Music, and currently performs, composes and is developing a home recording studio.
Levi Schwartzberg, another Minneapolis native, is in his third year at the University of Minnesota where he is majoring in physics and playing keyboards and vibraphone in U of M jazz ensembles. In addition to his college bands, Levi plays in a wide variety of local groups, including Sound Skirmish, Adam Linz's Le Percheron, Central Standard Time, and Davu Seru's No Territory Band, along with his own ensembles. Recently he joined Davu Seru in trio with visiting saxophonist David Rempis at Jazz Central.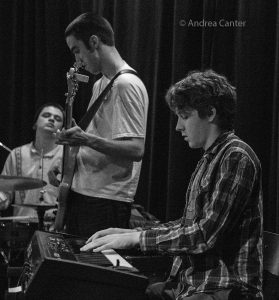 Drew Stinson studies bass McNally Smith College of Music. In addition to playing bass for the Julian Manzara Quartet, Drew is a founding member of Sound Skirmish, a quartet with Patrick Adkins, Levi Schwartzberg and Ben Ehrlich recently heard on the Jazz Central stage.
Geo (Geoffrey) Randall is a young and upcoming drummer living in St. Paul, MN who received his degree in Percussion Performance from McNally Smith College of Music in 2014. Geo has performed in New York City, Denver, Green Bay, Nashville, and beyond. Locally, he performs in multiple groups, and recently played drums in a production of The Buddy Holly Story.
The Minnesota Hard Bop Collective (8:30 pm)
A relatively new ensemble in the Twin Cities, the Minnesota Hard Bop Collective is directed by drummer Jesse Simon with a fluid cast of artists. At the Black Dog, the roster includes trumpeter Jake Baldwin, saxophonist Aaron Hedenstrom, pianist Ted Godbout, and bassist Ted Olsen.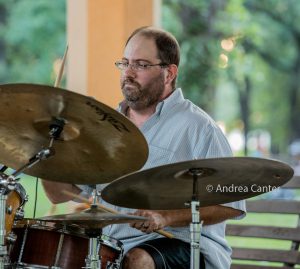 Originally from Boulder, Colorado, drummer Jesse Simon moved to the Twin Cities in 2002 after graduating from the Manhattan School of Music. Family and other obligations stalled his jazz career, but about two years ago, he took the plunge at Jazz Central and has gone on to lead his own ensembles emphasizing hard bop repertoire. Jesse draws on "Don Sickler's extensive transcription library of all the classic Blue Note and other recordings from that time period.  So I decided to bring it all together here in the Twin Cities with all our exceptional talent."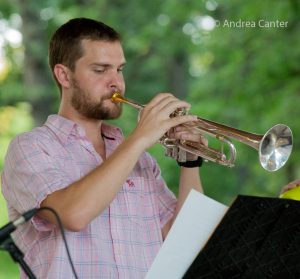 A 2009 graduate of Minnetonka High School and alum of the second and third editions of the Dakota Combo (2007-09), trumpeter Jake Baldwin studied with Jerry Bergonzi, Bob Moses, John McNeil, Joe Morris and Fred Hersch at the New England Conservatory. He was one of three finalists in the 2011 International Trumpet Guild Solo Competition; a year later he was runner-up in the jazz division of the National Trumpet Competition. After graduating from NEC in 2013, Jake moved back to the Twin Cities, where he has played in a number of bands including the Twin Cities Latin Jazz Orchestra, Thomas Nordlund Group, Endeavors, Cory Healey's Beautiful Sunshine Band, Ramtrack, McNasty Brass Band, and Har Mar Superstar. About two years ago, Jake released his first album as leader, Ra Ra Ru.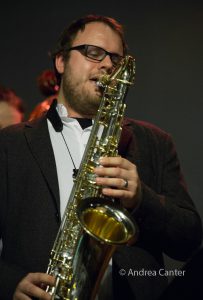 Born in Lesotho (Africa) and raised in the Twin Cities, saxophonist Aaron Hedenstrom was a graduate of the Minnesota Institute for Talented Youth and Minnesota Youth Jazz Band before enrolling in the jazz program at UW-EC. After graduation, Aaron moved on to the master's degree and then the doctoral programs at the University of North Texas, serving as a Teaching Fellow, performing in the famed One O'Clock Lab Band, and accumulating a long list of Downbeat Student Awards.  Aaron has also received the BMI Foundation Future Jazz Master Scholarship, ASCAP Young Jazz Composer Award, Jazz Education Network Student Composer Award,  and the 2012 Detroit Jazz Festival Arranging Contest. After returning to the Twin Cities in 2015, Aaron has been active on the local scene as sideman and bandleader (orchestra, quintet and trio).  He has released two recordings to date: A Symphonic Jazz Hip Hop Experience with his Aaron Hedenstrom Orchestra (2010) and A Moment of Clarity on Shifting Paradigm Records (2014).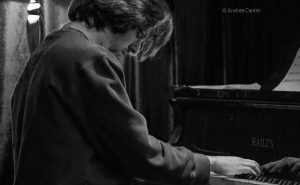 Pianist Ted Godbout has been building a reputation as a sympathetic accompanist for area vocalists as well as a creative composer and bandleader. He holds a B.A. in Music – Piano Performance from St. John's University and an M.M. in Jazz Studies from the University of Oregon. A versatile and active musician, Ted performs frequently as a jazz pianist and classical accompanist, as well as in funk, R&B, and rock bands. He has performed with such notable artists and groups as Ron Miles, Mark Colby, and the Harry James Orchestra. Currently on faculty at Chaska Music Studios and Augsburg College, Ted leads his own trio and appears regularly with PaviElle, Katia Cardenas, BDP, Nick Syman, and the Bill Simenson Orchestra. Ted also serves as Director of Music at Shepherd of the Hill Presbyterian Church in Chaska, MN.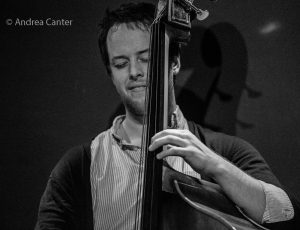 Ted Olsen studied bass with Travis Schilling and Adam Linz. He graduated from St. Paul's Como Park High School in 2010 and went on to study composition at Luther College in Decorah, IA, finishing college studies at the University of Northern Colorado in spring 2015. In the Twin Cities, Ted has taught at the Twin Cities Jazz Workshop and has performed as leader and sideman at various venues including the Artists Quarter, Jazz Central, Black Dog and more, often in the company of Javi Santiago and Miguel Hurtado, among others.
The Black Dog is located in the Northern Warehouse at 308 Prince Street, in St Paul's Lowertown Arts District. No cover for Saturday Night Jazz at the Black Dog but donations ($10 suggested) appreciated to support the series and musicians. No cash? Get a tip jar token for $10! Saturday jazz schedule at www.saturdaynightjazzattheblackdog.info . More about the Black Dog and full music and event schedule at www.blackdogstpaul.com