© Andrea Canter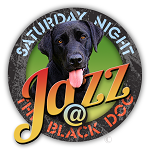 The Black Dog in St. Paul's Lowertown is known for its eclectic, nightly menu of music from world rhythms to singer songwriters to some of the best jazz in the metro. For well over two years (133 straight weeks, says curator Steve Kenny), Saturday Night Jazz at the Black Dog has presented two bands back to back every week. And sometimes jazz is on the Friday schedule. This weekend, both Friday and Saturday nights feature two bands each, heavily infused with jazz, including young lions and long-running veterans: Wozniak/Adkins/Peterson/Peterson and Cedric Fuller's Global Sound (Friday), and the Shapira/Granros Duo and Rodney Ruckus Birthday Tour (Saturday). Might as well camp out in Lowertown March 24-25!
Wozniak/Adkins/Peterson/Peterson, March 24 (7 pm)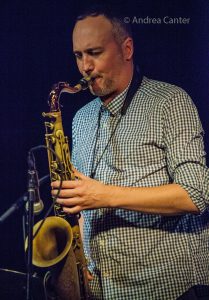 Friday's early ensemble is an amalgam of youthful energy and local stars, bringing together two of the college sets top performer-composers in pianist Patrick Adkins and drummer Luke Peterson, with two of the area's busiest and most acclaimed artists, saxophonist Brandon Wozniak and bassist Graydon Peterson. The ensemble will feature original music from Patrick and Luke.
Brandon Wozniak, a graduate of the jazz program at Indiana University, is perhaps best known as a founding member of the Atlantis Quartet but also shares his talents with the Atrium Jazz Ensemble, Bryan Nichols Quintet, Red Five, Dave King Trucking Company, Zacc Harris Quartet, Vector Families, Mancrush and more.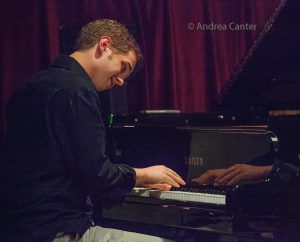 Patrick Adkins is completing his third year of jazz studies at Lawrence Conservatory. While still attending Edina High School, Patrick formed Sound Skirmish, a quartet still gigging around the metro. His high school career also included stints with the Dakota Combo and Minnesota Youth Jazz Band. He's performed his own compositions in solo at Jazz Central, and during breaks from his college studies, can often be found on the bandstands at area venues with such ensembles as the Charlie Lincoln Quintet, and of course Sound Skirmish.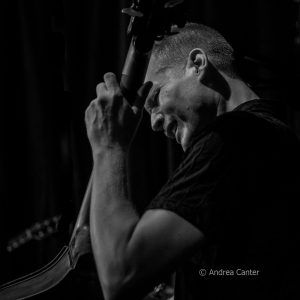 Graydon Peterson is a graduate of the University Wisconsin Eau Claire. His resume as one of the busiest bassists in the Twin Cities is long and wide, including backing many area vocalists and visiting touring artists, as well as leading his own Quartet and performing with Ghost Tour, the Adam Meckler Quintet, Firebell (with Jay Epstein and Park Evans), Doug Little's Charanga Tropical, and many other ensembles and big bands.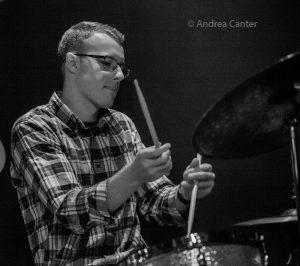 Luke Peterson is completing his second year of math and physics studies at Northwestern University, where he also performs with the college jazz ensembles. A graduate of Apple Valley High School and alum of the Dakota Combo and MYJB, Luke leads the band No Exit (recently on stage at Reverie), for which he writes most of the music.
Cedric Fuller and Global Sound, March 24 (8:30 pm)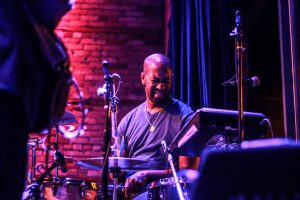 Drummer Cedric Fuller leads Global Sound, melding jazz, hip hop and soul. His ensemble includes Steven Hobert on keys, Ernest Bisong on violin, Tomas Simpson on guitar, Kenneth Garnier on bass, and Caitlyn Daniels on vocals.
Born and raised in Georgia, Cedric Fuller grew up surrounded by the sounds of the South, including gospel, R&B, Soul, Blues, Jazz, Country and later Hip-Hop. He established his credentials as a drummer early on, performing with the Swanee Quintet of Augusta, GA before moving to Atlanta and becoming part of the music scene, playing with a wide range of artists. Now living in the Twin Cities, Cedric has performed at Orchestra Hall with violinist Ernest Bisong and with Solomon Parham, serving as house drummer for Solomon's Sessions at The Bedlam and during the nightly jams at the 2016 Twin Cities Jazz Festival. About a year ago he formed Global Sound.
Joel Shapira and Dean Granros, March 25 (7 pm)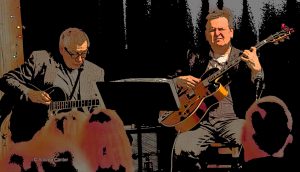 Often the opening set on Saturday Night Jazz at the Black Dog features a new band in "incubation." And sometimes it features veteran performers testing out new music or a new partnership. Saturday night, two of the area's pre-eminent guitarists reprise the duo that launched at the Black Dog three years ago during the Twin Cities Jazz Festival. Both Joel Shapira and Dean Granros have long histories of innovative guitar performance, yet a relatively short history as a duo.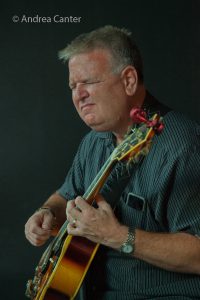 St. Paul native Joel Shapira studied at the Berklee College of Music in Boston and at the Mannes School of  Music in New York City, as well as with Tal Farlow, Joe Pass, Sharon Isbin, and Anthony Cox. Active in the Twin Cities for the past 18  years, he leads his trio, quartet, and Bottomless Pit; provides the instrumental half of the popular duo, Charmin (Michelle) and Shapira; and coleads their expanded Charmin and Shapira and Friends, in addition to his duo with Dean Granros. He's led the ensembles Triplicate and Pooches Playhouse and frequently appears with Dean Magraw, Pete Whitman, John Devine, Vic Volare, and a who's-who list of area vocalists.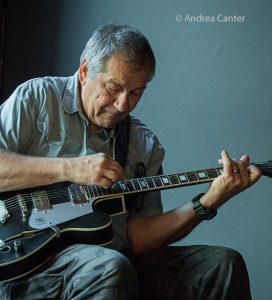 Dean Granros studied music theory and composition at the University of Minnesota and MacPhail Center for Music/ Concurrent with academic studies, he served a lengthy apprenticeship in jazz and blues in Twin Cities venues. He was a co-founder of one of the Twin Cities seminal experimental jazz groups, The Whole Earth Rainbow Band, joined former Weather Report drummer, Eric Kamau Gravatt, in the high energy post-bop band, Kamanari,  co-founded the progressive and virtuosic improvising trio F*K*G with saxophonist Scott Fultz and drummer Dave King, performed with George Cartwright's Curlew, and was a founding member of How Birds Work. Granros continues to perform locally with groups such as Starry Eyed Lovelies (with Mike Lewis, Anthony Cox and Dave King), FKG, and How Birds Work, as well as his double guitar quartet with Zacc Harris, Chris Bates and Jay Epstein (Tall Tales) and duo with Joel Shapira.
Rodney Ruckus Birthday Tour Conclusion Featuring Jonathan Greenstein, March 25 (8:30 pm)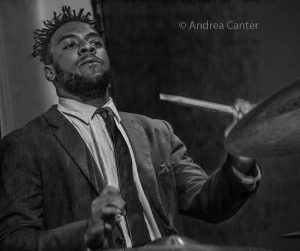 Relatively new on the Twin Cities jazz scene, multi-instrumentalist, bandleader and Florida native Rodney Ruckus arrived in Minnesota after studies at the Berklee College of Music. In short order, he became a busy bandleader as well as handling drums and keyboards for established area bands, appearing as a leader at the 2015 Twin Cities Jazz Festival and frequently on the schedule at Jazz Central, Reverie and the Black Dog. He's also taken his band, The Ruckus, on tours through the West and Midwest, now returning from his 25th Birthday Tour in time to celebrate at the Black Dog with his special guest, New York-based saxophonist Jonathan Greenstein. The remainder of the line-up is TBA. His frequent touring partners of late have included pianist Javi Santiago, cellist/bassist Greg Byers, drummer Arthur "LA" Buckner, and more.
The Black Dog is located at 308 Prince Street, on the main level of the Northern Warehouse in St Paul's Lowertown Arts District. Covers vary — no cover at 7 pm on Friday, $10 suggested cover for Cedric Fuller and Global Sound; no cover for Saturday Night Jazz at the Black Dog but donations ($10 suggested) appreciated to support the band and jazz series. See www.saturdaynightjazzattheblackdog.info and www.blackdogstpaul.com for more information, reservations, menu, etc.