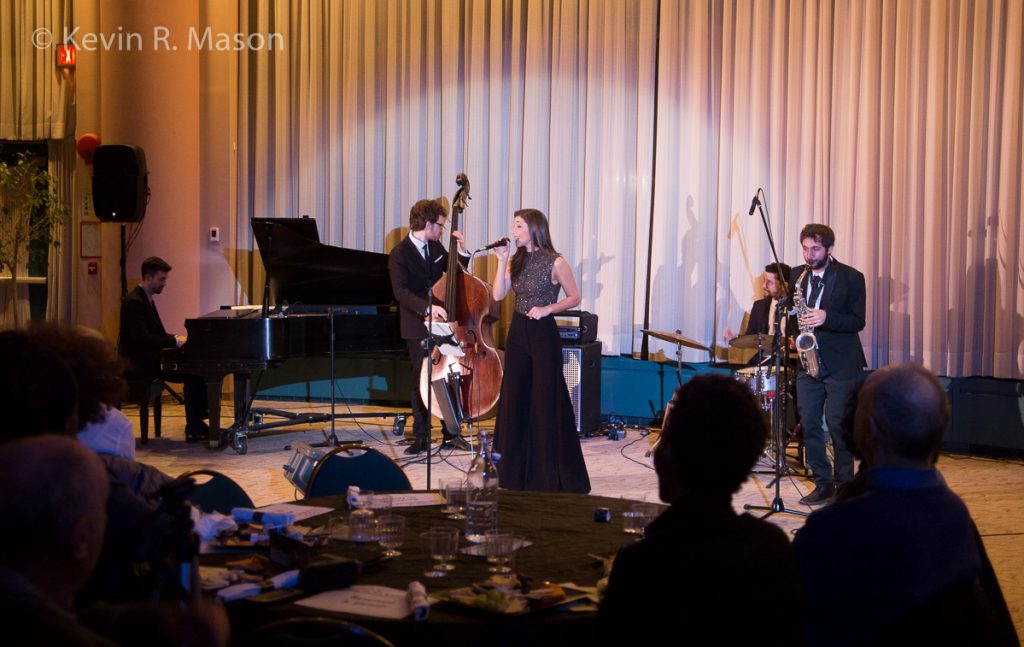 Kingsborough College's series On Stage at Kingsborough has become a real hub of entertainment in Brooklyn, NY. Their motto, "Bringing World-Class Performances Home," is more than just words, and in the 2016-2017 season, they have presented jazz, theater, cabaret, and dance from all over the world. On February 10th, On Stage at Kingsborough introduced ELLA! in honor of what would have been jazz icon Ella Fitzgerald's 100th birthday year. The show was held at Kingsborough's beautiful, romantic Lighthouse venue, which offers gorgeous, panoramic views of the surrounding area. Although there was a major snowstorm the previous day, luckily the roads were cleared away enough for people to travel to the Kingsborough Lighthouse.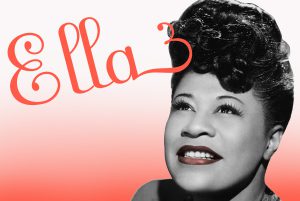 The show was a great combination of a very entertaining show and an illuminating history lesson with an international flavor. Is there any part of the world that has not been touched by jazz? The talented musicians who gave this performance demonstrated the worldwide appeal and influence of the genre. The Israeli 12th Night Jazz Quartet – pianist Daniel Meron, bassist Yoni Marianer, saxophonist Éyal Hai, and drummer Eran Fink – were joined by Croatian-American vocalist Thana Alexa. In addition to her fine vocal range, Ms. Alexa also has energy, humor, great stage presence, and was very at ease with the audience.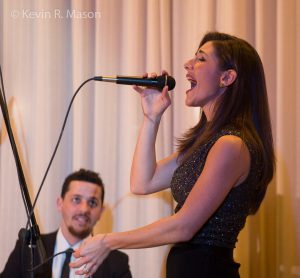 Ms. Alexa started with a spirited version of "Take The "A" Train" and followed with a heartfelt talk about the life, career, and legacy of Ella Fitzgerald. Thana, who is also a music teacher, gave a lot of enlightening details, like the fact that the Verve label was created to record Fitzgerald's music. She noted the fact that Ella was the first African American woman to win a Grammy Award, in 1958, and stated that every jazz singer has studied at "the school of Ella," because of Fitzgerald's numerous innovations and contributions. Thana continued with a performance of "It's Too Darn Hot" and "I've Got a Crush on You," which was from Ella's first solo album, Ella Sings Gershwin. Ira Gershwin has been quoted as saying, "I never knew how good our songs sounded until I heard Ella Fitzgerald sing them."
Elad Kabilio, celebrated Israeli cellist and curator of the series MusicTalks, was the host of the evening, and he provided fascinating historical tidbits that were interspersed throughout the concert. Kabilio discussed how Ella changed everything in music with scatting, which helped her to be like the other instruments in the band. Thana added, "Ella was the pioneer of scatting, and created the vocabulary of scat." She demonstrated, with saxophonist Éyal Hai, how a singer can imitate an instrument or respond in a true musical conversation. As a further example, the band played "It Don't Mean a Thing (If It Ain't Got That Swing"), one of the most famous scatting songs in jazz.
"You'll Have to Swing It (Mr. Paganini)" showed the audience the blending of scat and bebop, where the rhythms and compositions are more changeable, intricate, and complicated. Kabilio called the tune "everything you could want in one song." He also told the crowd about another pioneering move of Ella's. In 1939, she took over Chick Webb's band upon his death, one of the first black women to become a bandleader — practically unheard of at the time. They even renamed the group "Ella and Her Famous Orchestra." Thana interjected, "Her use of emotions, her use of scat, made her a pioneer, an interpreter, and made her respected as a musician and arranger for breaking down the dividing lines between singers and musicians." She praised Ella as a strong force in music. Thana dedicated "Sophisticated Ladies" to Ella and all the other female jazz vocalists through the years, and followed with "Our Love is Here to Stay" and "Satin Doll."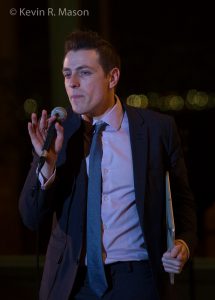 There was a discussion of Ella Fitzgerald's role in the Civil Rights Movement. Although Ms. Fitzgerald had achieved a certain level of success by the 1950s, there were still nightclubs that treated black musicians like second-class citizens, where the artists were required to use the service entrance, then leave the premises immediately after the gig. Even worse, many clubs wouldn't book black musicians under any circumstances. Thana recounted the story of how film star Marilyn Monroe stepped in and called the owner of a Hollywood nightclub and convinced him to book Fitzgerald by promising to take a front-row seat for every one of Ella's shows. The idea of the attention Monroe would garner was irresistible, and her gambit paid off. Ella was hired, and Marilyn was true to her word and showed up every night. Ella's very successful show helped to open doors for other musicians of color. There has been some confusion about the nightclub in question. Some sources say it was the Mocambo, but it has also been reported that it was really The Tiffany Club. In any event, wherever it happened, Ella was very appreciative of what Marilyn did, and years later was quoted as saying, "The press went overboard…after that, I never had to play a small jazz club again. She was an unusual woman – a little ahead of her times. And she didn't know it." Marilyn Monroe is commonly remembered as a scandal-plagued actress with a tragic end, but this lesser-known story shows a different side of her as a woman who was willing to stand up and use her celebrity for a good cause.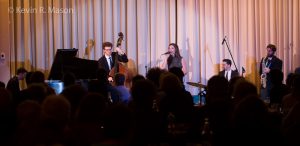 This was a wonderful concert in many ways. In addition to the excellent performances by all the musicians, many interesting and informative historical facts were seamlessly woven into the evening. The audience was riveted throughout the night.  Thana talked about the importance of audiences in the call and response and improvisation in a jazz concert, how the audience response can affect the energy in the room, and the band often plays off that energy. That interaction can influence how and what gets performed. The show ended with one of Ella's most iconic songs, "A-Tisket, A-Tasket," and the encore was an energetic "Mack the Knife." It was all a fitting tribute to the trailblazing and unforgettable Ella Fitzgerald, and it was definitely worth coming out on a cold winter night, the day after a blizzard!
On Stage at Kingsborough has upcoming performances, including Four Women: Nina, Lena, Abbey, & Billie, on Saturday, May 6, 2017. This concert celebrates the music of Nina Simone, Lena Horne, Abbey Lincoln, and Billie Holiday and tells how these extraordinary vocalists helped to change the face of musical storytelling. Singer Natalie Douglas, whose inspiring song interpretation and vocal styling have earned her appearances at Birdland, Carnegie Hall, and Club Carlyle, will pay tribute to the music of these four complex and fiercely talented artists, who each left her mark on the genre of jazz. For tickets or more information, go to www.OnStageAtKingsborough.org.