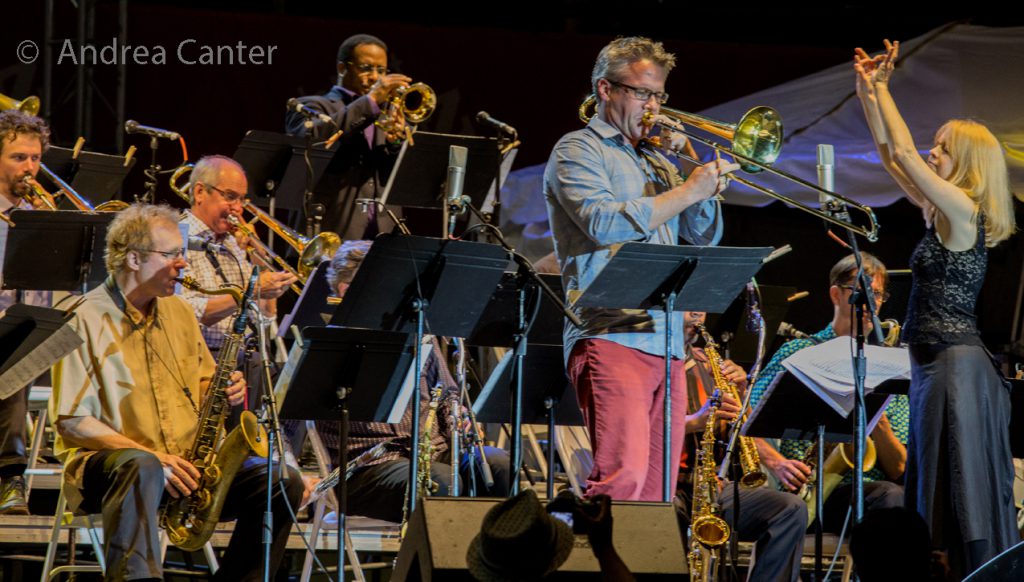 © Andrea Canter

"Maria Schneider is a national treasure." — National Public Radio
"Like Wayne Shorter, she somehow expresses compassion through tones." –The New York Times
From her days as a precocious child musician in a small town on the prairie to her current status as a critically acclaimed, Grammy-winning jazz icon in New York, Maria Schneider has always demonstrated a knack for improvising and creating. Most significantly, Schneider writes for and conducts what is arguably the top jazz orchestra of the modern era, an ensemble studded with artists who are highly regarded for their own projects.  Yet Maria also brings that talent for improvising and creating to other ensembles that invite her to serve as a guest conductor and arranger. Such will be on full display this Saturday night, April 8, when Windom native Schneider returns to the Twin Cities to lead a set with the JazzMN Orchestra at Hopkins High School Auditorium at 7:30 pm. Minnesota's leading professional jazz orchestra since 1999, Jazz MN will perform under the direction of Artistic Director Doug Snapp in the first half of the concert, including the premier of an Adam Meckler composition, Debbie Duncan's centennial salute to Ella Fitzgerald, and Cameron Kinghorn's memorial tribute to the late Al Jarreau.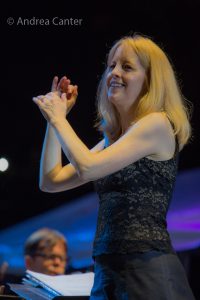 Maria Schneider
Born and raised in Windom, MN, young Maria Schneider was already studying piano and music theory at age five. For thirteen years, she studied with Evelyn Butler, a Chicago jazz pianist who had relocated to Windom; hearing Butler play stride piano captured the five-year-old's attention, and from that point on, she was hooked on music. "…It was almost like The Wizard of Oz, when everything changes into color," Schneider recalls. "I could almost see images floating above her as she played." Schneider enrolled at the University of Minnesota to study music theory, initially without any real sense of where her studies were going. An experience in her college dorm directed her more specifically toward jazz: "I was steeped in stride piano, but I hadn't heard any modern jazz—I thought jazz hadn't developed past the swing era," she says. "This kid heard me playing an old [Duke] Ellington record. He loaned me some jazz albums by people like Herbie Hancock, John Coltrane, and McCoy Tyner. I listened to those and my head started spinning." Her course was further steered by her studies with Dominick Argento (orchestration) and Paul Fetler (advanced counterpoint), who encouraged Schneider to compose for the university concert band. She also notes having an epiphany when seeing the Toshiko Akiyoshi Jazz Orchestra at Orchestra Hall in Minneapolis: "Here was jazz music being played on the stage of a concert hall by a huge band on tour. A light bulb went on that this could be a career for me, although it seemed impossible to make a living as a composer."
After completing her degree at the University of Minnesota and spending a semester at the University of Miami, Schneider enrolled at the Eastman School of Music in Rochester, New York, and was awarded master's degree in jazz writing and contemporary media in 1985. Moving to New York City, she received a National Endowment for the Arts (NEA) grant to study with composer/arranger/trombonist Bob Brookmeyer; yet, to make ends meet, she worked eight years as a music copyist, using calligraphy skills she learned from Argento at Minnesota. After a while she became a copyist and assistant for composer/arranger Gil Evans, a partnership that resulted in their collaboration on the music for the movie The Color of Money and Sting's 1987 European tour. After Evan's death in 1988, Maria began putting her own orchestra together, as well as conducting the Gil Evans Orchestra, which she led in a 1993 performance at the Spoleto Music Festival.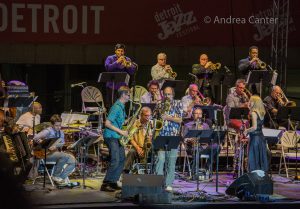 The Maria Schneider Jazz Orchestra was launched in 1993, and played weekly for five years at Visiones in Greenwich Village. Throughout the 90s, the MSO performed at festivals and halls throughout the world; Schneider received numerous commissions for compositions from major orchestra and jazz bands, including Jazz at Lincoln Center. She also received a grant from the Doris Duke Foundation to compose a work for dance in collaboration with Pilobolus, which was performed at the American Dance Festival at Kennedy Center. Throughout her career, Schneider has conducted and/or arranged for Ivan Lins, Toots Thielmans, John Faddis, Miles Davis, Wallace Roney, and David Sanborn, among others. She's even arranged for the rock group Phish.
Maria Schneider's recorded output has been greeted with rave reviews and a long list of awards: Her debut recording, Evanescence, received 1995 Grammy nominations for large ensemble and single instrumental composition.  Coming About (1996) and Allegresse (2000) both received Grammy nominations and Jazz Journalists Association Awards for composition and big band arranger. Allegresse received Time and Billboard Top Ten honors—which include all genres.  Then Hunter College (NYC) commissioned two compositions, "Concert in the Garden" and "Sky Blue."  While working on the first piece, the composer read Mexican Nobel Laureate poet Octavio Paz's poem, "Concert in the Garden." The poem evoked for Schneider memories of childhood in southwestern Minnesota and inspired her music. Naming the new composition (and album) Concert in the Garden, she noted that, "When I create a piece, I don't just sit down and write. Sometimes I'll write some music, and all of a sudden those musical ideas attach themselves to a memory from my life."
Concert in the Garden not only won CD of the Year at the Jazz Journalists Awards, but also the 2004 Downbeat Critic's Poll and Reader's Poll. Noted Gregory Robb of Jazz Improv, "Although music writers have rampaged to find the penultimate adjectives, there are not enough words in a single lexicon to adequately praise Concert in the Garden for its musicality. Maria Schneider has composed her way to a singular orchestral writing achievement." When Concert in the Garden won a Grammy in 2005 (Best Large Jazz Ensemble Album), it became the first Grammy winner available only on the Internet and the first production of the web collective ArtistShare. As a pioneer in this artist-run company which sells "shares" in production to the public, Schneider noted a new freedom for artists:  "When you're not in a record store, your music doesn't have to be categorized," Schneider says. "You can speak directly to the people who are attracted to your music."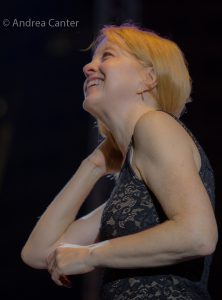 Through ArtistShare, in 2005 Schneider re-released the band's only live recording, distributed in 2000, Days of Wine and Roses: Live at Jazz Standard. Although her composition on that album, "Journey Home," was nominated for 2006 Grammy, Schneider asked that it be withdrawn since it had been previously released. But the next Grammy was not far behind. In 2007, Schneider released her next ArtistShare project, Sky Blue, the title track fulfilling the second Hunter College commission. And it was another composition, "Cerulean Skies" (commissioned by the New Crowned Hope Festival), that took Grammy honors. Most recently, Schneider's collaboration with her orchestra and the late David Bowie resulted in his single, "Sue (Or In A Season of Crime)," and brought her a 2016 Grammy for Best Arrangement, Instruments and Vocals. Schneider and her orchestra also received a 2016 Grammy for their latest work, The Thompson Fields (Best Large Jazz Ensemble Album). Thompson Fields was praised by The New York Times critic Nate Chinen as "an extravagant show of her strengths: precise, expressive harmony; ribbons of diaphanous texture; a rhythmic momentum that doesn't feel propulsive so much as wind-borne. Her new pieces, inspired by various ecological and personal epiphanies, stand alongside the best of her previous work, which is saying something."
Schneider's music blurs the lines between genres, making her long list of commissioners quite varied, stretching from Jazz at Lincoln Center to The Saint Paul Chamber Orchestra, to the collaboration with David Bowie.  In addition to the MSO's 12 Grammy nominations and 5 awards to date, she is among a small few to have received Grammy Awards in multiple genres, earning awards in both jazz and classical categories, as well as for her work with Bowie. (Her 2014 classical recording, Winter Morning Walks with soprano Dawn Upshaw and the St Paul Chamber Orchestra, received three Grammy awards.) In 2012, her alma mater, the University of Minnesota, presented Schneider with an honorary doctorate and, in 2014, ASCAP awarded her their esteemed Concert Music Award.
Schneider has become a strong voice for music advocacy; in 2014 she testified before the US Congressional Subcommittee on Intellectual Property about digital rights.  She has also appeared in CNN, and has been quoted in numerous publications for her views on Spotify, Pandora, digital rights, and music piracy.  Most recently, she and concerned colleagues in New York have launched a widespread campaign on behalf of music-makers, MusicAnswers.org.
JazzMN Orchestra, April 8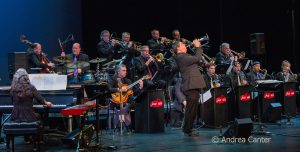 Although just in the Twin Cities with her orchestra at O'Shaughnessy in February, Maria in fact was booked first to conduct this final concert of the JazzMN season. Notes Artistic Director Doug Snapp, Maria's conducting is like "watching an artist paint landscapes of sound across the canvas." In addition to conducting the JazzMN Orchestra during the second half of the concert, Maria will host a pre-concert discussion of her music and the JazzMN program specifically, which will include works such as "Wyrgly" (Evanescence), "Coming About" (Coming About), and "Walking By Flashlight" (The Thompson Fields), spanning her compositional career. The free pre-concert discussion will begin at 4:00 p.m. in the Hopkins High School Auditorium.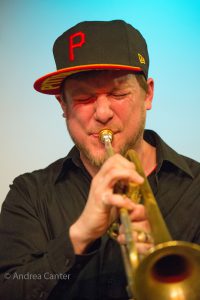 The first half of the April 8th program features the stellar JazzMN Orchestra under the direction of Doug Snapp. The program features the debut performance of "The Tao of Heavy D" composed by JazzMN trumpeter Adam Meckler; local vocal standout Debbie Duncan singing two tunes in celebration of the 100th birthday of Ella Fitzgerald; and trumpter/vocalist Cameron Kinghorn presenting a tribute to the late Al Jarreau. Tunes by Pat Metheny, Bill Holmen and Christian McBride round out the first set.
A final bonus for this JazzMN audience– Executive Director Steve Heckler will announce the coming JazzMN season, which he has promised will feature two headliner concerts (at Ordway and Chanhassan Dinner Theater) in addition to the traditional "home team" concert at Hopkins High School Auditorium. Season tickets will go on sale after this announcement.
Tickets are still available for the JazzMN Orchestra concert with Maria Schneider on April 8. Tickets: $33 – $31 (adults) and $18 – $10 (students) in advance; $37 – $35 (adults) and $20 – $10 (students) at the door. 800-595-4849 or jazzmn.org/tickets. Hopkins High School Auditorium is located at 2400 Lindberg Drive, Minnetonka.