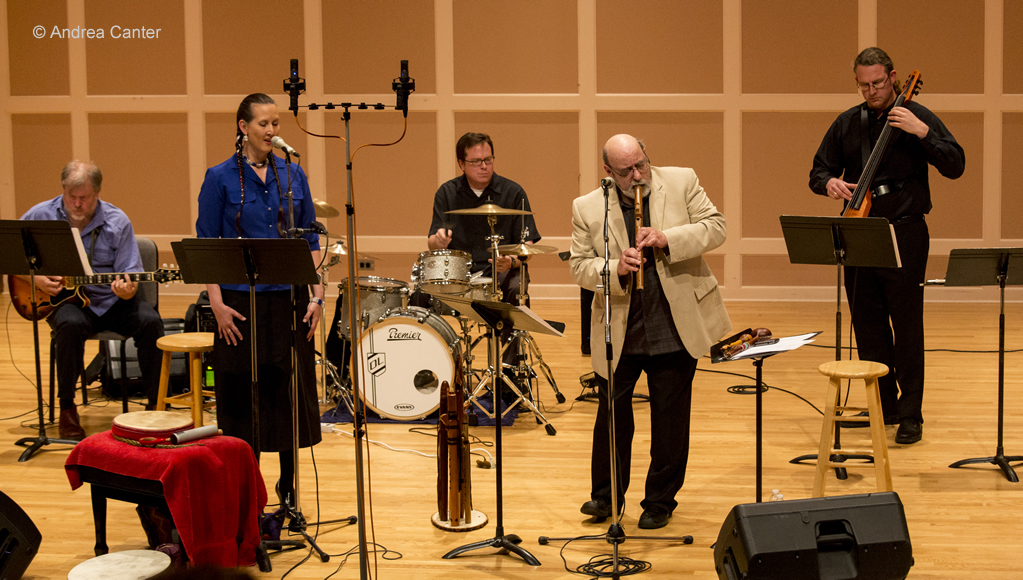 © Andrea Canter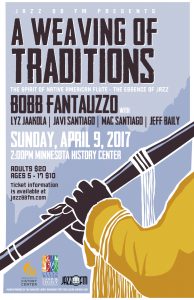 Before jazz became part of traditional American culture, Native American music was a thriving art form.  Bringing these styles together, KBEM Jazz 88 presents a reprise of  A Weaving of Traditions on Sunday, April 9, at 2 pm at the Minnesota History Center in downtown St Paul. Melding "the spirit of Native American flute with the essence of jazz," this program pays tribute to jazz musicians with Native American roots, including Miles Davis, Dizzy Gillespie, Charles Mingus, Thelonious Monk and others. One of the few individuals playing jazz on the Native American style flute, Bobb Fantauzzo also headed two earlier "Weaving of Traditions" concert in 2013 and 2016,  featuring Native musician Lyz Jaakola. Jaakola (traditional Anishinaabe vocals and percussion) returns to join Fantauzzo in this new performance, along with local jazz stars Javi Santiago (piano), Jeff Bailey (bass) and Mac Santiago (drums).
Jazz and Native American Music –Weaving of Traditions
There have been many connections among jazz and Native American music, particularly a number of jazz luminaries of Native ancestry in addition to Davis, Gillespie, Mingus and Monk –Dave Brubeck, Duke Ellington, Lena Horne, John Lewis, Doc Cheatham, Charles Lloyd, Jim Pepper, Oscar Pettiford, Frank Trumbauer, Don Pullen, Art Farmer, Joe Williams and influential rock guitarist Jimi Hendrix. A primary goal of the Weaving of Traditions projects is to pay tribute to both their music and their Native heritage. Legendary bassist (and Minnesota native) Oscar Pettiford contended that "the importance of the American Indian to jazz has been underestimated if not completely overlooked."  He also maintained "the 4/4 tempo …came directly from the American Indian; that, though it existed in European music, it was not used in the same way; and that African rhythms …were of very different rhythmic nature." Trombone great Jack Teagarden asserted that his music was influenced by "American Indian chants" he heard in his youth. And Duke Ellington's sister, Ruth, told Dave Brubeck, "All the credit's gone to the African for the wonderful rhythm in jazz, but I think a lot of it should go to the American Indian."
The Musicians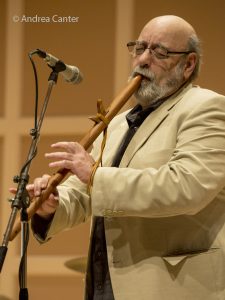 Bobb Fantauzzo (flutes and arrangements) discovered Native American flutes in 1998, and soon began blending the Native sound with American jazz. Bobb also performs with The Semi-Conductor Orchestra and The Intangibles, and serves as the facilitator of the Ten Thousand Lakes Flute Circle of the International Native American Flute Association (INAFA). He plays Chinese as well as Native American flutes. In addition his collaborative recordings (Explorations and Bounce of the Moon), he released Sirocco—Winds of Passion. Bobb has performed at the Twin Cities Jazz Festival, the International Native American Flute Association and the World Flute Society. His music has been heard on the Discovery Channel and in productions at the Guthrie, Pillsbury Theatre and History Theater.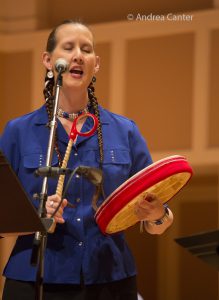 Elizabeth (Lyz) Jaakola (vocals) is a member of the Fond du Lac band of Lake Superior Ojibwe. After earning her degree in vocal performance, she taught at a tribal school as a music specialist before turning to a performing career. She's performed in the Rome Opera Festival, choral music at Carnegie Hall, in traditional ceremonies, and in jazz and blues settings at venues in northern Minnesota. After earning a Masters in Music from the University of Minnesota-Duluth, Lyz returned to teaching (music and Indian Studies) at Fond du Lac Tribal and Community College, building a repertoire of Native-based choral music and promoting Anishinaabe music. She performs with her blues band (Lyz Jaakola and the Smokin' Chimokes) and recording with various projects, including handdrum and youth choral ensembles.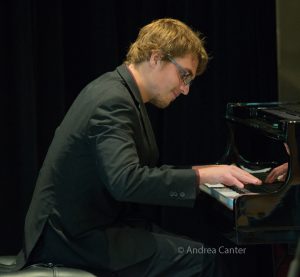 Javi Santiago (piano) is one of the area's most sought-after young lions for his prowess as pianist and composer. Studying piano from age 7, Javi was already active on the local jazz scene in his teens, playing with the Dakota Combo, Minnesota Youth Jazz Band, and several student ensembles. He was selected as the pianist for the prestigious Brubeck Fellowship program for his first two years of college studies, completing his degree at the New School for Jazz and Contemporary Music in Manhattan. After a few years on the New York scene, Javi returned to the Twin Cities where he has performed with both veterans and up-and-coming young artists at the Dakota, Icehouse, Jazz Central, Black Dog, Twin Cities Jazz Festival and more. He released an EP of original music last year, Year of the Horse.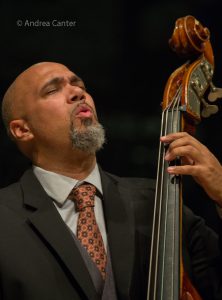 Jeff Bailey (bass) has performed in a wide variety of musical settings as a musician, composer, and producer. He has performed with world-renowned jazz artists Captain Jack McDuff, Craig Taborn, James Carter, Nachito Herrera, Eric Kamau Gravatt, Rodney Jones, Dave King, Brian Lynch, Wessel Anderson, Peruvian guitar master Andrés Prado, and James Moody. An eclectic talent, Jeff has also toured and performed with Keri Noble, Joey McIntyre (NKOTB), Tommy Barbarella (Prince), Charles Lazarus (Minnesota Orchestra), Reverend Billy Steele, Jennifer Kimball, Heather Headley, and Charley Drayton. He has also produced a Minnesota Music Award-winning CD for Alicia Wiley, receiving a Best of the Twin Cities Award as a founding member of Moveable Feast, and a Minnesota Music Award nomination for Bass Player of the Year. Locally, Jeff has performed with Doug Little, Mississippi, and Jeremy Walker's Atrium Jazz Ensemble since its first season. Currently he teaches at McNally Smith College of Music where he heads the Bass Department.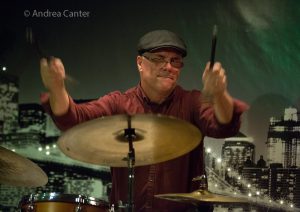 Javi's dad Mac Santiago (drums) is a familiar figure to Twin Cities jazz audiences as well as musicians. A native of California and son of the late percussionist Luis Santiago, he has been playing music professionally since age 16. After attending Sonoma State University for three years, he graduated from Idaho State University with a Bachelor of Music. He toured for a few years before moving to the Twin Cities in 1983. Over his career, Mac has played in just about every possible configuration and genre, from touring with British rock band Badfinger to playing with area jazz, salsa, country and R&B bands; he's performed in pit orchestras of the Guthrie and Minnesota Opera, with blues legend Mojo Buford, Grover Washington, Jr., Doc Severinsen, Dallas Brass, Savion Glover, Jack McDuff, Paul Bollenback, Dick Oatts and more. Mac has backed a long list of area vocalists and instrumentalists, and has directed community youth jazz groups. In 2010, Mac cofounded Jazz Central Studios in northeast Minneapolis, a nonprofit venue for teaching, recording, and performing, with live music at least five nights per week.
The production of A Weaving of Traditions is made possible through funding provided by the Minnesota Legacy Amendment Arts and Cultural Heritage Fund. The performance will be recorded for later broadcast, and will be made available to everyone through the station's "on demand" page of the website.
Tickets for A Weaving of Traditions are available ( $20 adults, $10 ages 5-17, $4 discount MNHS members) at http://www.mnhs.org/event/2323. The Minnesota History Center is located at 345 W. Kellogg on the west side of downtown St. Paul.