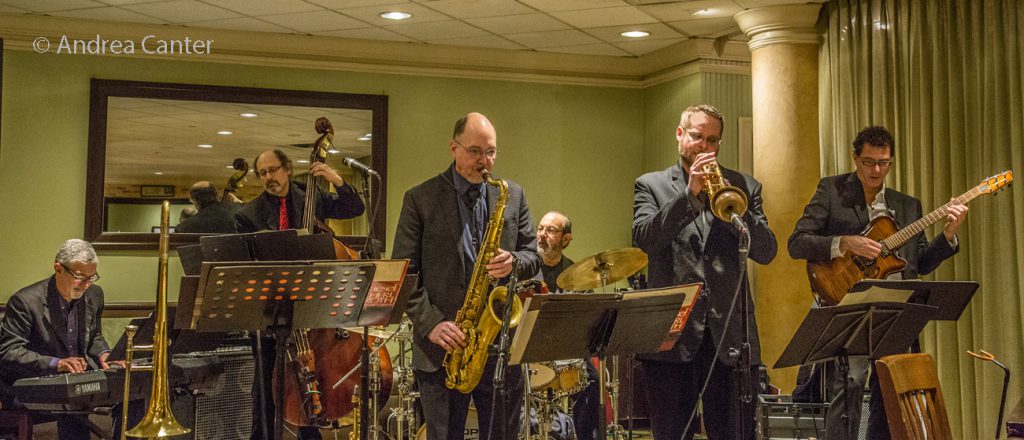 © Andrea Canter
There may or may not be any chocolate eggs rolling around the Black Dog in St Paul's Lowertown this weekend, but the double header of music on the Saturday Night Jazz at the Black Dog series should satisfy any cravings for modern, accessible jazz performed by established veterans and younger veterans. The Aaron Hedenstrom Trio leads off the night at 7 pm, followed in "prime time" by the star-bright septet, Peter Kogan's Monsterful Wonderband.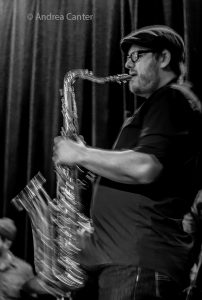 Aaron Hedenstrom Trio (7:00 pm)
Born in Lesotho (Africa) and raised in the Twin Cities, saxophonist Aaron Hedenstrom cut his teeth in the Minnesota Institute for Talented Youth and Minnesota Youth Jazz Band. Aaron went on to attend the jazz program at the University of Wisconsin-Eau Claire, performing in the pop/rock band Underdub and with the John Raymond Project.  After graduation, Aaron enrolled in the master's degree and then the doctoral programs at the University of North Texas, serving as a Teaching Fellow, performing in the famed One O'Clock Lab Band, and accumulating a long list of Downbeat Student Awards.  He also performed as a freelancer in the Dallas/Fort Worth Metro area before returning to the Twin Cities in 2015.
Aaron has released two recordings to date: A Symphonic Jazz Hip Hop Experience was the tantalizing title of his debut recording with his Aaron Hedenstrom Orchestra, released in 2010, bringing together a long list of young area musicians. Supported through a successful Kickstarter campaign, he released A Moment of Clarity on Shifting Paradigm Records in 2014. He has performed at top-tier music venues and festivals nationwide including the Dakota Jazz Club, Snug Harbor, Scat Jazz Lounge, Next Generation Jazz Festival, and the Eau Claire Jazz Festivals. He performed at the 2017 Winter Jazz Festival (St Paul) and has led his trio and quintet at Reverie, Jazz Central and the Black Dog.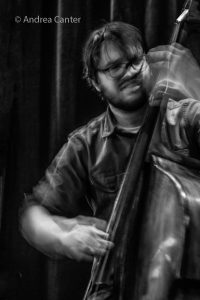 Bassist, composer, and teaching artist Kameron L. Markworth is a graduate of Indiana University, Augsburg College, and McNally Smith College of Music, currently teaching Jazz History at Augsburg. He previously served as an Associate Instructor at Indiana University in the Jazz Studies department under the direction of the late Dr. David N. Baker. As a performer, Kameron has supported artists in diverse genres across North America and has appeared on stage alongside John Swana, Jamey Aebersold, Steve Houghton, Corey Christiansen, Pat Harbison, Mike Hackett, and Luke Gillespie. He's appeared at the Black Dog with Paul Harper's Bardo Quartet and Steve Kenny's Central Standard Time, and at Reverie with the Lars-Erik Larson Trio.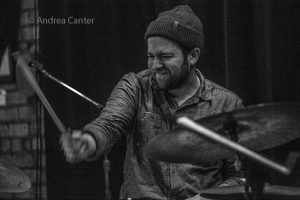 Lars-Erik Larson is a drummer and composer based in St. Paul. Larson earned his Master's Degree in Jazz Studies from the University of Illinois (Champaign-Urbana), where he studied with renowned drummer Dana Hall. After completing his degree in 2012, he moved to the Twin Cities where he has played with many local bands, including the No Coast Quintet, Zacc Harris Trio, the Thomas Nordlund Group, Bryan Nichols Trio and more. About two years ago, he opened an evening at the Black Dog with the debut of Ramtrack, a trio with guitarist Nordlund and trumpeter Jake Baldwin. Lars maybe best known as the leader of  Mancrush, with Bryan Nichols, Brandon Wozniak, and Zacc Harris. Mancrush released its first album this spring, Authentic Midwestern, boasting Larson's penchant for melding the influences of folk music and modern minimalism with 21st century jazz improvisation.
Monsterful Wonderband (8:30 pm)
Drummer Peter Kogan leads the headline set with his Monsterful Wonderband septet. His cohorts include Scott Agster (trombone), Pete Whitman (saxophones), Jake Baldwin (trumpet), Chris Olson (guitar), Sean Turner (piano), and Jeff Bailey (bass), playing a repertoire of standards and original compositions.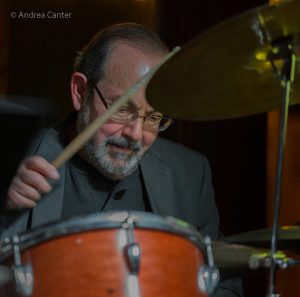 From the Minnesota Orchestra percussion section to jazz venues throughout the Twin Cities, timpanist/drummer Peter Kogan has emerged as a force to be reckoned with on the local jazz scene. After retiring as principal timpanist from the MO, Kogan has led several jazz ensembles, including his quartet and his septet, Monsterful Wonderband. Peter's background includes college studies at Julliard and the Cleveland Institute of Music, as well as a career largely spent in classical orchestras. However, he also backed Blues legends Lightnin' Hopkins, Honey-Boy Edwards, and Jimmy Witherspoon, and Rock & Roll legend Bo Diddley, as well as such groups as the Drifters and the Crystals. He also performed with the Larry Elgart Big Band and wrote for and performed with the fusion band, Scratch n' Sniff. Peter's Monsterful Wonderband performed  at the 2017 Winter Jazz Festival in St. Paul.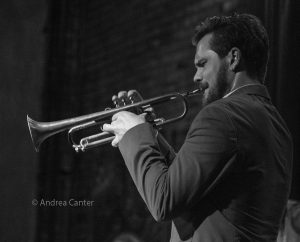 A 2009 graduate of Minnetonka High School and alum of the second and third editions of the Dakota Combo (2007-09), trumpeter Jake Baldwin studied with Jerry Bergonzi, Bob Moses, John McNeil, Joe Morris and Fred Hersch at the New England Conservatory. He was one of three finalists in the 2011 International Trumpet Guild Solo Competition; a year later he was runner-up in the jazz division of the National Trumpet Competition. After graduating from NEC in 2013, Jake moved back to the Twin Cities, where he has played in a number of bands including the Twin Cities Latin Jazz Orchestra, Thomas Nordlund Group, Endeavors, Cory Healey's Beautiful Sunshine Band, Ramtrack, McNasty Brass Band, Minnesota Hard Bop Collective, No Territory Band, and Har Mar Superstar. About two years ago, Jake released his first album as leader, Ra Ra Ru.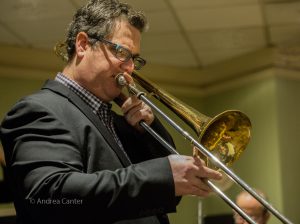 Once a student of Tiny Baker, trombonist Scott Agster is an alum of the famed University of North Texas One O'Clock Lab Band who furthered his studies at the U of M, where he recently completed his DMA degree. His eclectic chops have been featured with the Glenn Miller Orchestra and Dallas Jazz Orchestra, and locally with Snowblind, Salsa del Soul, Jack Brass Band, hip hop group G8, and the Bella Gala Big Band; with Doug Haining he co-leads the Explosion Big Band that performs monthly at Jazz Central Studios. A veteran of international jazz festivals, Scott has performed with Slide Hampton, Nicholas Payton, Phil Woods, Benny Golson, Dave Douglas and more. Scott was also a founding member and arranger for the Vector Trombone Quartet, which was a finalist in the International Trombone Association Quartet Competition in Helsinki, Finland in 2003. Scott is currently active as a clinician on low brass techniques and improvisation, serving as Assistant Director of Ensembles at the McNally Smith College of Music.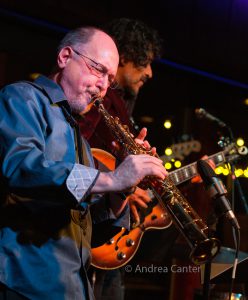 After launching his career in Kansas City, saxophonist Pete Whitman moved on to jazz studies at North Texas State University. He toured internationally with the Glenn Miller Orchestra before moving to the Twin Cities in 1988. Pete's credits on tenor, alto, soprano and flute include performing with Randy Brecker, Jack McDuff, the Woody Herman Orchestra,, Michael Feinstein, Debbie Boone, Rosemary Clooney, Barbara Dennerlein, Lavay Smith & Her Red Hot Skillet Lickers, Dave Stryker, Curtis Fuller and Andres Prado. In addition to leading his X-Tet and smaller ensembles in the Twin Cities, Pete works regularly with the Jazz MN Orchestra Laura and Mississippi. A dedicated educator, Whitman heads the Woodwind and Brass Department at St. Paul's McNally Smith College of Music, teaching saxophone, improvisation, and arranging, and leading the McNally Smith X-Tet.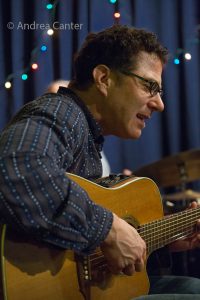 Guitarist Chris Olson is a dedicated jazz educator as well as performer. Since earning a master's degree in jazz studies/performance from the University of North Texas, he's taught guitar, jazz history and improvisation as well as directing jazz ensembles at UW-Stevens Point (where he earned his undergraduate degree), Wausau Conservatory of Music, UW-Marathon County, and Inver Hills Community College. Currently on the guitar faculty at McNally/Smith College in St. Paul, he also teaches guitar lessons and jazz combos at the MacPhail Center for Music and summer programs at the Shell Lake (WI) Arts Center; he also serves on the Board of the Minnesota Guitar Society. Chris has performed with Bob Mintzer, Louis Bellson, Terry Gibbs, Ira Sullivan, and Bobby Vinton, and has appeared frequently with the JazzMN Orchestra and at the Black Dog, heading his monthly "Chris Olson Project. Chris a founding member of the trio Framework, and has been heard recently in duo with pianist/vocalist Laura Caviani.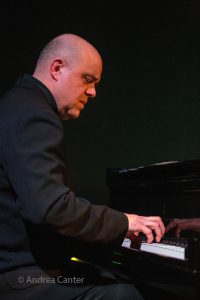 Pianist Sean Turner is also a composer, vocalist, and educator.  His compositions and orchestrations have been utilized by Sony, Oprah, E! Entertainment, MTV, Lifetime Network, Discovery Channel, The CW Network, Target, and Success Magazine, among many others. He has also written and produced three recordings, one of which earned a Parents' Choice Award for children's music, and has authored two instructional texts. Sean heads the Keyboard Department at McNally Smith College of Music and serves as Coordinator of Contemporary Worship and Music at Incarnation Lutheran Church. On the local jazz scene, Sean has performed with his trio at the Dunsmore Room in Crooners Lounge and has worked with vocalists Bruce Henry, Ginger Commodore, Patty Peterson, and Jana Nyberg.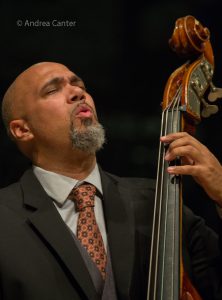 Jeff Bailey (bass) has performed in a wide variety of musical settings as a musician, composer, and producer. He has performed with world-renowned jazz artists Captain Jack McDuff, Craig Taborn, James Carter, Nachito Herrera, Eric Kamau Gravatt, Rodney Jones, Dave King, Brian Lynch, Wessel Anderson, Peruvian guitar master Andrés Prado, and James Moody. An eclectic talent, Jeff has also toured and performed with Keri Noble, Joey McIntyre (NKOTB), Tommy Barbarella (Prince), Charles Lazarus (Minnesota Orchestra), Reverend Billy Steele, Jennifer Kimball, Heather Headley, and Charley Drayton. He has also produced a Minnesota Music Award-winning CD for Alicia Wiley, receiving a Best of the Twin Cities Award as a founding member of Moveable Feast, and a Minnesota Music Award nomination for Bass Player of the Year. Locally, Jeff has performed with Doug Little, Mississippi, Bobb Fantauzzo's Weaving of Traditions, and Jeremy Walker's Atrium Jazz Ensemble since its first season. Currently he teaches at McNally Smith College of Music where he heads the Bass Department.
Saturday Night Jazz at the Black Dog is now in its third season of weekly jazz double-headers, curated by Steve Kenny. The Black Dog is located in the Northern Warehouse at 308 E. Prince Street (St Paul). No cover but tips ($10 suggested) are appreciated to support the series and musicians. Saturday night calendar at www.saturdaynightjazzattheblackdog.info