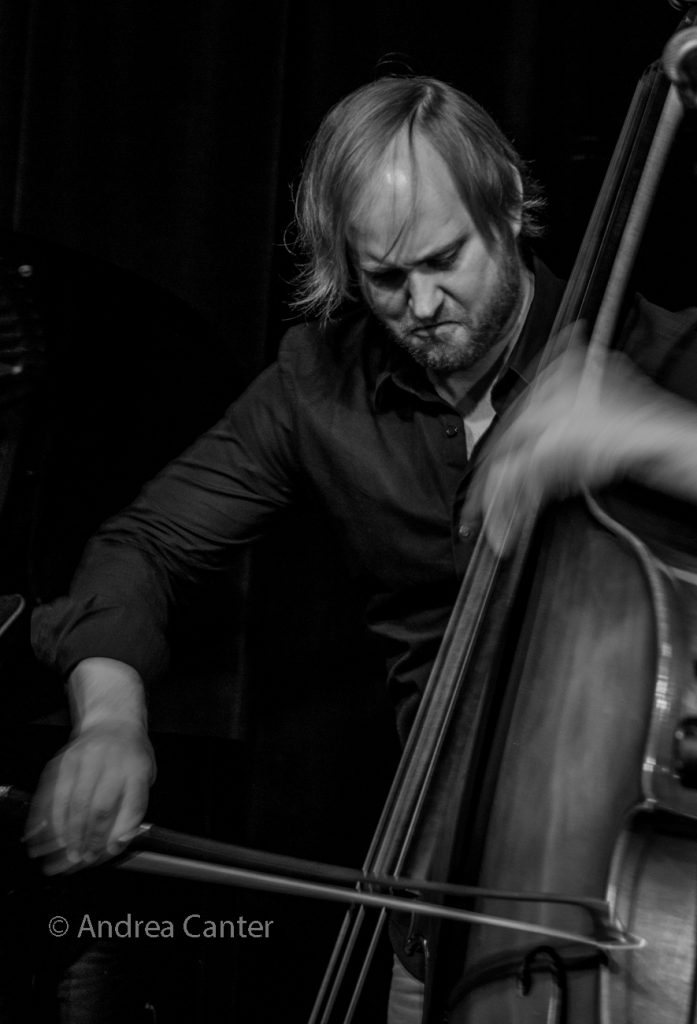 © Andrea Canter
One of the hottest young jazz talents in the Twin Cities during the first part of the 00s, bassist Michael O'Brien relocated to New York about 10 years ago where he has built an enviable reputation. Fortunately he returns "home" now and then to reconnect with old pals. This week, we have two opportunities to hear Michael– on the Thursday Night Jazz at Reverie series (April 27, 9 pm), leading a quartet (with Steve Kenny, Zacc Harris and Greg Schutte), and in the Dunsmore Room at Crooners Lounge on Tuesday, May 2 (7 pm), leading his Triage trio with Chris Lomheim and Jay Epstein.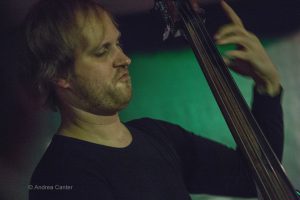 A native Minnesotan, Michael O'Brien earned a BA in Spanish at the University of Minnesota, studied bass with Anthony Cox, and West African and Haitian percussion with Marc Anderson. He taught at the West Bank School of Music and MusicTech (McNally Smith College) and was an artist-in-residence for the Minneapolis Public Schools. In addition to leading his own ensembles, Michael has composed for or played with Harry Connick, Jr., Reuben Blades, the Merce Cunningham Dance Company, Gene Pitney, David Samuels, Dave King, Matt Wilson, Wessel Anderson, David Binney, The Jazz Mandolin Project, Christian Howes, Ari Hoenig, Paul Bollenback, Assaf Kehati, Daniela Schachter, ETHEL and more. During return visits to Minnesota, Michael has appeared with Jeremy Walker, Kelly Rossum, Joel Shapira, and in his Minnesota trio, Triage, with Chris Lomheim and Jay Epstein. Michael recently toured in Russia, Norway, and Haiti, and recorded with the Kyoko Oobe Quartet.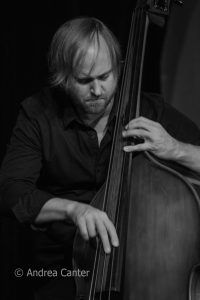 On his 2012 release, Tunes I Like to Play, O'Brien created a unique approach—putting the upright bass in the role of the horn, leading the melody with long flowing lines, mostly saving the punctuations of pizzicato for improvised solos and, only occasionally, walking in a supportive role. He also uses the bow as a major solo voice. "I've always felt that it is a unique color and voice in jazz relating to the 'violin' aspect of the bass violin," said Michael. "In the last few years I've been traveling internationally and garnering attention from audiences from my arco playing. That led me to the inspiration to make this record. I had never thought of highlighting that aspect of my playing before. I had always been focused on my composing."
Michael's recent Twin Cities performances have included Joel Shapira's Convergence Trio, the Nathan Hanson Group, Kelly Rossum Quartet, duets with Jeremy Walker and Bryan Nichols, and with his own Triage trio.
Thursday Night Jazz at Reverie takes place at 1931 Nicollet Av South, just south of downtown Minneapolis. No cover but donations ($10 suggested) appreciated to support the series and musicians. Series schedule at www.thursdaynightjazzatreverie.info. The Dunsmore Room at Crooners Lounge is located at 6161 NE Highway 65 (Central Av NE) in Fridley, just north of I-694 and about 15 minutes north of downtown Minneapolis. Reservations at www.croonersloungemn.com; tickets $10 (dinner show $35).