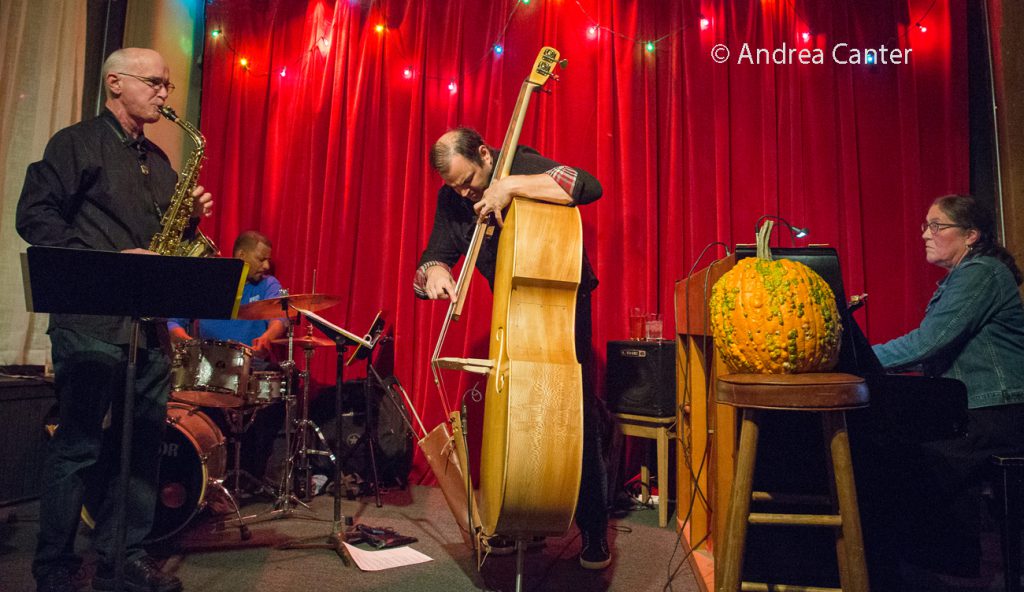 © Jon Morgan
Ed. note: Occasionally, Saturday Night Jazz at the Black Dog presents a national touring artist. Ben Allison brought his trio to town a few months ago in conjunction with some workshops at McNally Smith College of Music. Now, thanks to a short residency with the Roseville Area High School jazz program, curator Steve Kenny is able to present renowned pianist Angelica Sanchez in the headline slot on Saturday, May 20 (8:30 pm), with local cohorts Chris Bates and Pete Henning. Roseville's band director Pat Moriarty and wife Ellen Lease will open the night with their Lease-Moriarty Quartet, also featuring Bates and Hennig (7 pm).
Before DownBeat magazine rebranded their annual Readers/Critics Poll a few years back, what currently constitutes the "Rising Star" was known as "Talent Deserving Wider Recognition." This begs the question, how long exactly must a musician be a rising star to move on to the next rung?, as the poll often lists grizzled veterans with dozens of recording sessions under their belts alongside young lions fresh off their recording debuts. In the meantime, New York City is full of musicians of the caliber of pianist Angelica Sanchez who, despite over two decades of performing and recording with some of the city's best improvisers, receives little fanfare beyond consistent critical praise following each new release.
Since moving to New York in 1995, the Arizona-born Sanchez's recording output as a leader has been fairly modest, with only a half dozen titles under her name. However, the quality of these recordings is consistently exemplary. Sanchez will be visiting the Twin Cities this weekend on the heels of her brand new trio recording, Float the Edge, on Clean Feed records, which captures a studio session in the company of Michael Formanek's rugged bass work and the relentless onslaught of Tyshawn Sorey drums. Reflecting the pianistic approach of the leader, the open-ended compositional sketches serve as a means to set a mood and quickly depart into spirited and wily improvisations, alternating between darker hued melancholy and hauntingly reflective beauty. Sanchez is equally skilled at conveying moments of tender lyricism utilizing a melodic fragment or serving up jaunting, jagged multi-directional lines of her trio-mates' churning and chattering textural support.
Since releasing her debut as a leader, 2001's Mirror Me on Omnitone Records, which finds her fronting a quartet of Formanek, saxophonist Tony Malaby and drummer Tom Rainey; Sanchez has appeared on just short of 20 recordings. In addition to a few sessions in a collective with Malaby and Rainey, Sanchez would make notable contributions to Chicago Underground's drummer Chad Taylor's side project Circle Down on 482 Music, saxophonist Matt Bauder's Day In Pictures on Clean Feed, trumpeter Rob Mazurek's Pulsar Quartet on Delmark Records, and drummer Harris Eisenstadt's September Trio on Clean Feed.
However, Sanchez truly served notice that she was a new piano voice that demanded to be heard on 2010's solo recording A Little House on Clean Feed. What this recording provides is a glimpse into the pianist's modus operandi, a fine balance between control and chaos, picturesque verses dissonant, ruminative against extroverted. In short, Sanchez is a Both/And thinking type of improviser, and this is captured beautifully in this session, perhaps best exemplified on the pieces where she plays a grand piano and toy piano simultaneously to startling effect.
Equally rewarding is 2013's co-lead date with master trumpeter Wadada Leo Smith on Twine Forest on Clean Feed. Both Smith and Sanchez are capable of allowing their music to breath, incorporating a natural sense of space and silence in their improvisations, which heightens the dynamics, so it should come as little surprise that this is a compatible duo. For the most part, Sanchez allows Smith to lead the proceedings, sounding perfectly content to offer intriguing shadings or changing the hue ever so slightly with her responses to the trumpeters call. A reoccurring theme amongst Sanchez's recordings is the sense that she is more concerned with contributing to the overall whole of the music rather than appearing concerned with the traditional dynamic of soloist and rhythm section.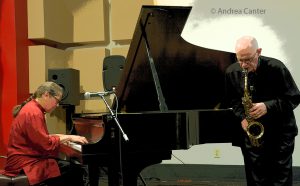 On Friday, May 19, Sanchez will perform with the Roseville Area High School Big Band under the leadership of saxophonist/teacher Pat Moriarty, where she has been commissioned to write a piece for the ensemble. The following evening, Saturday, May 20, Sanchez will be appearing at the Black Dog with two of the Twin Cities' best improvisers, bassist Chris Bates and drummer Pete Hennig. Hopefully these two performances will bring Sanchez wider recognition in the Midwest, and will help offset the fact that she is criminally underrated.
The Black Dog is located at 308 E. Prince Street (at E. 4th Street and Broadway), in the street level of the Northern Warehouse in St Paul's Lowertown. Information, reservations, and music calendar at www.saturdaynightjazzattheblackdog.info