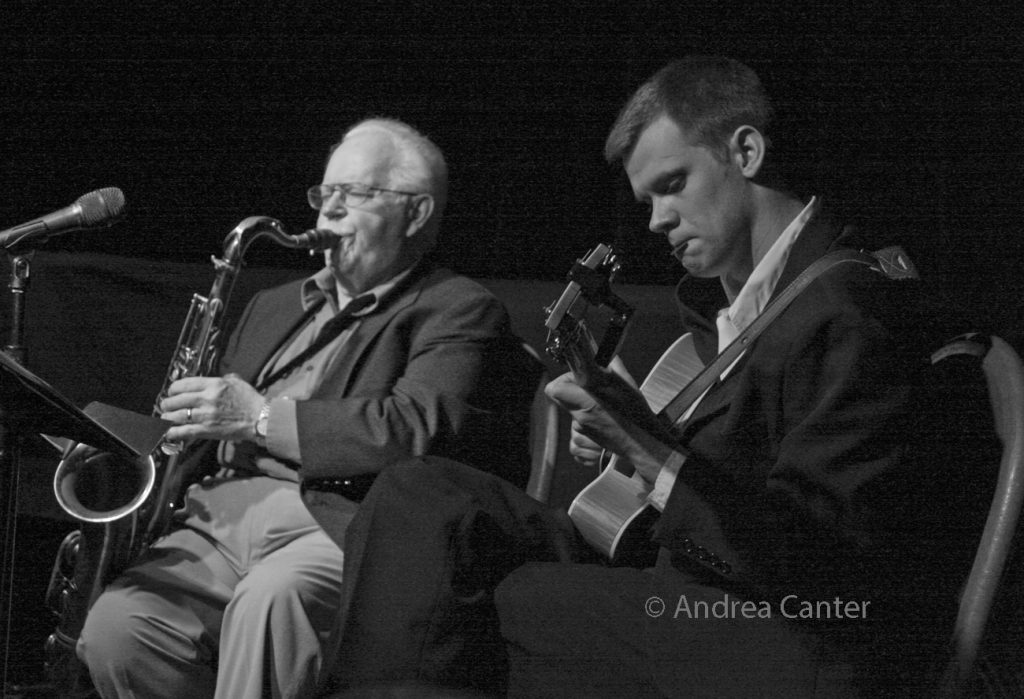 © Andrea Canter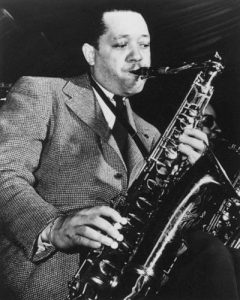 They've performed as a duo and now guitarist Sam Miltich and saxophonist Dave Karr head a quartet (with Chris Bates and Jay Epstein) in celebration of the music of Lester Young, on May 28 (7 pm) in the Dunsmore Room of Crooner's Lounge. Lester Young was one of the true jazz giants, a tenor saxophonist who came up with a completely different conception in which to play his horn, floating over bar lines with a light tone rather than adopting Coleman Hawkins' then-dominant forceful approach. A non-conformist, Young (nicknamed "Pres" by Billie Holiday) had the ironic experience in the 1950s of hearing many young tenors try to sound exactly like him.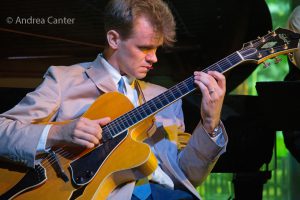 Music, like the surrounding forests of Northern Minnesota, was just a normal part of family life for young Sam Miltich. Dad Matthew Miltich taught English at the area community college and played electric bass. At age 7, Sam discovered an Erroll Garner recording in the family collection and commandeered it, declaring Garner to be a "genius." Soon he was learning to play piano, but a fire that destroyed the family home forced him to find another outlet. At age thirteen he picked up the guitar and taught himself to play bluegrass and folk. His life-defining moment came at fifteen, watching the Woody Allen film Sweet and Lowdown about the life and music of Django Reinhardt. The music for him was magic, "the fire and passion, the East European country sound….Everything I loved rolled into one," he noted in an interview on National Public Radio. Sam ordered instructional videos by Paul Meiling and began intense study on his own, practicing eight hours per day. Seeking a playing partner, he convinced his father to switch to upright bass. And seeking more in-depth instruction, he convinced his father to drive cross country for a lesson with Meiling, who invited the teenager to sit in with the famed Hot Club of San Francisco.  He began touring with the Robin Nolan Trio when he was 18; toured for two years with the Hot Club of San Francisco, and founded the Clearwater Hot Club in 2003. In 2010, he launched the Big Dipper Jazz Band, a six-piece traditional ensemble.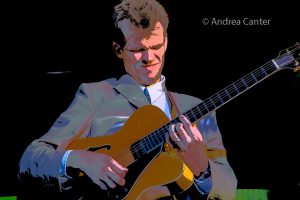 Sam's interests extend to Brazilian choro, French musette, Eastern European tamburitza, and other forms of traditional folk music, a bit of blue grass, but mastering gypsy jazz is his mission. "It's so hard…I have to practice and listen all the time… but it is my favorite music so it doesn't bother me that I am doing that." In addition to touring with the Hot Club of San Francisco, Sam has played in Holland, Germany and Japan; toured with David Grisman and the Stephane Wremble Trio; played at the Lincoln Center in New York City in a concert honoring Django with international musicians; and has shared the stage and bill with the Ferre' Brothers, Angelo DeBarre, Dorado Schmitt, Fapy Lafertin, Ludovic Beier, Samson Schmitt, and Ken Peplowski. His recent musical collaborators, in addition to the Clearwater Hot Club, have included popular vocalist Charmin Michelle, mandolin virtuoso Peter Ostroushko, legendary Twin Cities saxophonist Dave Karr, jazz and classical guitarist Joan Griffith, and Dutch jazz violinist Tim Kliphuis.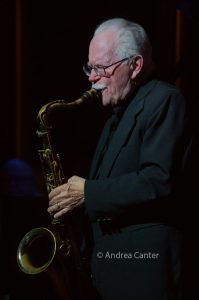 A native Canadian who emigrated to England in early childhood before landing in New York City, Dave Karr got hooked on jazz by listening to some of the great jazz legends, including Charlie Parker and Dizzy Gillespie. Moving to the Twin Cities in his twenties, Karr has been a fixture on the Twin Cities jazz scene for more than 60 years, composing and producing music for radio and TV since 1970. With Mark Henderson, he formed Mark & Dave Music and Sound Design in 1996. Karr has performed with numerous bands, symphony orchestras, Broadway shows, and recording sessions. Around town Dave has performed frequently with his own quartet and backing other musicians at the Dakota, Artists Quarter and other venues, ranging from vocalists (Connie Evingson, Lucia Newell) to small bands (Pete Whitman's X-Tet) to big bands (Jazz Mn Orchestra, Andrew Walesch Big Band). Most often heard on tenor, flute, and clarinet, Karr also breaks out the baritone on occasion. Among highlights of the last few years, Dave received a McKnight Grant, headlined a Jazz at Studio Z clinic and concert, led a trio with Adam Linz and JT Bates at the Icehouse, headed two quartet nights in the Dunsmore Room, appeared on KBEM's Legends of Jazz: The Elders (2016), and has performed frequently with vocalist Connie Evingson in her Jazz in the Lounge and Jazz at the Jungle series.
Sam and Dave released a recording of duets, Darn That Dream, in 2009.
The Dunsmore Room at Crooners Lounge is located at 6161 NE Highway 65 (Central Av) in Fridley, just north of I-694 and about 15 minutes north of downtown Minneapolis. Tickets $10 (dinner show available $35) at www.croonersloungemn.com.