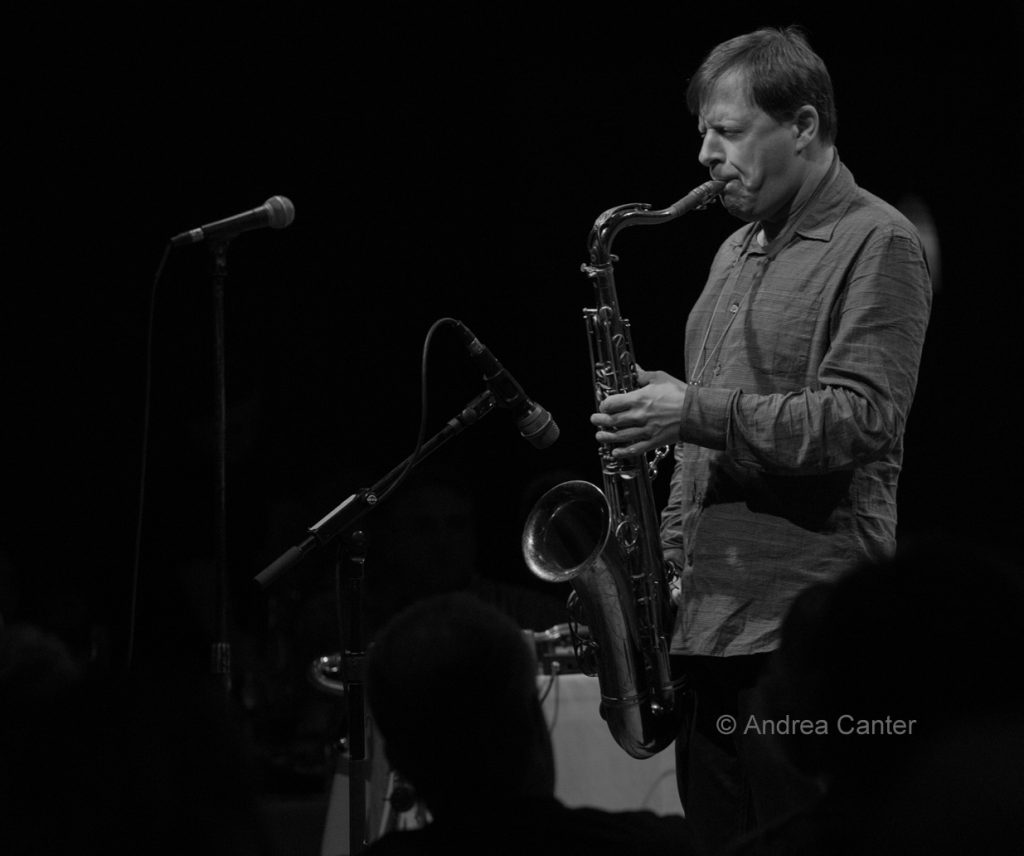 © Andrea Canter
"The Dreamer Is the Dream is a testament to Potter's composing as much as to his multi-reed instrumentality. He penned each of the compositions here and they all speak to a deeper sense of mortality, portrayed through lyricism and emotive performances. Potter's responsiveness as a leader shines through in the beautifully orchestrated work of this quartet. One of Potter's best to date." — Karl Ackerman, All About Jazz
"I try to keep in mind that the primary value of jazz is its aesthetic of surprise, not only for the audience but for the artist. It's the art of making it up as you go along, taking advantage of happy accidents and finding the story to unfold on the way. That's when the magic happens." –Chris Potter
Winner of the IAJE Young Talent award for saxophone at age 12, a protégé of Marian McPartland by 15, a member of the Red Rodney band while still in his teens, piling up recordings as both leader and sideman while still in his 20s, and now regarded as one of the biggest guns in modern jazz saxophone, Chris Potter is one prodigy who has lived up to his early billing. Most recently in the town for the 2015 Twin Cities Jazz Festival, Potter returns to the Dakota on May 31 with his new quartet (David Virelles, Joe Martin and Marcus Gilmore) and new ECM release, The Dreamer Is the Dream.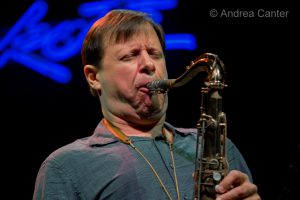 Chris Potter
Born in Chicago and raised in Columbia, South Carolina, Chris Potter was introduced to music early, first studying piano and then switching to the saxophone after hearing Paul Desmond's "Take Five." He studied jazz and played in the University of South Carolina band as a middle school and high school student. Named by Down Beat Magazine as the top high school jazz instrumentalist at 18, he then moved to New York, first studying with Kenny Werner at the New School for Social Research and later enrolling at the Manhattan School of Music. In 1991 he was a finalist in the Thelonious Monk Tenor Sax competition, along with Eric Alexander and winner Joshua Redman. Over the next few years Potter recorded his first sessions as a leader, with Criss Cross and particularly with Concord; he was in high demand as a sideman and would appear on as many as 20 recordings a year, including a live date at Maybeck with mentor Kenny Werner. Throughout the late 1980s and 1990s, he toured and recorded with Jim Hall, Ray Brown, James Moody, Steve Swallow, Larry Carlton, Paul Motian and Steely Dan, among many others.  In 1998, he not only launched his first quartet with bassist Scott Colley, but fortuitously joined ensembles led by Dave Holland and Dave Douglas. Potter's career continued its steep trajectory into the new Millennium, including a 1999 Grammy nomination for his tenor solo "In Vogue" (on Joanne Brackeen's Pink Elephant Magic), and winning Denmark's 2000 Jazzpar prize as its youngest-ever recipient. Potter's acclaimed 2004 release, Lift—Live at the Village Vanguard (Sunnyside), featured then-working quartet of Kevin Hays (keyboards), Scott Colley (bass), and Bill Stewart (drums).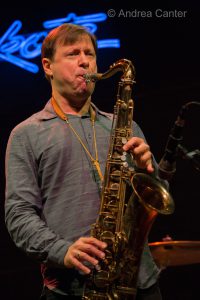 With his long-running Underground, however, Potter initially excluded the bass, pairing guitarist Wayne Krantz and Fender Rhodes ace Craig Taborn with drummer Nate Smith. Potter's noted that his goal for Underground was to draw upon "funk rhythmic language" while keeping the music "as free as the freest jazz conception…a big inspiration for this has been Wayne Shorter's quartet [featuring Danilo Perez, John Patitucci, and Brian Blade], where you have themes that [delineate] a particular tune but basically it's spontaneous group composition." Nate Chinen (Jazz Times) described the 2006 debut of Underground as "an aggressive but consonant progressivism, often but not always rock-infused." Underground continued for more than a decade, with Adam Rogers replacing Krantz and, more recently, bassist Fima Ephron replacing Taborn. The quartet followed their eponymous debut with Follow the Red Line (2007), the same year Potter released Song for Anyone with a larger ensemble, adding strings and woodwinds, and dedicated to the late Michael Brecker. Underground returned in 2009 with Ultrahang.
Most recently, Potter has ventured in new directions, making his acclaimed ECM debut in 2013 with Sirens, a set of compositions based on The Odyssey, with  two keyboards (Craig Taborn on piano, David Virelles on prepared piano, celeste, harmonium), along with Larry Grenadier (double-bass) and Eric Harland (drums). In January 2015, Potter released what might be his most ambitious project to date with Imaginary Cities (ECM), an expansion of the Underground quartet (Taborn, Rogers and Smith) as the Underground Orchestra, adding two bassists, a string quartet, and long-time cohort with the Holland Quintet, vibraphonist Steve Nelson. An extended suite, Imaginary Cities at times evokes one of Potter's critical sources of inspiration, Charlie Parker With Strings, as well as traditional themes from India and the Middle East.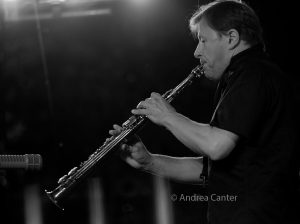 Perhaps best known for his Underground ensembles and his outstanding collaborations with Dave Holland, Potter's new quartet and ECM release (Dreamer Is the Dream) might prove to be his best work yet. His style has always been his own, with some echoes of Sonny Rollins and self-identified influences of Coltrane, Parker, Shorter, and Ornette Coleman.  His work with his new quartet in particular speaks volumes about his virtuosity on a variety of reeds (six on this album!) and his individuality as a composer. Yet, he's only 46. We can only imagine where he might be in another decade or two.
Dreamer Is the Dream: New Quartet
Chris Potter has always engaged top-flight musicians, and his new quartet offers three of the strongest sidemen one could wish for: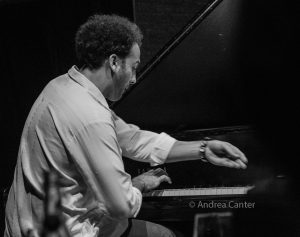 Cuban native David Virelles was named "#1 Rising Star" in the Piano category in DownBeat Magazine's Critics Poll in 2015.  Exposed to rich Cuban music traditions in a musical family, he started studying music at age 7. A meeting with Canadian reed player Jane Bunnett led to studies at the University of Toronto and touring with Bunnett and her Spirits of Havana. He later moved to New York to study with Henry Threadgill. The first recipient of the Oscar Peterson Award, Brooklyn-based Virelles has performed or recorded with Ravi Coltrane, Henry Threadgill, Román Díaz, Tomasz Stanko, Wadada Leo Smith, Dewey Redman, Sam Rivers, Steve Coleman, Andrew Cyrille, Hermeto Pascoal, José Luis Quintana "Changuito", Stanley Cowell, Chucho Valdés, Paul Motian, Mark Turner, Tom Harrell, Milford Graves, and Alberto Lescay, among others. His album Continuum (Pi Recordings, 2012) made several "Best Of The Year" lists and was selected #1 for the year by The New York Times. His Mbòkó (ECM, 2014) also ended up in virtually every "Best Of The Year" list, including The New York Times, NPR, ITunes, The Village Voice, and DownBeat Magazine. Antenna (ECM, 2016) was released exclusively on 10-inch vinyl and digital media, featuring Pulitizer Award winner Henry Threadgill and visionary musicians Alex Overington, Marcus Gilmore, Rafiq Bhatia, Etian Brebaje Man, and Roman Diaz. He appeared on Chris Potter's The Sirens, playing prepared piano, celeste and harmonium.
"On piano, David is coming from a unique place," says Potter, having grown up in Cuba but never playing in any stereotypical Latin way. His musical center is much further to the left than some of his forebears. He has made a serious study of Cuban folkloric rhythms but also of avant-garde jazz… The rhythmic sophistication of David's playing is just extraordinary."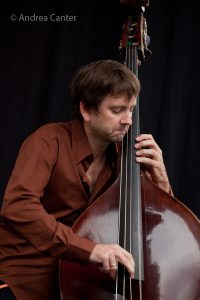 Joe Martin is one of the most sought-after bassists on the current New York City jazz scene. A native of Kansas City who grew up in a musical family in Pella, Iowa, Joe started out on cello, adding trumpet before picking up the electric bass at 15. He added acoustic bass in high school, and went on to DePaul University where he continued bass studies with Larry Gray. After two years he transferred to William Paterson University, studying with Todd Coolman, Rufus Reid and Harold Mabern.  Known for his warm sound, facile ear, harmonic flexibility, and lyrical solos, he has performed with a diverse range of musicians including Andy Bey, Bill Charlap, Art Farmer, Aaron Goldberg, Ethan Iverson, Ivan Lins, Lionel Loueke, Brad Mehldau, Mingus Big Band, Ben Monder, Jane Monheit, Chris Potter, Kurt Rosenwinkel, Mark Turner, Anat Cohen, and many others. He has performed on dozens of recordings as a sideman and has two critically acclaimed recordings as a leader, Not By Chance (Anzic) featuring Chris Potter, Brad Mehldau, and Marcus Gilmore, and Passage (Fresh Sound New Talent), featuring Mark Turner, Kevin Hays, and Jorge Rossy. Of Martin, Potter notes that "Along with the fact that he always plays perfectly in tune, he has this focused, deliberate approach to the bass, very clear and supportive – he's the foundation of the band. This quartet has a big dynamic range, but also more control, allowing me to play in a thoughtful way. Joe is a big part of that."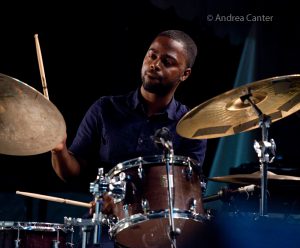 Marcus Gilmore was also surrounded by music growing up in Queens, NYC–his grandfather is legendary drummer Roy Haynes; his father plays saxophone, two uncles are accomplished jazz musicians (drummer Craig Haynes and cornetist Graham Haynes). He got his first drumset at age 10, sat in with Grandpa Roy in his early teens, studied and performed with Steve Coleman, and went on to attend attended LaGuardia High School (New York City's arts magnet), The Juilliard School's Music Advancement Program, and The Manhattan School of Music. Early in his career, he played with Ravi Coltrane, Clark Terry, Nicholas Payton, and Chick Corea, more recently with Gonzalo Rubalcaba, Cassandra Wilson and Gretchen Parlato, and has been a fixture in the Vijay Iyer Trio. Named one of "Five Drummers Whose Time Is Now" by Ben Ratliffe in The New York Times in 2009, Gilmore was named the top Rising Star Drummer by Downbeat's Critics Poll in 2012. Gilmore appears on two albums led by David Virelles. "He doesn't have a splashy, flashy sound, but one that's subtle, detailed, very musical," says Potter. "He has his own way of playing and seems to evolve every six months."
Potter views his quartet as a "cross-generational mix of personalities… the way David and Marcus interact rhythmically has this particular generational character – it's their own thing. It's hard to put your finger on it, but Joe and I share it in our own way. Our generation – with people like Brad Mehldau, Joshua Redman, Kurt Rosenwinkel – has its own sensibility, its own center of rhythmic gravity. Marcus and David's generation is building on what we did just as we did on the generation before us. That's challenging – and inspiring."
The Dreamer Is the Dream: New Album
As a composer, Chris Potter seems to evolve with each new project. Continuing the lush melodicism of his recent, larger ensemble projects, The Dream Is the Dream melds sounds and structures of global influences into a lyrical melange highlighted by the leader's multiple instruments and the interplay of the quartet. All six tracks were composed by Potter.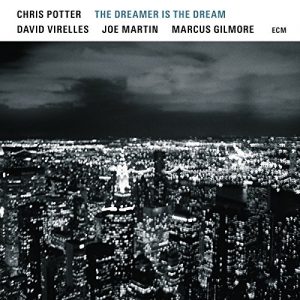 The album opens with "Heart in Hand", an elegantly slow piece flows like a walk in lush woods. "Ilimba", with Potter adding African thumb piano, opens in an air of mystery, Martin providing a heartbeat, before morphing into a joyful village dance and dazzling displays from Virelles and Gilmore. Potter's mournful bass clarinet introduces the title track, Martin soloing at length across melodic terrain, Gilmore providing undercurrents of distant thunder. "Memory and Desire" starts with 30 seconds of light percussion and faint celeste. (It could be a hearing test!) Electronic backgrounds and Potter's soprano become more prominent before the track settles into a dialogue between horn and rhythm section, sometimes Q and A, sometimes spontaneous argument–the sax has the last word
Virelles highlights "Yosadhara," his imaginative solo shining with quick mood shifts, from leap frong to ticking clock with Martin backing every move. Here Virelles suggests Potter's earlier pianist, Craig Taborn, while overall the track is a masterpiece of teamwork. "Sonic Anamoly" finds Potter's tenor often in unison with Virelles in a pattern that suggests classic Carnatic Indian forms. Virelles' angular solos give this closing track high energy and tension, with Gilmore's throbbing bass drum providing a safety net.
The Chris Potter Quartet performs at the Dakota on May 31, sets at 7 and 9 pm. Reservations recommended.
The Dakota is located at 1010 Nicollet Mall in downtown Minneapolis; www.dakotacooks.com; box office 612-332-5299.