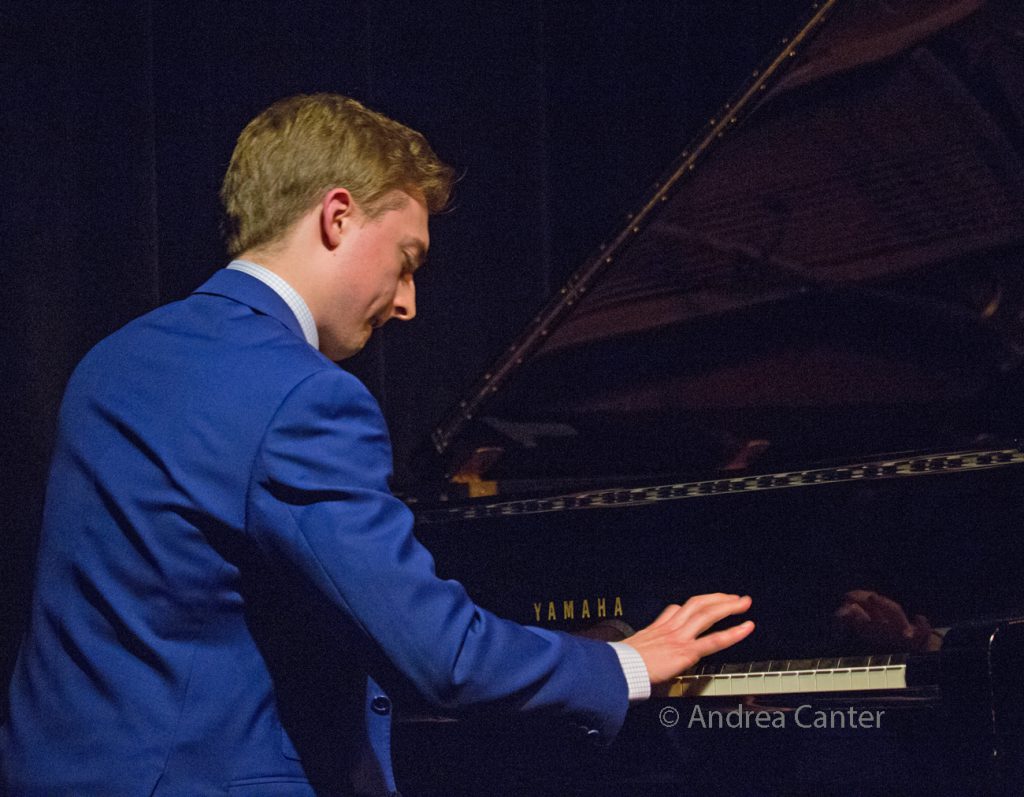 © Andrea Canter
He's one of the youngest headliners at major jazz venues around the Metro but he's been performing on these stages since his mid-teens. Now, with the 2017 edition of his "summer band," pianist Will Kjeer will be in the spotlight on Monday, June 5, at Jazz Central Studios. He's joined by relatively seasoned artists, Aaron Hedenstrom, Graydon Peterson and Pete Hennig. As always, the Monday show is followed by an open jam session.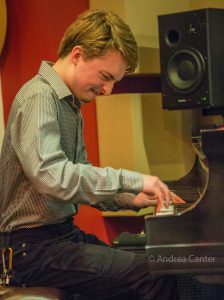 At 20 years-old and already an acclaimed performer on the Twin Cities jazz scene, pianist and composer Will Kjeer has not constrained his resume to his home state.  He has performed as a bandleader and sideman around the U.S. and in Canada at venues in the Twin Cities (Artists Quarter, Vieux Carre', Jazz Central, Studio Z, Black Dog, Icehouse), at the Twin Cities and Iowa City Jazz Festivals, and at the John F. Kennedy Center for the Performing Arts in Washington DC, the Lighthouse Cafe in Los Angeles, and the Upstairs Jazz Club in Montreal, Quebec.
Will attended high school at the Saint Paul Conservatory for Performing Artists, later completed a post-high school program at Interlochen Arts Academy in Michigan before beginning his performance degree at the California Institute of the Arts, and now continuing at McGill University.  Before high school graduation, he played piano with the Dakota Combo for two years, spent a year with the Minnesota Youth Jazz Bands, and was Youth Artist in Residence for the PipJazz Foundation. He's also a three-year member of Steve Kenny's Group 47 and founding member of Hoaxer. Will has been invited to participate in international and competitively-selected programs, including Ravinia's Steans Music Institute in 2016 and the 2017 class of Betty Carter's Jazz Ahead.  He has been fortunate to learn from mentors such as Billy Childs, Jason Moran, Rufus Reid, Reuben Rogers, Xavier Davis, and Ralph Peterson.  He currently studies with acclaimed international pianist Jean-Michel Pilc.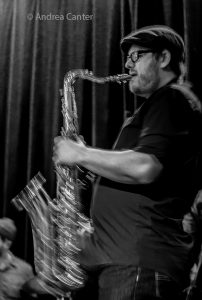 Aaron Hedenstrom (saxophone) was born in Lesotho (Africa) where his parents were teaching; he grew up in the Twin Cities where he developed his interest and talent in music. He attended the jazz program at the University of Wisconsin-Eau Claire, performing in the pop/rock band Underdub and with the John Raymond Project. Aaron moved to Denton, TX  where he enrolled in the master's degree and then the doctoral programs at the University of North Texas, serving as a Teaching Fellow and performing in the famed One O'Clock Lab Band.  He also performed as a freelancer in the Dallas/Fort Worth Metro area before returning to the Twin Cities in 2015. As a student, Aaron earned a number of composing and arranging awards–2012 Detroit Jazz Festival Arranging Contest (for his arrangement of Wayne Shorter's "Yes and No"), the Herb Alpert ASCAP Young Jazz Composer Award, the Jazz Education Network Student Composer Showcase, and several Downbeat Student Awards. His quintet opened the Jazz at Studio Z season last fall.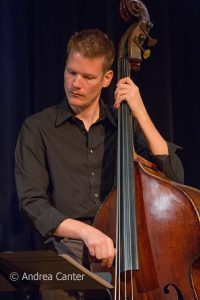 Graydon Peterson played electric bass in his high school pep band and dabbled in rock music before finding his way into jazz. At the University of Wisconsin-Eau Claire, he was a member of UWEC's Downbeat Award-winning Jazz Ensemble I and performed with such guest jazz artists as Lewis Nash, Ingrid Jensen, Jason Marsalis, Chris Botti, and Christian McBride.  In Minneapolis, Peterson is a first-call bassist who often works with top area vocalists, including  Debbie Duncan and Connie Evingson. He performs regularly with the trio Firebell with Park Evans and Jay Epstein, the Adam Meckler Quintet and Orchestra, Charanga Tropical, and a long list of instrumentalists. Peterson launched his own quartet in 2011 as a means of focusing on his own compositions, and released the quartet's first recording in 2013. He followed in 2015 with Duets, featuring each member of his quartet in duets with each other.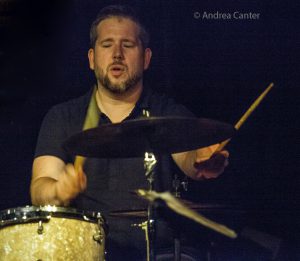 Drummer Pete Hennig came to the Twin Cities to study at McNally Smith. After graduating he spent an additional three years studying with Dave King (Bad Plus, Happy Apple). His performance credits include the Atlantis Quartet, Zacc Harris Quartet, Debbie Duncan, Katie Gearty, Sam Kuusisto, Tickle Fight, Patrick Harrison, Johnny Clueless, Park Evans, Monk in Motian, and the Fantastic Merlins, and he leads his own bluegrass band (Bluegrass Bandits) and jazz quartet.
Jazz Central Studios is located at 407 SE Central Av, north of downtown Minneapolis; http://jazzcentralstudios.org. The nonprofit venue suggests a donation of $10 ($5 students with ID) to support the musicians and the venue. Music at least five nights per week.