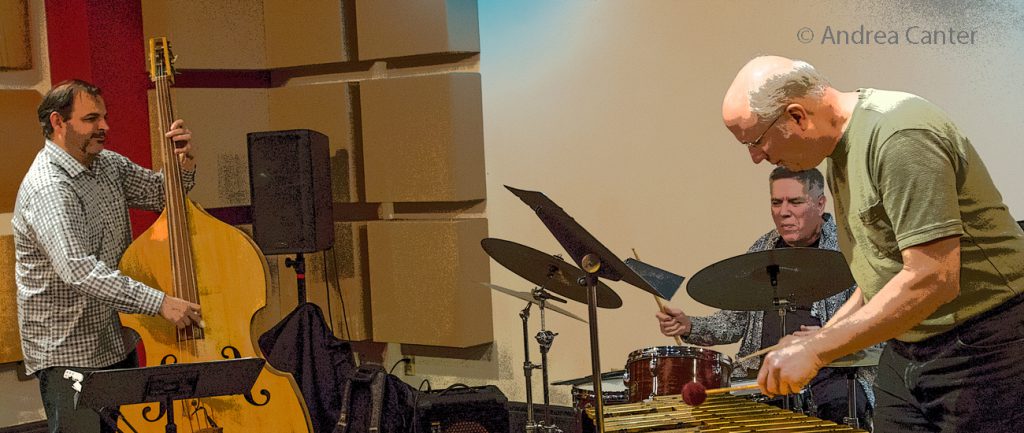 © Andrea Canter
"Collectively the trio burns with a group mindset that showcases the maturity, musicality and virtuosity of each member." –Chris Bates
 Longtime favorite sideman, in the past few years, bassist Chris Bates has stepped to the front as leader of two very different but equally intriguing projects, his quintet Red 5 and the Good Vibes Trio. With the former, he released New Hope in fall 2012;  with the latter, he celebrated the release of their eponymous debut CD in spring 2014. With veteran performers/composers Dave Hagedorn on vibes and Phil Hey on drums, Good Vibes Trio (2014, Technecore), as well as their live performances, offers a collection of sublime covers from Mingus to Coltrane to Hubbard, along with a fistful of engaging original compositions from the trio. Good Vibes Trio has expanded its repertoire since the CD release, including more original works. With such in-demand musicians, gigs are few and too-far between, but most welcome whenever their schedules allow. Good Vibes Trio is on the bandstand this Thursday, June 8 at 9 pm, on the Thursday Night Jazz at Reverie series in south Minneapolis.
Good Vibes Trio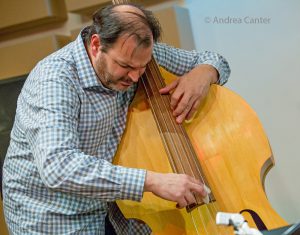 Chris Bates and his brother, drummer JT, grew up with jazz, sons of trumpeter/bandleader Don Bates. He began bass lessons in 4th grade and progressed to jazz studies at the University of Wisconsin-Eau Claire before returning to the Twin Cities to study with Anthony Cox. A member of the 1990s ensemble, the Motion Poets, Chris was a 1999 McKnight Composer Fellow, and often lends his compositions to the many ensembles that he juggles throughout his busy performance schedule. Over his career, he has played with Mose Allison, Lee Konitz, Joe Lovano, Steven Bernstein, Howard Levy, Michael Attias, Ira Sullivan, Bill Carrothers, Eric Alexander, Ari Hoenig and Tim Sparks, among others. In addition to his local ensemble work (Atlantis Quartet, Red Planet, How Birds Work, Klezmerica, Enormous Quartet, Framework, Leisure Valley, Zacc Harris Group, Dean Granros' Tall Tales, Bill Simenson Orchestra, Fall of the House of Usher, Sister Shaw) and leading Red 5, Good Vibes Trio and Inventions and Dimensions Trio, he has played solo concerts using both acoustic and electronic instruments, and appears on over 30 recordings. In spring 2013, Chris launched a monthly improvisation series at Jazz Central Studios in Minneapolis, "Magica Improvisado." Chris also teaches private bass lessons and is an instructor at the University of Minnesota Morris.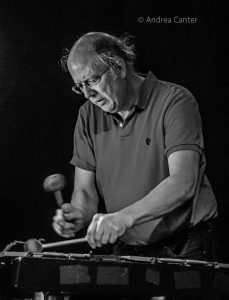 Assistant Professor of Music at St. Olaf College in Northfield, MN,  Dave Hagedorn teaches percussion, jazz studies and world music. His education includes a BS in Music Education from the University of Minnesota, an MM in Percussion Performance from the New England Conservatory in Boston, and a DMA from the Eastman School of Music. Among his performance and recording credits are two albums of duos with pianist Dan Cavanagh; tours with the George Russell Living Time Orchestra; recording with Debbie Duncan; and performances with David Berkman, Anthony Braxton, Gil Evans, Happy Apple, the Out to Lunch Quintet, Thad Jones, Clark Terry, Steve Turre, Kenny Wheeler, Anthony Cox, and Roy Hargrove. Locally he is a member of the X-Tet, Phil Hey Quartet, and the duo SCHAG with drummer Dave Schmalenberger, in addition to the Good Vibes Trio. He released Solid Liquid on the Artegra label in 2003. About two years ago, Dave joined saxophonist David Milne to form the quintet Spiral Visions, celebrating the music of Bobby Hutcherson and Harold Lande. In March 2016, Dave led his St Olaf Jazz Band on a tour of Cuba.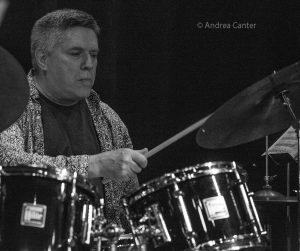 A former student of Ed Blackwell and Marv Dahlgren, native Philadelphian Phil Hey is one of the most esteemed drummers in town. In addition to twenty years of touring with the late Dewey Redman, he has performed many gigs at the Artists Quarter, Dakota and other venues backing touring artists, local vocalists, and small ensembles.  For several years, Phil (along with bassist Gordy Johnson) toured with British vocalist Stacey Kent, including gigs at Birdland in New York. He also manages percussion duties for the Pete Whitman X-Tet, Dean Sorenson Sextet, Dave Karr Quartet, and Benny Weinbeck Trio as well as Good Vibes and his own quartet, and teaches at the University of Minnesota, St. Olaf College, and MacPhail Center for Music. His most recent recordings include a volcanic duo with trumpeter Kelly Rossum, Conflict, and sideman duties for Mary Louise Knutson on In the Bubble. He also contributed to Von Freeman's Live at the Dakota, rating four stars from Down Beat. City Pages named Phil's Subduction as its Jazz Recording of the Year for 2006.
The Good Vibes Trio on Record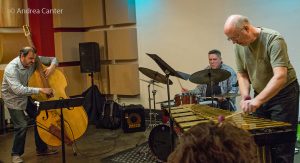 Describing Good Vibes, Chris Bates noted that "the trio draws inspiration from the blues and swing in a way that is familiar, yet may seem new to those used to my collaborations with Atlantis Quartet or my own band Red 5." The music is accessible yet modern, familiar yet surprising, sublime yet challenging–characteristics of all three musicians no matter what the context. "This trio is a new band made up of experienced players who have come together to have fun and connect directly with their audience," says Bates. For the setlist, Bates and company drew on favorite works of Charles Mingus, John Coltrane, Freddie Hubbard, Kenny Kirkland, Karl Berger and David Berkman– a list of jazz giants mixed with more contemporary talents. "The interplay, energy and joy of swing can be felt in these songs and paints a beautiful portrait of musical precision and passion," notes Bates. "Partnering with Dave Hagedorn and Phil Hey has allowed me grow as a musician but also allows me to present these veteran players in new ways. Hagedorn's virtuosic flights are supported nimbly and urged to new heights by the rhythm section. Hey is inventive and daring in his use of brushes and is even featured as a composer on the original 'Marse'. You get to hear me leading the charge, soloing ferociously and holding down the bottom with aplomb."
Listening to the elegance of the Good Vibes Trio –live or on the album– one thinks of an updated Bill Evans trio, but the vibes versus piano gives the music a more translucent quality, where there is less of a defined beginning and end to the tones, such that the ensemble sound is like a multi-voiced chord.  The seven covers are transformed, both by the instrumentation and by the inventive interplay of the ensemble.
Gather your own good vibes and join the trio at Reverie on June 8, 9 pm.
This show is part of the weekly Thursday Night Jazz at Reverie curated by Steve Kenny. No cover but tips ($10 suggested) are appreciated to support the musicians and the series. Reverie (formerly The Nicollet) is located at 1931 Nicollet Av S. in Minneapolis. Full schedule at www.thursdaynightjazzatreverie.info